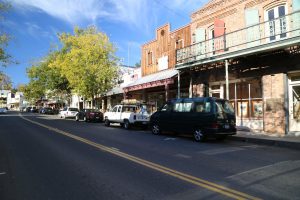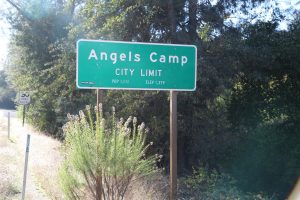 Angels Camp is the town that inspired the great Mark Twain to write his short story, "The Celebrated Jumping Frog of Calaveras County". This book was his first success. This annual Jumping Frog Jubilee began in 1928 and continues today from Thursday through Sunday the third week of May. A Frog Hop Walk of Fame is located along South Main Street (Highway 49) and bronze plaques embedded in the sidewalks feature the winning frog names from some 85+ years of this contest.
This town like several other gold mining towns is built on the bottom and sides of a ravine. The town looks quite 'western' almost like a Hollywood set. For example, the establishments that line the main street have iron shutters and fancy brick work.
The town was named after George Angel who discovered gold here in 1848. In actuality he was not a miner by trade but a merchant. He founded a trading post and made lots of money off of the miners by selling clothes and goods. Like many of the mining towns in this part of California, Angels Camp at one time had a population beyond what it is today. In just one year from 1848 to 1849 the population of Angels Camp swelled to over 4,500. Today the population is starting to creep closer to it's historical gold mining days at just under 4,000.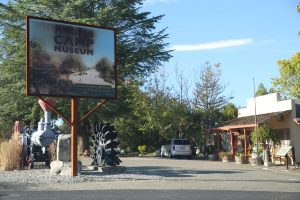 Angels Camp Museum is located on 753 South Main Street; the three acres are located on site of the original Angels Quartz Mine. Like many of the other museums in the old gold mining towns they exhibit gold mining equipment, wagons, minerals, and artifacts – housed in three buildings as well as outdoors. Outdoor exhibits include era mining equipment (not replicas) including a waterwheel (still in it's original location), drills, ore cars and a model of a stamp mill.
They maintain one of the largest collections of old carriages and wooden wagons in the entire country. Relaxing place to spend at least one hour – bring your lunch if you wish and enjoy it under oak trees. This location was directly in the mines – situated in an area called China Gulch. As you walk these grounds, just imagine all the gold that was pulled from this earth! While gold is no longer being mined on site, visitor's can choose to pan for gold. They are closed on major holidays. A small gift shop is on site. Admission is $3. Phone Number (209) 736-2963.
O.A.R.S River Trips is located 1.7 miles south on Highway 49 from downtown Angels Camp. This company offers 1 to 3 days river rafting trips on several different rivers. They raft all three forks of the American River, the Tuolumne, Merced, the lower and upper Klamath, Stanislaus, Kern, and lastly the California Salmon rivers. Meals are included in the prices. Reservations are required. They are open daily from April through October. One day trips cost between $99 to $130. For more information call Phone Number (209) 736-4677 or 1-800-346-6277 or visit: www.oars.com/california
Visit the following website for more information about Angels Camp:
www.angelscamp.com
www.gocalaveras.com