Sonora (the queen of the southern mines) is the heart of the southern gold mining towns. Sonora was first established by miners from Sonora, Mexico. This town was important during the mining days and remains so even today. Sonora was established during 1848 and has been the county seat of Tuolumne since 1950. Even though Sonora was established in 1848 people have traveled through and settled here since the late 1820's.
During its early mining days it was one of the largest and wealthiest towns in the Mother Lode. People from all over the world settled this town; it was sort of a melting pot. People from Europe, South America, Central America, the Caribbean, Canada, the South Pacific and China came here to mine for gold. The Mi Wuk Indians were the original settlers here. Some of Sonora's older residents still remember some of the local Indians.
Most of the mining towns despite their tourism have not seen a significant rise in their population. Sonora is a major exception to this. It is one of the few mining towns that has seen a huge growth in population starting in the early 1990's. The main part of Sonora which is the downtown and surrounding area has not recently been built up. However, eastern Sonora is a sprawling community of new shopping centers, businesses and residential housing.
Eastern Sonora has been built up much more recently then the downtown area. During commute hours Highway 108, 49 and some of the main surrounding roads become clogged with traffic. This is unusual for most California mining towns.
Highway 49 is the main street through town, although it is called Washington Street in downtown Sonora. There are many small tourist shops and cafes in the downtown area. A small park is located in central downtown and is a good place for a picnic lunch or to rest after several hours of shopping excitement. A brochure that describes walking tours of Sonora are available from several businesses. I highly recommend this brochure because it provides historical details about many of Sonora's buildings.
Some places to stop at in downtown Sonora are El Jardin (nice Mexico restaurant and yes they do have a garden!) buy Malaysian art or other eclectic collectibles at Benjamin Fig or satisfy your sweet tooth craving by visiting the Candy Vault – the name comes from the bank vault in the back of the building) or the Vault Gallery of Fine Arts, also in the same building.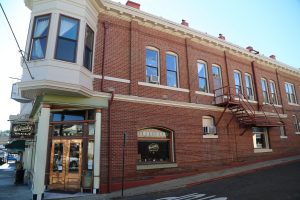 There is a legend about a gold mining robbery during Sonora's early days. As you drive into downtown Sonora on Highway 49 from Highway 108 you will pass a small creek on the right side of the road. Apparently a bank robber stole a large sum of gold coins and escaped for one hour before he was captured. During that hour he spent his time along this creek and when he was captured, the gold was no longer with him. He either gave it to someone or hid it somewhere along this creek.
Another interesting note about Sonora is that it was the boyhood home of the famous San Francisco attorney, Melvin Belli. He died a number of years ago and is now buried in a small cemetery located in the hills above main street.
Parts of Sonora remind me of San Francisco 100 years ago. The main street is surrounded by steep hills and old Victorian homes. The very distinctive red and white church that is located in the northern part of town at the intersection of Snell Street and Washington Street is a good building to include in photographs. This Episcopalian church called the St. James church was built in 1859 and is one of California's oldest Episcopalian churches.
Many movies, television shows, and commercials have been filmed in or around Sonora, or in Tuolumne County. Some of the movies filmed here have been The Marx Brothers Go West (1940), For Whom The Bell Tolls (1943), Apache (1954), Big Country (1958), Honkey Tonk Man (1982), Radio Flyer (1992), Back to the Future (1990) and Unforgiven (1992) among several others.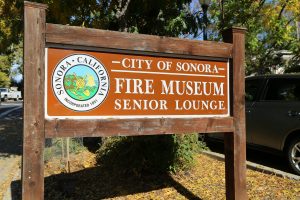 Fire Museum is located at 125 N. Washington Street. The museum also doubles as a seniors lounge. Fire was often a major problem in the old gold mining towns – with buildings made of wood, dry summer conditions and at times flowing alcohol. Fires in the winter month posed different sorts of challenges – muddy streets or trails creating difficult firefighting conditions (from a logistical perspective). We have toured a number of small gold mining towns in this part of California that burned to the ground – sometimes more then once. Stone buildings containing iron shutters were often survivors of these fires.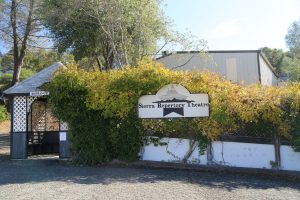 Sierra Repertory Theatre or SRT for short, offers two locations, one in East Sonora and one at the Fallon House in Columbia. They offer live theatre are located at 13891 Mono Way on the hill above The Junction shopping center (no access is available from the shopping center – rather they are hidden behind several buildings and accessed only off of Mono Way). The box office is in the back past several buildings housing related accessories to their theatre.
SRT was founded in 1980 – interestingly enough the founders of SRT met at the Fallon House Theatre. We have enjoyed a number of performances at both theatres over the years. Discounts are offered to students and seniors.
For more information visit: www.sierrarep.org
Tuolomne County Museum is located at 158 West Bradford Avenue and is housed inside the old 1857 county jail. They have exhibits of gold rush memorabilia, artifacts, photographs, guns, antiques and a small but very impressive gold nugget collection.
Apparently several years ago there was an attempted robbery of this gold. Now it is in a separate case and armed with a sensitive alarm system. Admission is free but donations are accepted. It has been many years since we have visited. We will visit the next time we are in town. For more information call Phone Number (209) 532-1317. Visit: www.tchistory.org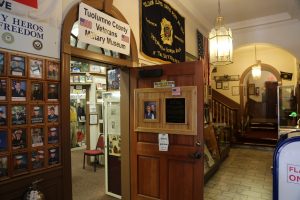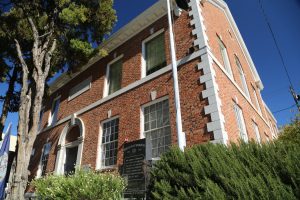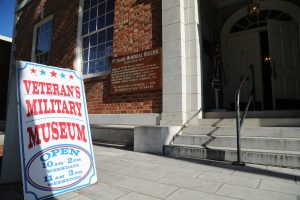 Veterans Memorial Military Museum is located at 9 N. Washington Street across from Courthouse park in an old brick building that was dedicated in 1933 as the Veterans Memorial Building. Small building, but excellent collection of military memorabilia including antique guns and a rare plaque from the Spanish American War and plenty of uniforms, photography and press clippings.
Lots of history about local veterans and how those from the Sonora region contributed in various war efforts. An anti aircraft gun sits outside the building along with several other pieces of military equipment. Veteran's often are docents. Admission is free although donations are graciously accepted 🙂
More information about Sonora and its attractions: www.sonoraca.com