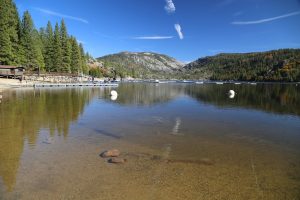 Pinecrest Lake is located on Highway 108. This road is closed in the winter past the small town of Strawberry, but it is open to Pinecrest and Dodge Ridge Ski resort. The towns of Sugar Pine, Confidence, Mi-Wuk Village, Sierra Village, Long Barn are all south west of Pinecrest Lake on Highway 108. Pinecrest Lake is located at about 5,600 feet. It is a beautiful small clear blue lake surrounded by forested mountains. There is a marina and a FREE boat launching facility on the lake.
There are several restrooms and a fish cleaning area located near the marina. When I have been here there are always people cleaning freshly caught trout. Everyone that I have talked to has had luck fishing this lake. Apparently power bait is the bait of choice as I often see this colored "clay" laying in the fish cleaning sink.
Just below the lake is the worth visiting Pinecrest Fine Art Gallery which displays the works of various artists including the impressive works of Dale Laitinen.
There is lots of parking near the lake. Even so, on warm summer days you may still have a problem parking. You can only drive around about 1/4 of the lake. The other 3/4 of the lake side is accessible only by hiking trails. The entire distance around the lake is between 3 and 5 miles.
Many people use Pinecrest Lake as their primary summer vacation area. Some people have homes along the lake and in the summer the beaches are extremely crowded with sunbathers. There are several campgrounds in the area and picnic areas.
Dodge Ridge Ski Resort is located several miles off of the Pinecrest Lake Road. This is a fairly small family ski resort. The prices are a bit more reasonable then some of the ski resorts located around Lake Tahoe. If you ski here expect to pay at least $65 per full day for an adult lift ticket.
The season lift tickets are a fairly good value, especially if you buy them early in the season. I have had some luck in the summer looking for coins and jewelry on the ski slopes. Base elevation is 6,600 feet with the uppermost elevation topping out at 8,200 feet. We took our first ski lessons here and as a result has a bit of nostalgic value. Visit their website: www.dodgeridge.com
Sonora Pass
If you drive past Pinecrest Lake and the small burg of Strawberry on Highway 108 you will eventually reach Sonora Pass. This is a little over an hours drive from Pinecrest Lake on a road that eventually becomes quite steep and windy. The pass elevation is 9,624 second in height in California only to Tioga Pass. Tioga Pass is just under 10,000 feet. We mention Sonora pass because it is within driving distance of Pinecrest and because it winds through a stunning part of the Sierras.
You will pass several lakes and rivers as well as some neat geological formations called the Dardanelles. Donnells Reservoir is a pretty green blue lake located a thousand feet below Highway 108. There is a turn off and an overlook above this lake. From this over look you have great views of Donnells Reservoir as well as the Dardanells and high country… a perfect picnic spot.
Sonora Pass is where three counties converge; Alpine, Mono, and Tuolumne. This road used to be a toll road. Some of the towns mentioned above such as Long Barn and Confidence were stop overs for the stagecoach teams. Long Barn took its name from a barn that was over 200 feet long. It was built to house the wagons and stagecoach teams that traveled this road. Several older movies were filmed along this road. In the 1930's Robin Hood of El Dorado was filmed along Highway 108, and then in 1941 For Whom The Bell Tolls was also filmed.