The small scenic town of Hopland (population around 800) is situated about two hours (1 hour 45 minutes on a good day) north of San Francisco along the 101 Freeway or about 45 minutes north of Santa Rosa. Hopland is in Mendocino County and located on the western side of the Russian River.
The 101 is a freeway the entire way from San Francisco until several miles south of Hopland where it turns into a 2 lane road. Reminiscent of parts of the 5 freeway driving north of Redding towards Mt. Shasta – after long straight stretches, parts of the 101 south of Hopland have a similar feel – a highway curving through the coastal foothills essentially following the Russian River. The freeway ends a few miles south of Hopland and becomes a two lane road through Hopland and several miles to the north of Hopland. Picture the 101 just north of Los Angeles or the Four-Level Interchange near downtown LA and then picture the 101 through Hopland. The same road. Yes! Always a joke of ours when we are here and are ready to drive somewhere, "better check to see how busy the 101 is before leaving."
The section between Squaw Rock to a few miles south of Hopland used to be a very dangerous drive. Several times we have seen accidents happen on this stretch of roadway. However, now its a very nice 4-lane freeway (although this roadway for many years still continues to be impacted by slumping hillsides and unstable soil conditions which have resulted in cracks and uneven road conditions and or short lane closures in the area.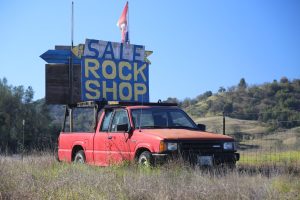 An intriguing rock shop, simply signed as Rock Shop (although the official name is: Crafty Lady's Rock Shop is located on the eastern side of the road just south of Hopland (Pieta Creek River Bend). They have numerous specimens of rocks on old wooden display cases outside of the store, as well as many nice pieces inside. This shop has been here for years and is how a rock shop should look like – an old wooden sign stuck on top of an old Mazda truck in parked the grass, the outside covered with a number of geological specimens and kids play equipment strewn about hap haphazardly left wherever they were when their short attention spans were caught by something else more exciting.
Hopland makes an ideal day trip from Santa Rosa, or even a long day trip from San Francisco. Its far enough away to be out of the influence of the Bay Area. Refreshingly there is no Whole Foods, Walmart or REI here. This is small town living with a mix of wine tasting rooms, local shops, several restaurants and certainly a much slower pace of life then found in larger cities to the south. Hopland is located among the California Coastal foothills among gentle oak covered rolling hills. Vineyards and other agriculture are an integral part of the surrounding landscape.
The town is small enough that you can park your vehicle curbside on main street and explore both sides by foot.
Although there are many wineries in Mendocino County including a number of tasting rooms in Hopland, this area does not have the recognition that perhaps Napa and Sonoma County have obtained over the decades. For the consumer, that is not a bad thing. Mendocino County is producing some stellar wines; your typical tasting will not usually be crowded arm to arm at the bar as you might find at some of Napa or Sonoma's larger wineries. And tasting fees are generally low or complimentary and the wines are available at a decent price to value ratio.
Hopland is about 16 airline miles from California's largest natural lake, Clear Lake. You can drive to Clear Lake from Hopland in about a half hour on the extremely windy Highway 175.
The weather can vary dramatically between seasons in this part of the state. Buckets of rain sometimes fall during winter storms while the summers are generally dry and quite hot with temperatures often in the 90's or around 100 degrees at times.
The main sites and attractions we recommend seeing while you are in the Hopland Area are the Center of Town (lots of little wine tasting venues), Real Good's Solar Living Center and Campovido Farm & Vineyard.