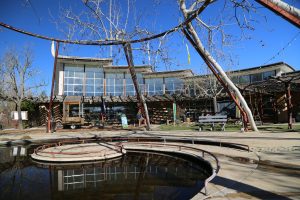 Real Goods in Hopland is a solar educational center that was built in the mid 1990's. Their original history dates back to the 1970's; founder John Schaeffer started Real Goods in the town of Willits (and he actually sold the first solar panel in the United States). They are located at 13771 South Highway 101 on the east side of the road. You will see the signs for Real Goods as you drive up the 101. Real Goods suggests you donate $5/vehicle as you enter the center and pass the "info booth" – if you are visiting on a non crowded day, chances are there will not be anyone in this booth.
The Solar Living Center is located on 12 acres of land. As you wind through their facilities on their gravel road you will pass nicely landscaped gardens with several small ponds (including one in the shape of a heart). The short gravel road ends in a gravel parking lot (not far from the lavender maze). You will see several Electric Vehicle (EV) charging stations in this parking lot including special parking spots for Tesla owners. You will also see solar cells, in fact quite a few of them. This is where the Living Center gets its electricity.
One can take a self guided tour of the facilities at your own leisure if you like. You may also want to consider taking a free guided tour. The guides have always been very prepared and knowledgeable. There are many innovations that Real Goods has built into their buildings and facilities in order to conserve energy. For example, they use recycled toilet paper and low flow toilets in their bathrooms. The walls of the building are made out of straw and mud. Burning wood, in part, keeps the buildings warm during the summer. They have a certain room that contains many batteries. They store some of their energy in this room. Real Goods even has enough energy on some days to sell back to the power companies.
Real Goods sells a variety of solar and other energy efficient products. One of our favorites is the dynamo charging solar radio. This radio can run very well on solar energy, or you can use batteries, or you can wind it to charge it. On a clear sunny day I can run this radio all day just off of the small cells located on the top.
A biannual event called Solstice is held on the grounds around June 21st to celebrate summer and on or around December 21st to celebrate winter. These events attract numerous people. Solar related vendors setup shop & visitors come from all over.
Real Goods also offers workshops and classes on straw bale construction, electric vehicles and planning and designing a solar house.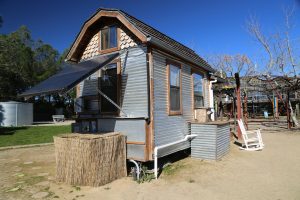 They are also on Air BnB – the 89 square foot Tumblewood Tiny House is located across from the main entrance and can be rented online through Air BnB. This is certainly one of the more unique places to stay using Air BnB! Because of its diminutive size, it can host a maximum of only 2 people. A small kitchen is located on the ground floor with a full size bed on the upper floor (always surprising that there are two floors in a structure of this size). Built by students in 2013, this house is on wheels but whenever we have visited is always parking near the main entrance to the store.
And for those on a budget, a grassy field (shaded during the spring through fall months) is available for those wishing to pitch their tent. First come first serve, although you can reserve a spot online ahead of time.
In more recent years, Emerald Pharms has located on site – this is your go to cannabis dispensary in Hopland with products that adults can enjoy on site. Visit: www.emeraldpharms.com for more information.
More information about this and the Solar Living Institute here: www.solarliving.org
Note: The Days Inn located at 950 N. State Street in Ukiah offers discounts on their rooms for SolFest. Visit: www.daysinnukiah.com
Real goods offers an extensive catalog which lists all their items for sale. For more information, visit: www.realgoods.com