During several attempts to climb Ishinca & Toclaraju Dave used Enrique Expeditions, based in Huaraz – as well as a number of guides who for the most part spoke primarily Spanish with only a few words of English. Spanish was the primary language we used when climbing.
Guides Francisco and Julio have both been guiding in the mountains for many years – each man has significant experience climbing. Julio has reached the summit of Huascaran (the tallest mountain in Peru) a numerous times and been on top of most of the other nearby jagged Andean peaks. When they are not climbing many of the guides farm during the slow season.
Another recommended guide, Richard Marquez runs Trek Climb Peru and is a very strong climber, excellent guide and very professional.
Introduction
The best time for climbing is in the drier "summer" season, usually June through August. The weather in May tends to be unpredictable, it can be wet one minute and snowing and then clear the next. Snow tends to be deep at the high elevations along with more sketchy climbing conditions over snow covered glacial crevasse terrain. However, if you do climb in May you will experience empty trails and much fewer climbing groups then found during the normal climbing months. =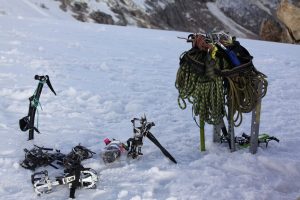 Parts of the Peruvian Andes are massive mountains very similar in appearance to the Himalayas. Their foothills are huge mounds of earth towering many thousands of feet above deep river canyons. Huaraz lies in one such canyon at 10,200 feet; many agricultural products are grown in the region including apples, peaches and pears.
Tall jagged snow capped peaks tower into the sky, some of which rise above 6000 meters in height including Toclaraju.
It takes about 90 minutes to travel from Huaraz to the Ishinca trail-head. After leaving the main paved road about 25 minutes from Huaraz a terrible rutted road quickly climbs up into the Andes. If this road is wet it presents additional problems and on our multiple trips we've always had to exit the vehicle in certain spots to help lighten the load.
This dirt road passes by mud and brick homes, poor villages and ends in the small village of Pashpa where mules and aggriero's (mule runners) will be waiting. Pashpa is simply an arrival or departure point – several mud brick homes are located on site including housing for some of the aggriero's.
The plan for the trek into the Ishinca Valley was to summit either Toclaraju or an easier lower climb of Ishinca. We started hiking in mid morning from Pashpa with a plan to reach an established base camp at an elevation of around 14,400 feet. For the most part the initial trail was well maintained – there were several areas where it was good to have guides with us as the trail would end abruptly and then would pick up again on another side of the river. It wound upwards through the high Andean open foothills, past colorfully dressed women herding sheep. These women were dressed from head to toe in bright reds purple and yellow clothing. They were very reticent about having their photo taken – even from afar when you raised a camera they would spot you and quickly dart behind a rock outcropping.
Eventually the trail enters small forests just below 13,000 feet. It is here that you normally hikers have to pay 75 soles to enter the National Park (good for 30 days) – but if you are climbing typically before early June the park entrance may be closed and you can skip this fee. Its about 4-5 hours hiking from Pashpa to base camp. Base camp is located near a glacial milky very cold river. Across from camp in the distance is a rock hut (refugio), one of several Italian built and maintained refugios scattered around this part of the Andes. These are open to the public during the climbing season offering a number of beds and several meals each day as well as radio communication for emergencies.
Decent rock climbing is located behind base camp. This is a fun activity in case of a 'down day' due to bad weather higher up, if someone has soroche (altitude sickness), or if you simply want an extra acclimatization day. Plenty of rappelling opportunities are available on a 100 foot+ rock face.
Base camp is in the middle of grazing land and foraging cows commonly cross the trail. If you spot cows close to base camp, you will have to guard the food as they are quite aggressive and will even chew threw tents in order to get a snack.
Ishinca Climb
While lying incapacitated in my tent, due to altitude sickness some random guy opens the tent flap and says, "dude the cows are eating your food from the mess tent." Being in such bad shape (almost comatose), this didn't immediately register and I fell back down. After minutes or maybe hours I get up and crawl outside and see herds of cows tearing into the food tent. I then weakly crawl over and hiss feebly – making a pathetic guttural sound. They sense weakness and come back for more. I try to yell but this comes out as an utter croak. I remove a shoe and barely have the energy to toss it towards them – they back away very slowly. I become angry and gain short-term energy. I throw a rock. I crawl over towards the food and lie down. They come near me but do not get the food. I slump over a piece of wood until passerby's see me. One of them grabs an ice ax and stabs one of the cows in the mouth as hard as he can – blood spurts everywhere. I drift back to my tent and fall asleep.
Our guides no speak English only Spanish. Our team was attempting Toclaraju an incredible pyramidal shaped mountain that resembled to some degree the Matter horn in Switzerland. This mountain stands over 6000 meters, nearly 20,000 feet. Because we were attempting the climb in mid April we knew the odds were against as because of the sketchy weather this time of year. Sure enough on day two a big storm came in dumping lots of snow on the high peaks and raining on us most of the day. We were forced to hunker down at base camp. April weather can change in a minute from pouring rain or snowing and the next it is bright blue sunshine. After this day we changed our plans and decided to attempt Ishinca, just over 18,500 feet.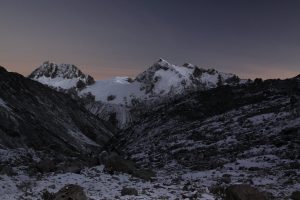 The next day several of the team and one guide begin the climb up to Ishinca leaving at 4 in the morning. This is about the latest you want to leave from Base camp for Ishinca – especially this early in the climbing season when their tends to be a lot of snow over the glacial terrain – which later in the morning or day becomes very very soft, agonizing conditions for climbing. A better start time would be a true alpine departure of between 12am and 2am. I sleep in and feel much better when I awake compared to the previous few days at base camp. This is how recovery from altitude sickness works – one starts to feel better after becoming acclimatized.
The guide and I leave on the trail to Ishinca at 8am – at this departure hour we weren't serious about reaching the summit but we were going to hike as far as possible. As we hike the more and more weak I become – finally we reach snow line and we rope up after donning the harness and grabbing the ice ax. Once on the snow I seem to gain energy and inspiration and we quickly climb higher and higher. About 3pm we are at about 17,000 feet which is about 1500 vertical feet from summit. We see the 3 climbers high above and over to the right near the cumbre (summit) trying for the top. We are surprised that at this hour they are still climbing higher. The scenery from this elevation is absolutely stunning, reminiscent of the high Himalayas – mountain scenery that is rarely duplicated on planet earth. We are in deep snow, 1 step sinks you in 2 feet – terrible climbing conditions. Our guide says lets go down and I say no problem as by this time I am fatigued while climbing in these deep snow conditions without snow shoes. We are back in camp by 4:30 only 90 minutes walking/jogging down!
We sit in camp and wait and wait and wait some more. Soon its 8pm. then its 9pm. Our guide runs over to the stone Refugio building maintained by Italians. He calls Huaraz as back up and we organize a Search & Rescue – I am thinking very clearly at this point. We take all the necessary cooking supplies food and warm clothing and prepare to sleep out if need be. We move up trail at a fast pace, leaving base camp at 10pm at end of a brilliantly powerful rainstorm. The long hill that earlier took me 3 hours to climb now takes merely an hour. At 11:30pm we see a single light weakly waving in the distance – throwing a speck of white into the great darkness – it is quickly swallowed up as we reach one of the switchbacks in the trail. After 10 minutes we come upon one of the team members walking by himself. He is utterly exhausted to the point of almost collapse. He is out of water, weak and quite wet. We sit him down and change some of his clothing into dry ones and feed him warm soup from the thermos. He speaks and tells us the other team members are behind him but are moving extremely slowly as one of the members has absolutely no energy. While we are sitting on the trail the other 2 members creep down the trail and join us – everyone is now accounted for, although not everyone is well. It is another 2 hours before the last of us straggle into the camp. By this time its after 2am and it has been well over 20 hours since the group originally left Base camp. Upon arriving everyone falls into their tents utterly and completely exhausted.
Toclaraju Climb
Toclaraju is a very scenic mountain that is easily seen on a clear day from base camp in the Ishinca Valley. Look towards the ice covered massive of mountains that tower above the valley and let your gaze drift slightly to the left. Toclaraju is a pyramidal shaped mountain towering more than 6000 meters. Toclaraju in Quechua language means something akin to "trap" – or trap mountain. Perhaps its unique shape looked like a Quechua trap to the local peoples.
A typical climb of Toclaraju (assuming you are previously acclimatized to the elevation) takes between 4 to 5 days. We recommend 5 days.
Day 1 – hike from the end of the road to base camp (average hiking time 4 hours)
Day 2 – Hang out at base camp or take short day hikes or climb Ishinca (to summit and return to base camp, average time is 8 to 9 hours)
Day 3 – Hike to camp 1 at about 16,900 feet – (one camp is in the rocks – another camp is 40 minutes further on the snow) – total hiking time today between 4 and 5 hours
Day 4 – at 1:30am or 2am climb to summit of Toclaraju – return to camp 1, then collect gear and hike down to base camp (round trip to summit from camp 1 about 7-8 hours – then another 90 minutes down to base camp)
Day 5 – leave in the morning for pickup at end of dirt road – hiking time today about 2 hours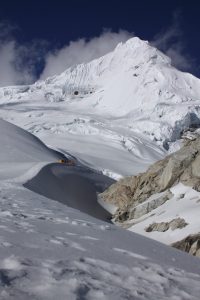 Base camp is in the Ishinca Valley. An Italian maintained refugio is also located here, housing 46 beds with 2 meals served a day during climbing season. From early June until early September there will often be several vendors selling drinks and other snacks under small thatched roofs. While you cannot see Ishinca from this valley Toclaraju is visible.
The hike from base camp to camp 1 on Toclaraju passes to the left of the valley by the Italian refugio building. The trail then ascends up the slopes on the left side of the valley until taking a very sharp left and zig-zaging all the way up the incredibly steep and rocky slope.
Camp 1 on Toclaraju is commonly set among a rock outcropping at about 16,300 feet. A better camp because it is less crowded as well as being located closer to the summit is on the edge of the glacier up another 40 minutes (see thumbnail above of tents in the snow). There are fantastic views here especially at sunset and sunrise.
It is recommended to get up around 1am and be hiking by 2am to the summit. At this point you need to be roped up and have crampons on and ice ax in hand. It can be brutally cold above camp 1 especially if its windy. One of the hardest things about climbing (and there are of course many) is determining how many clothes to wear. Will you start sweating if you start walking – if you stop will you be warm enough – or will your sweat cause you to start shivering?
We get cold very easily – and had 6 pants on including the gortex shell, each layer becoming increasingly thicker. On summit day we hiked up with our large 850 fill goose down jacket of which we had 6 more layers underneath (fleece and synthetic). This is probably overkill for most people, but it is damn cold; be sure to dress appropriately using the layering system.
The normal route slowly winds its way up steep ice and snow slopes until it is below the towering higher part of the mountain near a massive bergshrund; climbers will then proceed to the left up to the summit ridge. Once reaching the summit ridge, climbers will follow this all the way up to just below the "mushroom" which forms the actual summit. This involves a bit of technical climbing including several short ice walls before you reach the true "cumbre" or summit. Views from high on the mountain are excellent including looking down in the distance on the Uros peaks as well as the Cordillera Negra. Ishinca looks quite small from high up on Toclaraju. At night when its clear you can see the sparkling lights of Huaraz which from airline miles are relatively close. Cell phone reception begins above camp I. There isn't much of a cell phone signal anywhere below camp I.
For photographs of Ishinca, Toclaraju and the general area please click here:
Summary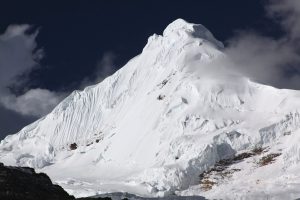 Be sure you are well acclimatized for climbs of either Ishinca, the slightly lower Uros peaks and or Toclaraju. Prices for the same trip really vary in Huaraz so do shop around. If you have all or most of your own gear you won't have to pay rental fees.
You can make these climbs yourself without guides if you are very experienced in the mountains (ice climbing, ropes, crampons, glacier experience etc). It also greatly helps if you can speak Spanish.
During the summer climbing season clouds tend to roll in on the higher mountains in the mid morning and may or may not stick around all day. Late evenings and early mornings tend to be clear, but the weather can change fast regardless of the time of year. One year in early June while camped in the Ishinca valley we received 2 inches of snow.
As of mid to late 2019 the lowest price we've found for climbing Toclaraju (not including rental gear) was about $350 per person for guides and food service (group size minimum of 3 paying clients – 5 days). We've also seen prices up to $1000 per person for the same trip, same amount of days. Typically you will receive a better price per person with more people in your group. Peru has a very stable inflation rate and prices do not tend to rise quickly.