There are many tour guides in Huaraz offering day trips – most are congregated around or just off of the main street near downtown. For day trips, typically you will will be picked up at your hotel between 6 and 8am in the morning and dropped off at your hotel between 6 and 7pm in the evening.
Some of the day trips that the guided services offer, you can do yourself by hiring a private taxi or taking a mini bus called a "collectivo". However if you do it yourself it may be more difficult and certainly more difficult, next to impossible if you do not speak Spanish.
Note: anytime you make a reservation online using the Internet, you are bound to find out the cost is much higher than if you were to reserve in person at one of their offices. There are a plethora of agencies in town and we encourage you to talk to several regarding pricing and availability. Also note that most of the trekking agencies only accept cash.
Also: there are many guides that freelance and will be hired by the agencies depending on their availability and willingness to accept certain prices for their services. As a result, theoretically you may hire one tour company one year and then hire another company the next year and have the same guides. However with the large number of guides in the area, this would be a rarity.
Several of the companies we have used are the following:
Andes Expeditions – ask for the guide Roberto Diaz. Roberto recently helped us put together a climb of Toclaraju and Ishinca – he speaks just a bit of English and was very helpful with trip logistics and offered a very good price. Visit: www.andesexpeditions.com
Casa de Guias is located in a small courtyard just off of the main street in the center of town. This is the Peruvian Mountain Guide Association, is long established and is very knowledgeable about the local mountains, trekking conditions and climbing expeditions. Part of their service is to train professional mountain guides. As a result, all guides on your trip are professionals and well trained.
They are an invaluable source of information and also provide trips. Visit: www.huaraz.com/casadeguias or email: casa_de_guias@hotmail.com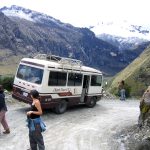 Chavin Tours – was established in 1983 and are one of the leaders of responsible tourism in Huaraz. This family owned business maintains two offices, one in Lima and one in Huaraz. They offer a number of treks in the Huaraz area including to Lago 69 – and a climbing excursion to Pisco. Besides the Huaraz regional treks they also offer additional tours in Iquitos, Arequipa and Cusco. They own their own fleet of vehicles. For more information visit: www.chavintours.com.pe/index_b.html
Enrique Expeditions is located on the main street downtown on the second floor of their building. It was founded by Enrique and he is often in the main office arranging trips. They offer a variety of multi day treks and climbs in the Huaraz and Huyuash areas. Enrique is a great guy – honest and very helpful. We have used his services several times for a climb of Ishinca and also for a multi-day nearby trek. Francisco is one of the guides and is very professional and is highly recommended.
Enrique Expeditions will also rent you most anything you need for trekking and or climbing. They can arrange bus trips to local attractions. As with some other services their prices are typically quite higher for Internet reservations compared to reservations made in person. For more info visit: www.enriqueexpeditiontours.com and or email: enriqueexpedition@hotmail.com
Galaxia Expeditions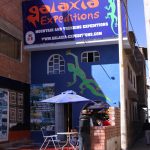 We have used Galaxia Expeditions for several services including renting mountain bikes and transportation options to various one day trek locations. They offer a huge variety of climbing and other tourism services and trips and also have a nice climbing wall in their main office. The guides and owners are extremely professional and helpful with short and long term trekking and climbing options as well as suggesting ideas for local trips.
For more information visit: www.galaxia-expeditions.com

Trek Climb Peru is a climbing and guiding service run by private guide Richard Marquez. Richard is from a small village near Huarascaran and now makes Huaraz his home. He has been guiding for a number of years in the area and guided us on our attempt of the 6000 meter peak, Toclaraju. From personal experience, Richard is extremely professional and a very strong climber in the mountains. You won't meet a nicer guide and we will definitely use his services again if he is available on our next trip to the great Cordillera Blanca. If you would like to contact him, you can email him here:

Other Trekking Agencies