Banks
Several local and national banks are located in Huaraz as well as 24/7 ATM's – these are all located close to the Plaza del Armas and downtown area. We've used a variety of ATM cards during our trips to Huaraz and never had any problems with the ATM's in town.
Money
Many of the trekking agencies only accept cash. All convenience stores only accept cash. Pharmacies and some restaurants accept major credit cards. As in other parts of Peru slightly ripped or torn bills will generally not be accepted. Be sure to inspect your money from your home country before you leave to make sure you don't bring any ripped bills. Also check any bills while exchanging money in Peru and return them at the time of your exchange, if they are even slightly ripped.
Pharmacies
Medicine that is normally doctor necessitated in most western countries can be found over the counter at Peruvian pharmacies including altitude drugs and other normally prescribed medicine. Fasa Pharmacy and Inka Pharmacy are the two main pharmacies in town. Inka Pharmacy tends to be slightly cheaper.
Photographs
We have been to Peru many times and have taken many photos from around the country.
Click Here to see our Cordillera Blanca photos.
We also have a wonderful collection of larger format Photos here.
Transportation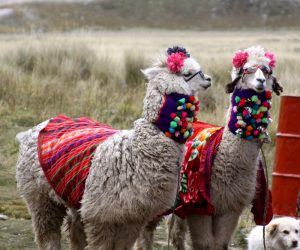 Huaraz is an 8 hour bus ride from Lima (400 km). Cruz del Sur www.cruzdelsur.com.pe is one of the higher end bus companies that makes this round trip ride. Note that they have two bus stations in Lima and one in Huaraz. Their primary bus station (the terminal station) which offers transportation to Huaraz, is located on the busy Avenue Javier Prado 1109 in Lima. We have used their services many times throughout Peru and can recommend this company.
Downstairs seating has less seats and is slightly more expensive – cheaper seating is upstairs. Typically all their seats will recline very far so that you can actually sleep at night. Their Lima to Huaraz and vice versa trips all leave around 10 to 1030pm at night and take 8 hours. It is recommended you arrive 30 minutes before your scheduled departure. Typically it is a good idea to purchase your tickets at least several days before you want to leave. There are some bus companies that advertise making the trip to Huaraz in 6 hours from Lima but that is just downright dangerous. The main highway from Lima to the turnoff to Huaraz is a good, well paved road. It takes 45 minutes to an hour just to get out of Lima. The road runs parallel to the Pacific coastline for a ways passing by beautiful steep sand dunes. The road ascending into the Andes (once leaving the coast highway) is pot holed, sometimes dirt, with parts always seemingly under construction. Its not that great of a road although is certainly not a horrible road. The highest point of the road is around 14,000 feet.
Movies in Spanish sometimes with English subtitles are shown in the buses. Bingo is always played with the winner receiving a free non transferable trip that has to be used within 30 days. Note that to win the bingo, all the numbers on your card must be read by the announcer! Food is served, either regular or a vegetarian meal. It is your typical tasteless bland bus food.
A small bus station for Cruz del Sur is located merely minutes walking from the center of Huaraz and is typically within 10 minutes of most area hostels and or hotels.
Note, if you arrive in Huaraz by bus typically you will be met by several people inquiring if you would like a taxi or need a hotel. Every time we arrive to Huaraz by bus and start walking out of the bus station, invariably the number of hecklers filters down to one or two guys who say they can be your guide for the time you are in Huaraz and will help arrange trip details. They will follow you to your hotel either by walking or in your taxi unless you cut them off at the bus station. If you don't want them to follow you, tell them you already have made arrangements for trekking or that you will visit the trekking offices downtown later.
Friends have also used Movil Tours (their bus station in Huaraz is just down the street from Cruz del Sur) – visit: www.moviltours.com.pe Note that both bus companies take major credit cards.
Cial is one of the cheaper bus companies offering service between Lima and Huaraz. Along with Movil and Cruz del Sur, Cial is located in the same general vicinity in Huaraz. Supposedly there is now also a scheduled flight from Lima to Anta (near Huaraz). We have seen this nice paved airstrip several times, but as our latest update to this guide, we cannot confirm these flights.
More Information
Click on the tabs below for additional sources of information for travel in Huaraz and the Cordillera Blanca region.
Agencies
Climbing
General
Hotels