Dave has eaten at all of these restaurants. More restaurants will be added here during future climbing trips.
Cafe Turmanye is owned by Finnish and Spanish missionaries with the proceeds from the cafe going to local missionary work. This cafe opened in early summer 2008. Several couches make this a nice place to relax during your breakfast and lunch. Good fruit juices and simple food items. This cafe is just down the hill on the left side of the street from the Siam de los Andes Restaurant (as mentioned below). Note: we have received word this restaurant is currently temporarily closed while the owners look for a new location among the sea of high rents in Huaraz.
El Fogon is located almost across the street from La Braza Roja restaurant mentioned directly below. It is located just a few blocks from the main Plaza del Armas square and any taxi driver should know this name. The signage out front is not good and the restaurant is located upstairs so keep a sharp eye out when you get close. This restaurant can get very busy on weekend nights especially with locals and as a result service can suffer a bit. The food is decent with a good drink list.
For more information visit: www.nextstopperu.com/eng/el-fogon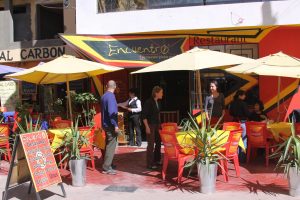 El Encuentro at the time of this review had just opened their 3rd restaurant. They have two restaurants right next to each other in the same plaza as the El Horno Restaurant (as mentioned above).
The staff is very friendly, the restaurant is modern and chic looking. They are located at Jr. Julian de Morales N 650. The food is decent – good trout dishes. Outside dining is available for reasonable weather days.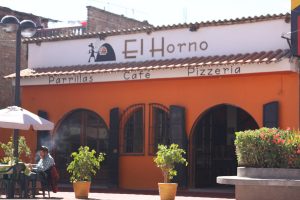 El Horno is located close to the center of town in a courtyard surrounded by several guiding agencies. The restaurant is clean and modern and is very setup for tourists. True to its name, the "horno" or oven is clearly seen towards the back of the restaurant.
Their specialty is oven roasted Pizzas and BBQ meats and they have a fine selection of these. They also have a terrace for dining which faces the nearby park. For more information visit: https://www.facebook.com/elhornopizzeria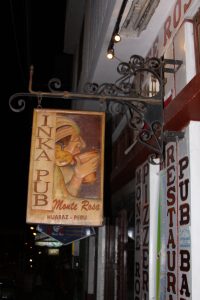 Inka Pub, Monte Rosa is owned by a Swiss man and serves some excellent Pizza's, Pasta and other local cuisine. The inside of their restaurant is designed chalet style and is warm and accommodating.
The owner rents climbing gear and is also an authorized dealer for Swiss Army Knife products. He has a plethora of local climbing and photo books which before your meal may make a nice read.
This restaurant is located at: Jr. Jose De La Mar 691 just up from the main street.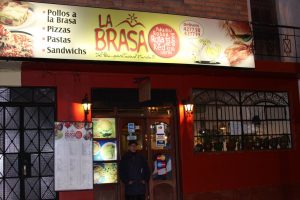 La Braza Roja is definitely one of Huaraz's most popular restaurants especially by the locals as it is not even located in the center of town but it is located on the main street several blocks from the main Plaza where the new Cathedral was built. This restaurant serves authentic Peruvian cuisine and is always crowded on Friday through Sunday nights.
Their menu has a great selection of soups, salads, main entrees and deserts. Looking to enjoy some alcohol, their Pisco Sour is very good and is larger than what most of the area restaurants serve. Chicha Morada is a purplish drink made out of maize and is very popular in Peru. This restaurants version is excellent and is made naturally (watch out for some restaurants that use the artificial version).
Here are a couple of other dishes that we recommend and have personally tried.
The Anticuchos are beef hearts and one of these dishes is served shish kebob style. There are also excellent Trucha or trout entrees. Oh, and wonderful ice cream. A dinner here is always a tradition for us after ending our treks or climbs.
For more information and the full menu please visit their website: www.labrasarojaperu.com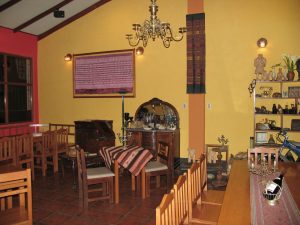 Siam de los Andes is one of the best Thai restaurants in all of South America. In fact it is one of the best Thai restaurants that we've tried outside of Thailand and that is saying a lot as we have tried many. Siam de los Andes is run by the well-known Thai climber Naresuan and this restaurant is very popular with climbers.
It is located on the corner of Gamarra & Morales at Av Agustin Gamarra N 560 just down from a primary school. Naresuan has taught the locals how to cook excellent Thai food. He divides his time between Columbia and Huaraz – spending the summer months in Huaraz.
If you want authentic Thai dishes eat here. The prices are certainly not cheap, but the excellent food, nice atmosphere and friendly staff is worth it. When there are climbers eating here its a good place to catch up on the latest climbing routes and conditions. Note that this restaurant is generally only open part of the year during the climbing season which typically runs from mid May through early October. If you are not visiting during those times, this restaurant will probably not be open.
If you are interested in having a personal bicycle guide for trails in the nearby mountains, the owner of this restaurant, Naresuan is your man. In addition he also lives in Columbia parts of the year and conducts guided trips there including through the infamous Darien Gap. Please talk to Naresuan. Phone: 043-509173 or email: naresuan@hotmail.com
NOTE: Naresuan has permanently closed this restaurant and at last update was now living in the United States. His restaurant will be sorely missed from the Huaraz dining scene