Audubon House & Gardens is located at 205 Whitehead Street. Phone 305 294-2116. This house was the home of a 19th century Key West Settler named Captain John H. Geiger. This building was restored in 1960. The reason it is named the Audubon House is because Mr. Audubon the naturalist visited Key West in 1832. Special exhibitions are shown in the second floor gallery. Be sure to tour the gardens where exotic plants are growing. The Audubon house is open daily from 9:30am until 5pm. Admission is $10.00 for adults. All admission pricing and details can be found on their website at. http://audubonhouse.org
Dry Tortugas National Park is located about 70 miles west of Key West. The only way to reach this is by a scheduled ferry or a chartered seaplane. Spanish explorers discovered these unique islands in 1513 and named them Las Tortugas, which means "The Turtles". The islands serve as turtle nesting and breeding grounds. Fort Jefferson was built on the main island in 1846. During the Civil War it held deserters of the war.
Several ferries provide transportation to this fort. Two are the following:
Dry Tortugas National Park Ferry. They can be reached at phone 877 FASTCAT x 735 or by calling 305 294-7009 x 735. They have two observation sundecks, an air conditioned lounge, and a modern galley and bar. Free breakfast and lunch included. A free guided tour of Fort Jefferson is offered and you can use their snorkel gear also free of charge. This is a 100-foot high-speed catamaran. The trips depart at 8am and returns at 5:30pm. All major credit cards are accepted. Their web address is: www.yankeefleet.com
Sunny Days www.sunnydayskeywest.com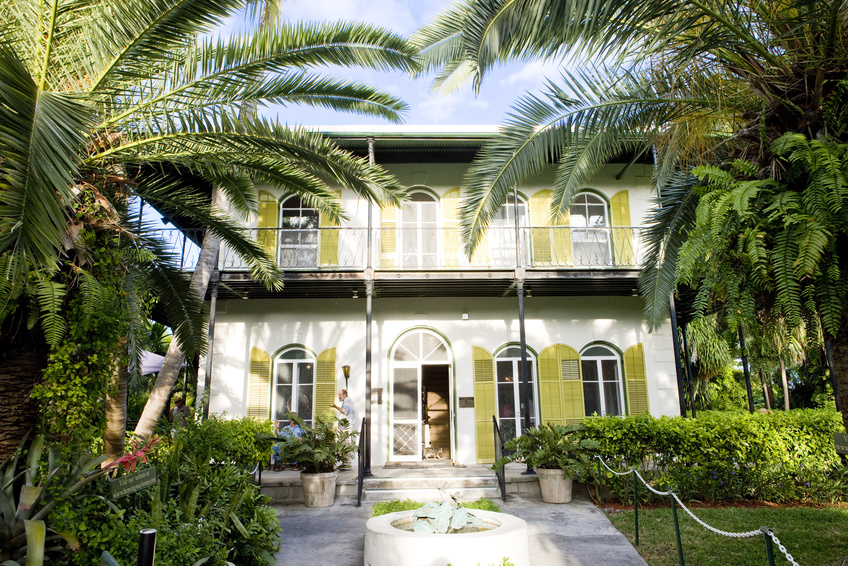 Ernest Hemingway Home & Museum Ernest Hemingway purchased this Spanish style colonial mansion in 1931 and lived in it until 1961. This house was built in 1851. While here Ernest wrote some of his most important books including, For Whom the Bell Tolls and The Snows of Kilimanjaro. After he died in 1961 his wife sold the mansion to the local residents.
After these residents experienced demand from inquisitive tourists they decided to donate it so that the general public could enjoy the house and grounds.
This home is located at 907 Whitehead Street. The phone is 305 294-1575. The house is situated in lush tropical gardens. They make a nice background for a photo op. It costs $9.50 to take a tour of the house.
You can see the gardens and outside of the house through the gate from the main street in front. The highlights of the tour include his pool, his writing studio, and a small gift (statue) from Marlene Dietrich.
From either the tour or from the gate on the street you will probably see descendents of Hemingway's 50 six toed cats. Today over 150 cats roam the grounds. They are well fed! Website: www.hemingwayhome.com
Fort Zachary Taylor is located at the south west end of the island. When we were in Key West a sewage spill had closed Smather's beach and all of the others except for the beach in Fort Zachary Taylor. The beach here like most of the beaches in the Florida Keys has sprinklers to wash off salt. This particular beach is a bit rocky and also covered with shells. A museum here exhibits one of the largest collections anywhere of Civil War arms. Many cannons are displayed. For more information call phone 305 292-6713.
Key West Aquarium first opened in 1934 and was one of the first open air aquariums in the USA. A 45 minute guided tour takes one to the feeding locations. They are open daily from 10am to 6pm. It is located at the foot of Whitehead Street on Mallory Square. www.keywestaquarium.com
Conch Tour Trains pronounced "Konk" are well worth it. They have three train depots, at Duval and Front Streets, on North Roosevelt Blvd, and t Land's End Marina on Caroline Street. They have an excellent narrated tour. For more information call phone 305 294-5161.
Website: www.conchtourtrain.com
Lighthouse Military Museum is located at 938 Whitehouse Street. The museum is now in the former lighthouse keeper's cabin. It displays exhibits about Florida's lighthouse history. A Japanese submarine captured in Pearl Harbor and a fighter airplane are both located in the garden area. The lighthouse was built in 1847; it has a spiral staircase which the general public can walk to the top for excellent 360 degree views of the island and ocean. For more information call phone 305 294-0012
Mel Fisher's Treasure Exhibit is well worth the money. Mel Fisher passed away in late 1998. His museum is located near the waterfront at Greene and Front Streets (200 Greene Street). This exhibit displays gold, silver, and other artifacts recovered by Mel Fisher from the sunken treasure ships, the Atocha and the Santa Margarita. He searched for 16 years before finding these ships on July 20, 1985.
These two ships sunk off of Key West on September 22, 1622 in a nasty hurricane. For more information call phone 305 296-9936. Another store specializing in sunken treasure is the Spanish Colonial Coin Co. They are located at 425 Green Street and you can reach them at phone 800 234-1622 or at phone 305 296-5366. Visit Mel Fisher's Treasure museum: www.melfisher.org
Memorial Sculpture Garden is FREE and is located near Mallory Square. Here you can see busts of famous people who lived in Key West or who played a part in city's history. The newest addition to this garden is a program where you pay a fee for getting your name etched into a brick. The brick is then laid around the statues.
Ripley's Believe it or Not! is located in the heart of Key West at 527 Duval Street. This is one of the many Ripley museums in the US begun From the legacy of Robert Ripley. Robert Ripley who is buried in Santa Rosa, CA traveled the world and discovered some very strange objects. This museum contains over 1500 strange and bizarre exhibits including a shrunken head. For more information call phone 305 293-9694. They have 10,000 air conditioned square feet. They are open daily from 9am until 11pm. All major credit cards are accepted. Visit: www.ripleys.com/keywest
Southern Most Monument in the United States is logically located at the southern most point in the US. It is only 90 miles from Cuba. If Cuba ever becomes a Democratic nation, ferry service between Key West and Cuba would begin almost immediately. The monument located here is a small painted concrete structure. There is not much to see here except the ocean. It is worth a trip just so you can tell friends and family that you have been there. It also is a good backdrop for a Twitter or Instagram moment. This monument is located at the junction of Whitehead and South Streets.
Sunset Celebration is well worth a trip to Key West. This takes place on Mallory Square and the Westin Key West Resort & Marina next to the historic old town. Here the square remains empty for the majority of the day, but in the evening the square fills up with thousands of people. There are many vendors and artisans selling their crafts. Check out the infamous "Cookie Lady" wheeling herself around the square selling various cookies. Besides all the crafts that are sold here, a number of interesting entertainers keep the crowds spellbound.
Two of the better ones that draw the most eyeballs are the dog trainer and the magician. The dog trainer allows his dogs to perform a variety of unusual and heart warming tricks. The magician is an ingenious devil. His most famous trick is when he invites four people from the crowd to put a metal jacket and chains on himself and then he somehow escapes. www.sunsetcelebration.org
The average sunset times for each month are shown below. These times are just average so they may vary a bit depending on the day.
Month – Sunset Time
Jan – 5:50pm
Feb – 6:12pm
Mar – 6:29pm
Apr – 7:43pm
May – 7:56pm
Jun – 8:12pm
Jul – 8:20pm
Aug – 8:11pm
Sep – 7:46pm
Oct – 7:14pm
Nov – 5:47pm
Dec – 5:38pm