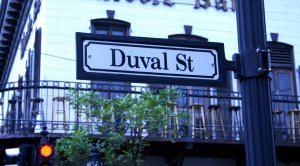 These are just a few of the cool shops found on or around Duval Street in downtown Key West. Dave has visited all of the shops listed here (although we have removed many over the years because they are no longer in business).
One neat thing about these shops that you can't find in most small US cities is that many of them are open late into the night. Most are open until at least 10pm. Key West is home to numerous creative artists.
Margaritaville Store is located on Duval Street next to the Margaritaville Cafe. This is an excellent store to load up on Jimmy Buffet memorabilia and T-shirts.
Wings of Imagination is a beautiful butterfly gallery well worth a special trip to upper Duval Street. Galleries like this are far and few between. They have several different size display cases of brilliantly colored butterflies for sale. The prices range from approximately $35 to over $3000. Visitors can purchase a single butterfly or you buy up to 100 in a single display case.
All cases are displayed on the walls. They ship just once a week, and due to the limited space, the cases that sell contain a sold sticker until they ship them. This gallery is located at 1108-C Duval Street. Phone is 305 296-2988. Visit: www.keywestbutterfly.com
Kermit's Key West Lime Shoppe sells Key Lime pies – you can even order online using their website: www.keylimeshop.com