We always enjoy going to South Lake Tahoe for some late night gambling. We have had good luck playing the slots at Planet Hollywood. The restaurant there tends to be quite crowded but once you are seated you are surrounded by movie memorabilia. Check out Cindy Crawford's high school yearbook photo. Whenever we are in Tahoe we always frequent Harrah's Hotel and Casino but Montbleu, nearby, is of similar caliber. We have a soft spot for Harrah's as it is a family tradition to go to this Casino. We recommend the Summit restaurant which is on the 16th floor, the highest floor in the casino. For more information about this buffet restaurant see our Restaurant section.
For best access to Harrah's traveling on Lake Tahoe Blvd. (Hwy 50) going towards the Nevada state line, take a right on Lake Parkway and you will circle around to the parking lots in the back of Harrah's. By taking Lake Parkway you avoid some of the congestion that surrounds the state line scene. Of course some people may thrive on congestion and crowds, and then by all means continue straight on Lake Tahoe Blvd. to downtown State line, and then look for parking. There is lots of parking behind Harrah's, but usually its always full. However, there are constantly people leaving and I have been able to park very close to the entrance many times. If you want to be aggressive and have several energetic members in your car, you can send people out on foot to scout for parking and then have them stand in the parking spot when they find someone leaving. This method has worked on several occasions for us, although it does tend to irritate other drivers!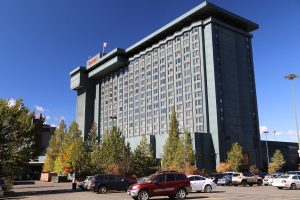 There are many plastic change dishes lying around Harrah's as there are at most casinos. We usually take a few and use them for planting small plants which sit on our window sills back at home. They can also be used for storing small items, which we have had some success with. The best part about being parked in front of the slot machines, besides the clanging of the coins dropping in your machine only, is the cocktail waitress coming by and telling you that you can have drinks on the house. We always order a white Russian and they give us a funny look. We then end up ordering a whisky sour which brings a smile to their face, and a knowing look. However, we may have a drink or two but in general we do not advocate high alcohol consumption coupled with gambling. However, Tthe casinos encourage alcohol consumption because it gets the emotions flowing, as well as the money.
Most of the machines at Harrah's are quarter and dollar machines. They have completely removed all the dime machines. There are still a few nickel machines tucked away in one of the corners. Competition is fierce for access to the nickel machines. Often times people will be playing more then one machine and this causes bad feelings among some of the gamblers, especially on the limited nickel machines. We haven't visited too many casinos so we don't know if the Harrah's "gold room" is unique to their establishment. The "gold room" is where the slots start at $10 and run at least up to $100.
At Harrah's, on the lower floor, you will find a children's center. This is basically a video arcade playhouse. The atmosphere is loud, and annoying, but always monitored by a single cop standing next to the entrance. Near the video arcade but away from the noise are several fancy shops. Among them are several nice clothing shops proudly displaying sweat shirts with various Tahoe locations stenciled across the front, a Disney Store, an autograph store carrying not only sports memorabilia, but political and movie memorabilia, and some fancy art galleries, with one displaying a large collection of Red Skelton works. Near the entrance to the casino on the lower floor used to be a large waiting area with plush seats and mimes catering to those to young to gamble or those smart enough to avoid the one armed bandits. The casino has removed this waiting area and unfortunately you now have to sit on the floor.
Right next to Harrah's is a fancy Embassy Suites Resort. The interior of this resort is beautiful inside and consists of a large open area from which you can look up and around 360 degrees and see the balconies of the upper stories. There are plants and some small waterfalls in the center of the resort. There are meeting rooms, spas, and pools scattered throughout this resort. For more information about this resort see our Accommodations section.
Another gambling town we frequent is Incline Village located on Tahoe's north shore. Cal-Neva the casino that Frank Sinatra used to hang around during his younger days is located here (but is currently closed). As you drive towards the Nevada state line this casino is found on the right side of Highway 89 just over the state line. This casino and resort had a performing hall where Frank Sinatra and other famous celebrities used to perform. In the middle of the main hall at this casino is a line painted on the floor indicating where
Other casinos in in the vicinity of Cal Neva include the Tahoe Biltmore and the Crystal Bay Club. Incline Village is much more "low key" then the casino culture of South Lake Tahoe. The atmosphere is less hectic and the gambling resorts are much smaller.