The following are hiking or biking trails we have explored in the Tahoe Area. As time permits, we will visit additional local trails and provide more information here.
Angora Lakes
These set of two lakes are located about 10 miles from Emerald Bay. You can either take a car or bike here. Take the Fallen Leaf Road off of Highway 89 on the south side of the road. This is a narrow paved road that skirts Fallen Leaf Lake (about 1/2 mile in on this road there is the trailhead for Fallen Leaf Lake (the trail is about 1/2 mile). Continue for another 2-3 miles until you get to Tahoe Mountain Road and take a left. Climb up this road for approximately 0.5 miles and turn right onto what appears to be a small dirt road – there will be absolutely NO signs for Angora Lakes at this point. Several hundred feet in, lo and behold you will find this narrow road becomes well paved and remains paved all the way to the gated dirt road. This road used to be dirt but b/c Angora Lakes are so popular a compromise was reached with the locals and the tourists. The beginning of this road was left unpaved to discourage people from driving in, but the rest of the road is paved to make it easier to get to the actual Angora Lakes. Crazy!
This road will be uphill the entire way to the lakes – it crosses a high ridge from which you can see Fallen Leaf Lake and Tahoe spread way out in the distance. On the other side of ridge was where the large Angora Fire of 2007 hit – and in the coming years the vegetation will grow back nicely and hide the blackened mess. Park at the end of the road and hike or bike about 0.6 of a mile up a dirt road to the first lake. Continue a little bit further to the 2nd lake which is the much nicer of the two lakes. Angora Lakes Resort has been here since 1917 and is a series of small cabins which you can rent. There is a small store here which is famous for their Lemonade! Summertime brings kayak, wind surfing and other boat rentals to the 2nd lake. There is great swimming in this lake when its warm – especially near the nice granite boulders. If you enjoy jumping from cliffs into water and are aware of the dangers this brings, hike to the other side of the lake.

Flume Trail
This is by far one of the most scenic rides at Tahoe. Of course word has gotten out and unfortunately it can be crowded during certain weekends. This trail is named for the wooden flumes that used to carry water and logs for mining activities in Virginia City in the 1870's. The forest service hauled most of the aluminum tubing out by helicopter and sold the metal as scrap to in part finance the actual trail construction. The trail is for the most part located directly above Sand Harbor Beach on Tahoe's North East shore – several miles south of Incline Village. To get there from Incline Village take Highway 28 south about 10 miles to Spooner Lake. From South Shore take highway 50 north to Highway 28 to Spooner Lake.
The Flume trail is located in a state park and nominal fees are charged for bike and walk ins – and you have to pay for parking. The total length from near Spooner Lake where the trail starts back down to near Sand Harbor is about 14 miles. The first 5 miles are gradual up hill along a dirt road to Marlette Lake – there is a trout farm along one of the inlets to this lake. This lake is a good place to take a break from riding and if warm take a quick swim. There are some tall trees with long ropes handing from their branches next to the trail on the west side of the lake. These are great for swinging far out into the water.
The actual Flume Trail starts at the edge of Marlette Lake – there is a very short but steep and somewhat technical section which takes you down to the main part of the old Flume. You will have approximately 4 miles of stellar views of Tahoe and beyond. On a clear warm mid week, mid summer's day it does not get much better than a ride along here…mid week as typically it is much less crowded than weekends. The trail is very narrow, not much more than 2 feet wide in places. Parts of the trail are along steep drop offs which adds to the excitement of riding this trail. When stopping as you will invariably want to do for the great views, be sure to place your bike off the trail on one of the many small pullouts. One section was hit with a rock slide a few years back and its highly recommended you walk your bike through this as there is no room for mistakes.
The trail ends with a long steep section along a dirt road which winds back to The Lake and comes out on the main highway about 1 mile north of Sand Harbor State Beach. From early June until early October, there are shuttle rides which will drive you the 10 or so miles back to the Spooner Lake parking lot where you started. For more information visit: www.theflumetrail.com

Miller Lakes
Chambers Landing is a fancy gated lakeside community just north of Homewood on Tahoe's West Shore. Almost directly across from Chambers Landing is a road that heads west for a short distance. At the start of this road will be a sign that directs to McKinney OHV access. McKinney OHV is a 4 wheel drive road that winds for many miles back into the hills west of Lake Tahoe. In the last 2 years the first part of the OHV road has been paved and ends at a small parking lot. I definitely do not recommend driving a normal car on this road. We have taken our car on this road up to Miller Lakes which is about 5 miles from the end of the paved part of the road. We had to drive extremely slowly and watch for large sharp rocks in the road, drive over small snow patches, fjord small creeks, and drive over all of the above going up steep hills. This road rates in the top 3 "worst roads" ever driven on with a non 4 wheel drive vehicle.
This OHV road, however, provides a nice hike or bike ride. July is probably the most crowded month. We were hiking this road in July one year and must have been passed by hundreds of jeeps all with either US flags or Confederate flags waving from the back of their jeeps. Sometimes we were passed with giant naked women blow up dolls. Its always an interesting crowed the "runs the Rubicon"!
For a relaxing day hike we recommend hiking just to Miller Lakes. These are a series of 3 to 4 lakes situated on a saddle back in between the mountains. There are fish in the larger of these lakes, although from what I have heard they are quite bony.

Mt Tallac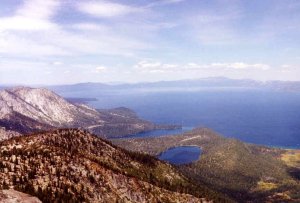 We have reached the summit of Tallac 4 times; this is always a fun and scenic hike. The trailhead is located off of a small road off of Highway 89 on the south shore of Lake Tahoe. The entire round-trip hike (no bikes allowed) is about 10 miles. There are some great views as you hike in on top of a ridge with lookouts over Fallen Leaf Lake and Tahoe further in the distance.
Early in the season may find you crawling over snow banks as you get closer to the top. There are several small lakes you will pass as you start your major descent up the mountains – if warm these are good places for a quick swim. The actual rock covered summit has excellent views of Tahoe below. This is a great almost all day hike – take it slow and bring plenty of food and water.

Round the Lake
We've biked around the Lake in one day. Highway 89 is quite narrow in places, but in other places there is a nice bike path. The total distance is 72 miles with lots of uphill and downhill riding. Use extreme caution in the areas of highway 89 that do not have a bike path – the worst areas are around the Emerald Bay area. The bike path is mostly developed on the west shore, north and south of Tahoe City. We took about 8 hours to bike around The Lake but we were on a mountain bike. If in good shape on a road bike you could do this in much less time.

Rubicon Trail/Rubicon Springs
If you feel quite adventurous and enjoy hiking or biking long off road distances you could hike all the way to Rubicon Springs. Rubicon Springs is located between 10 to 13 miles from where the pavement ends. If you think the road is bad up to Miller Lakes, continue past the lakes to Rubicon Springs. If you know where to look you can spot old jeeps and cars that people abandoned and threw over the side of the road. Only the hardcore off road jeeps attempt this portion of the road. Rocks as large as desks and cars are commonplace in the middle of the road. It is amazing to see these powerful jeeps drive right over these rocks. On our few hikes and biking trips over this section of the road we have seen 3 accidents after they happened. We saw a jeep crashed into a large tree just off the road. Another time we saw a jeep rolled over about 15 feet below the road. It happened probably an hour before we got there – people had tied a rope to its front axle and were trying to pull it up and out. Lastly, as we were hiking in an extremely large rocky section of the road, we saw lots of oil and fluid dripping off of the rocks. Then around the corner we saw a jeep on its side. Somehow the bottom of the jeep had been gashed and had partially turned over. It looked like it was temporarily abandoned.
About 2 miles before you get to Rubicon Springs you will come to a lookout high above a valley. Rubicon Springs is down in that valley. Before you descend into that valley look around and you will see great views of the snow covered Sierras. On our first trip to Rubicon Springs we tried to take a cross country shortcut to the Springs, from near Miller Lakes. Do not try this. Hiking cross country in these mountains can be downright dangerous. Instead of saving any time welost time because of the rough terrain we had to traverse. We ended up descending a steep canyon which lost elevation probably one a half times as fast as the road that leads down into the valley. On one of our trips we talked to a "jeepster" and he told us that several years ago he had to make an emergency trip out of the area because he came upon a hiker who had gashed his knee wide open and was wandering around dazed. It turns out the guy had tried some cross country hiking and fortunately had stumbled across the road and was trying to hike out by himself.
Anyway, the road that leads down to the valley during the early to mid summer months can be basically a river running through large boulders on steep cuts in the side of a cliff. The jeepsters all carry CB radios to alert each other of emergencies or on coming jeeps. About half way down this steep road there is a spot where we have located the remains of the "green dragon", the old running board car that used to transport health seekers to Rubicon Springs. In the articles that we have read they mention that this car was abandoned somewhere on the "Rubicon Grade". The picture and descriptions of the car match the car that we found. In parts of the road you can also see where people poured concrete to make the road more passable. This concrete has pretty much eroded away and water has run around it leaving large gullies.
At the bottom of the grade just before you have to wade or swim the Rubicon River (depending on the season, and time of the day, snowmelt) you will see a small primitive cemetery on the left side of the road. Some of these graves are quite new, possibly those of jeepsters who have passed on. From this small cemetery it is about another 1 or 2 miles to the Springs. The road after crossing the Rubicon river becomes reasonable. It winds along relatively flat terrain on river sand. You will know you are getting close to the Springs when you start seeing old wooden outhouses scattered among the boulders.
Rubicon Springs has long attracted people because they believed the Springs could cure their ailments. If you ask us, those who traversed that nasty road all the way to Rubicon Springs would have been hurting more then before they started their trip. We have old pictures of the hotels and buildings at Rubicon Springs. The waters lure wore off in the 1930's and the place was basically abandoned. In one of my pictures you can see a protective house built over the springs and a few pines in the background. That picture was taken around the turn of the century. When we visited the Springs we brought our camera and the photo to compare to the present day site. All that was recognizable from the early day pictures was the large stump of the tree directly behind the springs.
Today the Springs is located at the camp of 20 people who own a rustic time share type cabin. Their are many many wooden bathrooms scattered about, probably from when groups used to come up and camp. The Rubicon river runs a short distance away from the springs. We have seen large trout in this river. The Springs lie on the edge of a small meadow where Indians used to have their summer hunting grounds. We have found small pieces of obsidian and part of an arrowhead about 50 feet from the Springs. There used to be many Timber rattlesnakes in this area, even when the Rubicon Springs Hotel was in its heyday. They slowly disappeared due to the extreme hunting by guests of the lodge.
A woman used to own the lodge and she provided fancy silverware and pottery for her guests. I was able to locate where the main hotel once stood and was able to find some pieces of pottery covered with interesting colors. Rubicon Springs today is a haven for mosquitoes. It lies on the edge of the meadow and slowly flows into the center of the small meadow. We have tasted the water, and it is quite good. We purified it before drinking.
Tahoe Rim Trail has been worked on since 1984. This trail was completed in late 2001 and is 150 miles in length around Lake Tahoe. This trail incorporates 50 miles of the existing Pacific Crest Trail. For more information visit: www.tahoerimtrail.org

Tahoe City to Homewood
An excellent biking trail is the paved bike path that parallels Highway 89 from Tahoe City to just past Homewood. This path winds its way around west shore and occasionally parallels the edge of The Lake. As a result if it is warm there are several spots where you can take a quick swim in The Lake. This path also extends to Squaw Valley and winds along the Truckee River. This part of the trail is a bit steeper then the path around the west shore because it follows the Truckee river down the canyon. Still it is not overly steep and many people can be found riding it on warm summer days.
A bike path also parallels Highway 89 along parts of north shore and a good majority of south shore.

Ski Resorts, Hiking & Biking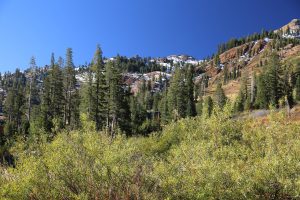 Good hiking trails and cross country hiking can be found at various ski resorts. Some of our favorite resorts for summer hiking are Alpine Meadows, Squaw Valley and Sugar Bowl. The views from the top of Alpine and Squaw are fabulous. Squaw Valley has a cable car which leaves from base camp for high camp many times a day. The cable car fare is $26 round trip. We have taken a one way cable car trip up to the top and then hiked down or I have hiked up and then taken the cable car down. Many of the ski resorts advertise summer biking on the winter ski slopes. Squaw Valley has many bike trails only available in the summertime. We have heard that a great steep ride is the trail that comes down from Squaw's high camp to their base camp. For more information about the Tram Car and Squaw Valley bike trails – call Phone (530) 583-6985.
We love hiking the ski slopes in the summertime because of all the wildflowers that are just coming out, the scenic vistas and of course finding all the loose change and other things that skiers drop. Over the years we have found many coins on these hikes. Sometimes we find car keys, old wallets, cell phones, sunglasses, parts of skies, medals and other items.
Squaw Valley's high camp consists of a bungee jumping station, an an ice arena (which is open in the summertime), a large pool, and a restaurant and gift shop. The high camp is located at 8,200 feet.
Heavenly Valley Ski Resort in South Shore also has a Tram car that whisks people 2000 feet above Lake level. The entire trip takes only 7 minutes and there are many hiking trails at the top. Trips depart every 15 minutes in the summer from Memorial Day through late September. The summer fare is $16.50 and the winter fare is $20. Those children under 6 years of age can ride the tram for $10 year round. For more information call Heavenly at Phone (702) 586-7000.

Other Rides & Info
A real challenge of a ride, but one that rewards with outstanding views is the 22 mile Tahoma to Barker pass ride.
The easiest Tahoe mountain biking trails are in Sugar Pine Point State Park on Tahoe's west shore. The Paige Meadows loop is an relaxing ride.
Some biking shops that rent bikes are listed below:
General