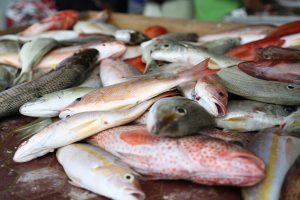 I ate at several excellent restaurants for both lunch and dinner. One of our favorite meals in Lamu was the curry.
Breakfast can be an enjoyable meal in Lamu – especially when one is no hurry – taking time to enjoy the start of the day and not worrying about what the rest of the day may bring.
One such cafe, called Whispers (where I had excellent breakfasts each morning) has a stone patio in the back of the restaurant surrounded by tropical foliage. This patio is a quiet relaxing place to enjoy their excellent food. Whispers is located fairly close to the Gallery Baraka. The owner of this restaurant had a monkey which would always be there in the morning climbing one of the banana plants.
For the most part the food was very good in Lamu – I never had any problem with food sickness. The following are several more restaurants in Lamu:
New Star Restaurant is fairly inexpensive and the food is good. Service can be a bit slow.
Bush Gardens and Hapa Hapa Restaurant are two restaurants overlooking the harbor located right next to each other. These are two excellent seafood restaurants. Try the Hapa Hapa for breakfast as well.