Lamu offers numerous boutique hotels and private accomodation. Do you have additional lodging options for this page? If so, please email them to Dave as we like to keep this page updated with current lodging options.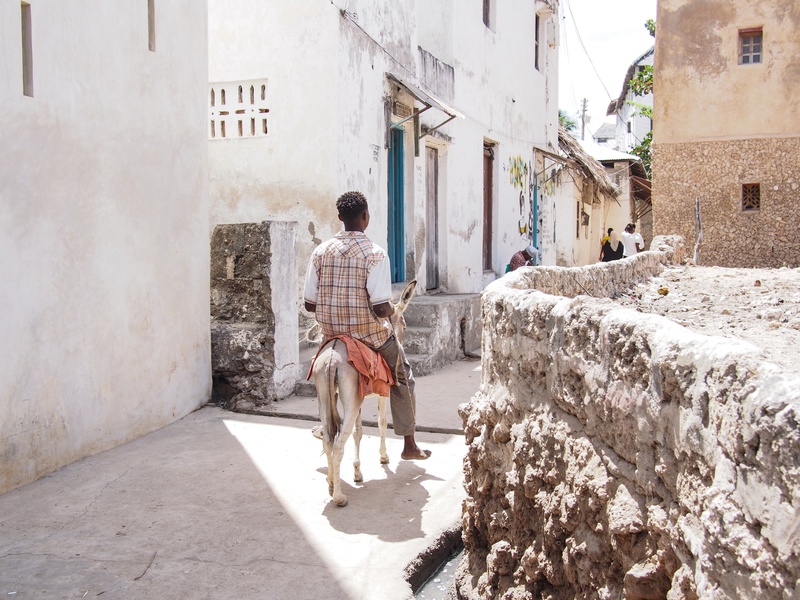 I stayed in a small house located several streets inland from the harbor front. I always had a difficult time finding my way back – through a maze of narrow dirt streets from the harbor between the whitewashed walls of the buildings. My accomodation consisted of several rooms in the owners own house. The rooms were on the second floor in a building that seemingly was part of all the other buildings around it. In Lamu, many of the buildings are joined together.
This home had rooftop access – this is a must when looking for lodging in Lamu. Rooftop access is nice because of the excellent views of town and the waterfront and also for the breezes that blow in during the evening. This house had several mattresses and chairs on the rooftop – it was an ideal place to spend an evening relaxing, enjoying a cool drink while and reading an entertaining book – most likely about travel. And in Lamu, the evenings are for oneself 🙂
In tropical cities all over the world there is something that feels refreshing and safe about being on rooftops. Warm and outdoors – perched high above everything else – what a great place to watch a vivid sunset, to relax with an adult beverage in hand, to become lost in the pages of a good book and to feel the gentle breezes blowing against your face.
I came to Lamu with no reservations for anything. Local guides can recommend places based on a description of where you want to stay and your budget requirements. Do not let them convince you to pay up front for lodging as your plans may change and you may only stay in one place for a day or two. In any case here are descriptions of a few hotels (in alphabetical order) in Lamu/Manda, some of which have been recommended to us by fellow travelers and some we personally visited.
Amu House . The following comments are provided by: Gaynelle Lewis-Fleming.
"I stayed at Amu House for five days. Even though there were daily problems with the island generators, and the heat/humidity were high, I enjoyed my stay. Amu House has a good staff. They are accommodating and polite. Michael was especially helpful and friendly. The rates are far better than those in Shella. Three hundred dollars a night is no bargain at Peponi even if they do have their own generators."
Life in Lamu is not for anyone who thinks that camping out should be no more inconvenient than the Holiday Inn. What Lamu offers that is unique in all the world, is a chance to walk the streets of antiquity, to hear the prayer calls, see the children playing in the streets, and to watch the dhows on the channel. The breezes and views on the roof of Amu House are the best. Being in the streets at the time of breakfast during Ramadan is to be in another world, but it feels like a dream, a movie, or a time warp. I would return in a minute. The sights and sounds and smells are assaulting (donkey poop and pee, particularly), and acceptable all at the same time. It is a third world environment, and the people have a completely different lifestyle. They enveloped me with respect and curiosity. I learned much about myself spiritually and emotionally.
Banana House certainly has a catchy name tied into a love story. A Dutch lady fell in love with both a man (named Banana) and the area and moved here permanently. This is a private guesthouse and wellness center. The rooms and main courtyard are decorated nicely with Swahilli artworks. For more info visit: www.bananahouse-lamu.com (some good info about Lamu in general is also posted on this website).
Diamond Beach Village is located on Mandu which is the sister Island of Lamu. This lodge is located right on the beach front with amazing views of the open ocean, Lamu island, Shella village and dhows sailing by. For more information including photographs please visit their website: www.diamondbeachvillage.com
Lamu House offers luxury accommodations. Good views of the waterfront; this is a sweet stay.
Visit: www.lamuhouse.com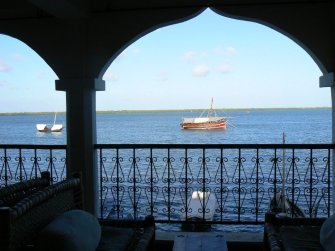 New Lamu Palace Hotel is located in the heart of Lamu right next to the waterfront. This 3-story hotel is easily recognized from the white washed walls, the archways and the small concrete stubs the line the wall of the 3rd story rooftop.
Lounge areas are located on both the first and second floors and of course the third floor "rooftop sun parlor" is open air.
This hotel operates a swimming pool but its a 10 minute walk from the actual hotel. Dining is available on the first floor (with bar). They have their own generator in case of power outages. These are always a possibility in Lamu.
For more info call: 042 63316 or email: webmaster@kenyabeach.com (Photo above courtesy of Maria Baker – taken from the Palace Hotel looking through one of their archways at the water).
Peponi Hotel can be reached at 011-254-121-33422. This hotel is located at Shela village about 15 minutes from Lamu via a motorized dhow. Guests can walk to Shella Village via a walkway along the water. Expect this walk to take about 45 minutes. This is the premier hotel to stay in the area and pricing per night can be up to $300. For more information visit their web site at: www.peponihotel.com
Stone House Hotel is mid priced and offers several rooms facing the water. All room prices include breakfast. The rooftop restaurant is excellent with good views of the water front and of the town.
For more information about the Stone House Hotel and also about the Mnarani House and the Island Hotel in Shella please visit: www.lamuhomes.com | Phone: 011-254-121-33544
Petley's Inn is one of the nicer hotels in Lamu. It is conveniently located next to the Lamu Museum on the waterfront. This historic hotel was established in the late 1800's by an English plantation owner named Percy Petley. Unfortunately it was almost completely destroyed in 1993 by a fire but since then has been meticulously restored. Petley's has 22 beds, a swimming pool, a ground level bar, and an excellent rooftop bar & restaurant. This is a great place to enjoy a drink and meet others from around the world. Exotic, exotic!
Standard rooms run about 4000KSh for singles and includes transportation to and from the airstrip in Manda. Please email Dave any information about this hotel if you have stayed here recently.
Author's Notes: – 2009, Petley's was completely renovated after the disastrous fire in 2003 (10 years after their previous large fire) and has been open for business for a number of years since.
Older Updates: 8.26.03 – Petley's Inn recently burned down – petrol/oil was being sold in the basement & apparently someone lit a match. The fire took out several buildings including the Lamu Paradise Guest House, the Pizza Hut Hotel & the Mangrove Restaurant. ~ from Jeffrey
Update 4.26.04 – There are no real plans for opening Petley's Inn soon. I've spent many nights drinking cold Tuskers in the upstairs bar…..~ from RICK
Update: 5.15.04 Word has it that Petley's Inn is now closed and the owner remains in seclusion in the Lamu Palace Hotel ~ from Christine who just returned from Lamu.
There are many small hotels in Lamu. If you are familiar with any of these please email Dave with suggestions or leave a comment below.