Las Vegas is a large sprawling glitzy city situated in the middle of the high desert surrounded by stark high desert mountains. Words such as surreal, fast-paced and hyper-reality quickly come to mind when describing Las Vegas. Words such as subtle and quiet are not often associated with this city.
Las Vegas used to be known as a gambling and casino city. Those who haven't visited in 20-30 years would be absolutely shocked to see what Las Vegas looks like now. Today, it is truly a town of entertainment and the gambling part of this town, while still integral – is just one of its many facets.
Where else in the world can you "visit" Paris, Venice, and New York all in the same city?! At last check the answer is no where but Las Vegas. This is a city that lives in the present and lives all day and all night. Things don't close here at night like normal towns. On a recent night, lines for the sports betting in some of the major casinos were backed up 5 to 6 deep at 3am in the morning. This congestion does not stop in the casinos where you can try the slots at NetBet – traffic on the strip can be horrific especially in the evenings – and especially on Friday and Saturday nights. A unique monorail system connects passengers quickly and easily to several of the larger more well-known casinos and often runs very late into the early morning hours.
The events of the "moment" are plastered around town on all of the billboards. If you drive a car in this city, you would have to be blind not to know "who" is coming to Vegas on such and such a date.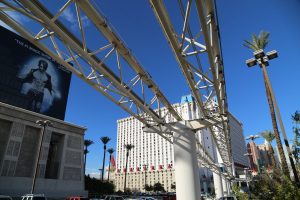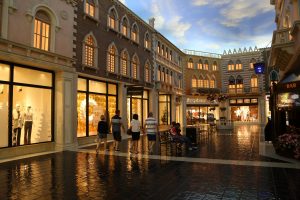 It seems like there is always an old casino being demolished to make way for the latest 'hot spot' casino or night club. Bigger is better, and new casinos try to outdo the old casinos in terms of glitz and attractions. NOTHING is static here.
Some casinos have resorted to creating imitations of well-known cities or famous world wide attractions. If you have never visited some of the "real" places, these imitations will leave you with a false sense of expectation. For example, try visiting the Grand Canal in the Venetian Casino – Gondoliers dressed in nicely pressed black pants and clean black and white striped shirts row their gondolas down the pristine Venetian canals (ho, that IS the bottom of the canal I can see!) to the tunes of Bocchelli playing softly somewhere in the background.
The painted sky above contains romanticized clouds and stylistic lighting always gives an appearance of dusk, an opera singer might be singing on top of a raised Roman rotunda in "St. Mark's Square" and if you are lucky she will come up to you and shake your hand. It is all so wistful and dreamlike – just like being on your very own movie set.
The hospitality industry which is tied into gambling of course absolutely drives this town. It is hard not to find a business somehow tied into the hospitality industry. The money that comes through here on any one day is staggering.
It seems like Las Vegas is always in a stage of incredible growth – new homes and shopping centers continue to be rolled out like on a rug at an impressive pace sprawling to the outskirts of the city. Local Unions have even held talks at times to slow down the growth as they cannot even keep up with the explosion.
You know what happens when you throw a rock into a still pond. Ripple after ripple is formed. This is Las Vegas – except the ripples of growth are not in water, rather they are rippling across the desert.
Read on to find out more about this unique and entertaining city as well as some of the attractions we visited.
McCarran International Airport (LAS), "Gateway to Vegas Baby" – serves passengers from many nonstop domestic destinations and a surprising number of International destinations as well. At last count there were nearly 30 airlines serving McCarren with millions of passengers coming through its terminal yearly. Part of the airport is located directly next to "the strip" and passengers are located only a short distance (drive) from the major casinos. Unlike most airports, McCarran boasts a number of slot machines and within a minute after stepping into the terminal out of the jetbridge you can be happily pulling one of the one armed bandits. For more information visit: www.mccarran.com