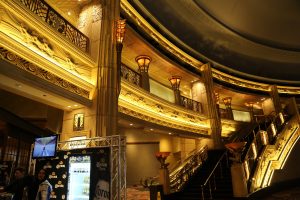 Hakkasan is located in the middle of the MGM Grand, one of the largest casinos in the world. NOTE: Studio 54 has now closed, essentially replaced by this latest casino hotspot, Hakkasan (a more intriguing, sensual and mysterious sounding name then Studio 54 ever was). Hakkasan is close to the pinnacle of Vegas nightclubs and party spots in North America, if not the World. First of all, to enter Hakkasan you have to pass through the largest ballroom (officially called The Entertainment Room) you probably will ever see. Off in the distance a loud band might be performing on the large stage, fancy cars might be on display, & exotic dancers may be attracting large crowds. This ballroom is very much circular with hand painted murals surrounding the entire room. Artwork, rotundas, verandas, and balconies not to mention fancy gaming machines, are all a part of this awesome room.
On a weekend night or on a holiday evening – good luck getting into Hakkasan. During a recent weekend in November the line snaked through the casino. Think sardines in a can – then think people. Its packed – and it gets scary trying to move anywhere when you are sandwiched in with so many people. A strict dress policy is tightly enforced. Five levels.
Apparently they practice pricing discrimination based on your sex – they charge significantly more if you are a man. We encourage you to boycott this venue.
This premiere nightclub has 80,000 square feet of dance floors and bars, including an area for invited guests only, and several other private facilities. Many famous celebrities and singers have performed here/or Studio 54 prior. Hugh Hefner had his 75th birthday bash at Studio 54, Pamela Anderson has been known to party hard here. Previously, Tuesday nights were EDEN nights – (Erotically delicious entertainers night).
For more information visit: www.hakkasanlv.com

House of Blues in the Mandalay Bay Resort – This is one of the premiere nightclubs in Las Vegas and as a result getting tickets and gaining entry to one of the shows here last minute can be quite difficult unless you 'know' the right people. There are often very long lines in the wee evening hours. Tickets can range up to hundreds of dollars depending on options purchased. Once inside on popular nights you will be lucky to have more than an inch of personal space around you! Flashing lights, dry ice, loud music and fantastic crowding of a small area all add to the mystique of this place.
Be sure to visit the bathroom – several feet of perfumes, colognes, soaps, oils, and other smelling items completely line the countertops. Its an unusual experience when someone opens the bathroom stall for you and then expects a tip before he closes it for you. Ouch. If your adventurous sit down and have someone insert tubes in your nose at which point you can start inhaling "colored" oxygen. Bring your little digital recording device with you, whatever it may be, to capture the memorable moments. Boogie nights is a popular evening of the week. You want insanely popular? Try Halloween Night, Christmas or New Years. Visit: www.houseofblues.com/lasvegas
Tommy Rockers Cantina & Grill is located at 4275 Industrial road. They are open 24/7 and serve American, Southwestern, and Mexican food. This bar is in complete contrast to the fast paced, enormous, high energy casino entertainment. Rather, Tommy Rockers is more low key, a fun atmosphere, & hip drinking. Mix in a wide variety of alcohol, some snooker, good music and you have the ingredients for a nice evening of partying. PHONE NUMBER: (702) 261-6688 Website: www.tommyrockers.com