We have personally visited & reviewed the following 130+ Los Angeles and Orange County museums. We spend a lot of time in the City of Angels, therefore this section is continuously updated with new and updated reviews as time permits. Note: Monday is the worst day to spend visiting museums in Los Angeles as by numbers, most of the museums are closed (but not all). The small museums often maintain very limited hours.

African American Firefighters Museum

African American Firefighter Museum is located at 1401 S. Central Ave and have limited hours on select days of the week. This was the country's first museum dedicated entirely to the African American history of firefighting. It is housed in fire station # 30 and opened to the public in 19997. In 2014 two other African American firefighter museums opened, one in Chicago and one in Denver. The museum is entirely run by volunteers. A visit here is a unique insight into the early African American fireman in the LAFD and the struggles they had to fight before and post department segregation.
The fire station closed down in 1980 and became "home" to a number of homeless over the years. Fires broke out and the entire station was severely burned at one point. A lot of effort and money went into restoring it and today it is a well maintained building. The original ceiling, floor and fire poles are still in place. The first floor is fairly wide open with plaques and historical photos lining the wall. The second story contains the 'guts' of the museum with plenty of firefighting equipment and other historical items.
This museum is housed in an old Fire station that was built in 1913 – the original fire fighting vehicles used to be pulled by horses – the horses were stabled in the rear of the museum and when the alarm went off, indicating an emergency or fire the horses were trained to immediately walk into position behind the vehicles. The problem is they could not time their need to use the bathroom with the emergencies so a series of holes were built into the floor of the fire station. When the horses defecated, the fireman simply shoveled the matter into these holes. Today they are wood coverings in the floor. The LAFD didn't have use of a motorized vehicle until the 1920's.
Back then there were no fire alarms and the fireman were called "Call Men" – when a fire was reported they had to shout out to their comrades to prepare the firefighting equipment.
There were only two African American fire stations in Los Angeles. African American's were segregated from the other area fire stations for 50 years from 1902 to 1954. The racism after segregation was implemented was harsh at times. Enduring taunting, nasty tricks, such as forcing them to reach the second story of the firehouse only by using the fire-pole which other firefighters put butter on to make it extremely slippery as well as separate sleeping arrangements.
A legend around these parts is Arnett Hartsfield Jr (nicknamed, the "rookie") – at the time of this review he had just turned 96 years young. His work as an attorney helped spearhead the start of desegregation in the department. Ultimately African Americans in the LAFD had very limited opportunity for advancement (just two fire stations) and desegregation would ultimately allow them much better opportunities.
The first African American, Sam Haskins joined the LAFD as a volunteer in 1888. Unfortunately he was killed when he saw vehicles from a neighboring fire station racing to a fire, he jumped on, fell off because of the bad condition of the roads and was run over by a vehicle behind.
Along with serving the community as a museum this fire station can also be rented out for weddings, receptions, birthday parties and some authors have even help their book releases here.
Listen to two LAFD veterans speak of their time in the department:
For more information about this museum and its history, please visit: www.aaffmuseum.org
America Tropical Interpretive Center
is located about half way down the tiny little Olvera Street – or you can enter from the much larger 125 Paseo de La Plaza. They are open from 10-3pm Tuesday through Sunday. The museum is centered around the life and times of David Alfaro Siqueiros (1896-1974) – a former soldier and one of the exceptional Mexican artists of the 20th Century. he was exiled from Mexico and came to Los Angeles in 1932.
There is a reason the museum is located here – one of his great outdoor murals, 'America Tropical" is located several buildings over from the museum. There is a viewing deck on the second floor. The mural depicts jungle scenery with a Indian peasant hanging from a cross with an American Eagle and revolutionary soldiers.
Siqueiros began work on this controversial mural in 1932 – several years later it was completely whitewashed over. It wasn't until 1988 that the Getty conservation Institute along with the City of Los Angeles began to look at conserving this unique mural and the museum and the mural were opened to the public in 1912.
The museum itself is small – just several rooms but it contains interactive exhibits, videos and For more information visit: theamericatropical.org
American Military Museum
(often called the Tank Museum) is located at 1918 Rosemead Ave in S. El Monte. The museum is open Friday through Sunday from 10 to 430pm and are closed on rainy days. A visit here is for military enthusiasts as well as those who want to simply see one of the larger collections of military equipment and vehicles open to the public in Los Angeles. The focus is on Tanks but there are are plenty of other military vehicles to see including a helicopter, amphibious vehicles, large ammunition and various military used cars and trucks.
The museum was founded in 1962 and today features more than 175 vehicles. Vehicles used in a number of wars are on display including World War One, World War Two, the Korean War, the Vietnam War, the Cold War and several from Operation Desert Storm
Parking is in a gravel lot with a short walk to the main entrance. You are given a binder with information about each vehicle corresponding to numbered signs in front of the vehicles. Alternatively, you can download the same information in PDF format onto your smart phone before you visit the museum via their website under their "Exhibits" page. Several military items are for sale at the entrance including some large caliber shells and military toys. For more information, visit: www.tankland.com
American Museum of Ceramics
is located in Pomona at 399 North Garey Avenue. This is one of the few museums in the country devoted entirely to ceramics. Parking can be street side nearby but they also have their own parking lot behind the building. This corner location was an old bank building – the vault has been cleverly turned into a gallery.
Founder David Armstrong, a long time ceramics enthusiast is still very much involved in the museum. He is often on site. He founded the museum in 2001 and more recently purchased this corner building which affords the museum a plethora of space.
The primary exhibit room is on the first floor – a number of creatively designed pieces are displayed here (all are for sale – this also keeps the turnover fresh so the next time you visit, the exhibit will have changed). The largest collection of German "stein" mugs is on display in the lower floor.
A really neat feature of this museum is a huge floor dedicated to working on ceramics. This is open for viewing to visitors and it is a great place to meet artists actually creating their ceramics in real time. Classes are also offered here. Interesting in creating your own ceramics – you can do so here – just inquire. Visit: www.amoca.org for more details.
Armand Hammer Museum of Art & Cultural Center
is operated by UCLA and is located at 10899 Wilshire Blvd about a mile in from the 405 freeway. Note that Wilshire Blvd is an extremely busy large LA thoroughfare so expect heavy traffic on your drive here. The works of art were originally collected by Armand Hammer a business man who operated a variety of businesses ranging from oil, cattle and distilling whiskey. Throughout his business career he continued to collect art. He was a contemporary of Norton Simon (see Norton Simon Museum below) and often found himself bidding against Mr. Simon for high-priced art.
Admission to the museum is free. They are closed Mondays. The museum opens at 11am. Be sure to have counter attendant validate your parking pass as this will give you discounts on the parking. The actual museum is located on the corner and parking is under the museum itself. During a recent visit to the museum we spent several 2 hours exploring the several levels of galleries offered. Their main galleries focus on paintings and works on paper by French 19th century artists. In addition works by artists who have instant name recognition are also on display. Famous artists such as Rembrandt, Rubens, van Gogh, Degas etc have works on display. There are also a number of works by prominent American artists. Exhibits rotate on a continuing basis.
The Armand Hammer Museum operates a variety of museum programs and all are free to the general public. These include a number of prominent speakers and people well known in their respective fields. Looking to support the museum and hang with some big names and other luminaries? Check out their annual "Gala in the Garden" fundraising event. Consult the calendar on their website for more details and times.
Getting hungry? The reasonably priced Cafe Hammer is operated by Wolfgang Puck and is located on the 2nd floor next to the open air courtyard. Outdoor heat lamps make dining an enjoyable experience on those rare colder LA days! More info: www.hammer.ucla.edu or Phone (310) 443-7000

Automobile Driving Museum
The Automobile Driving Museum has a wonderful collection of 130+ well maintained in drive-able condition classic automobiles. Visitor's can get up close to this cars rather than at most car museums where are are kept at a "safe" distance by a rope. Cars are displayed in a large primary gallery along with several vehicles contained within a more private smaller side room.
Several cars were once owned by prominent individuals including Eroll Flynn, Howard Hughes and a car made for Eleanor Roosevelt. The museum is conveniently located only 1/2 mile from LAX at 610 Lairport Street in El Segundo. You can easily walk to the museum from the nearby Green Line Mariposa Metro station.
The highlight of a visit here is on a Sunday. This is the only museum in the country to offer rides in their "exhibits" – in this case the classic automobiles. One can doesn't always have a chance to ride in older vehicles – you can only get so much information from staring at a vehicle in a museum. A trip out gives you the feel of how the car was built, how it works and to some degree, how it handles.
Each Sunday several cars are made available along with a driver. Short drives lasting 5-10 minutes are given. Cars range from the early 1900's up to the 1960's. A reproduction of what is generally considered the world's first gasoline engine is the 1886 Benz Motorwagen and can be viewed in their main lobby.
Sunday is a good time to be riding the streets of El Segundo as often the local streets in this part of town are rather empty. Each driver will explain about the car you are in and can answer historical automotive questions. Admission is free with small suggested donation. A 50s style diner is also on site. For more information and to view which cars are going to be driven any given Sunday, visit: www.automobiledrivingmuseum.org
Autry Museum of the American West
is run by the Autry Center along with the Southwest Museum of the American Indian (see our review here). This museum is located directly across from the Los Angeles Zoo in Griffith Park at 4700 Western Heritage Way. Allow at least 2 hours here (two floors of exhibits).
During a warm late summer day we visited and had the museum almost all to ourselves. With Johnny Cash songs piping out to the outdoor courtyard we knew we were in the right place! With over 14,000 items from American Indian history this is the largest museum of its kind in the nation. Rotating exhibits of American Indian and other Western items rotate as well as permanent collections. Highlights include a number of prominent items used in the American West from about the 1820's to the 1890's including weapons from famous outlaws. Nice displays showing modes of transportation from those times, mining artifacts, clothing, weapons, exploring the west, and more make this one of the best museums of this era that we have seen. In addition to the authentic items from this era there are several exhibits relating to Hollywood and westerns. Look for lots of movie memorabilia including guns and costumes.
This museum is open every day of the week but Monday. A cafe and a gift shop are on site. Visit: www.theautry.org
Avila Adobe
is located at 10 Olvera Street and is open from 9-4pm daily. This extremely historical location is the oldest residence in Los Angeles having been constructed in 1818 by a wealthy cattle rancher Francisco Avila (originally from Sinaloa, Mexico). Today, it has been well restored (in the late 1970's after an earthquake in 1971 severely damaged the home); the interior is decorated with era furnishings and items that would have been of use during the 1840's. A number of rooms are present including the largest one, the main dining room, an indoor kitchen (used during bad weather, as the kitchens in those days were typically outdoors), a children's room and the master bedroom. Note the wooden floors – this was not always the case – the original floors were made from hard earth.
The walls of the adobe are really thick – up to 3 feet in width, and are made of sun baked mud. One interesting historical tidbit is the part the La Brea Tarpits played in the construction. Tar was taken from these pits (Wilshire Blvd now runs in front of the tarpits), was mixed with rocks and horse hair and was used as a sealant on the wooden beams holding up the roof. Clay from the Los Angeles River was also used in the construction.
Avila maintained a garden and a vineyard on site with water coming to the property from an irrigation ditch that led from the Los Angeles River to the east of the property.
The adobe is located almost cross from Union Station and there are views of this historic building from the south part of the courtyard. The courtyard is a peaceful and quiet place to relax – considering you are next to the busy pedestrian Olvera Street and are not far from major freeways including the 101 and the 10 and the hustle and bustle of downtown. The historic Sepulveda House is also located here and can be toured during normal visiting hours.
Banning Museum
is located on the south side of Banning Park at 401 East M Street in Wilmington. Free parking is curbside along any of the residential streets in the area. In order to see the museum and home, visitors must go on tours. These are offered on Tues, Thurs, Sat & Sun at 12:30, 1:30 and 2:30pm and on Sat & Sunday a 330pm tour is also offered.
The museum focuses on Phineas Banning and the home that he built here in 1864. The Park and the home were acquired by the city of Los Angeles in 1927 after several generations of the Banning's lived here. Today 18 rooms are open to the public (by guided tour). We have visited the park but have yet to take a tour of the museum. Check back by late 2019 for an update here. Visit: www.thebanningmuseum.org

Bergamot Station is located in Santa Monica on site of one of the original Red Line Trolley stops (back when public transportation within Los Angeles was served by trolley cars). This was one of the stops that served between Los Angeles and Santa Monica. Today the station is composed of over 40 galleries and art and design forms – all of which are open to the public without admission. This is an 8 acre site and is Southern California's largest gallery complex.
The works focus on modern genres of art however some galleries display more traditional paintings (realism). Each gallery has its own curator – some of the artists are extremely talented. During a recent visit we were introduced to the incredible works of Dario Campanile – who was showing a number of real life looking paintings of fruit. His watermelon paintings are so vivid and real, you almost want to reach out and take a bite of one of them!
A large parking lot is located in the center of the complex (parking is also available on side streets). A stop here is an excellent way to visit a number of galleries without having to drive all over town – and unlike a museum, the works of art displayed are for sale.
A cafe is also on site. Bergamot Station is located right off the 10 Freeway. Visit: www.bergamotstation.com

Bowers Museum
is located at 2002 North Main Street (just north of downtown Santa Ana). The museum was founded in 1936 by the city of Santa Ana from a financial gift left by Charles and Ada Bowers. This is clearly one of the top museums in Orange County with excellent International cultural and art exhibits. Over 130,000 works of art are contained within their permanent collections. Rotating historical artifacts and art make up a number of galleries. During our visit outstanding collections of Chinese artwork and the best South Pacific Island exhibit we've seen were on display.
Permanent exhibition highlights also include Native American Art, Asian Art and African Art. Galleries specifically dedicated to California paintings from the 19th and 20th centuries are also a highlight. A unique component of this museum is their Kidseum located just south of the main Bower Museum (at the corner of 18th and Main Streets). The focus of the "Kidseum" is on children's art education. A variety of art programs and exhibits are offered. Allow at least 2 hours at the main Bowers Museum. Visit: www.bowers.org
Broad Museum
(pronounced Brode) is located at 221 S Grand Ave in downtown Los Angeles and provides a weighty white counterpart building to the impressive Disney Concert Hall located across the street. The Broad Museum maintains their own parking garage below the actual museum – enter on 2nd Street. Parking is based on 15 minute increments and compared to other downtown parking is fairly expensive, maxing out at $22. The garage is three floors – if it gets super busy, cars will be parked single file two at a time. Despite the cost of parking, admission to the actual museum is free and you are given a ticket before you enter the building. An extended escalator leads upstairs – the end disappearing into what looks like a cave.
The museum was founded by art collectors Eli and Edythe Broad and opened on September 20th, 2015. The museum is home to over 2,000 pieces of art spread over multiple galleries across two floors. An interesting system of storing the works of art is in place (metal cages) which you can see through windows as you walk between the gallery floors.
The focus is on contemporary art – even if you are not a contemporary art enthusiasts, after a visit to this museum, you will leave with a memorable impression. The works of art are extremely unique, unexpected and at times, intriguing. This has to be one of the more social media driven museums in Los Angeles – with the works capturing the attention of many phone cameras as people slowly walk through the exhibits. The museum attracts a wide range of visitors including many young people who have an interest in art.
A number of fascinating exhibits are on display including Icelandic artist Ragnar Kjartansson – The Visitors, a series of a number of large screens which captures a haunting melodic at times Bohemian music video shot in a mansion north of New York City. The video was shot in one take and runs for slightly more than an hour. Visitors find themselves walking through the room at times to follow the action as it moves from screen to screen.
The "Under the Table" exhibit by artist Robert Therrien features nearly 10-foot high tables and chairs and you feel dwarfed when you walk underneath. Also easily identifiable works by Andy Warhol and Roy Lichtenstein. Yayoi Kusama's Infinity Mirrored Room is extremely popular, located on the first floor and features a dazzling array of led lights.
A tiny gift shop greets visitors as you exit. For more information visit: www.thebroad.org

Cabrillo Marine Aquarium
is located at 3720 Stephen M. White Drive in San Pedro – you drive all the way past all the "Ports of Call" to reach the aquarium. Three main highlights here are the actual exhibit hall which contains a number of small aquariums focusing on Southern California marine life – both plants and animals including some impressive sea anemones. At certain times of the day the "touch tank" will open – this is popular with families with children. What sets this museum apart from other aquariums is not its size (overall it is rather small) but rather is its Exploration Center and Aquatic Nursery.
The Exploration Center contains a number of microscopes for closeup viewing of sea life – staff and guides are on hand to interpret and help answer questions. The nursery is a "living laboratory" staffed by both students and volunteer scientists. Ongoing experiments and tanks growing live organisms including fish are on display.
The Aquarium is located in the Cabrillo Beach Coastal Park – be sure to pick up a walking map of this area at the Aquarium; this handout highlights the unique aspects of several parts of the nearby coastline. A white sand beach is located across the parking lot – overlooking a bunch of industry and marine cargo equipment. This area and nearby park sometimes is a great place to escape the hectic hustle and bustle of the LA Freeways. For more information about the aquarium visit: www.cabrillomarineaquarium.org
California Missions
Greater Los Angeles and Orange County have three representatives of these, Mission San Juan Capistrano, Mission San Gabriel Archangel (the closest mission to downtown Los Angeles) and Mission San Fernando Rey de Espana. We have visited and reviewed all three (including the museums at each mission here: California Missions .

Carolyn Campagna Kleefeld Contemporary Art Museum, Cal State Long Beach
This museum is free to the general public and features both rotating and permanent exhibitions. The focus is on contemporary art including abstract paintings and related works (clearly evident during our most recent visit here). They showcase sole exhibitions as well as group presentations. Sometimes they partner with other are museums to showcase selected works – including the Museum of Latin American Art, also in Long Beach. This museum was founded in 1973.
Don't miss some of the outdoor sculptures (founded in 1966) and scattered throughout campus. Parking is in nearby lots – one must purchase a parking ticket from one of the automated kiosks; be sure to place it face up on your dashboard before leaving your vehicle.
Cayton Children's Museum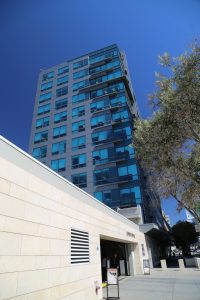 (the only Children's museum in Los Angeles) is located on the "Miracle Mile" with the entrance on the first floor of the tall Jewish Federation Goldsmith Center at 6505 Wilshire Blvd #100. Entrance is on the street level just through the security in the lobby. There is parking lot offering free parking for visitors just west of the building.
The museum caters to children between the ages of 0 to 8. Two floors contain a variety of both fun areas and fun interactive exhibits combining education.
Select rooms and exhibits include Bunnies Bookstore (where stories are read or children can read basic books including books about Jewish faith), the Blue Bagel Cafe where children learn about foods from around the world, a Culture Club featuring cultural events weekly, a tiny replica Synagogue, a Light and Shadow room where with the press of a button children can temporarily brand their shadow to the wall, an older Ambulance in a room where children can play doctor, a "water section" containing a raft used during Hurricane Katrina and an Art room where kids can express their creative interests (note to parents, this room can get quite messy!).
And these are just some of the activities offered. The museum maintains a daily schedule of activities that is hard to keep up with – including special events. Some of the more popular events involve music geared towards younger children including the popular drum circle and various art projects. Bubble time is an especially popular activity. A giant 'pinball' machine is on site appropriately named Tzedakah and teaches children about charity and giving back to their community.
The staff is diverse and passionate about working with children.
The museum also works teenagers to give them the tools to make positive changes in their communities through an organization called Youth Think. The museum also works with classes of young children at various schools to offer on site field trips.
This is a must stop if you have children and either live in or are visiting Los Angeles. For more information visit: www.caytonmuseum.org
Chen Art Gallery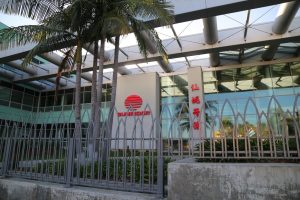 You know you've hit all the major museums in Los Angeles when you start visiting museums that recommend appointments such as this one. For art lovers, this is one museum you do not want to miss. The 12 room gallery contains the private collection of Dr. Tei Fu Chen – a world renowned herbalist and founder of Sunrider International. The museum is located at 1625 Abalone Ave in Torrance at Sunrider's world headquarters.
Over the past 20+ years Dr. Tei Fu Chen has amassed a world class collection of Chinese antiquities – mostly through International auction houses. The gallery is organized into five sections – Chinese furniture, Jade, Bronze, Porcelain/Pottery and a beautiful unique collection of ornate Snuff bottles. Highlights of the gallery include very detailed jade carvings, colorful ceramics and pottery dating back several thousand years. A number of pieces clearly show International artistic influences (European, Indian and Middle Eastern).
Admission to the museum is free and tours typically take about an hour and are always private for your party. The guides are extremely knowledgeable about Chinese antiquities and enjoying sharing the highlights of this rare collection.
Tours are available in English and Chinese with select other languages offered by prior arrangement. For more information please visit: www.chenartgallery.org

Chinese American Museum
opened in 2003 and is located in what looks like an old movie set – but is actually a restored part of the original Chinatown. This site is the home of the original Chinatown in Los Angeles; its residents were forcibly removed starting in 1933 to make way for Union Station and the Hollywood Freeway. The museum is housed in the last surviving structure of the original Chinatown. Today you are more likely to find Chinese merchants working in the surrounding area speaking Spanish. This part of downtown is the oldest in Los Angeles and some of its oldest standing buildings are still standing. This area is known as the El Pueblo de Historical Monument, a 44-acre public park.
The mission of the museum is to educate the public about Chinese-Americans long rich cultural history in Los Angeles. Displays depict how rapidly the Chinese American population in the area has grown – from just several families around 1850's to several hundred thousand today. The museum is small; it did expand to the second floor in 2012 – allow about 30 minutes. From near the entrance there are good views of city hall nearby. The museum is located nearly across from Union Station and is a very short walk from here. A number of parking lots are in the surrounding neighborhood as well as select street side metered parking (most have machines that accept credit cards and coins). Note that the part of Los Angeles street where the museum is located is a walking only street. Location: 425 North Los Angeles Street – visit: www.camla.org
Columbia Memorial Space Center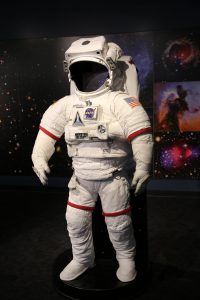 is located in 12400 Columbia Way in the city of Downey. The location is of significance, the museum is on site of the former Boeing/Rockwell plant where all of the Apollo Command Service Modules were built and is also where the idea of the Space Shuttle was born and Space Shuttle spacecraft were designed and built. Interestingly enough, the last shuttle built here and operated by NASA, now sits in it's permenent home just 'up the road' in Exposition Park at the Californis Science Center.
The museum focuses on a number of Space related activities – including as a memorial to the astronauts lost in the Space Shuttle Columbia disaster.
The museum is also a tribute to Downey's own valuable contributions to aerospace (dating back to 1929 when part of the city's land was converted to an airport and aircraft manufacturing facility). The aerospace company Rockwell operated in Downey for 70 years.
The museum features a number of hands on activities for visitors including to some extent portraying how life is aboard the Space Shuttle. A robotics lab, computer lab and a number of exhibits are on display relating to aerospace, engineering and both human and robotic space exploration.
Exhibits rotate at times however they do have a sizable permanent exhibition. Other highlights include the Rockwell Signature Blocks – 14 concrete blocks signed by astronauts, a real astronaut suit (named Andy); guests can take their photos with the suit and the Challenger Learning Center which focuses on hands on education for students.
A restored 'dummy' Apollo command capsule sits outside the main entrance (the Apollo Boiler Plate 12). The space can also be reserved for private events. For more information about this unique museum, visit: www.columbiaspacescience.org
Craft & Folk Art Museum
This small two story museum is conveniently located along LA's "Museum Row" at 5814 Wilshire Blvd. There are no permanent exhibitions here, rather artwork rotates, usually every few months. During a recent visit art as diverse as a tattoo exhibit along with colorful pottery was on display. Their focus is twofold – both on traditional art as well as contemporary artists. A small gift shop sells a variety of ecletic and unique pieces of artwork.
The building that houses the museum dates from 1930 and certainly has a unique exterior facade when compared to the nearby much taller modern buildings. The museum originally began in this building in 1965 as a restaurant that also sold art. The museum dates from 1973.
The museum also promotes additional folk art exhibits around Los Angeles. Check their website for more information: www.cafam.org

Discovery Cube Los Angeles
is located on the edge of the Hanson Dam Recreation area at 11800 Foothill Blvd. There is plenty of free open air parking next to the Cube. The Cube features a number of permanent as well as traveling exhibits focusing on education for children. The exhibits are not static, they are all interactive, educational and fun and as the museum promotes, "to allow kids to think and learn using their hands".
Take for instance the Discovery Market grocery store – Los Angeles certainly knows how to build "sets" and this one is well put together even down to the smallest of details. As soon as you enter this "store" pick up your grocery cart with its digital screen and scanner. While all the items for "purchase" are permanently fastened in place – use your scanner to scan each items bar code and learn about how to make healthy and Earth-friendly choices when you shop. There is even a digital check out screen.
Another very well designed "set" is the Inspector Training Course – a real size exhibit of a home – both inside and outside. Enter with an "inspector belt" containing a touch screen tablet. Discover energy saving ideas and compare and contrast low and high energy usage devices (such as light bulbs).
The Race to Zero Waste is an interactive game digitally monitored in which items flow around a conveyer belt with people stationed along side. The idea is to quickly sort recyclables and other waste from items moving around this conveyor belt. This game combines education, competitiveness with the focus being on healthy living.
Be sure to visit upstairs to try your hand (children and adults alike) at The Science of Hockey exhibit with a Los Angeles Kings theme (of course)- representatives of the LA Kings were on hand to help with the overall design and layout of this exhibit. It recreates a hockey stadium environment with the experience focusing on fun as well as the science and math behind the sport. Here you can shoot hockey pucks against a digital goalie (our top speed was 42mph, we were informed that most of their shots are in the 5mph range due to the age of the kids!).
If you visit on the weekdays chances are you will share the museum with a number of students on field trips. Weekends can be busy with families. Often guest speakers will present information to groups of children – during a recent visit one such presenter was making a presentation on dentistry to children under the ages of 10.
Hungry? The Bean Sprouts Cafe is located inside the Cube and features healthy sandwiches and salads as well as an organic espresso bar.
Note that there is also a Discovery Cube in Santa Ana in Orange County. The Cube is also available for birthday parties and other event rental options. For more information visit: www.discoverycube.org/la
Dominiguez Rancho Adobe Museum
is located at 18127 S. Alameda Street in Rancho Dominigues within a short drive south of the 91 Freeway and near the Compton Creek which connects to the slightly further away, Los Angeles River. Pull in the long driveway, wind up the hill and park next to the adobe entrance. This is truly an underrated historical site, still an unknown property by most Angelenos and perhaps under visited. A shame really.
Surrounded by many industrial neighborhoods, at first glance one is not aware of the rich history on this property. This is the site of the first Spanish land grant in all of California – given in 1784 by King Carlos III to Juan Jose Dominiguez (also Spanish), a soldier who first came to California with the Portola Expedition and later with Father Junipero Serra.
The original land grant was 75,000 acres and stretched all the way down to what is now the Port of Los Angeles, Port of Long Beach and Terminal Island (used to be a mudflat called Isla Raza de Buena Gente and later Rattlesnake Island). Remarkably the descendants of Juan Jose Dominiguez still own some property from the original land grant operating as Watson Land Company and the Carson Estates Company.
Guided tours of the old adobe home (built in 1826) are given at 1, 2 and 3pm on Wednesday, Saturday and Sunday and the first Thursday and Friday of each month. Admission is free and the tour usually lasts around 45 minutes (and in reality often starts a few minutes past the hour). The tour guide's insights into the property and ability to tie it's history into an understandable chronological timeline is invaluable. Part of the house is actually made from adobe – part is not and one can often notice a temperature difference when walking between the two sections.
After Juan Jose Dominiguez died (never married and no children) the land was passed to his only living relative – a nephew, Cristobal Dominguez. One of his sons, Manuel Dominiguez eventually became mayor of Los Angeles. A noteworthy event happened on site – the Battle of Dominiguez Hill, in the mid 1800's. The Dominiguez family continued to oversee the land through successive generations and children eventually married into what are now families synonymous with this part of Los Angles: Del Amo (Del Amo Fashion Plaza), Carson (city of) and Watson.
The interior of the adobe displays a number of furnishing of how the interior would have been decorated in the early years. A highlight is the city of Compton's first phone – dating from the early 1890s. Remarkably there is a small chapel contained within one of the rooms – family members used to take horse and wagon to downtown Los Angeles from here (used to take upwards of two hours in those days – perhaps a similar length of time today when one makes this drive during rush hour) and when this journey became to arduous for the aging parishioners they petitioned the church to be able to create a chapel at the adobe – and the priest came to them to hold mass.
A room worth spending some time exploring and reading the exhibits is the room that contains information about the 1910 Los Angeles International Aviation Meet. This was the first major airshow in the United States and was held at Dominguez Field, land once part of Rancho San Pedro – lasting for 10 days. It was the first time most people had ever seen airplanes – even William Boeing attended although he was not able to secure a seat in a plane during the entire event. This room highlights this event and some the early aviation pioneers including the first women ever to pilot a plane, Raymonde de Laroche. The Rancho was also the home of the Goodyear Blimp at one point.
Then in 1921/1922 oil was discovered on the property and understandably the land values increased dramatically. Prior to this, the land was used for grazing sheep and cattle. In an ode to the Dominiguez Oil Field – a 'bobbing donkey' is located just outside of the adobe. Also worth checking out next to the oil pump is the original windmill used to draw water from a well on the property.
In 1922 surviving family members donated the adobe and 17 acres to the Claretian Missionary Fathers.
For more information, visit: www.dominguezrancho.org
Drum Barracks Civil War Museum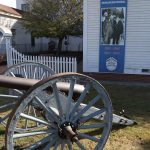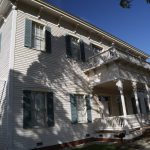 is a unique find; it is the last remaining Civil War era military remnant in Los Angeles. It is located at 1052 N. Banning Boulevard in Wilmington in the midst of older residential neighborhoods. And compared to the military based that used to encompass this part Los Angeles County (22 buildings over 60 acres) only this one building and small footprint of the surrounding grounds are all that is left.
Back then this military base was the U.S. Army Headquarters for Southern California and Arizona Territory from 1862-1871. It was built to protect the harbor if necessary and secure the area for the Union Army. There were enough Southern sympathizers living in this coastal area of California to make the Confederacy consider this as a possible addition to their states. Especially when in 1861 a Confederate Brig. General was given permission by Confederate President Jefferson Davis to capture gold fields in California. Ultimately there were no Civil War battles fought on this land or in the region – the closest was in Tucson Arizona. However, men from this base were sent to fight in the Civil War.
California certainly played a role in the war – over 17,000 Californians served during 1861-1865. In addition based on the gold found during the California Gold Rush which started in 1849, some records show that California financed nearly one-fourth the cost of the Union's war expenses.
Today, the last building standing from the original outpost has been converted into a museum containing a rich and large number of era artifacts and military items. This building used to house the Junior Officer's Quarters. The museum encompasses both floors of the building – all visits must be with a tour guide. Tours last approximately 90 minutes and are offered on Tuesday, Wednesday, and Thursday at 10 and 11:30am and Saturday and Sunday at 11:30am and 1pm.
Appropriately enough, our guide for the tour was named America! The tour slowly works its way through the house – each room is different and displays are dedicated to certain themes as they relate to the Civil War. An original Gatling Gun is on display in the armory room – back then this would have cost $1000 – certainly not a cheap piece of military equipment.
An original signature from Abraham Lincoln is on a document hanging in one of the rooms – you will see this on the tour. The Dunbar Autograph book is unique – Captain Edwin Dunbar collected signatures of Union Generals and celebrities over 50 years – his great grandson donated this to the museum. Signatures from General Burnside, Custer & Sherman, three US Presidents, Buffalo Bill, Helen Keller and Edwin Booth are some of the people who he met and had sign this book.
Many of the items contained in the museum are original – others are replicas (ask if you are not sure). Other highlights include an exhibit on women's clothing of the era including an original dress in very good condition (donated to the museum in 2013). Getting dressed fashionably at the time was quite an endeavor, involving 5 separate layers. Makeup was not a sign of fashion and was not used in the 1860's.
Check out both the Union and Confederate paper money – paper money was made for amounts starting at 5cents – the one on display here is for 25cents. A parlor room shows how men spent their time relaxing – checker pieces were made from cut up small cobs of corn – some left natural color, others painted black to identify both side of the game. Hardtack was food for away from base – it it extremely hard and needs to be soaked in warm water before one can actually chew it – some of these are also on display.
An interesting exhibit worth spending some time looking at is titled, Medicine in the Civil War. With over 750,000 casualties and huge numbers of injuries – 16,00 physicians served. An amputation saw is on display, an example of a rudimentary prosthetic leg and information about "anesthesia" used (ether given aromatically via a cloth over a funnel placed over the patients nose and mouth and a description of how leeches were used to help treat injuries. Diarrhea and dysentery were major problems.
More information about each theme of the museum is listed on papers in each room – free to take should you want to learn more.
You might wonder why the statue of the camel sits in front of the museum -this is a tribute to when this army base had 18 camels.
A well stocked gift shop is located at the entrance – era flags, books on the Civil War, olive oil and other war memorabilia is for sale. For more information visit: www.drumbarracks.org

Edmund D. Edelman Hollywood Bowl Museum
is located on the grounds of the Hollywood Bowl, just off of the 101 Freeway. This museum is named after well-respected Los Angeles County Supervisor Edmund Edelman. During opening hours, admission is free – and is a popular spot prior to concerts. For a less busy time, come here during the day well before concerts – and the parking lot will be totally empty! The museum is two stories – a small case greets visitors next to the front counter. This contains fossil fragments found on site by the head groundskeeper. Look closely one of these shells almost resembles the outline of the footprint of the actual venue.
The museum is two floors – the first floor is well laid out with highlights including the rich history of the Hollywood Bowl dating back to it's infancy in the early 1920's. The 'shell' is an iconic part of the bowl that graces the stage – two of the five shells over the years were designed by Lloyd Wright, the oldest son of Frank Lloyd Wright. Many famous musicians have performed at the bowl and the exhibits highlight some of them including the Beatles in 1964 who quickly sold out some 18,000 seats! The second floor features rotating exhibits – at the time of our latest visit, this part of the museum focused on noise pollution from the air including airplanes and helicopters.
For more information visit: www.hollywoodbowl.com/visit/hollywood-bowl-museum
El Molino Viejo
or otherwise known as the "old mill" is located at 1120 Old Mill Road in San Marino. They are open Tues-Sun from 1pm to 4pm. Parking is along the side of a wall on the small driveway the leads to the main entrance (walk through a gate in the wall to enter the grounds). This is the first water powered grist mill in Southern California – it dates from 1816 (celebrated its 200th anniversary in 2016). It was originally built to service the milling needs of Mission San Gabriel (about 2 miles from here). When a new mill next to Mission San Gabriel was built, this became the 'old' mill. Note the walls – they are made of both oven-baked brick and adobe slabs (the lower walls are some 5 feet thick!).
The mill itself featured horizontal milling stones that were pulled by local Indians to start or stop the wheel – aided in part by flowing water. The Mill itself features the main room (where the milling took place) which contains several historical artifacts as well as related history books for sale. The lower room contains information about the mill itself. An upper room (where the milled grain was originally stored is now home to a small art gallery (paintings are for sale).
A visit here is relaxed without crowds. Almost two acres of gardens surround the mill and visitor's can stroll through these at their leisure. Several old mill stones (found by General George Patton when he was a child – he grew up in the area) are located near the main entrance to the museum. Over the years, the mill has attracted a variety of artists who have visited including Gutzon Borglum, the sculptor of Mt. Rushmore. For more information visit: www.old-mill.org

El Monte Museum
is located at 3150 North Tyler Ave in El Monte just north of El Monte High school and directly across the street from Arceo Park. Parking is in one part of a lot in the back directly behind the museum – this lot extends further and part of the lot is by permit only). Surrounding streets also provide free curbside parking although note that Wednesday is street cleaning day and you are unable to park on certain streets at certain times).
This is a well stocked impressive museum containing a vast array of historical and at times unusual and eclectic items covering a wide spectrum of topics. The museum is really a tribute to the history of El Monte and the San Gabriel Valley. Over 8,500 square feet of space is filled to the brim with historical artifacts. There is so much here a quick walk through the museum is not enough time to absorb this all!
One room is setup like a street with small "shops" located right next to each other ranging from the barber, drugstore, shoes, clothing to the music shop. Some interesting items on display include a typewriter used by Mark Twain, a comptometer (the first commercially successful key-driven mechanical calculator – first dating from 1887).
El Monte was established in 1851 by wagon train pioneers (the Oatman Expedition) which came from Missouri – their first camp was located just west of the San Gabriel River. These individuals built both the first public school in Southern California and Protestant Church.
Gay's Lion Farm used to house over 200 lions and was located in El Monte (it was operational from 1925 through 1942 – closed by WWII). The museum has an informative display about this farm including several impressive looking lion teeth. One of the farm's most famous residents was a lion named "Slats" which Metro-Goldwyn-Mayer Studio took as the likeness for their original logo.
Before you head out be sure to pick up the El Monte Gazette publication for an informative timeline outlining El Monte's history.
Exposition Park
This large park just south west of downtown Los Angeles is home of the African American Museum, the California Science Center and the Natural History Museum. We have visited and reviewed all these museums on our Exposition Park Page here.
Fenyes Mansion
– was once owned by Dr. Adalbert (a doctor & entomologist who was the first Pasadena resident to use an x-ray machine) and Eva Fenyes – both met while traveling in Cairo Egypt. This sizable home is located in what is known as Pasadena's "Millionaire's Row," – a neighborhood of large stately mansions built by prominent Pasadena families. The house is decorated as it would have been 100 years ago including a fine art collection (Eva was an artist in her own right – some of her paintings are on display and was an avid collector), era furniture, and some of the functional items used decades ago. The tour is very detailed and lasts about 90 minutes. There are so many interesting historical items in the house that the tour could easily take 4 hours they wanted!
As you enter the home notice the calling cards sitting in a try near the door. As a visitor to the mansion (and to other homes during the 1800's and early 1900's) it was customary to leave a card. The nature of your visit was indicated by which corner of the card you creased – there was an entire etiquette system for callers of a certain social class, male vs female and single vs married visitors.
One highlight of the tour is a visit to the kitchen; it almost looks like someone still uses this for cooking with all the spices carefully lined up – even Eva's "lunch box" is open – often brought to her by her staff when she was painting out in the garden.
Tours are only offered at 12:15pm on both Saturday and Sunday and last about one hour and 15 minutes – the home is closed the rest of the week.
FIDM Museum & Galleries
are located on the main campus of the Fashion Institute of Design and Merchandising in downtown at 919 South Grand Avenue. A highlight is their free museum on the ground floor which rotates exhibits on fashion, textiles, art, and design throughout the year. Note that in between exhibitions the museum will be closed to the public – often for weeks at a time. Check their website for the latest exhibition schedules.
One of the top annual exhibits displays movie costumes, the Art of Motion Picture Costume Design (usually runs from February to April). This particular exhibition focuses on costumes from the previous year's movies including some of the most recognized films. This is a good place to check out the latest fashion especially in women's wear. A small gift shop next to the museum entrance focus on various fashion & jewelry items.
A separate nearby museum is the Annette Green Fragrance Collection containing over 1,000 bottles of perfume; this is located on the 2nd floor of the main building. You need to obtain a pass (after showing ID), from the guard station in the main lobby before you are given access to this collection. Despite having so many items the actual collection display space is extremely limited – to unfortunately just one room with a few displays behind glass windows.
We've visited the campus several times – it is a little oasis in urban downtown. The adjoining Grand Hope Park helps in this regards by providing a calming space to the busy nearby streets. The campus always seems to be teeming with activities and or special events. Also for some of the best clothing value in all of Los Angeles check out the check out the FIDM Scholarship store (open to the public) accessible on the corner of S. Grand Ave and W. 9th Street. This is a win win for all involved; items are donated by well-known fashion companies, they are sold at below wholesale prices with the proceeds going towards scholarships for FIDM students + the store provides work for students. Probably one of the better values for clothing in all of Los Angeles – although during our several visits, it appeared that most if not all of the merchandise is women's clothing.
For more information visit: www.fidmmuseum.org
Finnish Folk Art Museum
is located on the grounds of the Pasadena History Museum. This tiny museum is separate from the main history museum and is only open during set times on the weekends as part of a tour of the Fenyes Mansion (also on site) or select Free Museum Days. This is the only museum of it's kind in the United States. This "tupa" is is a type of Peasant farmhouse found in Finland. This museum depicts life inside one of these homes – including a sleeping area with bunk beds, a diversity of furnishings as well as cooking implements.
If it smells like a sauna inside this home, that is because there is a working one here! Visits to the museum are short but your docent will give you a nice overview of the items contained here.
Flight Path Museum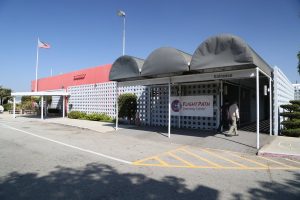 is located on the south side of LAX in the Imperial Terminal – take the 105 West until it ends as a freeway and becomes West Imperial Ave. Then follow the signs to the museum – it will be right next to Imperial Ave on your right side (Address: 6661 Imperial Ave). Open Tues through Sat from 10am to 3pm and admission is free.
This large museum traces the history of aviation at LAX over the years – the displays focus on planes, luggage and the evolution of LAX from its founding in 1930 until present day. Their mission is two fold; to preserve the rich history of Southern California's aviation and provide outlets for students to pursue careers in aviation and aerospace. The docents are volunteers and are typically retired from various aviation jobs – they are a great resource of information and are available to answer your questions.
One can easily spend several hours here if he/she is a serious aviation enthusiast! Each room has models, photographs, uniforms and other items relating to LAX as well as general aviation companies and airlines.
An exhibit worth spending some time in front of in the main room are the time lines on the walls that chronologically seperate out sections of time in aviation history.
The "Spirit of 76" plane sits on the tarmac right outside the museum and is open at certain times during the main museum hours. Once can walk inside this older plane and drool over the spacious seating. Visit: www.flightpathlax.com
Forest Lawn
has been located in this part of Glendale since 1906. The museum at Forest Lawn is located on top of this cemetery's highest hill. There is a huge parking lot here and great views as you walk around the sidewalk which circles the edge of the parking area. Admission to the museum is free of charge – exhibits rotate often and are contemporary. During a recent visit the main exhibit featured original movie poster art by several well known artists and an upcoming exhibit will feature motorcycle art.
A permanent display room in the museum contains many bronze sculptures. This is certainly not the only attraction here, the property has plenty of beautiful statues on display as well Hall of the Crucifixion-Resurrection which contains several of the largest religious paintings in the world. Newlyweds or newly deads. While it might seem a bit odd to be married at a cemetery – Forest Lawn also offers sites for weddings. Ronald Reagan was married here once.
There are a number of "Forest Lawn" cemeteries throughout parts of Southern California, but this is the original one. It is huge – from parts of the cemetery all you see is graves. The Great Mausoleum is built of marble and very impressive. One of its most famous inhabitants, Michael Jackson is entombed here. Many other famous people are buried here – some include, George Burns, Nat King Cole, Sammy Davis Sr & Jr, Walt Disney, Errol Flynn, Clark Gable, Samuel Goldwyn, Louis L'Amour, Mary Pickford, James Stewart, Elizabeth Taylor, Humphrey Bogart, L. Frank Baum & Spencer Tracy.
The on site museum focuses on western bronzes, stained glass, historical American pieces and original paintings. Special exhibits sometimes are on display focusing on a specific theme. Do to an abbreviated visit, we were not yet able to visit and review the museum.
Note: the *only* way to drive into Forest Lawn is from 1712 South Glendale Avenue onto Cathedral Drive – there are many small residential roads that surround the cemetery and glancing at a map might look like they might lead into the cemetery itself – but every one of them end at tall walls with no access inside. Visit: www.forestlawn.com
Fort MacArthur Museum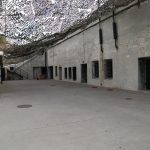 is located in Angels Park in San Pedro at 3601 S Gaffey St. The main entrance is via 32nd street – the road loops around until you will see the entrance to the Museum and Fort grounds. You can also park in the parking lot servicing the Korean Friendship Bell and then walk up the road that typically is blocked with a gate.
This fort is named for Lt. General Arthur MacArthur who received a Medal of Honor in the Civil War and was also the father of General Douglas MacArthur. This well built fort served as a US Army post from 1914 until 1974. A small portion of the grounds is still an active Us Air Force site. The museum is within the fort itself – when you walk in you will feel like you are walking into a secret bunker. The walls are extremely thick and the "tunnels" are dimly lit.
Displays inside here focus on the role this fort has played during several wars, contains many military artifacts and weaponry, old military vehicles and an excellent display about Pearl Harbor. Tunnels are like underground honeycomb in parts of this area – in 1982 after heavy rains one part a series of tunnels were discovered (over 1000 feet) after part of the soil collapsed into one of these. As you enter Angels Park on 32nd street – if you look immediately at the entrance to your left up a small hill you will see a square chain link fence marking this spot.
The museum is open Tues, Thurs, Sat & Sun from 12-5pm. Several special events are held throughout the year including a Military Show and the Great LA Air Raid. Visit: www.ftmac.org
Fowler Museum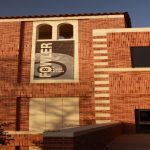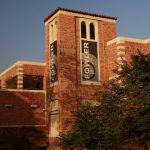 is located on campus of UCLA in Westwood. Their collections are huge – 150,000 ethnographic and 600,000 archaeological objects. However, while they have ample space, they certainly do not have enough space to display their entire collections at once. As a result, exhibitions commonly rotate. The focus of the museum is on on works from Africa, Asia, the Pacific, and the Americas—past and present. Collections on display can be quite unique – during a recent visit, morbid Haitian art involving a number of skulls and esoteric Cambodian shop signs were among several collections on display.
One permanent collection on display is tribute to Francis E. Fowler Jr. (inventor and collector) who the museum is named after. Fowler was the owner of the Southern Comfort Corporation based in St. Louis, (distillers of the Southern Comfort liqueur). More than 250 objects of silver are presented ranging in age from the 16th through 19th century – from Europe, Great Britain and the United States.
The museum is housed in a beautiful old brick building – these buildings are common at UCLA and the galleries are centered around a courtyard. The museum is located in the north part of campus, accessible off of Sunset Blvd. Parking is available for patrons – using the pay by space automatic machines (accepts bills or credit cards). From the parking lot walk in a south westerly direction – following the signs – as the museum is not located immediately next to the parking lot.
Admission is free. For more information visit: www.fowler.ucla.edu

Frederick R. Weisman Art Foundation
This is one of Los Angeles's under the radar treasures and should be a must visit for any art lover or collector – resident or visitor alike. Frederick Weisman was President of Hunt Foods (provider of the small and ubiquitous ketchup and mustard packets). Later he established a prominent Toyota dealership – just one of many ventures he was involved in. And he was a prolific collector of modern and contemporary art.
He died in 1994 but made sure to leave his home and works of art to a foundation – available for public viewing. His wife, Billie Milam Weisman manages the foundation. His collection is numerous – over 400 works are on display including both inside and outside the home. Mr. Weisman even built an additional art gallery on his property to store larger modern works. The home contains exceptional works by many well known artists including Cezanne, Picasso, Miro, Warhol and Lichtenstein to name a few. The tour is billed as lasting 90 minutes although it tends to go longer.
It is an eye opening tour with insights provided by a docent who is well trained in art and in particular – this collection. The docent will provide verbal interpretation as you bounce from piece to piece – visiting both the lower and upper floors, a short walk on the grounds and a peek into their specially built art gallery (separate from the house).
Tours are by appointment (limited to small groups) are offered twice daily during the weekdays, once at 1030am and once at 2pm. Closed weekends. The museum is located in the Holmby Hills just off of Sunset Blvd at 265 N. Carolwood Drive (1/2 mile or less from Hugh Hefner's Playboy Mansion). No parking is allowed on the nearby streets – rather parking is along their very small driveway inside the gate. Entry must be 5 minutes or less from the time of the tour start time. Photography is allowed on the tour outside the residence but not inside. For more information visit: www.weismanfoundation.org
Gamble House is located in old Pasadena not too far from the Rose Bowl at 4 Westmoreland Place (you can look down the hill and see the Rose Bowl from the 2nd floor). This house was built by two local architects (the Green brothers) in 1908 for David and Mary Gamble (yes of the Procter Gamble company) and is one of the beset preserved examples of Craftsman-style architecture in Pasadena. The house is extremely well preserved. Tours times are somewhat limited so plan ahead. Tours are offered every 20 or 30 minutes only from 12-3pm Thursday-Sunday. This part of Pasadena is the old "Millionaires Row" where wealthy folks from back East would come to spend their winters in this very mild climate.
The general tour takes about 1 hour and includes seeing the first and second floors as well as the attic. The woodwork inside is excellent and the Gambles placed a lot of attention to detail in the design of this house. The house is wired with electricity but the maximum wattage light bulb in 1908 was 15 watts, as a result the house is still dimly lit. The Gambles took a trip to Japan and returned with a number of items – both Western and Asian art have influenced the decorations.
The house itself is a National Historic landmark and is operated by the University of Southern California (USC). Two lucky architecture students are chosen each year to live in the house for one year. Movie trivia time – did you know that a scene in the movie, Back to the Future was filmed on the property. The original garage which is now the bookstore appeared in that movie. The house cost about $50,000 to build at the time – to put that into perspective a middle class family home at that time was about $1500! Heck the small garage cost $3700 to build.
Visit: https://gamblehouse.org
Getty Museums
Our Review here: Getty Center
Our Review here: Getty Villa

Grammy Museum at L.A. Live
is located in the multi-billion complex that makes up LA Live – located on the western edges of downtown Los Angeles. This educational music showcases nearly 200 musical genres and contains many rare and historical music films and other artifacts.
The museum features three levels – take the elevator immediately to the 4th floor and work your way down to the bottom. This museum follows the 50+ year Grammy awards and covers a wide genre of music with the core being pop music. A moving musical genre greets you as soon as you walk into the music. A number of headphones are available next to a long screen which scrolls the names of various music genres. Touch one of these words to explore in more detail that particular type of music.
A wide diversity of artists are highlighted here ranging from those who made their name in the world of classical music all the way through rap.
Highlights include the Michael Jackson exhibit and a spotlight on Seattle's musical influence and contributions including a destroyed electric guitar from one of Kurt Cobain's shows. Apparently Kurt used to destroy his musical instruments at the end of the show. Elvis is prominently featured in this museum, with an entire theatre dedicated to him as well as a number of portraits. Musical instruments from famous artists are also displayed including Yo Yo Ma, Santana and many more.
A number of the exhibits are interactive so you can play along or record with the performers. A nice touch are the tiny 'soundproof' booths – each of which continuously plays videos relating to some facet of the music business. And what is always a bonus for those with a musical inclination is the ability to record your own voice and then remix it to your personal tastes.
A special room is dedicated to the Songwriters Hall of Fame. Another highlight are the displays containing original gleaming golden Grammy awards – highlighting the evolution of the design over the years. And before you exit stop by the Grammy Museum store for a wide range of clothing and other souvenirs.
The museum is located directly across from the the Luxe City Center boutique hotel. With similarities to Hollywood's Walk of Fame, directly in front of the Grammy Museum are bronze disks embedded in the sidewalk. These highlight the names of winners of various GRAMMY Awards. Visit: www.grammymuseum.org
Grier Musser Museum
is located in an old Queen Anne house built in 1898 not far from downtown Los Angeles in a residential neighborhood. A few parking lots are available in the back of their house (accessible via their driveway). All visits are by appointment – unlike most museums in old homes – this home is lived in by the curators – Susan Tejada and her husband. A tour here is like going back in time through a curio shop with an eclectic collection of decorative items included little statues, ceramics, lights, paintings and a number of Asian influenced pieces. In addition a number of once functional items from decades gone by are on display including an old black & white TV (run on Cathode Ray tubes), a wind up record player, and an ancient type writer.
The museum hosts a number of seasonal events including Halloween (ideally suited to this 'scary' day) Christmas and Valentine's Day. For more information visit: www.griermussermuseum.org
Guinness Book of World Records
For global extremes, look no further than this museum. In fact this museum is so full of information, you are almost overwhelmed everywhere you turn! As with other Hollywood buildings in this part of town, this building's history is worth mentioning. It opened in 1913 as a silent movie theater – it is the second oldest theater building in Hollywood.
A museum such as this one would have to constantly be on the lookout for updates to records. During our visit, we found some of their exhibits were somewhat out of date – especially the one on sports and some of their celebrity exhibits. As expected one of the focuses here is on celebrity records.
Highlights include the displays about the world's tallest man, shortest lady, fattest person, greatest weight loss – the list goes on and on and on. Oh and we must not forget this one: the man who enjoyed ingesting a variety of metal objects; during his life he ate eaten 10 bicycles, 7 TV sets and an entire Cessna airplane!
Purchase your tickets online – you get a discounted price rather than buying in person – as well as have the option for discounted tickets to other nearby "partner" museums (the Hollywood Wax Museum and Ripley's Believe it or Not). Visit: www.guinnessmuseumhollywood.com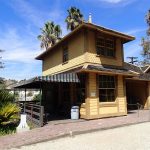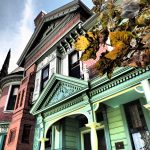 Heritage Square
is a collection of eight historical Los Angeles homes that were saved from demolition and moved to this location for visitors to explore some of area's architectural history ranging in date from the Civil War through to the 20th Century.
Hours are limited to certain days – and guided tours are given of some of the homes. These tours are the main way to get into the homes – otherwise they are closed to the public. The guides dress in a period costume. Some of the homes do not have their original furnishings which is a bit disappointing.
Their location is fairly central – located just north of downtown off the 110 (Exit Ave 43). Parking is along a gravel strip of roadway that sits right above the concrete Arroyo Seco riverbed. The buildings are picturesque from the outside and as a result have been used as backdrops during certain films and shows. Visit: www.heritagesquare.org

Hollyhock House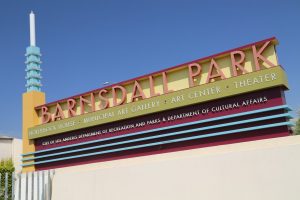 is located right off Hollywood Blvd in East Hollywood (about 2 miles East of the 101 Freeway) on top of a hill ("Olive Hill") which affords one superb views of much of Los Angeles on a clear day including Griffith Observatory, downtown and the Hollywood sign. Olive Hill sits in the middle of Barnsdall Park, named after Aline Barnsdall, an oil heiress who when she moved to Los Angeles hired Frank Lloyd Wright to design her new home. Aline had a passion for art and her intent was to turn this hill into an artist community.
Ultimately Hollyhock house and two small residences were built. This was Frank Wright's first project in Los Angeles and he tried to incorporate southern California's dry mild climate into the design. As a result the home features ample outdoor space as well as gardens. Today several benches sit in the lawn over looking the Los Angeles basin and can be a great place to enjoy a sandwich on a clear warm day.
Olive Hill is central to a visit here because of its height and prime location within Los Angeles – but the home is equally as important as are the theater, galleries and studios on site. Aline would have been proud to see how far her "little hill" has come. A stop here is a respite from all the traffic and congestion that plagues this part of Los Angeles.
Tours of the home are only available at select times from Friday through Sunday – ticket sales on site open up 30 minutes before each tour. No photography is allowed in side.
Hollywood Heritage Museum is off in a quiet location just down and across from the Hollywood Bowl outdoor amphitheater. Parking is free next to the museum (same parking lot used by the Bowl). Note the signs indicating "horn honking is not permitted and will be enforced" that hang from light poles next to the parking lot. This is not a problem for excited Hollywood Heritage Museum goers, rather it refers to the craziness that sometimes takes place during a major Hollywood Bowl performance!
A visit to the museum is a unique opportunity to explore and learn about Hollywood's earlier history. Take the building for example which is the centerpiece of the museum – this is the original home of Paramount Studios and as a result is Hollywood's oldest remaining studio building.
This building (dates from 1895) was originally a horse barn located about a block south of what is now the famous Hollywood and Vine intersection. It was later moved to Paramount's current location along Melrose and Gower Aves (still in Hollywood) but eventually the building became a women's gym and was used for storage.
Today it houses an excellent collection of historical Hollywood items as well as movie memorabilia. One of the main attractions is the office of famed director and co-founder of Paramount Studios, Cecil B. DeMille. Cecil came west to get into film making and along with two other partners founded Paramount Studios in 1913. They made their first silent movie in 1914, "The Squaw Man" which made them so much money they were able to quickly expand their studios.
A large black and white photograph of an impressive set hangs on the wall. It was taken of the massive set for the movie Intolerance which dates from 1916. This set was so large it was never taken down and remained in Hollywood for a number of years before finally being destroyed. However, a replica to scale of the set opened in 2001 – it is actually the large shopping center known as the Hollywood and Highland Center (home to the Dolby Theater and the annual Academy Award ceremony)
Want an in depth tour of Hollywood's, past, present and future? Take one of the walking tours offered every Saturday morning by Hollywood Heritage (the non profit group responsible for the museum). This is a 3.5 hour tour. Visit: www.hollywoodheritage.org
Hollywood Museum is located on N. Highland Ave just down from Hollywood Blvd (long term parking use the parking lot next to the Hollywood and Highland Center/Dolby Theatre) or limited short term 1 hour parking is on some of the side streets near the museum). Allow about an hour. There is a ton of space inside – with exhibits spread out over 4 floors.
The museum contains thousands of authentic Hollywood memorabilia including many photos, costumes, movie making equipments and other movie props. There are four floors including the scary basement which focuses on Hollywood horror films. There is even the jail cell corridor that Jodie Foster walked down, Hannibal Lecter's padded prison cell and his mask used in the movie, The Silence of the Lambs.
Certain exhibits rotate based on current interest – and usually focus on a very well known historic movie star. This is the Max Factor Building which used to be where the famed movie makeup man, Max Factor dolled up many of the most famous movie stars. Some of this studios have been recreated (room for redheads only – used by Lucille Ball and blondes only – used by Marilyn Monroe).
The museum contains the world's largest collection of Marilyn Monroe memorabilia and mementos relating to her life. Color photographs, nude modeling shots, Marilyn Merlot (wine collection), her refrigerator, household items, newspaper clippings and hundreds of photos keep her memory alive for visitors. Location: 1660 N. Highland Ave – visit: www.thehollywoodmuseum.com
Hollywood Wax Museum
is located at 6767 Hollywood Blvd in the heart of all the "touristy" Hollywood action. It is the longest running wax museum in all of the USA – having been owned by the same family since 1965. However, this is not the only wax museum in Hollywood – Madame Tussauds also operates their own museum next to Grauman's Chinese Theatre. Like many buildings in this part of Hollywood, this museum has its own celebrated history. It was one of Hollywood's first exclusive nightclubs – having opened in 1930 and catered to many of the A-listers of that time including Jean Harlow, Charlie Chaplin, Mary Pickford and Gloria Swanson.
Only likenesses of celebrities are on display here. Small signs often provide interesting tidbits about each particular celebrity – including some of their lesser known hobbies and interests. At the end of your tour you will have the option to use a touch screen to provide feedback on the museum as well as suggest additional celebrities not yet represented.
In our opinion, the statues of the celebrities are not as realistic looking as the ones at Madame Tussauds and this museum doesn't have the "flash" that the other museum has. Both museums have a number of the same celebrities. Purchase your tickets online – you get a discounted price rather than buying in person – as well as have the option for discounted tickets to other nearby "partner" museums (the Guinness Book of World Records and Ripley's Believe it or Not).
This isn't a huge museum – allow perhaps 30-45 minutes. For reference, Bing Crosby's star on the Hollywood Walk of Fame is right in front of the museum! Visit: www.hollywoodwaxmuseum.com/hollywood
Holocaust Museum
is the oldest museum in the United States focusing on the events of the Holocaust. It was founded in 1961 by a group of Los Angeles based Holocaust survivors. Their mission is to commemorate and educate people about the Holocaust. Just before its 50th anniversary the museum moved to a beautiful designed brand new location in Pan Pacific Park not far from "museum row" on Wilshire Blvd and next to the Grove Shopping Center. This museum is located at 100 The Grove Drive. A small underground parking lot serving visitors to the museum is located directly under the museum. There are very few spaces here – the parking lot is steel gated and you need to buzz the attendant as you pull into the very short driveway.
Admission is free although they suggest you donate. This is a state of the art museum, yet is small; at times you feel like you are in a bunker as the exhibits are contained within stark concrete rooms. An iPod and headphones are provided offering information specific to each exhibit as you walk from room to room. One room has a large touch screen with photos floating on the screen – simply touch a photo and drag it to the edge of the screen to view more information about that particular person.
The museum is interactive – a number of monitors and touch screens are available where you can listen to individual survivors speak of their experiences. Los Angeles media as it related to reporting on the events of the Holocaust is also incorporated into the exhibits. LA Times articles are framed in a number of rooms. Holocaust survivors sometimes will give first hand accounts in the "Survivor Presentation Room", although as the years go by there are less and less survivors living.
Tall black granite etched memorials stand outside the museum – one large stone for each year of World War II. Next to this memorial is the Children's Memorial. 1.2 million small holes (approximating the lowest number of children killed in the Holocaust) are drilled into stones and pieces of paper are available for writing notes, wrapping them up and then placing them in one of the holes. It will be impressive to see most of these holes filled but at the time of our several visits perhaps only several thousand were filled.
Many museums in Los Angeles close on Mondays and Tuesday or another day. Not so with this museum – they are open 7 days a week. Visit: www.lamoth.org
Homestead Museum
is located at 15415 East Don Julian Road in the City of Industry. When you exit off of the 60 Freeway and drive to the this museum you will quickly see why this is a very appropriately named city. You will drive by miles of warehouses and often trucks pulling in and out of these. However this Homestead Museum and grounds far predate these warehouses. The museum sits on a six-acre site that used to be part of the huge nearly 49,000 acre Rancho La Puente.
Visits inside the estate are by guided tour only; entry is free Wednesday through Sunday at 1, 2, 3 and 4pm. Select tours are also given in Spanish. An informative 15 minute video starts the tour followed by an in-depth guided walk of the grounds and homes with an extremely knowledgeable docent. Note that one of the descendants of the original families is also a docent here. A visit to the property is a rare glimpse into a historical ranch's inner workings and 100 years of Los Angeles history ranging from 1830 until 1930.
The ranch tells the history of two families, the Workmans and the Temple's. During your visit you will visit two homes, both tied into these families; the Workman House was built in the 1870's and was constructed around an existing 1840's adobe building. Therefore the walls of this home are extremely thick – while on the tour you can actually pick up an adobe brick that dates from the 1840's. It is extremely heavy – and was built with mud, horse hair, straw and other small rocks.
La Casa Nueva or the "Temple Mansion" is the other home on the property; this was built in the 1920's in the style of a Spanish Colonial Revival architecture.
Also be sure to visit the El Campo Santo Cemetery on the property. This is one of Southern California's oldest private cemeteries. It is a short walk from the Museum entrance or a short drive (as the large parking lot extends all the way down to the cemetery. Of historical note: Pío de Jesús Pico, the last governor of California under Mexican rule was originally buried in downtown Los Angeles but was moved here in 1921 and is now buried here. He was a family friend of the Workman-Temple families.
For more information visit: www.homesteadmuseum.org or call (626) 968-8492
Huntington Library, Art Collections and Botanical Gardens

in San Marino (1151 Oxford Road) is a must visit during your trip to Los Angeles. From downtown Los Angeles take the 110 (Harbor Freeway) north which turns into Arroyo Seco Blvd – then turn right on California and follow the signs to the entrance. The parking lot is huge – just don't forget which aisle you park in (each aisle is assigned a helpful name to help you remember). Opened to the public in 1928 the property features the grounds and art and library collection of Henry Edwards Huntington – heir to family fortunes made in the railroad business.
Arguably the Huntington collection is one of the primary attractions within all of Los Angeles. If only one part of the collection was presented to the public, this space would be rather impressive – but in this case visitors have access to carefully curated botanical gardens (nine distinct gardens are open to the public). Over 14,000 species are represented in the gardens spread over 120 acres. You can easily spend several hours in the gardens alone. The entire property is 207 acres.
A conservatory is also on the grounds and contains a cloud forest which "rains" quite often – don't worry, this is mostly a fine mist and you won't get very wet!
The Garden of Flowing Fragrance is the largest Chinese Garden outside of China and boasts a 4.5-acre space allowing visitors to stroll around a 1.5-acre lake bordered by Tai Hu rocks and a landscape that includes five hand-carved stone bridges, a stream, and a canyon waterfall connection to the Japanese Garden. The Japanese garden boasts a world-class Bonsai Garden – this and the the Chinese Garden are among the best outdoor venues at the Huntington for meditation.
And the Huntington has the biggest and most impressive cactus garden we have ever seen (12 acres in size).
If this museum only contained the Botanical Gardens it would be a real treasure but there are three very well organized art galleries and the main library building. Over 7 million manuscripts are contained within its walls – including extremely unique and rare books such as the first edition Shakespeare, a Gutenberg Bible and a manuscript of Chaucer's, The Canterbury Tales to name but a few. Some of their books date from the 1400's and are in incredibly good condition.
Gainsborough's Blue Boy is housed in their European art collection gallery along with numerous other works by Gainsborough. Of interest – the European art collection is housed in Huntington's original residence. The American Art collection is housed in a nearby building.
Five restaurant spaces are located on site including the Rose Garden Tea Room – only open in the afternoons on the weekdays – open all day on the weekends. The smells of food you come across while wandering the Chinese Tea Garden are not an olfactory aberration, rather are coming from the Freshwater Dumpling and Noodle House. Outdoor seating is available overlooking a beautiful pond.
Thankfully photography is allowed in any of the galleries (no flash). For more information visit their website at: www.huntington.org Total recommended visiting time including the gardens and galleries is a half to a full day.
Art/Indoors

Gardens/Outdoor

Library (coming soon)

Institute of Contemporary Art
or ICA LA for short, is located in a gritty part of downtown Los Angeles at 1717 E 7th St – near the Arts District located among numerous warehouses, homeless camps, and trucks making deliveries. This museum has undergone a remarkable change in space and location. Formerly the Santa Monica Museum of Art, it was originally founded in 1984. We initially visited the museum at their prior location at Bergamot Station (Southern California's largest complex of art galleries) in Santa Monica. The museum was displaced by the Los Angeles Metro with a much needed line that now runs from downtown Los Angeles to Santa Monica.
During our initial visit to the old museum in Santa Monica we witnessed one piece of artwork that was attracting flies (first time we've seen in this in the hundreds of art spaces we have visited) – a watermelon on the 'decline' was stabbed through with a pole; it was part of a larger exhibit.
Their new location has nearly 13,000 square feet of gallery space. The focus of the museum is to display contemporary art, regardless of origin (lots of international artists represented). The space pushes the boundaries of art sometimes based on the several very eclectic pieces of art we have seen on display over the years.
The primary room is open and large – the overall space is divided into several sections including for exhibitions, the project room – programs and events and a small cafe. Also be sure to visit the museum store housed in it's own room featuring a number of one-of-a-kind artisan products. ICA LA is open to the public free of charge. Visit: www.theicala.org
International Printing Museum
In one of the world's great museum cities (somewhere in the range of 200-300 museums depending on who you ask), there are plenty of larger more well-known museums – but every once in a while you stumble into a world-class smaller museum – that is so niche focused, with such knowledgeable docents, that a visit is memorable and highly educational. Such is a visit to this somewhat obscure museum hidden away in in Carson just off of the 110 Freeway at 315 w. Torrance Blvd. Located in an industrial part of town, one doesn't expect a museum of this caliber to be located here. At the time of our most recent update, they are open to the public only on Saturdays. Appointments can be made for visits on different days. Geared towards groups, are a variety of niche based appointment only tours including the Book Arts tour, the Constitutional Convention tour, and the Ben Franklin Gallery tour.
Parking is in an adjoining parking lot next to a number of printing businesses. The entrance is not from the parking lot, rather from Torrance Blvd.
The museum was founded in 1988 and for 11 years was located in Buena Park. In 1997 the museum moved to their current site. The collection has grown significantly from the early days- today they are among the world's most significant collections of antique printing machinery. The museum houses the Ernest Lindner Collection – named after the family who used to run a typsetting equipment store in Los Angeles (sold equipment and made repairs).
Visitor's are free to wander the collection themselves but this merely like taking a lick of an ice cream rather then getting to enjoy the entire ice cream cone. Rather the historical perspective and passion from those who oversee this collection come directly from the docents on their highly personalized tours. They walk you through a number of exhibits and offer live demonstrations of the presses and printers, how to set type by hand, how to work with printers' metal (an amalgam of three metals with a relatively low melting point) and numerous other insights into the old machines.
Arguably one of the highlights of a visit here is seeing the third oldest printing press made in the United States – this wooden and metal printer dates from 1806. You will learn how printing presses brought knowledge and education to the common person. Prior to printing presses, books items of extreme luxury only affordable to nobility and the wealthy. Prior to printing presses books had to be written by hand which would often take years. Printing presses allowed books to be printed much quicker, therefore they became much more affordable. This directly led to knowledge being given to the general public and led to the Protestant Reformation, Enlightenment and ultimately democracy.
Numerous much newer printing presses and related machinery are also housed within the museum.
Other highlights include a number of events held at the museum throughout the year including the annual Los Angeles Printers Fair and various educational events geared towards families and children. The events open to the public are highly educational: learn how to make paper, screen print t-shirts, bind books, and letterpress printing among other techniques. For more information visit: www.printmuseum.org
International Surfing Museum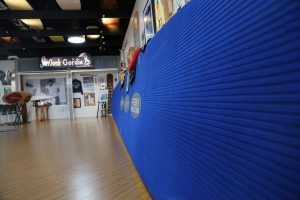 is located at 411 Olive Avenue in downtown Huntington Beach – just several blocks inland from the beach. It was founded in 1987. Interestingly enough one of the founders of this museum, Natalie Kotsch is originally from Canada and has never surfed in her life. However, the location she has picked is prime – Huntington Beach is certainly well known as one of the surfing hotspots in California and beyond and boasts a long surfing history. Just walk out to the iconic Huntington Beach pier during the morning and you are bound to see surfers bobbing in the surf zone.
This tiny museum packs a lot into their exhibits – several exhibits focus on surfing dogs – in fact the longest wave ever surfed by a dog ocurred right here in Huntington Beach in 2011. The museum displays a plaque awarded by the Guiness Book of World Records. But even more impressive is the size of the actual board used for this particular stunt.
Other exhibits are dedicated to Duke Kahanamoku, the Hawaiian who popularized and modernized the sport of surfing. A bronze bust is located in the museum – the "duke" actually presided over five USA Surfing Championships held in Huntington Beach. A television plays various clips and films from the surfing world – during our visit it spotlighted a historical trip to Ghana to surf a number of areas in the Atlantic Ocean. Also several historical surf boards are on display.
Hollywood has the Walk of Fame, Huntington Beach has the Surfing Walk of Fame. Although this is not located at the actual museum it is only a short several block walk down to the water – located along parts of Main Street and Pacific Coast Highway.
Admission is based on a nominal donation of several dollars (more if you like) – visit: www.huntingtonbeachsurfingmuseum.org
Irvine Historical Society & Museum
highlights some of Irvine's rich historical past and is located on what used to be one of the largest private ranches in the country. With the rapid growth of Irvine over the past 40 years, unfortunately there is not much left of the original ranch. The Irvine Historical Museum is housed in the oldest standing structure within the original boundaries of the ranch – a house that dates from 1877.
Irvine takes its namesake from James Irvine, the founder of Irvine Ranch (along with two partners). This huge ranch was originally 185 square miles of land (about a 1/4 of the entire present day Orange County). Irvine's son, also named James – inherited the ranch and then founded The Irvine Company in 1894. After his death in 1947 the company was controlled by his Foundation and stock holders. Eventually it was sold to a private firm and today is controlled by real estate developer, Donald Bren and continues to operate as The Irvine Company, a major real estate development firm centered in Irvine.
A number of historical items are contained within the museum including blacksmith equipment, ranching items, and relics from agricultural use. Jamboree is a major (at one short section is 12 lanes across) boulevard that runs all the way from the 5 freeway to Pacific Coast Highway in Newport Beach. The Boy Scouts of America held their annual Jamboree on the site of what is now the major Fashion Island Shopping Center in 1953 – the only time it was ever held on the west coast. Part of this road was put in place in 1953 to service this gathering of 50,000 people to area trains stations.
While most of Irvine is very modern, there are several other historical sites in the city that the Historical Society has worked to preserve – one is the Irvine Ranch Historic Park (13042 Old Myford Road) that is open to the public daily and features more than 20 historic buildings and also focuses on Irvine's ranching and agricultural history – and Old Town Irvine (located at Sand Canyon & Burt Roads).
The Museum is open Tuesday and Sunday from 1 to 4pm. It is located adjacent to the Rancho San Joaquin Golf Course clubhouse at 5 San Joaquin.
Irvine Museum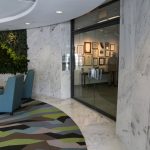 was founded in 1993 by Joan Irvine Smith, Athalie R. Clarke and James Irvine Swinden and is located in the middle of a business park on the first floor of the tall Airport Tower Building. Address: 18881 Von Karman Avenue, Suite 100. This modern office building can be spotted from some distance away due to its height and bright shiny windows on all sides of the building. Parking is in a parking garage directly across from this building – there are a number of visitor parking spots on the first level. Be sure to bring your parking pass into the museum as they will validate it for you and then parking will be free when you exit the garage.
As you enter the building the museum is immediately to your right. A small bookstore is adjoining to the museum. Admission is free although donations are certainly welcome. They rotate exhibits about three times a year with the majority of artwork on display from the Irvine Collection. The museum is not large but there is plenty of wall space among the several rooms for many paintings.
The focus of their collection is on artwork depicting life in California and it's rich cultural heritage from 1870 to 1950. Many of their paintings highlight the natural landscape that is so varied in this state.
The museum is open from 11 to 5pm from Tuesday through Saturday. For a more in depth visit – come on Thursdays at 11:15am for a guided tour by a docent (no appointment needed for this). For more information visit: www.irvinemuseum.org

Italian American Museum

of Los Angeles or IamLA for short, is located near Olvera Street in the historic Italian Hall (built in 1908). Entry to the museum is free (no photography allowed for some strange reason). The museum opened in 2016. Visitors enter on the ground floor – walking over thousands of historic hand laid tiles. The Italian Hall and other nearby historic buildings were going to be demolished but were rescued by the State of California in 1953.
Walk up the stairs or take the elevator to the second floor. The permanent exhibitions are displayed in the main room with several small side rooms devoted to rotating exhibitions. Exhibitions cover early Italians in Los Angeles including their interest in wine and wineries, information about the Italian Hall and since it is Los Angeles, exhibits about Italians in Hollywood is an ever popular one. The museum contains over 6,000 items in their overall collection with a focus on Italians in the Western United States from the 18th century to present day.
During a recent visit art from noted car enthusiast Dick Marconi (founder of the Marconi Museum in Orange County) was on display. Dick is a prolific artist with a zest for life. We interviewed him for an article about his Marconi Museum here. For more information visit: www.italianhall.org
Japanese American National Museum
is located at 369 East First Street in Los Angeles (just south of downtown, right next to one of the MOCA museums). This is the heart of Little Tokyo in Los Angeles. The core of the museum contains many objects, documents, photos and other items related to over 130 years of Japanese American History. A "resource" center is also on site for those interested in additional research.
The permanent exhibit focuses almost entirely on Japanese American history and how it relates to WWII. An actual wooden Barack from one of the WWII Internment camps is on display as well as a number of sobering photos and articles from this "dark" period in American history. It is well worthwhile to visit this exhibit to get the perspective of the Japanese Americans who were living in the USA (especially the western USA) during the early to mid 1940's.
After you have had a chance to explore the main exhibits visit the rooms that contain the rotating exhibits. Clothing, a focus on Japanese Hawaiians, paintings and or photography are often part of these rotating exhibits. It should also be noted that its well worth the stop to their Chado Tea Room on the first floor. This restaurant/tea room features over 300 types of tea. We had an amazing delicate raspberry tea with our lunch. Throw away any pre-conceived notions you might have about "museum restaurants" – this one is top notch. Visit: www.janm.org
La Brea Tar Pits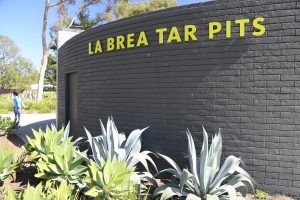 are located at the Page Museum in the "Miracle Mile" section of Wilshire Blvd. The address is 5801 Wilshire Blvd; the grounds take up several acres on the north side of Wilshire right next to the LA County Museum of Art. Visiting this museum followed by a walk around the grounds is a unique and interesting experience. These tar pits sit right in the middle of a very urban area – with tall buildings, next to a busy boulevard (Wilshire). How things have changed over the years here!
Start your visit with a quick stop next to the main tar pit/pool where the your can see grazing concrete "wooly mammoths". Next climb above the main museum up the stairs so that you can get an overlook of the grounds and see the atrium.
The La Brea Tarpits are a series of tar pits in the ground. Over the years animals and plants became entangled in these – often becoming "prey" for predators who then found themselves stuck in the ground. These tarpits are a great history of what types of animals and plants were found in the area over thousands of years. There is one pit (simply named "Pit 91" that is still being excavated even today – (its typically only open in the summer months). It is open for viewing for free to the public on the grounds of the museum during the excavation season.
Upon entering the museum – you should get your tickets first – the bathrooms are located on the right side of the entrance and you actually have to enter through a small swinging gate. Typically you start your tour at in a clockwise direction entering the museum to the left of the entrance, however you can always run the tour in a counter clockwise direction. Highlights of this museum include a wall with several hundred skulls from a specie of wolf that was found in the pits. Additionally you can feel small standing next to a 13 foot huge wooly mammoth skeleton.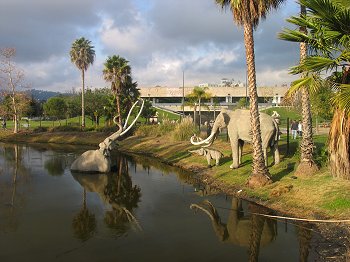 Did you know North America had Lions at one point? There are several nice skeletons of the North American lion – to an untrained eye, they closely resemble the African Lion, except the North American Lions are quite a bit bigger. Other skeletons you don't want to miss are the Saber Tooth Tiger, and the giant ground sloth. A center "office" in the museum has been windowed off, and sometimes you can see paleontologists working – among all of the fossils. The paleontologists call this room the "fish bowl" laboratory!
There is a film about the museum and the tar pit finds shown at 30 minute intervals all day. It contains with excellent cinematography and is overall very well done. Do not miss watching this.
After you visit the museum be sure to walk the grounds. If you've never seen or touched natural tar this is your chance! The major pits are sectioned off and you cannot enter them. There are however some small seeps coming right up through the grass and into the small stream that runs here. One nearby tree has been the unfortunate recipient of "tar pit graffiti".
Beware if you touch the tar, it will eventually come off but its very sticky and isn't easily removed.
For more information and pricing, visit www.tarpits.org

LACMA
or LA County Museum of Art is located in the "museum row" along the busy part of Wilshire Blvd right next door to the La Brea Tar Pits and anchors one end of the "Miracle Mile". (5095 Wilshire Blvd). LACMA has their own below ground parking garage on 6th Street (right behind the Museum complex, just north of Wilshire Blvd). Be sure to take the parking ticket with you and pay the cost at any of the Museum's ticket counters.
One of the outdoor highlights of a visit here is "Levitated Mass", a 340 ton giant boulder that was moved from Riverside County in early 2012 to its final resting place at the museum. As you enter the driveway for the parking garage you will see the rock – it looks like its resting on the ground – but a closer inspection will reveal that its actually perched above a concrete walkway. Similar to the spaceship, Endeavor which crawled through prior "prepped" streets of LA at a turtle's pace, this behemoth could only travel a maximum of 7mph at night. The trailer that carried the rock was actually custom built around it at the quarry site. You realize just how large this "rock" is when you see it close up – you can even walk directly underneath it! It is a free attraction and you can visit without purchasing a ticket.
This museum "campus" complex is comprised of a number of buildings contains a wide variety of art from around the world. During one recent visit we had the good fortune of being the only visitor in several of the complexes which is amazing considering the population of this great city and number of visitors to this region.
Highlights are the large number of Picasso paintings, the Latin America galleries and both the contemporary European and American art works. Privately owned galleries are available as well as traveling exhibits that show for a number of months before moving on (often famous artists).
The cafe has a wide variety of foods – their hamburgers are huge. Good salad bar to! The museum is open later than most museums – until 8 or 9pm depending on the day and time of the year. Closed on Wednesdays. Because of the size of this museum allow at least several hours for a visit. Photography is allowed in many, but not all of the exhibits. Visit: www.lacma.org
La Plaza de Cultura y Artes
is located in downtown Los Angeles within easy walking distance of Union Station and just down from the appropriately named Cesar E Chavez Av. Reasonably priced and close parking can be found at the nearby Metro Plaza parking garage (small cars only). This part of Los Angeles is the center of Mexican-American culture – and a visit to this museum should be combined with walking nearby Olvera Street and the surrounding area. The museum is located close to the site where Los Angeles was founded in 1781.
This is very much an interactive museum focusing on real life stories – from those who live in Los Angeles. The museum celebrates the culture and influence that Mexican and Mexican Americans have specifically had on Los Angeles and Southern California. Los Angeles is home to large populations from Central America and it is nice to have a museum that highlights some of their stories.
A number of presentations are setup including a historical intriguing exhibition about the founding of Los Angeles and the role and stories that Mexican and Mexican Americans played in the cities' founding. The exhibit, Calle Principal focuses on the Mexican American community in Los Angeles during the 1920's. Also look for the edible garden and "vertical" garden which features plants from six Southern California ecosystems (in the back of the property – and open to visitors for a short self guided tour).
A number of monitors with headphones are setup throughout the museum – individuals are listed on touch screens – tap their face to hear their story.
Admission is by donation. Allow about an hour. You will exit the museum through "La Tienda", a colorful store that sells many cultural items. All proceeds from the sales benefit La Plaza. Visitor's used to enter the museum from their courtyard – the entrance has been moved to Grand Ave.
Lomita Railroad Museum
was founded in 1967 by Irene Lewis who visited a railroad museum in Colorado and was inspired to create one in Lomita. She dedicated this museum to her dead husband Martin and donated the museum to the city of Lomita. Irene was an avid railroad enthusiast and prolific builder of Little Engines (miniature steam powered locomotives). The museum is located at 2137 250th Street in Lomita – the site is in a residential neighborhood surrounded by homes.
A small parking lot is on site – visitors must be buzzed in through the small metal gate where you soon enter the museum building. The museum is tiny but well packed with some 1500 historical railroad related memorabilia and artifacts including railroad spikes, old Union Pacific tickets, cutlery and silverware used in dining railcars, whistles and lights and numerous other items. A small gift shop is on site selling various train memorabilia including t shirts, coffee mugs, hats and model railroad related items.
Several locomotives are on site (the insides can be visited) including a Southern Pacific Railroad steam locomotive, a 1910 Union Pacific and a Santa Fe caboose and across the street in the annex, a 1923 Union Oil tank car and a 1913 Southern Pacific box car. Also be sure to check out the tiny velocipede hand car which dates from 1881. The small appropriately named Irene Lewis Park is on site and is open to the public.
For more information, visit: www.lomita-rr.org
Long Beach Museum of Art

is located 2300 E. Ocean Blvd – and as the name indicates, has views of the bay and the ocean in the distance. A small parking lot (free parking) is located about a block west of the actual museum. There are actually two buildings here both titled "Long Beach Art Museum" – one however is the fairly large restaurant and Claire's Cafe and the other is the actual art museum (with 2 stories – several rooms and galleries on each floor). The cafe is definitely a step up in food quality from what you normally find at a museum cafe. Indoor or outdoor seating is available. The focus here is on modern and contemporary art pieces.
Once every two years prominent local artists donate their artworks and every piece on display in the museum is open for bidding. Odd to be in a museum and see "bid cards" hanging on the walls next to every piece! Allow under an hour here. Visit: www.lbma.org

Los Angeles Contemporary Exhibitions (LACE)
is located in Hollywood on Hollywood Blvd (the south side) 6522 Hollywood Blvd and are open M-F from 10:30 to 6:30pm. Admission is free. This location is not really a museum and not really an art gallery although it has characteristics of both. Perhaps an appropriate title would be "space". It doubles as a performance studio and often holds community events. The focus of the artwork is on works by emerging artists and often experimental works of art including video and digital art.
Since it's founding in 1978 over 5,000 artists have been represented over 3,000 programs and events. A small gallery greets visitors immediately upon entering and the larger 3,500 square foot space is directly behind the entrance. Visit: www.welcometolace.org
Los Angeles Fire Department Museum
As you enter this museum at 1355 N. Cahuenga Blvd in Hollywood you immediately see the LAFD Fallen Firefighters Memorial in the courtyard. This bronze memorial is a classic example of the diversity in the LAFD both in sex and ethnicity. The tablet behind the memorial lists all the firefighters who have died in active duty in LA County) – since the first death in 1895 (an individual was exercising the horses and in an unfortunate incident, they ran over him). LAFD started in 1886 as a paid department – prior to this it was a volunteer force starting in 1874.
The floor of the courtyard is a stylized map of the city of Los Angeles – with metal bands representing freeways for orientation as well as markers for current fire stations located throughout the county. The idea for the design of the surrounding fence was "borrowed" from a Mormon Temple in West LA – it is creatively in the shape of stylized flames.
The museum is housed in the old Fire Station 27 – it was built in 1930 and at the time was the largest fire station west of the Mississippi. It has 20,000 square feet of exhibit space – the main room along with several other small rooms that contain everything from model firetrucks and model firehouses to historical badges and various fire related artwork. Several LAFD retired fireman were artists and donated a number of their pieces to this museum. Vice President, Historian, Curator and 4th generation retired LAFD, Donald Dodd has been instrumental in collecting a number of these items.
One of the side rooms contains exhibits on early firefighting in general. Some of early fire hydrants (fire plugs) are on display, nozzles and equipment that in the early days was made of wood. In the eastern USA several fire buckets were required of each home – each with their own designs so after use you knew which home they belonged to. All that remains of Firehouse number 13 (made a brief appearance in the movie, the Best Years of our Lives) is the wooden spire at the top of building. It is here on display. Also of interest are the models of the LA fire boats. One could shoot out 38,000 gallons of water a minute.
The original fire poles that the fireman would slide down between the 2nd and first floors are still standing. The main room houses a number of historical vehicles and fire trucks – some acquired from Travel Town in Griffith Park and some were purchased from the city of Los Angeles for one dollar. Highlights here include the second steamer the LAFD ever owned, a photo display of some of LA's most well known fires, plenty of historical fire fighting equipment (including a display on the evolution of breathing apparatus's), a massive metal firefighters badge and long wooden ladders (wooden ladders are still used).
The museum is always on the lookout for additional LAFD historical items – one of the ways they raise money to maintain the museum as well as acquire new items is through donations. A clever way to reward donors is through their engraved brick program. Donate a specific amount and get your name engraved on a brick which is then laid in the courtyard. Open 10-4pm Saturdays only. For more information visit: www.lafdmuseum.org

Los Angeles Maritime Museum
is located in San Pedro – about 30 minutes south of downtown on the 110. Get off at Harbor Blvd near where the 110 south ends and turn right, proceed for about 1 mile and you will see the museum on the left (just down 6th Street). The museum is housed in the old ferry terminal building which used to ferry people the several minutes across the channel. You can still see the old The balcony on the back of the museum looks over onto Terminal Island, the channel, thousands of cargo containers and the impressive Vincent Thomas bridge (which helps connect the southern ends of the 110 and 710 freeways).
Permanent and rotating exhibits are shown – the museum is two floors. Allow up to an hour here – less if you don't take your time reading all the details. A highlight is the exhibit showing the history of the fishing industry in San Pedro as well as historical photographs showing a much "different" looking San Pedro than today (one of the world's busiest ports). A number of model sailing ships line the walkway to the second floor. Visit: www.lamaritimemuseum.org
Los Angeles Police Historical Society
maintains a small yet very informative museum at 6045 York Blvd just off of the 110 Freeway north of downtown. Parking is free in the small lot next door to the building. The roots of the LAPD began in 1869 with six marshals. The museum explores the history of the LAPD, highlights famous incidents and houses a number of equipment used by the force over the years (including radios, handcuffs, jail cells, and remote controlled anti-bomb machines). Did you know the first woman police officer in the United States was in the LAPD (in 1910).
One small room is dedicated to the infamous North Hollywood Bank of America shootout which occurred in 1997. Two men with a death wish covered in full body armor strode into a Bank of America and started spraying high caliber bullets everywhere. Amazingly after they were finally killed no one actually died although a number of civilians and officers were wounded in the battle. At one point the LAPD had to get higher caliber weaponry from a local gunshop as their small arms fire did nothing against the full body armor.
The museum is open Monday – Friday and every 3rd Saturday of the month. Visit: www.laphs.org
Los Angeles Zoo
is located directly across from the Museum of the American West in Griffith Park at 4700 Western Heritage Way. The zoo contains over 1100 animals spread out over 133 acres. During a stop by recently we say a stretch limo pulling up to the front entrance – only in Los Angeles do you take a Limousine to the Zoo?!! There is plenty of free parking directly in front of the Zoo. A great time to beat the crowds is to arrive about 20 minutes before opening in the morning, stand in line for your tickets and then head straight to the back of the park.
You need at least several hours here – parts of the part are organized by continents or geographical regions. A highlight of a visit is the largest open air exhibit in the park – a living habitat for a number of elephants from select countries in South East Asia. The viewing platform fills up quickly for their daily 11am "Elephant Training Demonstration". Indoor exhibits contain amphibians, intervabrates and other reptiles.
The Zoo is also well planted with various tropical plants, palms and regional habitat growth.Visit: www.lazoo.org
Lummis Home & Gardens
(pronounced Laammiss) is the original home of Charles Lummis – a man with many talents as well as a strong interest in woman and drink. The home that he designed and built himself with large rocks taken from the nearby Arroyo Seco is located off the 110 Freeway just north of downtown at East 43rd Ave. The house and gardens sits right next to and above the 110 Parkway. Charles was of the mindset that as a "man" one must build his own home with his own hands. He also built his home to last "thousand years" as a result – the walls are thick and impressive wooden beams were used in the ceilings.
The house looks like it was built of adobe – when in actuality mud was not used but rather concrete. A number of prominent artists visited Charles while he lived here and some of their guestbook entries and drawings are displayed in a copy of one of his original guestbooks.
Donations are accepted – the curator can give you detailed background information about Charles – and you can tour his house and read about his exciting life! While living in Cincinnati he was offered a job at the Los Angeles times. Rather than taking the railroad he decided to hike the entire 2200 miles. This "walk" took him 143 days and during the hike he broke his arm (had to reset it himself by jumping out of a tree!) and dealt with a harsh winter in New Mexico.
Charles was the editor of the Los Angles Times for a bit – was an artist, photographer, author, activist and fought for Indian rights. After he died, he was cremated and his remains were put into one of the walls of the house.
Lyon Air Museum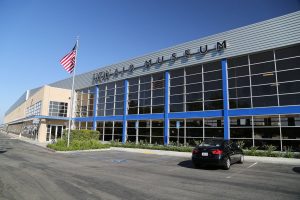 is conveniently located at John Wayne Airport (SNA) in Irvine. This museum was founded by area resident, Major General William Lyon a former WWII pilot. General Lyon has led a storied career as a military man and as a businessman having founded Lyon Homes, one of the country's largest home builders, a real estate company, Aircal, a regional airline that later merged with American Airlines and more recently, Commercial Bank of California.
The focus of the museum is on the history of World War II Aviation including significant aircraft from the era as well as a number of ground vehicles used during the war.
The aircraft and ground vehicles in the museum itself are of course highlights but what really brings the experience alive is a tour with one of the docents. They are extremely well educated on World War II history, its airplanes and historical aviation.
Unlike most historical aviation museums, all the aircraft contained here are aviation ready – meaning they are ready to fly when needed. Common events where they go airborne include local airshows.
Arguably the visual center-points of the museum are the large "B" aircraft – the Boeing B-17 Flying Fortress and the North American B-25 Mitchell. But there are also some unique vehicles on display. Take for instance the tough and unique looking Kettenkrad that seems to be a cross between a motorcycle, a tank and a trailer. It looks slow but this vehicle was actually clocked up to 44mph. The pristine looking 1939 Mercedes Benz touring wagon is one of only several still in existence that was used in WWII a number of times to transport Hitler. The windshield and side windows are bullet proof.
Major General William Lyon also collects classic cars – the museum rotates over 130 of these throughout the year.
Because the museum is located right next to the active runway at John Wayne Airport – you will see and hear planes constantly taking off during your visit. For more information visit: www.lyonairmuseum.org
Madame Tussauds Hollywood Wax Museum
(not to be confused with the Hollywood Wax Museum) is located right next to the famous Grauman's Chinese Theatre. Buy your tickets online prior (can be used any day) and the same person whose name is on the ticket can enter one more time for free before the end of the calendar year.
Star struck tourists apparently see this as an affordable alternative to meeting the real celebs. Step out of the glittering elevator on the 3rd floor and you might take a second glance at the person seated in front of you. It is "George Clooney" – after a few passes by you notice that one person holding a camera here does not move like the rest of the camera toting young tourists. It is a wax statue like all the rest. This creatively designed floor is by far the most popular; it is the "now generation" floor and features many current celebrities. The big advantage this floor has over the nearby Hollywood Wax Museum, is that the celebrities are all scattered about among a large area and one has the feeling of being able to interact with them – rather than just looking at them as a display, set apart from all the visitors.
The lower floors feature a number of historic celebrities – mostly actors as this is the heart of Hollywood. As you exit you will walk through a gift shop gleaming with fake Oscars and enough candy to give you a sugar high just from being nearby. Hollywood doesn't get much more touristy than this museum and the excitement of the crowds that mill around the entrance. Location: 6767 Hollywood Boulevard – Visit: www.madametussauds.com/hollywood
Marconi Museum

When one meets founder Dick Marconi for the first time, one soon realizes just how passionate he is for both the thrill of racing and the vehicles that he has acquired over the years. But it is not only all about his personal interests – as some private car collections can become. His passion goes much deeper than that and ultimately his goal with the museum is to leverage it as a vehicle to give back to the community and help raise funds for a variety of charities – especially those that involve at-risk children.
By creating a foundation for the museum, he has ensured that it it will remain long after he is gone. As a result, he created the Marconi Automotive Museum and Foundation for Kids with the museum donating a large percentage of its proceeds to local children's charities. Their goal is to donate at least a million dollars each year.
Dick's first introduction to automobiles was in 1951 when he and his younger brother built a vehicle for a soap box derby in Akron, Ohio. They didn't win first place, but they took second prize which was a 1951 brand new Chevrolet Bel Air. After this introduction they were hooked – Dick remembers he and his brother hitch hiking to Indianapolis and sitting in the parking lot – just trying to get glimpses of the Indy cars.
He headed west in 1954 wanting to find a place where as he says, "I want to work where I enjoy living". He had never been to California before – when he arrived he rented a place from an old Dutchman for $40 or $50 dollars per month in Garden Grove. He then built a number of successful careers which allowed him to pursue racing and acquire one of the finer car collections in Orange County.
He says "most often the father teaches the son, but in my case it is the opposite". His son became involved in racing and encouraged Dick to learn the sport. At age 57 Dick was the oldest person to qualify for the Long Beach Grand Prix – starting in 18th place he ended up finishing in 8th place.
One thing led to another and eventually Dick located an old salad oil plant – purchased the building and started using it as a space to store his vehicles. Today the collection is valued at over $50 million and includes classic cars, racing cars and specially built cars. A number of racing motorcycles are also on display.
Each car comes with a story, some certainly more interesting than others and there is no better way to hear these stories than with a personal tour from Dick.
One vehicle, a Pantera has a powerful 427 Cobra Engine which can be switched to burn the fuel based on the decomposition of nitrous oxide rather than air. When this is switched over, the vehicle jumps up to 1200 HP. Dick bought this vehicle at an auction in Newport Beach. They said, "Dick, we will ship it to you", but then Dick said "no, you are only a few miles from me, I'll drive it myself!". They told him he had to be very careful when hitting the nitrous oxide button despite the extremely wide tires. He hit the button prematurely coming off an exit on the freeway and wasn't quite straight – the car went crazy, doing wheelies, spinning around and ultimately tore out the rear engine based on the incredible amount of torque. As it ended up, it cost him more to fix the vehicle than its purchase price. It has since been completely restored and has certainly given Dick a memory he won't forget.
Dick later acquired a special racing Jaguar and at the time of purchase the buyer told him not to drive the car. Dick said, "what do you mean, I like to drive my vehicles" but then learned that this car has no cooling and will catch fire at speeds below 200mph. He heard about the same vehicle catching fire in England when driven at a lower speed. Dick did not drive this car.
Then there is the Chevrolet that dates from the early 1990s. As you would expect, this is no ordinary Chevrolet. In fact, this vehicle defies the word ordinary in all possible ways. It was given to boxer Oscar De La Hoya after he won a gold medal in the 1992 Barcelona Olympics. The vehicle is decorated with Latino themed murals, has an incredible 32 speaker sound system with 3,000 watts of amplifier power and will brighten up the darkest room with its 14-carot gold plated rims, sound system (showing brightly in the back of the truck) and its hydraulic tubing.
Then there are the celebrity racing vehicles ranging from Mario Andretti's last racing car to a late model Ferrari F-1 that Michael Schumacher raced in – in 1996. One Ferrari certainly stands out simply based on its bright purple paint job; it has an appropriate nickname – the "atomic blueberry" – raced successfully by Dick's wife Bo.
The "red row" sits against one side of the building; this is an impressive line-up of bright red Ferrari's. A special Ferrari next to these red beauties is the Ferrari FX, painted blue. Only nine of these cars were specially made – with six of them delivered to the Sultan of Brunei. After the Sultan canceled the order for this particular car, Dick purchased it. It's top speed is somewhere in the range of 205 mph!
As we wander among this stunning collection of unique and rare cars, Dick pauses a moment in front of one special car, a 1950 Ferrari 195S – reaching for the memories that were created when he and his son drove this car in the Mille Miglia in Italy. He recalls he and his son being so far ahead of the rest of the drivers that they were disqualified – but they still finished the race. He remembers driving through Assisi and seeing the crowds making hand gestures indicating they wanted them to hit the gas to have the vehicle make more noise!
The museum hosts a number of events including proms, birthdays and field trips for children. Dick says he can identify the most popular car with kids based on the number of finger prints he finds after they leave. This is nearly always one of the black Ferrari's that vaguely resembles the "bat-mobile" from the Batman films.
When kids visit the museum Dick shows them his car keys and tells them they can have one of these cars but it is important they do certain things in life. "One, stay off of drugs, stay in school as long as you can, have a dream as dreams don't come true unless you have one and lastly, work your behind off – the harder you work, the luckier you will get".
One of their more popular events is "Fight Night" pairing Dick's love of boxing with charitable efforts. These events are sanctioned by the California Athletic Commission – guests pay for specific tables (each table has one celebrity), comes with dinner and then a number of boxing matches take places including women fighters.
Dick's wife Priscilla "Bo" is the CEO of the museum and is involved in a number of philanthropic efforts. Dick convinced her a number of years ago to also learn how to race so that as he says, "I didn't want her to be like a golf widow, I didn't want her sitting by the race track while I was racing so we had her enroll at the Bondurant Racing School in Arizona". Ultimately she became an accomplished racer in her own right. She competed so well against the male dominated ranks of Formula Ford racing that she was invited to participate in Indy racing. She declined this offer to run the museum.
Marconi Automotive Museum is located at 1302 Industrial Drive in Irvine and is open Monday thru Friday from 9am until 4:30pm for self-guided tours. Appointments can be arranged by calling: (714) 258-3001. A "social media" kiosk on site allows one to quickly and easily take a #selfie with a number of the cars and broadcast it out via a number of social media networks. For more information about the museum visit: www.marconimuseum.org

Martial Arts History Museum
is located in Burbank at 2319 W Magnolia Blvd. The mission of the museum is not only promoting martial arts but also the cultures associated with martial arts (much of which is from Asian countries) and its history. Long time Martial arts enthusiast, President and Founder of the museum, Michael Matsuda created this museum in 1999. Prior to this his collections were mobile – in a small 10×10 booth traveling throughout the region to events and locations as needed. They grew to a 100×100 foot booth and then Michael realized he needed to take the next step in order to further grow his collection.
When the commercial real estate market dropped significantly a number of years ago, Michael was able to purchase the building at his current location outright. The museum started with Michael's personal collection – he's been collecting Martial Arts memorabilia since the 1960s. With a number of friends who have also collected these items for many years – Michael had the perfect outlet for gathering memorabilia for the museum. He has been a Martial Arts enthusiast for most of his life – he was publisher and founder of Martial Arts Magazine which he sold in part to start this musuem.
This is the only museum in the country devoted to martial arts. Again based on ideal proximity to a number of film and television studios, artists from Disney, Dreamworks and the Simpsons have designed a number of the displays.
Based on the location of this museum and Michael's connection in the film industry – the museum is in a perfect location to hold a number of events. Movie premieres usually relating to Martial arts are held, musical performances and martial arts demonstrations. A fun annual event is their Sushi seminar – a sushi chef prepares the sushi and sashimi in front of you – this is an educational event where you learn from the chef – but then it becomes even more enjoyable when you can eat the the products of his labor.
If you are a local, when you visit be sure to sign up for their mailing list to receive invites to the premieres and other events. Most of the collection is from within the last 100 years – with both authentic weapons and movie props (including the headband worn in the Karate Kid movie). The museum is a popular stop with school children (scavenger hunts can be arranged ahead of time) and can also be rented out for special events.
Open Sun-Thurs from 11am to 6pm. Visit: www.martialartsmuseum.com

McDonald's Museum
The world's oldest McDonald's (out of 20,000 some odd McDonald's on the planet) is located in the city of Downey on the corner at 10207 Lakewood Blvd about 1/2 way between the 91 and the 105 Freeways. This McDonald's is still in operation; it was built in 1953 however it is not the oldest or the original McDonald's. The first McDonald's was founded in San Bernardino California in 1948 and was originally called McDonald's barbecue serving over 100 different barbecue recipes. It is no longer there – only a plaque commemorates that historic location. This particular McDonald's was almost torn down after the 1994 Northridge Earthquake – it was closed for two years. The LA Conservancy played a role in ensuring this historic building remained.
This McDonald's was the 3rd ever restaurant – it was franchised by the original founding brothers, Richard and Maurice McDonald. It actually remained an independent restaurant of the McDonald's corporation until 1990.
A small museum next to the actual fast food restaurant highlights McDonald's history in South California and beyond. Images of "Speedee" the companies first mascot are on display. Also interesting is a personal letter written by Richard McDonald in tribute of the restaurant's reopening in 1996 after repairs were made because of the Northridge earthquake.
Walk up to the take out window and order (unfortunately the prices are no longer the same as they were 50+ years ago – then hamburgers were 15 cents and fries were 12 cents.
Muckenthaler Cultural Center,
or just the "muck" for short is located at 1201 West Malvern Avenue in Fullerton. This is the site of what was a private residence first built in 1924 by Walter and Adella Muckenthaler. It has 18 rooms and sits on 8.5 acres. Their son Harold Muckenthaler donated the property and home to the city of Fullerton in 1965. Visitors and see part of the home and wander the grounds during business hours. The main floor contains several gallery rooms – with exhibitions that usually run for several months and then change. During a recent visit the artwork displayed was quite diverse – from contemporary Korean paper art to Mexican postcards from the early 20th century. The gallery rooms are small. For more information visit: www.themuck.org
For more history of this fine residence view:
Museum of Broken Relationships
opened in early June 2016 in the building that used to house Fredericks of Hollywood. You wouldn't recognize the interior now as compared to when this lingerie store was here; the inside has been completely renovated. However one remnant of the old store remains quickly spotted when you walk in the entrance – a star dedicated to founder Mr. Frederick is one of many lining the sidewalks of this part of Hollywood Blvd.
This is a unique museum focusing on personal stories of broken relationships. At first glance one might think these stories are entirely about broken girlfriend or boyfriend dramas, but broken relationships can extend much further then this. Pets, a favorite wine, a relationship with a region etc – a diverse collection of mementos from these broken relationships are on display along with there accompanying stories.
Museum founders Olinka Vištica and Dražen Grubišic started collecting objects from people's failed relationships. These objects formed the basis of a traveling collection which toured 25 cities. These items found a home in 2010; their original museum opened in Zagred, Croatia.
The museum accepts stories and items for display from the general public – a crowd sourced museum if you will! All stories and items chosen for display are done so anonymously and can be submitted via a form on their website.
The museum is located at 6751 Hollywood Blvd – parking is either metered n nearby streets (check for street sweeping times before committing your self to a parking spot) or in several open air parking lots or nearby garage on Las Palmas. In addition, the museum validates parking in the nearby Hollywood and Highland parking lot.
For more information visit: www.brokenships.la
Museum of Contemporary Art, MOCA
is located just down the street from the Walt Disney Concert Hall at 250 Grand Ave. This is actually just one of three MOCA museums in the LA area. This museum showcases very modern eclectic art. A visit here should be for the open minded art enthusiast who wants to see art created in the non traditional sense. Provocative photography exploring the sexual aspects of the human body are also on display. A nice feature offered by MOCA is their free cell phone audio tour. Simply call (213) 455-2926 and enter the number of the exhibit followed by the # key for the description.
The Lemon Cafe is to the left as you walk down the stairs to the main museum entrance. With many of the restaurants and cafes closed on the weekend this makes a nice stop for lunch, regardless of whether you tour the museum or not! A large store is located on the ground floor and feature mostly art related books. Visit: www.moca.org
We have also visited the MOCA in the Arts District (near the Japanese American Museum). Photos from both MOCA spaces are shown here.
Museum of Death
is located at 6031 Hollywood Boulevard just west of the 101 Freeway on the north side of Hollywood Blvd. They used to be located in San Diego and then closer to the main part of Hollywood but as they told us, rents are a bit lower on this part of Hollywood Blvd. There is onsite parking or on the street 1 block north of HW Blvd. This is a unique, intense experience. It is a small museum but you can easily spend an hour here as there are many photos and articles. No photography is allowed inside which is why in this case we do not have any interior photos.
Be sure to watch the intro film on how a human body is prepared at the mortuary. Other films on death related subjects also rotate. Displays on cannibalism, execution devices, some of LA's biggest crime scenes including well known serial killers and their artworks, torture and other graphic images related to death and torture are shown.
Warning: this museum is not for faint of heart. Those who work at the front counter have specially prepared lines to offer when you exit such as "enjoy your life" or "enjoy the living" or "go live a little! Walking out into the sunny SoCal sunshine is a "warming experience" after experiencing all the real-life horror contained within this museum. Visit: www.museumofdeath.net
Note: As of February 2n 2020 the Museum of Death continues to be closed – they are looking to relocate to a new location. Once they find a new location we will revisit and update our notes accordingly. Thank you for your patience.
Museum of Jurassic Technology
If you think you are going to see exhibits about Jurassic Park or other Jurassic era items you will be sorely disappointed. Items here are somewhat odd, eclectic and scattered in nature, relating to science often spotlighting the 1400's to the 1600's. There is quite a range of items on display, everything from artwork you have to view under a microscope to see it to paintings of dogs that went into space. A good word for some of the exhibits is "random". A permanent exhibition focuses on natural history and the history of science.
The museum is very small from the outside and we had to look twice to even see its location near the corner of 9341 Venice Boulevard and Main Street in Culver City. Darkened very small rooms greet visitors while people walk around in hushed tones.
How many museums have a tea room? This museum has a Russian-style tea room on the 2nd floor – tea is complimentary along with cookies. This room is very small and a good place to probably meet people from around the world. When we visited we ran into folks from Turkey and Japan. Not sure how they found this museum out of all the museums in Los Angeles! For more information visit: www.mjt.org

Museum of Latin American Art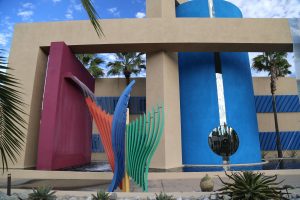 is located at 628 Alamitos Avenue in Long Beach. This is a historic site in Long Beach having served as home for a silent movie studio as well as the old Hippodrome roller skating rink. The museum looks rather large from the outside but the select galleries inside contain well spaced out exhibits and artwork. There is plenty of parking on site (in front of the entrance to the museum). This is the only museum in the USA devoted to modern and contemporary Latin art.
The range of art is extremely eclectic from a video of a man slowly destroying a pinata created in his likeness on his birthday to a woman drenching herself in blood and then rolling around in feathers near a lake (odd, very much so!). Video makes up a portion of the exhibits – galleries show rotating exhibits as well as art from the permanent collection. A sculpture garden is outside behind the museum. Artists from twenty countries are exhibited – these artists are well-known in their home countries but little known in the USA.
The founder, Dr. Gumbiner also introduced the much smaller Pacific Island Ethnic Art Museum (just down the street). You can call in from your cell phone for voice narration relating to a number of the art pieces on display – using (562) 481-3812. A small cafe is on site. Allow up to an hour. Visit: www.molaa.org

Museum of Neon Art
was initially located at 136 West 4th Street in Downtown Los Angeles and was founded in 1981, by artists Lili Lakich and Richard Jenkins. After several years of planning they have moved and are now located on Brand Ave in Glendale nearly opposite the Americana at Brand Shopping Center (216 S Brand Blvd, Glendale). Parking (if you can find it) is on Brand or directly behind the museum on a small side alley are a number of metered spaces. Compared to the original museum, this museum is an upgrade both in location as well as the facility. We recall an incident they told us about when we visited the old museum – one large neon sign was turned on at a customer's request and after a few seconds the entire Neon museum shut down as this large sign temporarily blew the electricity. They won't have a problem with that here!
This museum is easily noticeable; look for it's corner location and the neon art of the woman diver perched on top of the museum. The museum is small – the main entrance features a small gift shop, the Electric Lab is the hands on part of the museum (where artists sometimes give classes and produce neon and other electric art) and the main room which houses a number of neon signs – many of which are of historical significance and were in use in the Los Angeles area. Several of the neon artworks are new pieces.
Also of interest to both locals and visitors are their Neon Cruise tours of Los Angeles. For obvious reasons this tour is done in the night and explores some of the electric art history in both downtown Los Angeles and Hollywood. Tours are narrated and led on a bus visiting some of LA's most eclectic neon art signs!
For more information about this unique museum, visit: www.neonmona.org
Museum of San Fernando History
is located upstairs in a non descript corner office complex at 18860 Nordhoff Street Suite 204 (inside a former realty office). The museum was founded by long time teacher (now retired) Gerald Fecht, Ph.D and focuses on documenting and preserving the local history as well as presenting rotating often interactive exhibitions. With nearly 2 million residents – the musuem represents a significant population in the Los Angeles area.
As you enter the museum you are greeted by movie posters hanging on the wall as well as other displays from the entertainment industry. The San Fernando Valley has certainly played a role in Hollywood – both for set locations and for producing prominent individuals who worked in the industry. During our recent visit an intriguing display (the Westmore Collection) focused on the life of George Westmore and his contributions to the film industry. He creatd the first movie makeup department at Selig Studios in 1917. The exhibit features a number of items that were used in those days as well an old wig worn in the 1967 film, Dr. Dolittle.
Continuing towards the back of the museum you reach a room dedicated to local artists. Various larger than life bronze, clay and wood busts line the walls as well as paintings. Local artists sometimes come to the museum to speak about their artwork or give art demonstrations.
Not only is this a museum in the traditional sense of the word, but in addition to their exhbits on site they offer a variety of interactive experiences including a number of walking historical tours of the San Fernando Valley including of the Pacoima Murals, historic Van Nuys and an exploration of North Hollywood's history. Guest lecturers are also invited to the museum to discuss topics and history as it relates to The Valley.
The museum is also involved in supporting PAI (the Public Art Initiative) helping raise awareness about public art including community art and mural projects. Part of their work here will be to help restore old murals.
Not all of their collection is on display – they have additional holdings offsite. For San Fernando Valley history buffs, be sure to pickup a copy of "Off the Beaten Path" a book by Bronwyn Ralph detailing the Valley's various points of historical interest. For more information visit: www.themuseumsfv.org
Museum of Social Justice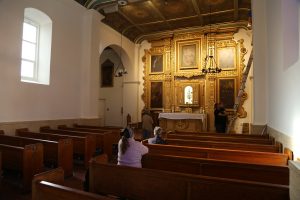 is located underneath the La Plaza United Methodist Church on Olvera Street (115 Paseo de la Plaza). The museum focuses on social justice issues including the poor and their struggles for economic opportunities, abolition, women's suffrage and civil rights. The museum itself is one large room in which exhibits rotate on a regular basis (usually every 6 months). Works are featured by Methodist artists and feature various Art forms and Education. During a recent visit the exhibit highlighted black and white photography of immigrant farm workers. The museum has an extensive collection of images and records dating back to early Los Angeles.
The church itself is historical having been founded in 1899. Originally it was the Bloom Street Mexican Mission. Today the surrounding area is a thriving part of downtown Los Angeles with a number of museums easily within walking district. In addition, the arts and culture of Mexico is celebrated on Olvera Street with a number of restaurants, craft shops and related historical museums. For more information and current hours, visit: www.museumofsocialjustice.org

Museum of Tolerance
is located at 9786 West Pico Blvd is associated with the famous Simon Wiesenthal Center (which is actually located across the street). Parking is in a multi-story underground garage and is free with admission to the museum. There is a security checkpoint before you enter the garage and another security checkpoint before you actually enter the museum exhibits. Note that no cameras or filming devices are allowed in the museum including cell phone cameras. You will not be allowed into this museum unless you have a photo id. This museum's purpose is two-fold; to raise awareness about the dynamics of racism & prejudice in America and to explore what happened during the terrible Holocaust of WWII.
This museum is a semi self guided tour (explained below). Allow at least two hours here. You start out in a small group with a guide who leads you downstairs and stops your group in front of two doors. A volunteer is chosen and then the guide asks her to enter the museum by choosing the door on the left if she considers herself racist in any regard, and to choose the door on the right if she considers herself not racist at all. Hint, if you choose the door for being "not racist" you will be fighting against a locked door!
This is a very interactive museum – videos & demo's all invite your participation. Exhibits on the war in Bosnia & Rwanda are in the first section of the museum before the Holocaust section. This is a semi-guided tour in that you are not given the freedom to wander through all the exhibits at your leisure. You are given a time limit in certain sections of the museum, and then you have to move to the next section. The Holocaust exhibits are timed so that the doors leading into the next sections open only after you have seen all the exhibits in the section you are in. Each display in a particular area lights up a description is read and then fades into darkness. Once you leave the Holocaust section you are free to explore the rest of the museum. One nice feature of the Holocaust exhibit is you are given a "biographical card" of a person that was in the Holocaust. As you make your way through this exhibit there are several "bio" machines; you put the card into one of these machines and it tells you all about the person listed on your card and you can even print out the information.
Occasionally this museum will have well-known guest speakers. The museum is closed Saturdays and for Public & Jewish holidays. Visit: www.museumoftolerance.com
Nethercutt Museum
contains one of Southern California's finest and largest collections of antique cars (more than 120 classic cars). While the Petersen Car museum is the best overall car museum in the Los Angeles area – this museum dominates as the best museum in the southland for classic cars. The museum is located in Sylmar with easy nearby access to several freeways including the 5, 14, 210, 118 and the 405. It is also an ideal museum for visitors based on the fact that the museum opens early (9am), is Free, and they allow both photography and video. Speaking of which, you will be on video the entire time you are at the museum – even behind the museum at the train exhibit as the front desk guard keeps a close eye on his closed circuit monitors.
The museum was founded by JB & Dorothy Nethercutt in 1971 to showcase their growing collection of classic automobiles. JB's aunt was the founder of Merle Norman Cosmetics – he originally moved to Southern California to live with her. While JB & Dorothy passed away in 2004, the Nethercutt's continue to operate the museum and restore vehicles. Today Jack and Helen Nethercutt are directors of the museum.
The cars are the reason to visit this exceptional museum – most of their collection on display is from the early 1900's to the 1940's. The cars are in impeccable condition. Highlights are their collection of Rolls Royce vehicles as well as some unique limited production cars – with names you may never have heard of such as "Dort", Stevens-Duryea, Moon, and Pope-Toledo among others. An excellent collection of historic hood ornaments lines one of the walls.
All vehicles have placards in front explaining more about the particular model, manufacturer and often listing the retail price from the year it was built.
If there was one car we drooled over more than the others – it was the 1933 Pierce Arrow. The Pierce vehicles were considered America's finest vehicles in the early 1900's. Talk about retooling for the automobile – the George N. Pierce Company prior to making cars, manufactured bicycles and bird cages! The Pierce is also a favored vehicle of Dirk Pitt in some of Clive Cussler's books – as well as is on display in Clive's museum located in Arvada Colorado.
Note: the Nethercutt Collection is located just down the street from the museum and is housed in a separate building. Visits to the collection are by advance appointment only. We have plans to visit the "collection" and will update our review here accordingly.
For more information visit: www.nethercuttcollection.org
NHRA Museum
is located on the grounds of the Pomona Fairplex – enter at Gate 1, address: 1101 W. McKinley Ave., Building 3. The actual museum is much larger than one would expect – this is the official museum of the NHRA – although the museum itself is a separate entity from the NHRA, operating as a non profit. Over 50 years of motorsports history are chronicled here including impressive looking engines, historical racing vehicles, uniforms, trophys, and plenty of other memorabilia. Not only are historical engines on display, chronicling the evolution of the sport but current in production engines are also shown.
Those in racing know the name, Gale Banks well. He grew up in the Los Angeles area and is one of the industry pioneers for both automotive and marine engine innovation and development. There is a display devoted to his racing engines and his contributions to the industry – he also serves on the board of directors for the museum. New truck engine to be put into GM High Performance trucks on display – originally developed after Mr. Banks re-engineered this engine to produce double the output of the original. Their is a version of this motor – a stealth motor that shuts off and they switch to battery power.
Gale has his hand in a number of cool projects including a diesel engine for the Pike's Peak Road Race – a uniquely challenging race that encompasses driving from 6,000 to 14,000+ feet. For those interested, this engine is a twin turbo charged water methanol injected.
Another highlight is a dragster, Top Diesel, an experimental vehicle which ran the fastest 1/4 mile vehicle in the world – reaching speeds up to 268 mph. Three legendary cars are also on display, all made by the Chrisman Bros from Compton – the Hustler, 25 car and Hustler Coupe.
The museum goes out of its way to work with local schools. They further education of students involved in the All City Mathematics competitions. The museum uses motorsports as a way to get kids intrigued with the sport – and to demonstrate that what they learn in school applies to cool real life applications. They also go into the schools – applying real-life motorsports education within the classroom to in part make learning fun.
The museum also works with some of the area vocational schools/training – post high school/pre college – coordinating with NHRA's "YES Program" – bringing science and technology to this program – use racing sports as means of building excitement to demonstrate there is an application for what they are learning.
The museum actively attends NHRA National Events – and produces three Hotrod Reunions a year. The purpose of these reunions is to reach out to the preservation community and celebrate the history of this sport. The reunions and a number of their events are open to the public.
Most people have never been in these high performance racing vehicles. As a result, additional plans call for building a racing experience at the museum – using a simulator.
Vehicle donations are selectively accepted – as Executive Museum Director, Larry Fisher says, "it is not like collecting butterfly's, the vehicles do take up space" and even with so much current space he says they are already maxed out and have to carefully choose what is shown on display. Their focus is to collect cars that are iconic and demonstrate the evolution of the sport.
Note that during the month of September, the LA County Fair is held at the Fairplex and admission to the museum is during the county fair hours with a county fair ticket (you cannot enter the museum directly). Exhibits change throughout the year – for the latest, please visit: www.nhramuseum.org

Norton Simon Museum
located at 411 W. Colorado Boulevard in Pasadena is home to over 2000 works of art from Western and Asian cultures. This is one of our favorite museums in the LA Area. Norton Simon was a prolific collector of rare art – he made his money initially from Hunt Food's Company and then branched off into a variety of other well known businesses. Norton Simon along with Armand Hammer (who he often bid against for rare works of Art) were two of LA's serious art collectors in the 1950's through the 1980's. This museum has four main galleries – 14th-16th century, 17th & 18th century, 19th century and a South Asian collection. They have one of the best collections of Degas we have seen including his paintings and sculptures. Also Raphael, El Greco, Rembrandt, Rubens, van Gogh, Monet, Manet, and Picasso among others, are displayed. Rodin and other sculptures line the front entrance and interior courtyard. One room is devoted to the life and times of Norton Simon – be sure to pick up the free "art of negotiation" book which describes how Simon acquired select pieces. Also one gallery displays rotating photo exhibits.
Norton Simon has a vast collection of South Asian artworks/sculptures, mainly from India. This is housed on the lower floor while the other western arts are housed on the first floor. Typically there are less people in the South Asian exhibit so you can really take your time at each piece. Need something to eat while visiting the galleries? The Garden Cafe sits in the courtyard at the edge of the pond. Museum is closed on Tuesdays and note their opening time is a rather late 12pm the rest of the week. Visit: www.nortonsimon.org or Phone: (626) 44906840
Old Plaza Firehouse
is located in a brick building in the El Pueblo Historical complex (located somewhat across from Union Station). This is the first and oldest firehouse in the city of Los Angeles – designed for firefighters and their equipment. It dates from 1884 and was actually only in use a few years due to a dispute of ownership of the site. The entire building was constructed for under $5000.
Ultimately the rent was raised for leasing the firehouse and the fire chief decided to move the fire station to a new location. Later the rent was lowered and the fire house was again in use – albeit only for a year. After it closed the building became home to a number of businesses including a cheap drugstore. The state finally purchased the site – the building was restored and opened as a museum in 1960.
Admission is free into the one room museum – a number or historical firefighting items are displayed including original hand written notes about the fire station dating from 1885 and a fire engine that dates from the late 1790's. Note the circular wooden turn table built into the floor – this was designed so horses would not need to be backed into or out of the station – they simply could be turned around on this circular piece. Open Tuesday through Sunday from 10-3pm.
Orange County Museum of Art
is located in Newport Beach at 850 San Clemente Drive – close to Fashion Island, one of Orange County's most prominent shopping centers. The museum focuses on modern and contemporary art. They maintain a permanent collection of over 3000 objects (with a focus on California artists) and also galleries setup for rotating exhibits. New exhibits display every few months – check their website for details.
You know this is going to be one interesting visit before you even step inside the building. You cannot miss seeing the huge dog sculpture by artist Richard Jackson standing in front of the building. The dog is actually taller than the building; he has one leg lifted up and the wall is stained yellow – even "dripping" down the side. This over sized behemoth is in the act of urinating…all over the building!
During a recent visit we were treated to some of the most unusual and creative art we have seen at any museum in Southern California. The main galleries contained exhibits by Peter Sarkisian. His artwork combines an intriguing combination of video projection and sculpture. There is the exhibit of nude children playing with their nude mother – the nude lady in a bathtub slowly turning over in the water. And the very intriguing piece simply titled, "book I". A man is visually projected onto a physically open book – all the while scribbling a bunch of words.
View video of the "book" exhibit:
OUE Skyspace
opened in June 2016 on the upper most reaches of the US Bank Tower building in downtown Los Angeles. This digital museum is located on the uppermost reaches of one of two highest buildings west of the Mississippi River (the other being the nearby Wilshire Grand Center which has a shorter roof height then the US Bank Building but it's tower makes it the taller structure of the two buildings). Visitor's must ascend two elevators to reach the upper most floors. Views from here are truly spectacular. You may spend hours in traffic driving by, to and or from downtown with a certain perspective of downtown looking up. This is an entirely new perspective – looking down from the highest building in the state.
Visitors walk through the Digital Interactive Level stopping to read various trivia questions relating to the city of Los Angeles. And stopping in front of the Silhouette Wall in which pixels on the wall imitate your body movement. There is more here as well. But in reality, the attractions are the incredible views from the outdoor terraces and the quick thrill of the Skyslide.
Both the Skyslide Terrace and the Hollywood Terrace are the tallest open-air observation decks in California. From these terraces one can pick out icons and landmarks both man-made and natural in all directions. Stand freely in the open air and gaze over the now dwarfed height of city Hall (once the tallest building in Los Angeles), check out the large parking lot at Dodger Stadium, watch traffic call up to downtown on the 110, this same traffic head west on the 10 or merge with the 5 or the 101. Immediately glance down from the Hollywood Terrace onto the beautiful open air plaza next to the Bonaventure Hotel and admire the outdoor pool or those sunbathing here – then move yourself to the Skyslide Terrace and gaze south.
The Skyslide itself is located at nearly 1000 feet above sea level and is 45 feet of enclosed 1.25 inch thick glass that connects the 70th floor of the building with the outdoor Skyslide Terrace. The actual ride is on a carpet, place your hands through two cloth handles and off you go. The ride only lasts about 5 seconds (perhaps you would like to scream on your way down) and abrubtly ends on a thick rubber covered mattress. During our descent of the slide, we played an MP3 clip of breaking glass as loudly as our phone would allow.
For LA lovers, moments outdoor admiring the city in all directions from this height do not get much more epic then this.
Pacific Island Ethnic Art Museum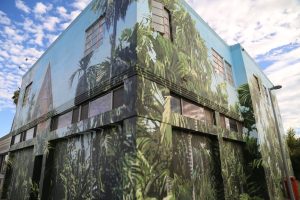 is located at 695 Alamitos Ave in Long Beach. A tiny parking lot for museum attendees is across from the main entrance on Alamitos Ave. The museum and the small outdoor sculpture garden are triangled in between where Alamitos Ave hits 7th Street. This very compact museum focuses on the culture and artwork of the Pacific Islands. The museum is the inspiration of Dr. Robert Gumbiner who founded a health maintenance company was introduced to the art of remote Pacific Islands while traveling in the region for business.
Dr. Gumbiner also founded the much larger Museum of Latin American art (just down the street). Talk about totally different museums and types of art! Allow 20-30 minutes. A small gift shop is on site. It was here while viewing some of the exhibits that we first decided we would visit Papua New Guinea. Visit: www.pieam.org

Paley Center for Media
is located near the corner of Santa Monica Blvd and S Beverly Blvd in Beverly Hills. This is not a museum necessarily, but more of a repository or library of visual media (TV, movies). The first floor contains the John H Mitchell Theatre which features several daily screenings often of older episodes of well-known TV shows.
During a recent Thursday visit we were the only one in their large theatre for 2 screenings. Not a bad way to be considering just outside you have the hectic crazy traffic congestion on Santa Monica Blvd. Admission is technically free but a donation of $10 is requested per each adult. The center is located in Beverly Hills and there are tons of surrounding shopping opportunities. Or if shopping is not your thing, walk minutes to the Beverly Hills sign along Santa Monica Blvd and have someone take your photo. Allow about 30-45 minutes here.
The second floor contains a number of consoles where you can choose titles from a selection of over 150,000 works – make your selection and then you will be directed to the actual viewing monitors. Its easy to squirrel away a number of hours on this floor. A scene in the movie "Hancock" was also filmed here. For more information visit: www.paleycenter.org

Pasadena Museum of History
was founded in 1925, is 2 acres and is located at 470 W Walnut St in Pasadena. A small parking lot is adjoining the museum. The location has very easy access to both the 210 and the 134 freeways – is minutes from Central Pasadena and also not far from the Rose Bowl. In addition, several other museums are located within a short drive (The Gamble House and the Norton Simon Museum).
The museum has a permanent collection focusing on three attributes: 1. items from the Fenyes-Curtin-Paloheimo families and how their history relates to Pasadena, 2. a Costume and Textile collection with approximately 3,000 items – most of which date from 1880 to about 1970. In this collection are a number of quilts. And 3. objects from Pasadena's history including fine art, sports memorabilia and early technology items.
The museum rotates exhibits approximately every 6 months – during a recent visit several exhibitions focused on the Civil War and how it related to Pasadena. The company of a guided docent led tour is available for some of their exhibitions.
Note that to visit the Finnish Folk Art Museum and the Fenyes Mansion (part of Pasadena's Millionaires row) you must be on a guided tour (lasting approximately 1 hour 15 minutes) beginning at 12:15pm either Friday, Saturday or Sunday only. The Fenyes Estate Gardens are available to to the public to visit during open hours.
A well stocked museum store is located adjoining the museum – they have a good number of books on both local and Southern California history as well as Official Tournament of Roses® merchandise available any time of the year. For more information visit: www.pasadenahistory.org
Petersen Automotive Museum
is located at 6060 Wilshire Blvd at Fairfax Blvd on "museum row" just down the street from LACMA (Art museum). Parking is in an adjoining garage and you pay for your ticket at the cashier once you are ready to leave. Alternatively if you don't mind walking some parking is available on surface streets on the opposite side of Wilshire Blvd.
In a city known for the automobile and a number of automobile museums, this is arguably the top car museum in Los Angeles. Considering the incredible impact Los Angeles and the automobile has had on this metropolitan region as well as the world – it is good to have a world class museum such as this one in town. And that is simply a reference to it's collection – the building is already an iconic structure – easily recognizable.
Three floors contain a diversity of vehicles and topics relating to the automobile. You don't want to miss visiting any of these floors – all are unique and memorable in there own way.
The first floor is the Peter and Merle Mullin Artistry floor and focuses on some of the world's most beautiful vehicles – where art and function are combined. The vehicles on display here change depending on the year. The museum's store is located here which includes a variety of automotive wear and numerous tiny car models.
The second floor focuses on the industry as a whole highlighting design and technology and aspects of the features that have improved speeds and efficiencies. Neat displays include alternative power where you can learn about the latest innovations to power vehicles with fuel other than gasoline, a glimpse into the ArtCenter of Design, vehicle manufacturing, motorsports, hot rods and much more.
The third floor is about automotive history – dedicated to everything about the car including gas, gas pumps, the initial development of the car and most interestingly how the automobile in Los Angeles changed the urban environment of the LA basin. Street cars used to dominate the region – these disappeared and large streets became freeways. Wilshire Blvd was the hub of some of the regions innovations regarding streets and cars. Supermarkets evolved to accommodate large numbers of cars with oversize signs and parking lots away from the street. It is extremely fascinating to explore the history described in the exhibits on this first floor. Check out the photo of this museum's location on the corner of Wilshire and Fairfax taken merely less than 100 years ago. Empty fields and oil wells – wow!!!
Be sure to visit the Hollywood section which includes cars used in famous movies or owned by famous actors (one of the 5 yellow vans in Little Miss Sunshine and a very unique car owned by Steve McQueen, among others). There are exhibits on electric cars, art cars, unusual cars, race cars, historical cars and motorcycles. They also display rare and unique collectible antique cars. More than 150 vehicles are exhibited.
A special experience is the Vault Tour. It is a 75-minute guided walk through in the vault of over 100 unique vehicles not on display to the general public. Reservations are recommended for this tour especially on busy summer weekends.
You can use your cell phone for their audio tour. Free WiFi is provided. Call 323 930-CARS (2277) and then type in the exhibit numbers on your phone to listen to the descriptions. Open daily from 10-6pm. For more information visit: www.petersen.org
Presidential Museums
Our Review here: Richard Nixon Presidential Library & Museum
Our Review here: Ronald Reagan Presidential Library & Museum

Psychiatry: An Industry of Death Museum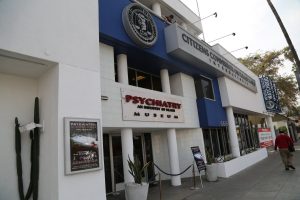 is located at 6616 Sunset (a busy part of this blvd). This is the international headquarters for the Citizens Commission on Human Rights. Parking is available on surface residential streets within several blocks of the museum (on the same side of Sunset as the museum location – the south side of the street). Unlike many museums in town that close in the afternoon during the weekdays this museum stays open until 9pm. They are also open 7 days a week. Admission is free.
A visit here is one of the most visceral experiences you can have at any Los Angeles museum and after viewing some of their films and exhibits you might feel ripped up and raw, ready to get out of here as quickly as possible. The entrance to the main exhibits looks like a jail cell or a bank vault door. As you wander through the exhibits it feels at times like you are locked in a cage with a bunch of mad men.
Out of the 130+ museums we have visited in Los Angeles, this is by far the most disturbing one.
The focus of this museum is on the evil side of Psychiatry and the sick mindsets that humanity has developed and followed throughout history. This museum does not explore any positive sides of psychiatric help.
Exhibits focus on techniques (essentially torture) used to treat patients, Eugenics, the Nazi regime as well as profiles of many of the prominent psychiatrists throughout history.

Queen Mary
is located at the south end of the 710 freeway – as you get close, simply follow the signs for parking. This majestic ship is somewhat showing its age (upon close inspection only). From afar it looks pristine and towers over the Long Beach Harbor, like the queen she is. She has been berthed here since the late 1960's. Tickets to board the Queen Mary start at approximately $35 per person – however look in the local tourist guides for discounted coupons, and also ask at the ticket counter if they can honor coupon prices, even if you are not carrying one. Higher priced tickets are available as often there more exhibits on or near Queen Mary that the general admission ticket does not give you access to.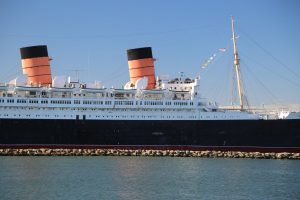 Typically you would want to start your self-guided tour in the great engine room. This is worth visiting – its like 4 or 5 stories deep, and you walk down walkways straight into the guts of the engine. Even though the Queen Mary has not left Long Beach in many years, the engine room still delivers a rich smell of oil and gas. There is a an exhibit room above the engine that you may want to stop in. It displays Queen Mary mementos and has a good written and pictorial history of the ship.
Once on board, you are free to wander around the public areas – this includes the top decks, the captains control room in the front of the ship, the big ballroom, and many other places (there are 8 decks open to the public and will be highlighted on a brochure given to you when you walk onto the ship). The Queen Mary was the first big ship to have machine powered life boats. You wouldn't want one of those heavy things falling on you! Great photo opportunities from the Captains control room towards the uppermost reaches of the ship. The harbor front and sleek buildings of Long Beach make a majestic background on a clear day.
In 2006 the Queen Mary II proudly sailed into Long Beach and for the first time in history the Queen Mary and its predecessor were in the same general location. The QMII carries one of the Queen Mary's original whistles and this sounded as this huge ship passed by. If you were anywhere in the vicinity, this was not an occasion to miss.
Small gift shops, a cafe and a hotel are all on aboard. This ship hosts an enjoyable Halloween event every October. For more information about the Queen Mary in general visit: www.queenmary.com

Rancho Los Alamitos
is located in Long Beach within the gated residential community of Bixby Hill (near the campus of Cal State Long Beach). Pull up to the guard gate – enter the side for visitors and pickup your day parking pass. After you drive through the residential neighborhood you will reach the 7.5 acre Rancho los Alamitos site – a parking lot is located in front of the entrance to the beautiful new Rancho visitor's center. Start your Rancho los Alamitos experience here.
What is now greater Los Angeles used to be divided into huge tracts of land – or concessions as they are called. Rancho los Alamitos used to be part of the 300,000 acre Los Coyotes concession. In 1968 the Bixby Family (the last private owners of this property) donated the land to the city of Long Beach. Today their original house and barns are still standing and can all be visited while here. Chickens, huge draft horses, rabbits and other farm animals are still raised on site.
Admission to the property is free – a docent needs to accompany you into the main house – but you are welcome to walk around the grounds and gardens at your leisure. Note the two impressive and gigantic Moreton Bay Fig trees in front of the house. The docent will help outline the history of the property, give insights about the Bixby's (being in the right place at the right time in regards to earning riches from the oil fields in nearby Signal Hill), and provide interesting information about the inside of the house and its furnishings.
The house was originally constructed starting in 1804 as an adobe structure. Over time new owners added wood floors and sidings, and in 1878 when the Bixby's moved in – they turned the old house into a Victorian. You can still see the original 2 foot thick adobe walls in part of the house. In later years additional parts of the house were expanded onto the original.
For more information visit: www.rancholosalamitos.com
Rancho Los Cerritos

A visit here is like going back in time to the late 1860's through the early 1880's. One can visit and tour on his or her own but the realities of historical living conditions here come to life through the eyes of a docent who leads tours throughout the day from when they are open (Wed – Sun from 10-5pm). The docent assumes the role of one of the original inhabitants and for the entire tour assumes the first person role. Tours are free although donations are certainly welcome.
The Cerritos Adobe was built in 1844 by John Temple as headquarters for a large scale cattle ranching operation. He sold the ranch in 1866 and is where Jotham Bixby and his family lived from 1866 through 1881. A tour will visit a number of rooms adjoining the main residence including the blacksmith room (notice the tiny windows with large funnel like shape for funneling the smoke out of the room, and a time saving invention which features many gears – an apple corer), a room that shows how they sheared the sheep and collected the wool, and a laundry room (you will see that washing clothes was a tedious process back then!).
The tour also includes a number of rooms in the main residence including a library which contains 3,000 historical volumes (many quite old). This library is open for research during public hours. Note the walls of the home, they are extremely thick and built of adobe. A small vertical portion of an old white washed portion of the home along with the raw adobe showing is preserved behind plastic next to the back door entrance. It is interesting to note some of the signatures and dates next to them. The roof during its ranching days was flat – today it is sloped with Spanish style tile.
The house is located about 5 miles from the ocean. During the time the family lived here introduced trees were not yet planted in many areas due to the lack of population. As a result you had a fairly clear view down to the ocean whereas today buildings and trees block your view. The seawall in the the Port of Long Beach was also not built, therefore the family actually heard the ocean waves far in the distance – especially in the evenings.
Wondering where the early inhabitants gathered water here? The property sits relatively close to the San Gabriel River.
These old Ranchos in Southern California are all connected in some way. See our reviews of the Rancho Los Alamitos and the Homestead Museum listed on this page for more information.
The gardens boast large trees from when it was a working ranch and there is a fruit orchard which is planted to various guavas, sapote, and citrus.
The site has been open as a public museum since 1955 when the family sold nearly 5 acres to the city of Long Beach.
The property is located within easy access of the 405 Freeway. When you arrive at the property, park in the open air parking lot outside the main entrance. Parking is available at the small museum and visitor's center but only for vehicles displaying a handicaped placard. The small visitor's center displays information about the history of the property and those who lived here as well as sells books on early California history and seed packets taken from plants in their gardens. For more information, visit: www.rancholoscerritos.org
Raymond Alf Museum of Paleontology
is located in Claremont and was founded in 1936. This is the only accredited museum at a high school in the United States (at the Webb Schools, a private high School). Founder and the museum's namesake, Raymond Alf was a math and science teacher at this high school in the early 1930's. He used to take students fossil hunting – often near Barstow. During one of his trips one of his students tripped while walking down a small hill, tore his pants and upon further examination saw a the sharp protrusion of a fossil partially buried in the ground. This discovery was a new fossil pig – a peccary. After finding this unique fossil, Raymond became dedicated his life to Paleontology.
The museum contains a large collection of fossils – many of which have been found by students. Large dinosaur bones, full dinosaurs and other skeletons are on display. Students continue to go on fossil field trips and There is even a lab on
Address: 1175 W. Baseline Rd. in Claremont. Parking is free just past the little "attendant" house and as you face the campus the museum building is straight ahead and slightly to the right – close to the parking lot. For more information visit: www.alfmuseum.org
Ripley's Believe it or Not Hollywood
is located at 6780 Hollywood Blvd; this is one of more than 30 Ripley's museums in the world. Robert Ripley was a global traveler and collected items best described as bizarre and unusual. The museum is full of these items – ranging from very realistic artwork made with unusual materials (stamps, candy wrappers), an assortment of odd animals (one eyes, extra limbs), fantasy coffins (yes such a thing actually exists), shrunken heads, unique automobiles and much more. There are 2 floors containing 11 galleries and over 300 bizarre exhibits – allow between 45 minutes to an hour.
One of the more intriguing exhibits shows the Lizardman and the vampire woman. These two individuals have taken body modification to the extreme. The Lizardman has spent more than 700 hours under the skilled hands of a tattoo artists and now his body is covered with green scaled tattoos – he spliced his tongue in two, and embedded sub-dermal Teflon implants. The vampire woman has permanent fang implants, titanium horns embedded under her skin and nearly 100% of her body is covered in tattoos.
Purchase your tickets online – you get a discounted price rather than buying in person – as well as have the option for discounted tickets to other nearby "partner" museums (the Hollywood Wax Museum and the Guinness Book of World Records). A book highlighting some of the more popular items in their vast collection is sold at the ticket counter. Quick piece of trivia – where is Robert Ripley buried – and name the cemetery for bonus points! Visit: www.ripleys.com/hollywood
Santa Ana Fire Museum
is located at 120 W. Walnut in downtown Santa Ana. This is a unique museum in that it is located in a working fire station, Old Fire Station 5 which dates from 1953. Museum founder and former Santa Ana Fireman, Lou Fernandez was motivated to collect, archive and present the history of the Santa Ana Fire Department after this building was possibly going to be demolished.
Once the fire chief gave permission to house the museum, Lou then spearheaded the effort to collect historical artifacts – approaching the other 9 fire stations in Santa Ana as well as pulling items literally from dumpsters – that were slated to be thrown away. Santa Ana's firefighting history dates from 1883 when the force was all volunteer and museum exhibits display historical firefighting equipment ranging from these early days up until modern times. The evolution of equipment used (including a number of safety devices) is quite impressive.
The station was built during a time when fallout shelters were part of new buildings; a fallout shelter forms the basement and is now in part a gym for the active firefighters.
Lou is also an artist and along with a former secretary, painted a mural on each floor depicting life in the fire station and other firefighting scenes. One mural commemorates 9/11 and another is a historic depiction of early fire fighting in Santa Ana.
As you climb up each level of the fire station the museum exhibits become more modern. Original fire buckets from the departments early days, old radios, dispatch units, fireboxes, and other equipment are on display – most of which Lou personally collected. The larger items are displayed on the ground floor – a highlight of their vehicle collection is a restored 1921 Seagrave fire engine. A very nicely restored 1880's Hook and Ladder apparatus is also housed on the ground floor.
Today the Santa Ana Historical Society manages the museum. Lou and other volunteers still help curate the exhibits and volunteer their time for public outreach and education. A visit here is very personalized and a unique chance to see historical artifacts, learn about Santa Ana's firefighting history but also to see a working fire station.
The museum is open to the public on select dates, once a month throughout the year. Free parking is available in the lot behind the fire station and in selected street side spaces. Visit their website for more details: www.SantaAnaFireMuseum.com
Santa Monica Aquarium
is located at the base of the world famous Santa Monica pier. The aquarium is tiny but it makes up for lack of space in quality of exhibits and some might say, more importantly in the quality of education offered here. Docents and volunteers are on site – and are excellent resources for more in depth information about the aquatic exhibits. The aquarium only displays underwater creatures that live in the Santa Monica Bay.
A highlight of a visit is the large tank (2,200 gallons) which only contains animals that live directly below the Santa Monica Pier. The touch tanks are very popular with children – a volunteer keeps an eye out to make sure the touching is gentle. Other exhibits include live specimens of California coastal seahorses, sharks and rays as well as underwater animals that live in various unique habitats.
Closed Sundays – afternoon hours vary on Saturday and weekdays. Check the website for the latest details: www.healthebay.org/santa-monica-pier-aquarium
Also view:
Santa Monica History Museum
is located at 1350 7th St in downtown Santa Monica. Admission is free and donations are accepted – left after you have wandered through the museum. Entering this musuem is like taking stroll back in time witnessing how quickly the impact of humans has changed this beach front landscape. Similar to other parts of Los Angeles Santa Monica looked nothing like it looks today 120 years ago – in that much of the landscape was devoid of any sort of human development.
Permanent exhibitions include McDonnel Douglas's local contrubtions during World War II (visitors enter a replica of part of one their planes) and an interactive monitor where you can compare photos taken 100 years prior with photos 100 years later. Also displays focus on the Muscle Beach Performers and some of their clothing and barbels as well as some ancient artifacts relating to the Santa Monica Pier. Did you know that Santa Monica used to have the North Beach Bath House – which featured a large indoor hot salt water pool. This bath house is no longer there – but today perhaps the modern Annenberg Community Beach House will satisfy those who nurture some nostalgia for old bath houses. Visit: www.santamonicahistory.org
Santa Monica Museum of Flying
is located across from the Santa Monica Airport – you know your in the right place when you see the building with the head of a Fed Ex Express jet sticking out the front! The museum features nearly 22,000 square feet of indoor space with 20+ planes on display. Several planes are also located outside the museum including a beautiful Blue Angeles plane. Outdoor displays focus on Douglas Aircraft Corporation and its founder, Donald Douglas Aircraft – their operations were headquartered in Santa Monica for a number of years.
We have been here but have yet to review the actual museum. Stay posted for an updated review coming soon!
Visit: www.museumofflying.com
Schindler House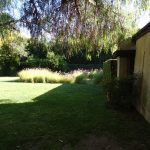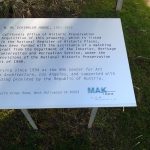 has nothing to do with Oscar Schindler and WWII history. Architect Rudolph Schindler, was born in Austria, eventually immigrated to the USA. He was intrigued with Frank Lloyd Wright's work – wrote him a letter of introduction and eventually began working for Mr. Wright. Schindler was sent to Los Angeles to oversee the design and contruction of the Hollyhock House on Hollywood Blvd (see our review above). After the Hollyhock house was completed, Schindler designed and built this home in 1922 and based his architectural firm here.
For many years Schindler and his wife opened their home to various artists – in 1994 the MAK Center for Art and Architecture opened here and this has became a cultural center in Los Angeles for modern and progressive art. This is actually a part of the MAK headquarters in Austria (Museum of Applied Arts).
The house itself is located in a residential neighborhood in West Hollywood at 835 North Kings Road – just north of Melrose Ave. Parking is street-side as the house does not have their own parking lot – it can be a bit difficult to find the address as much greenery grows in front completely blocking the view of the home. A side path between their neighbors home leads to the entrance in the back.
Admission is free on Friday afternoons, from 4 -6pm. Guided tours are given on the weekends. Note: this review is in progress – We will schedule an additional visit for a more in depth review of the house. For more information visit: www.makcenter.org

Sepulveda House Block Museum is located right next to the America Tropical Interpretive Center on Olvera Street. This tiny museum contains historical items that would have been in use during the late 1800's; the home was built in 1887 and lived in by Senora Eloisa Martinez de Sepulveda. Born in the Mexican State of Sonora, she moved to at that time was called Alta California in 1844. Only the bottom floor is open to the public. Admission free. Open Tuesday thru Sunday from 10am to 3pm.
Skirball Cultural Center
sits on 15 acres just off of the 405 freeway (you can see it from the freeway) – take the Mulholland Drive Exit. There are several entrances so don't panic if you aren't in the correct lane to enter their main entrance. Parking is in a garage and is free. This museum explores Jewish Culture and in part how it integrates into American life and contains many items of historical interest. The museum is closed on Mondays – every Thursday is free admission. Permanent and rotating exhibits are on display. There are also often rotating presentations, film screenings, workshops, and lectures. One exhibit is very sad. Reflective bullet proof glass contains some of Hitler's personal signatures regarding his directives against the Jewish people during WWII and reflected in this glass are the large photos of those killed in the Holocaust from a nearby exhibit.
An interesting exhibit contains photos of people – use the headphones and touch each person's photo to "hear their story". This contains people's stories from all walks of life. The Noah's Ark exhibit is quite popular with families with children.
When we visited there was a display about Bob Dylan, his musical influences, photography and more. Several of the exhibits are interactive, letting you play the drums or electric guitar along with a number of Dylan's songs. The stage with the electric guitars was a bit intimidating for a non musician so we busted our totally non musical side open by hitting the drums while wearing earphones. No harm, no foul there. No singing. Safe.
Visit: www.skirball.org for more information and view our thumbnail photos below.
South Pasadena Historical Museum
Walking into this cute little two story home is like walking back in time – as it should be. You have just wandered off the streets of modern day South Pasadena into what was originally a general store built in 1887. It is the last surviving few wood frame false front buildings from this era still left in South Pasadena and is a good example of a commercial building from that era. As you stand inside try to hear the echoes of history – the call of prayer, the conversation around repairing bikes, the checking in of guests, the excited chatter of students. Not only was it a store but over the decades it's purpose was fulfilled as a hotel, ticket office, telegraph station, bike shop, chapel and even a small school.
This site used to be the home of the Meridian Iron Works – with a number of the old utility buildings now demolished. This building had fallen upon hard times by the early 1980's and was fully restored in 1986. Today the museum is operated by the South Pasadena Preservation Foundation. A permanent collection of items are on display focusing on South Pasadena – sometimes private collections are on display. Did you know South Pasadena used to be home to a prominent ostrich farm with stock imported from South Africa? The Cawston Ostrich Farm ran from 1895 through 1934. The farm was located near another building of historical significance, the Raymond Hotel. Also of historical interest are some old copies of the South Pasadenan newspaper.
The museum maintains limited hours – Thursdays and Saturdays. Appropriately they are open Thursday afternoons, mirroring the hours of one of the nicer farmers' markets in all of Los Angeles – the South Pasadena Farmers' Market. Staffed by volunteers.
Southwest Museum of the American Indian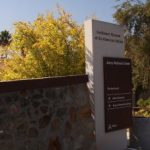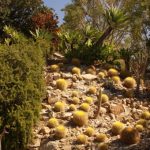 is located at 234 Museum Drive just above the 110 Freeway (Arroyo Seco). This museum was founded in 1907 by Charles Lummis (you can visit his house, museum and gardens on select days – located nearby) and is part of the Autry National Center (which includes exhibits at the Museum of the American West – located directly across from the Los Angeles Zoo (their Griffith Park Campus). Incredibly the combined collections between the two museums now number over 500,000 objects including an impressive collection of pottery/ceramics and baskets. Their American Indian Collection is the second largest in the world.
The actual museum building on site was built between 1912 and 1914. A library was later added in the late 1970's although it's collection has now been moved off site.
After many years of being opened to the public the museum ultimately merged with the Autry museum and closed the museum here. After the merger, this museum was closed for 12 years taking the time to preserve it's vast collection of items and invest in improving the building on site. A good portion of the collection was exhibited at the Museum of the American West. A 100,000 square foot Resources Center was built in Burbank and is used for housing their collection.
Today they maintain very limited hours (subject to change at a moments notice). Currently as of our latest update to this review, they are open to the public (free admission) on Saturdays from 10-4pm.
Visitors to the property can also check out the Ethnobotanical Garden – a collection of native California plants that the Native Americans used for food, shelter and clothing.
Future plans (a Reuse Plan) for the museum on site are still being developed. It has been years since we have visited the museum – we will plan a revisit some Saturday and update this review accordingly. For more information visit: www.friendsofthesouthwestmuseum.com

The Bunny Museum
If for some reason you are looking to be surrounded by bunnies, then Los Angeles has such a museum for you! Filed under the unusual museums of which there are a number of in town, this one contains some 34,000 plus bunnies – all shapes, sizes and colors. Located at 2605 Lake Avenue (on the corner of Lake and E Altadena Drive) in Altadena – north of the 210 freeway. The museum was founded by Candace Frazee and Steve Lubanski in 1998 – they ran the museum out of their home until 2017 when they moved into their much larger current location (still, the new space is quite full of bunnies with the 'animals' displayed on the floors all the way up to the ceilings).
Easily spotted from the street side – just look for the giant rabbit. Chalk is provided for painting your own bunnies on the concrete in front of the main entrance. Parking can be found curbside on Lake Avenue.
In what is *very* small minded thinking that should not be part of a big city museum, regardless of the museum size or collection – they do not allow SLR cameras inside the museum (despite saying this is ok on their website). We have been to well over 100 museums in Los Angeles and many museums around the world – this is not normal. Not a very welcoming museum or owners at all. Unless you are into bunnies, we don't recommend a visit here. For more information visit: www.thebunnymuseum.com
Tomorrow's Air Museum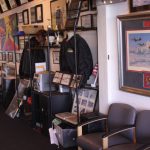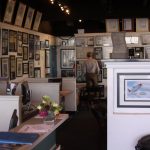 is located at the Compton Airport at 961 West Alondra Blvd. Founder Robin Petgrave established the museum in 1998. He has long been involved in aviation having run a flight school at this airport and a tour company, Celebrity Helicopters. The museum itself is a large one room collection of flying memorabilia, photographs, articles and a celebration of various flying accomplishments. Highlights also include photos of the Tuskegee Airmen – the first all-African-American fighter squadron and information about Bessie Coleman – the first African American women who became a pilot; she had to go to France to learn how to fly.
Robin is an inspirational leader in the community. He created after school programs for students to educate and interest them in aviation or educate them about going into fields of engineering – focusing on technology and science. A cad lab and other learning materials are available for students at the museum. Music videos, and other filming often occurs at the hangar near the airport – Open daily from 8am to 8pm.
Torrance Art Museum
is located in the part of the City of Torrance's Civic Center Campus at 3320 Civic Center Drive. Parking and admission to the museum are free. Open Tuesday — Saturday from 11am until 5pm. This museum had its beginnings as the Joslyn Fine Arts Gallery.
Their focus is on contemporary art displayed in two primary rooms within this small museum. Special emphasis on Southern California artists but also International artists are represented. Exhibitions rotate fairly often. For more information, visit: www.torranceartmuseum.com
Travel Town Museum, American Southwestern Railway
Need some relaxation from the nearby Los Angeles freeways including the 5, the 101 or the 134? Pull into Travel town located in Griffith Park and just north of downtown Los Angeles (closest entrance is next to the 134 Freeway at the Forest Lawn Drive exit). Travel Town was founded in 1952 by William Frederickson Jr, the superintendent of recreation for the city of Los Angeles at the time. Admission is free and includes views of a number of old locomotives (located outdoors) as well as historical railroad cars (located in the indoor museum).
The first item on display at Travel Town was an old Southern Pacific Engine number 3025 that was trucked down from Glendale. Remarkably some 60+ years later, this engine is still on display and attracting happy children to it's rails.
Crossing the train tracks here, you may instinctively look to your left and your right. But do not worry – the trains are sitting on the tracks but they are not rolling. While the historial trains no longer are moving, a miniature railroad ride runs daily on the perimeter of the museum. Think there are no cable cars outside of San Francisco? There is one old one on permanent display from the city of San Francisco. A small gift shop sells model railroads and other railroad memorabilia.
For more information visit: www.traveltown.org
USC Fisher Museum of Art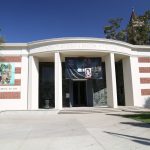 is located between Figeroa Way (major Blvd) and Watt Way (which is a primary entrance onto the USC Campus). The Purple Line stops almost in front of the museum and you can easily walk here from the Expo Park/USC Station metro stop. The museum itself faces Exposition Blvd and the main entrance is through a gate on Exposition Blvd. If you drive and want to park on campus, pull into Watt Way, stop at the information booth and either pay $10 for a parking space in the nearby garage or try for some of the metered parking (which isn't always available).
The museum celebrated it's 75th anniversary in 2014. Admission is free (you can sign up for their newsletter if you write your email in the book at the entrance). There are two large rooms and a smaller room. Exhibits rotate seasonally – usually in the Fall and Spring. The museum has over 1800 pieces in their permanent collection. Noted artists are shown here as well as much lesser known works. During a recent visit a number of works by Andy Warhol were shown. Depictions of the Individual through Changing Times was one of the exhibits during a recent visit – it was a bit odd to see very modern works were displayed between century old masterpieces.
Student works are shown in Spring before graduation. Bathrooms are located downstairs – Andy Warhol has cute quote written on the wall in the men's bathroom "I would go to the opening of anything, including a toilet seat". What is quoted in the women's restroom – we do not know! Open from 12-5pm Tuesday through Saturday. For more information visit: http://fisher.usc.edu
USC Pacific Asia Museum
is located just north of Colorado Blvd on Los Robles Ave in central Pasadena. Free parking is available right next to the north side of the museum. The museum itself is fairly small and you can probably see most of the exhibits in 45 minutes. After you've paid for your tickets on the left as you enter continue through the ticket room to the start of the exhibition. If you leave the ticket counter and proceed to the main courtyard you may bumble around trying to find entrances to the exhibits – out of all the doors in the main courtyard, only one enters an actual exhibit.
The museum contains more than 15,000 objects pertaining to Asia and the Pacific Islands and objects range in age from 5000 years to the present. This is one of only four such museums in the United States. Both permanent and rotating galleries are on site. Visit: https://pacificasiamuseum.usc.edu/
USS Iowa
was built in 1940, served in WWI, the Korean War and in the Cold War. In 2012, this old iron lady navigated her way to San Pedro. Now she floats in San Pedro off of Berth 87 – you will be able to easily see this ship from anywhere along this part of San Pedro. Tours run from the front of the ship to the back and encompass multiple levels of the ship. Military naval enthusiasts staff the ship and are an invaluable source of information about USS Iowa specifics or other military history. A well stocked and decent sized gift shop is located in what used to be a supply store for the sailors.
The ship was retrofitted in the early 1980's with more contemporary weaponry including Tomahawk, Harpoon and Cruise Missles. The Cruise missile has a range of 1500 miles. There are lots of cool stats associated with this class of warship – it can reach speeds of 40 mph on the open ocean, the steel surrounding the armored tower towards the top of the ship is a foot and a half thick, each of the 4 propellers weighs 40,000 pounds and some 900 various motors are on board.
Paid parking is in the large lot in front of the ship – access to parking is a rather round about way – just follow the arrows. For more information visit: www.pacificbattleship.com

Vincent Price Art Museum
is located on the corner of 1301 Avenida Cesar Chavez and Collegian Ave in Monterey Park on the campus of East Los Angeles College. Address: 1301 Avenida Cesar Chavez. Parking is about a block and a half down Collegian Ave in the multi-level parking garage.
Note, the first few floors are reserved for faculty (no signs indicating this) and visitors must park on the upper most levels and use the pay machines upon arriving (which are located next to the elevators). From here it is about a 8-10 minute walk to the museum entrance.
This museum began as an on campus art gallery built with donations from the art collection of famed actor Vincent Price in the early 1950's. During this visits to the campus he noticed there was no venue for students to enjoy and learn about art. To kickoff art for students to enjoy he donated an initial 90 pieces. Today the collection numbers over 9,000 pieces.
The museum features three floors of exhibits – a number of which rotate. However there is a sizable permanent collection including artwork from ancient Central and South American civilizations (with a focus on Mexico and Peru) as well as African and European art. East Los Angeles College is in a coveted position as a Junior College's in that they are one of just a few Junior Colleges in the country to operate an on campus art museum as well as a permanent collection of fine art.
This museum is only a part of the core and valued art program at East Los Angeles College. The museum is part of one of three buildings (16,000 square feet) which houses various departments including Music, Theater, Dance, Studio Art, and Art History.
For more information visit: www.vincentpriceartmuseum.org
Wells Fargo Museum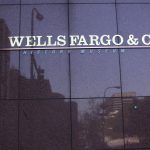 is located on the first floor of the "Wells Fargo Center" located on Bunker Hill in downtown Los Angles at 333 S. Grand Ave. Enter from either Grand Ave (through the small open air plaza) or from Hope Street up stairs on the corner of Hope and Grand. This is one of several Wells Fargo museums located in specific cities mostly on the West coast of the USA. Admission is free. Located near Angels Flight and just down the street from the Broad Museum and the Walt Disney Concert Hall.
Exhibits include an old Stagecoach, a number of real gold nuggets including some unique crystalline specimens and "gold rush" era artifacts including Wells Fargo treasure boxes and scales to weigh gold. Some of the exhibits are interactive including working telegraphs and videos where you can scroll through videos, photographs and era letters. The population of Southern California has increased dramatically over the past 100 years – several old maps of both LA and Orange counties hang on the wall and are worth inspecting. There is a tiny gift shop on site. School kids often here as part of short field trips. Closed on weekends. More information here: www.wellsfargohistory.com
Wende Museum
was originally located in a suite in an unassuming business park in Culver City (where we first visited many years ago). As of November 2017 the museum has moved into it's own space in Culver City on site of what used to be a former National Guard Armory (address: 10808 Culver Boulevard) next to Veterans Memorial Park. Not far from the 10 and 405 freeways. Plenty of parking on site.
While all visits to their old musuem were by advance by appointment only, visitor's do not need appointments to their new museum. Wende, in German means "turning point," making reference to the fall of Communism. The focus of the museum is on the Cold War between the years of 1945 to 1991. While a number of "cold war" museums focus on a specific regions or a single perspective of the cold war, the Wende Museum takes a broader approach. Their focus is on Eastern Europe with much of their items from the German Democratic Republic (GDR) or East Germany. The museum has over 70,000 objects in their permanent collection of which only a small percentage is on display at any one time.
The museum was founded by Justinian Jampol in 2002; He is a Los Angeles local who grew up in the city and developed an acute interest in the Cold War while a graduate student at Oxford University (he was only 11 at the time the Berlin Wall fell in 1989). While pursuing his interest in the Cold War he found a central location for related memorabilia and research was lacking. He has since collected thousands of related pieces including sizeable parts of the Berlin Wall, one of which sits in the office park directly in front of the museum. Ten more large pieces are lined up near the corner of Wilshire Boulevard and Fairfax (5900 Wilshire).
The museum collects everyday items as well as iconic items. One part of the museum displays social realism paintings. Other parts of the museum explore the process and what led to the the destruction of the cold war. A number of former GDR leader Erich Honecker's personal items and papers are in the collection.
They have large collections of books and photographs – with over 8000 volumes in their library alone and an extensive collection of newspapers from Neues Deutschland, the official newspaper of the GDR. The new museum has space that the old location severely was lacking in. Open rooms present often changing exhibits – an outdoor garden area contains outdoor exibhits. Be sure to browse through their small gift shop located adjacent to the entrance. Easy to whittle away and hour or more here. Admission is free. Visit: www.wendemuseum.org
View Justin speaking about Wende Museum

Western Museum of Flight
is located at "Zamperini Field" – Torrance's small airport. First a brief history about the person behind the airport's name. It is not often you are still living and have an airport named after you but such was the case of Louis Zamperini (passed away in 2014). His life reads like an adventure novel – he moved to Torrance in the 1920's, went to USC on scholarship after winning a race at the state championship. Ultimately he earned a spot on the 1936 U.S. Olympic team (youngest US qualifier).
During WWII the plane he was on crashed into the Pacific after having mechanical problems (8 of the 11 on the plane died right away) but Louis survived for 47 days at sea including an attack on his raft by a Japanese fighter pilot. He became a prisoner of war for more than 2 years after landing on the Marshall Islands and eventually was declared "killed in action". His story is told in great depth by Laura Hillenbrand in "Unbroken" (Laura is also the author of "Seabiscuit") and in an Angelina directed film by the same name.
This small museum is mostly contained in a hangar not far from the actual runway. It explores the aircraft history and flight memorabilia from Southern California's rich aviation history. This airport is home to the Robinson helicopter company and Northrop Grumman still has a plant in nearby Hawthorne – and some of their manufactured planes are on display. A number of war planes and war related aviation items are on display including the powerful Northrop YF-23A "Black Widow II" which is only one of two in the entire US on display (max speed of 1,650+ mph). A much slower and more colorful plane is the Boeing Stearman once owned by actor Steve McQueen and there is a photo of him and the plane taken in 1979 not long before his death.
A very unique plane on display is the world's smallest jet! Its small – a single person can barely fit inside. The museum also has a small library relating to aviation. Prominent guest lecturers from the aviation industry speak as part of their "Celebrity Lecture Series". Open 7 days a week. Visit: www.wmof.com
Whittier Museum
is located at 6755 Newlin Ave in Whittier. Located in an old building that used to be owned by the Pacific Telephone Company, the building was ultimately purchased by the museum and has been operated by the Whittier Historical Society in its present location since 1980. Strongly recommended for Whittier residents or those who have any interest in Whittier. But even if you know nothing about Whittier, the amount and diversity of their collection is rather remarkable and if you have interest in history – the museum provides a fascinating look back at the development and growth of a city.
The museum highlights the area's history ranging from the Harriett Strong's First Ranch dating from 1867 through to oil discovery in the area to modern day times. The displays are extensive and include a schoolhouse, a church, a replica of the old Greenleaf Hotel and a replica of Whittier's first fire station. Visitors should not miss the upstairs which contains an exhibit dedicated to President Nixon and an impressive Veterans Wall (honoring local individuals who served in various wars from the Civil War to modern day). President Nixon moved to Whittier with his family when he was age 9 – and helped out in his fathers small grocery store.
A large upstairs space is also dedicated to temporary exhibits; at the time of our latest visit a truly intriguing sizable exhibit focused on the 1987 Whittier Narrows earthquake (complete with broken glass and photos of the terrible destruction (especially in parts of historic Whittier – from that 5.9 earthquake).
Visits are self guided – because of the breadth of the collection – allow around 90 minutes for a visit.
Admission is free although donations are gladly accepted. For more information visit: www.whittiermuseum.org
William S. Hart Park & Museum
is located about 45 minutes north of Los Angeles off of the 5 freeway at 24151 San Fernando Road in the city of Newhall (still Los Angeles County). William Hart was the first cowboy movie star and made many silent movies in the early part of the 1900's. This hillside location was his home and estate and on a clear day there are gorgeous views all around. He left his estate to the LA County Natural History Museum and specified that those who visit not be charged an admission fee (he wanted to return something to all the people who spent money on his movies, especially during the Great Depression). Admission is free (donations are accepted). Tours are given every 30 minutes of the house and take about 30 minutes.
The estate is called, "La Loma de los Vientos" (translated as the "hill of the winds") and the Mr. Hart's house was designed by the same architect who designed the Playboy Mansion in Bel Air. William Hart has a star on the Hollywood Walk of Fame.
William Hart knew and was friends with many influential people during his day. One of them, a lady who was an avid pilot, flew over his estate very low to the ground. Mr. Hart copied down some identification numbers off the plane and complained to local authorities. Turns out the pilot was Amelia Earhart and she and Mr. Hart soon became friends after he was introduced to her. The house was built in the 1920's and the decorations are reflective of that period with a number of paintings by well known western artists, gifts from famous actors and personalities (including a bear's skin and head from Will Rogers – the only "animal trophy" in the house as Mr. Hart loved animals) and a number of native American treasures.
There is a small ranch house with exhibits inside at the base of the hillside. A park is behind the house and a trail leads up the hill to Mr. Hart's home. Walt Disney donated a herd of Bison and today their progeny are still kept on the estate. Open 7-days a week with specific hours. Visit:www.hartmuseum.org
Upcoming Visits
We will visit and review the following LA & OC museums as time permits:
* Academy Museum – www.oscars.org/academymuseum (Los Angeles, under development)
Ararat-Eskijian Museum – www.ararat-eskijian-museum.com (Mission Hills)
Artesia Historical Museum – www.ahslac.org/project/artesia-historical-museum (Artesia)
Bhagavad-gita Diorama-Museum – www.bgmuseum.com (Culver City)
Bolton Hall Museum – www.littlelandershistoricalsociety.org (Tujunga)
Boyle Heights Museum – www.boyleheightsmuseum.org (Boyle Heights)
Beall Center for Art + Technology – www.beallcenter.uci.edu (Irvine)
Burke Heritage Park & Museum – (Alhambra)
* Campo de Cahuenga – www.campodecahuenga.com (North Hollywood)
Dinsmoor Heritage House & Cultural Museum – (Rosmead)
Discovery Cube Science Center – www.discoverycube.org/oc (Santa Ana)
Dr. Willella Howe-Waffle House and Medical Museum – (Santa Ana)
Duarte Historical Museum – www.ranchodeduarte.org (Santa Ana)
Garden Grove Stanley Ranch Museum – Garden Grove
Hancock Memorial Museum – (USC, Los Angeles)
Los Angeles Fire Department Harbor Museum – www.lafdmuseum.org (San Pedro)
Hargitt House Museum – (Norwalk)
Hathaway Ranch & Oil Museum – (Hermosa Beach)
Hermosa Beach Museum – www.hermosabeachhistoricalsociety.org (Hermosa Beach)
Flutter Experience – Los Angeles
* Korean American Museum – www.kanmuseum.org (Los Angeles, not yet open)
Laguna Art Museum – www.lagunaartmuseum.org (Laguna Beach)
* Leonis Adobe Museum – www.leonisadobemuseum.org (Calabasas)
Los Angeles Live Steamers Railroad Museum – www.lals.org (Los Angeles)
* Lucas Museum of Narrative Art – www.lucasmuseum.org (Los Angeles)
Manhattan Beach Historical Society Beach Cottage Museum – www.manhattanbeachhistorical.org (Manhattan Beach)
Mayme A. Clayton Library & Museum – www.claytonmuseum.org (Culver City)
Monrovia Historical Museum – www.monroviahistoricalmuseum.org (Monrovia)
Monterey Park Historical Museum – www.montereypark.ca.gov/590/Historical-Museum (Monterey Park)
Mosaic Tile House- www.mosaictilehouse.com (Venice)
Muller House Museum – www.sanpedrobayhistoricalsociety.com/muller-house (San Pedro)
ONE Archives Gallery & Museum – www.onearchives.org (Los Angeles)
Pico Rivera Historical Museum – (Pico Rivera)
Point Fermin Lighthouse & Museum – www.pointferminlighthouse.org (San Pedro)
Point Vicente Interpretive Center – (Rancho Palos Verdes)
Pomona eBell Museum of History – www.pomonahistorical.org (Pomona)
Ramona Museum – www.ramonamuseum.org (San Gabriel)
Redondo Beach Historical Museum – (Redondo Beach, Queen Anne + Morrell House)
Rhodes Jewish Museum – www.rhodesjewishmuseum.org (Los Angeles)
S.S. Lane Victory – www.lanevictory.org (San Pedro)
SMTown Museum – (Koreatown, under development)
Sons of the Revolution Library and Museum – www.srcalifornia.com/library/library_history.htm (Glendale)
Southern California Childrens Museum – https://socalkids.org (Pasadena)
* Southern California Medical Museum – www.socalmedicalmuseum.org (Pomona) NOTE: Looking for new home 4/1/20
SPARCinLA – www.sparcinla.org (Venice)
Sproul Museum – (Norwalk)
Stagecoach Inn Museum – www.stagecoachinnmuseum.com (Newbury Park)
The Gilb Museum of Arcadia Heritage – (Arcadia)
* The Museum of Selfies – http://museumofselfies.tumblr.com/ (Glendale)
The Underground Museum – www.theunderground-museum.org (Los Angeles)
Torrance Historical Society Museum – www.torrancehistoricalsociety.org (Torrance)
* Valley Relics Museum – https://valleyrelicsmuseum.org (Chatsworth)
* Velaslavasay Panorama – www.panoramaonview.org (Los Angeles)