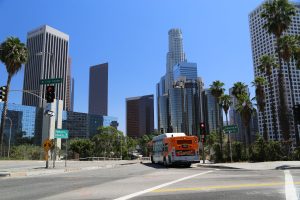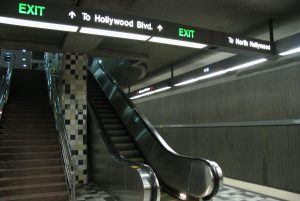 Metropolitan Transit Authority (MTA )
Los Angeles, CA – Public Transportation Street Cars used to dominate the greater Los Angeles area serving many communities and locations. These were eventually phased out in the early 1960's. Today, the (MTA) operates the second largest metro system in the country. Los Angeles has quite a large metro – but it still needs to be built out further in sections and has been and is also in the process of being extended.
When you think of Metro in other big cities you think, "metro, ok underground". However only sections of the LA metro are actually underground – much of it is above ground, i.e., blue line, green line, much of the yellow line. The Metro is quite easy to use due to the fact that there are not a lot of different lines and they are so spread out.
California High Speed Rail : www.hsr.ca.gov – Approved by the voters of California in 2008, now it must be physically built.
Metro Rail Line Routes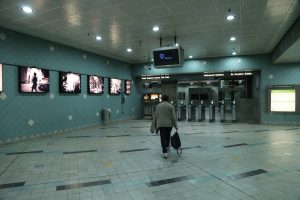 The Red Line runs to the downtown Union Station. This line covers the San Fernando Valley and runs part way down Wilshire. The Gold Line covers up to Pasadena and another part of this particular line into East LA, opened in late 2009. The Blue Line is a fairly long section covering many cities all the way down to Long Beach. The Blue Line is above ground the entire way until you reach Pico/Chick Hern station right next to the Staples Center where it heads underground to meet up with the Red Line at the 7th Street Station. The Green Line connects to the Blue Line about 1/2 way between LA and Long Beach and runs somewhat near but not actually to LAX, LA's International Airport.
The Purple Line parallels part of the red line for a number of stops and then heads west for two stops terminating in Koreatown. The Expo Line is the most recent addition to the metro and runs all the way to Santa Monica.
More Information
Consider purchasing a one day pass which as of our last update costs $7.00. This gives you unlimited rides on any of the metro lines, plus unlimited rides on any of the Metro buses. There are many Park and Ride metro locations mostly located outside of the core downtown stops. These are parking lots located right next to the Metro stop where you can park your car and then get onto the Metro.
Tap, or Transit Access Pass is a durable plastic card that allows you purchase electronic tickets on a number of LA County's public transportation system including the Metro and select city bus lines. You can purchase this card online if you are a LA County resident – or you can buy it at any of several hundred business locations in Los Angeles or at the ticket machines next to each metro stop. Payments can be made to the card at any of the Metro ticket machines or at select businesses within LA County. For more information visit: www.taptogo.net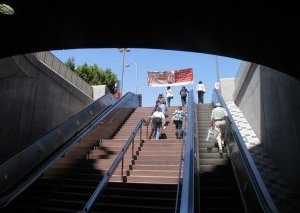 Photo L: Hollywood/Western – Photo R: One of our favorite Metro stops is the Hollywood and Vine stop – thousands of old movie reels line the ceilings! Both photos below are from the Red Line.
Please visit www.mta.net or www.metro.net for detailed information about using LA's metro, including maps, stops, current pricing and a list of how much money you save by riding the metro versus driving a car. Note – a piece of trivia regarding this domain name –> Metro.net – it used to be a small Internet Service Provider in the Santa Rosa, CA area, until they went under and the domain was bought by the Los Angeles Metropolitan Transportation Authority quite a few years ago.
To the right is a thumbnail image of the Los Angeles Metro Map which includes the major transportation lines and each of the stops. Click on thumbnail for the full size image.
The Los Angeles Department of Transportation also maintains a huge fleet of public transportation vehicles. Visit www.ladottransit.com for more information including schedules and route maps.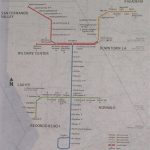 Metro Link is a major rail system for the southland and is setup for commuters and services parts of Los Angeles County, Ventura County, San Bernardino County, Riverside County, Orange County, and San Diego County. It currently services 7 lines. It connects up with the LA Metro at Union Station (see below). Unlike the LA metro which runs late, the Metro Link is setup to serve commuters and as a result runs very early in the morning but may not run that late into the evening (depends on each line). For schedules, route maps, to signup for Twitter updates and more information visit: www.metrolinktrains.com
Southern California Ride Sharing are ways to share rides with others, most often for commuting. These following two joint organizations offer free Southern California specific rideshare programs.
Commute Smart: www.commutesmart.info
Ride Match: www.ridematch.info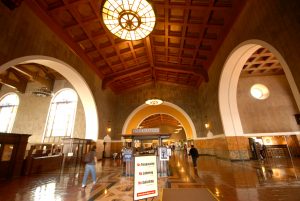 Union Station is located on the southern edge of downtown Los Angeles near City Hall (by the way the same designers of Union Station also designed City Hall).
Union Station is located at 800 N. Alameda Street across the street from what is the oldest section of downtown Los Angeles, Olvera Street.
Union Station is Los Angeles's major railway transportation terminal and serves both Metro (Red, Purple & Gold lines), Amtrak and Metro Link. In addition, it also is a connecting point to LAX via the FlyAway express bus service. This non stop bus to LAX leaves from street (Bus Stop 9) at the Patsaouras Transit Plaza next to the south entrance to Union Station. It runs 24 hours a day – most times every 30 minutes but late at night every hour. It leaves on time from Union Station. However at LAX – it is also scheduled to run on every 30 minutes or hour but could arrive anytime based on traffic and the fact that it stops at most of the terminals.
At LAX wait for the bus at the lower Arrivals/Level in the median underneath any of the green "FlyAway, Buses and Long Distance Vans" signs. Total travel time depends on traffic – with little traffic the trip will take slightly less than 30 minutes – with a lot of traffic – expect 50 minutes to an hour. Regardless of which direction you take you pay at the ticket counter at Union Station in front of the Bus Stop. Credit card only and you can only purchase one way tickets (no round trip).
There is no free parking in the area, but there are parking lots on site as well as several small lots within about 2 blocks. Parking is cheaper at Union Station as the external parking lots are private and typically charge per every 20 minutes until a maximum amount has been reached.
This will also be the terminus for California's high speed train service between San Francisco and Los Angeles (if that ever gets off the ground).
Google Transit Map, Los Angeles