** Click here for significant photo coverage of the Tubbs Fire October 2017, Santa Rosa **
Typical California guide books have approximately one page about Santa Rosa. We offer much more than that! Read on…
The Highlights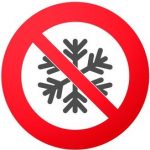 Santa Rosa, California is a city of about 175,000 (and growing fast) located about 50 miles north of San Francisco in Sonoma County, just off of the 101 freeway. Santa Rosa has seen tremendous population growth in the last few years. It is the largest city along the coastal region between San Francisco and Portland, Oregon. The city celebrated it's 150th birthday in 2018.
Santa Rosa is the hub of the Sonoma County wine county and is centrally located for visiting Alexander Valley, Dry Creek Valley, Russian River Valley, Sonoma Coast, the Valley of the Moon or the northern part of the world famous Napa Valley. However, remarkably, downtown Santa Rosa has not been filled with tasting rooms like numerous other towns in both Sonoma County and neighboring Napa Valley. Santa Rosa and parts of Sonoma County are home to a thriving micro brewery scene – including the most well-known brewery in the region, Russian River Brewery, located in downtown Santa Rosa.
The county's wine producing regions are located within 15 to 30 minutes of Santa Rosa. Santa Rosa is located about 45 minutes away from from the Pacific Ocean via Highway 12 through Sebastopol. In 2017, Sonoma County celebrated the 200th anniversary of when grape vines were first planted in the county (in the hills above Fort Ross by the Russians in 1817).
The tallest trees in the world, the Redwoods are native to the county; for the best experience of these trees, visit Armstrong Redwoods near Guerneville.
Santa Rosa was home to the creator of the Peanuts comic strip, Charles M Schulz for many years. Numerous statues of Peanuts' characters were on display during the summer of 2005. Some of these were left standing and you can still spot them in front of select businesses in town.
There are noticeable differences from one part of Santa Rosa to the next. For example Santa Rosa Avenue used to be the main road through town and the site of most of the city's hotels and site of the original "Auto Row". Santa Rosa Avenue is a very wide street that runs from Rohnert Park to downtown Santa Rosa. The 101 freeway cuts a wide strip of concrete through the middle of Santa Rosa – the downtown is slightly east of this freeway.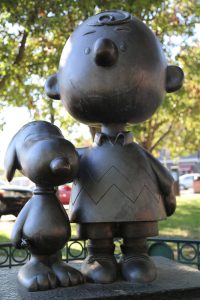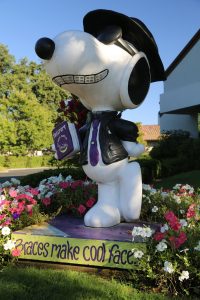 Not only is this the main artery in the north-south direction through town, but it can also be used as an indicator of economic status. Those who live east of the freeway tend to have a higher income versus the generally lower income settled flatlands west of the freeway. The 101 swath was built in the 50's; today it is 6 lanes running through downtown Santa Rosa. Unfortunately most of the hotels, bars, industrial complexes and used car lots are gone that used to dot Santa Rosa Avenue. The El Rancho Tropicana, one of Santa Rosa's largest hotels was torn down in the mid 90's, and is now the home to the huge crowded and sprawling Costco and Best Buy shopping complex. The Oakland Raiders used to practice on the football fields behind the El Rancho. So did the Cal Bears until the hotel was torn down. Sadly, with these changes much of Santa Rosa's "south side sordid character" has been lost forever – replaced by the boring homogeneous sprawl of urban congestion that *should not* define a city.
Some of the old hotels along Santa Rosa Avenue are still standing. It was a different vibe back when the Raiders used to practice at the El Rancho. Definitely not as gentrified as today.
The Sonoma Aroma. Sometimes, usually in early to mid fall, an aroma permeates the air – usually in the southern fringes of Santa Rosa or a bit further to the south. There is no mistaking this aroma, and you will know it when you smell it.
Commercial Flights from Sonoma County Airport
Sonoma County's Airport (STS) is named Charles M. Schulz Airport (in memory of the creator of the Peanuts internationally syndicated cartoon strip). This airport is located just north of town (about 15 minutes driving from downtown Santa Rosa) and is one of the best things about Sonoma County.

Alaska Air offers nonstop flights via prop planes to Los Angeles, Orange County, Portland, San Diego and Seattle. American Airlines offers select flights to Dallas, Los Angeles & Phoenix. United Airlines offers a very short limited hopper service to San Francisco daily as well as to Denver and Sun Country Airlines offers a seasonal weekly flight to and from Minneapolis and Las Vegas. For more information & flight schedules visit: www.sonomacountyairport.org
Our team made the trek up to Northern California for the Horizon Air Open to the Public Day in 2008. Click here for photos.
SMART Rail (formerly the GHOST train)
The Sonoma-Marin Area Rail Transit began offering rail service from Santa Rosa to San Rafael in the south in late August 2017 (currently Larkspur is the furthest south stop).

One would think this rail was ground breaking new technology based the length of testing prior to service starting. For months and months, it was referred to as the "ghost train" of Santa Rosa – that ran daily but with no passengers. The train makes limited stops in Santa Rosa including at the main depot in Old Railroad Square. Remarkably this train does not stop at the airport. Total travel time is about 80 minutes between the terminal stations of Larkspur in the south and Santa Rosa Airport in the north.

The interior of the train cars are very clean, small spaces within some of the cars sell snacks and passengers are allowed to bring on bicycles on board and lock them into place in the special bicycle section.

For more information visit: www.sonomamarintrain.org
Traffic

Like many regions in California, traffic in and around Santa Rosa can be a nightmare. You want to avoid driving before 9am and after 230pm if at all possible (especially if you have to travel distances of more then a few miles). After about 730pm the traffic generally clears out again on the 101.
The 101 freeway between Santa Rosa and San Francisco often is highly congested (there is a reason why United Airlines offers flights (the shortest in their entire route map) between STS and SFO. Summer weekends can be just as bad as weekday commutes – especially to and from some of the vacation areas in the region including the Russian River and southern roads into the Napa Valley.
Bohemian Club
The male only Bohemian Club is an annual 2+ week event held in Sonoma County each year; this private club is headquartered in San Francisco and was founded in 1872. This event is held at the 2,700 acre Bohemian Grove, west of Santa Rosa in July near Monte Rio and attracts former US presidents, well-known politicians, presidents of other countries, heads of major companies, well-known musicians, actors, heads of major universities and a plethora of distinguished men in their respective fields. A number of the same prominent politicians attend nearly every year. During this time the skies are always a buzz of activity with private jets and helicopters bringing in the elite folks to and from the Charles Schulz airport. And a number of these jets remain parked at the airport. We get first hand reports from this event as an immediate family member is a member.
Local History of Comics
It all started with Robert Ripley – he was born in Santa Rosa – and ultimately developed a readership in the millions worldwide for his comics and cartoons through a career that began in 1918. Then much later, Charles Schulz moved into town – and setup shop for his world-famous Peanuts comic strip. He developed a strong following and personal relationships with numerous comic authors – had an ice arena built, added a museum and in later years a new museum was built along with seating space for events focusing on other comic related activities. It doesn't end there. Now Stephan Pastis, the author of the popular and somewhat edgy "Pearls Before Swine" lives and writes his comic from Santa Rosa.
It is a real shame there is currently no museum in Santa Rosa celebrating the life of Robert Ripley one of its most famous citizens. Robert Ripley is buried in the Santa Rosa Odd Fellows Cemetery – and this is a picture of he and his family's grave-site.

There are museums around the world dedicated to his collections but not a museum dedicated to the man and his life – in his hometown.
Read on for more information in our Santa Rosa Travel Guide.
Random Photos About Town