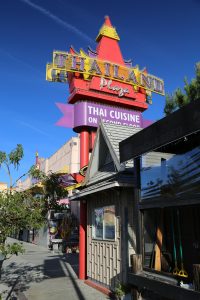 Los Angeles, CA – Thai Town is the center for the Thai Community in Los Angeles. The Thai population in Los Angeles is the largest community of Thai people outside of the Thailand. This region backs up against and in some cases blends in with "Little Armenia". Many Thai restaurants and shops are scattered along about a 1.5 mile stretch of Hollywood Blvd, just east of the 101.
To get to Thai town take the 101 to the Hollywood Blvd exit and exit east. Thai town starts almost as soon as you exit the freeway and start driving on Hollywood Blvd.
Thai Town compared to "Little Saigon" in Westminster in southern Orange County or LA's Koreatown is so much smaller. Its like a blip on the map compared to these other vast sprawling communities.
From the Metro Red Line get exit at the Hollywood & Western Station. This stop pops up just east of the 101 – and from here most of Thai Town is within a fairly short walk.
Thailand Plaza makes a good first stop – the self titled "center of Thai Town". Parking is in a garage – you pay for parking unless you purchase items from any of the vendors that surround this plaza or eat at the restaurant. Be sure to get the receipt from the store so that you can show the parking attendant on your way out. Parking in general is very tight in Thai town – many businesses have only a few parking spots – and often cars will double park in an area. One small one-story shopping complex even has a parking attendant collecting money for parking in the small lot, simply to go to market or small restaurants. Parking can also be found in residential areas both north and south of Hollywood Blvd however these streets are already usually filled with residents' cars.
Thailand Plaza is located 5321 Hollywood Blvd on the north side of the street. You can't miss it; there is a tall orange sign in the front that says "Thailand Plaza". There is good sized Thai grocery store located here – be sure to buy some of the Salacca Drink – you can NOT find this anywhere else. Dokya Bookstore is also located here which is a very good Thai bookstore selling current editions of the Bangkok Post, National Geographic and many other Thai books and magazines. They used to charge an annual fee for membership providing discounts on purchases – but they have discontinued this service in more recent years. Phone: 323 464-7178

Restaurants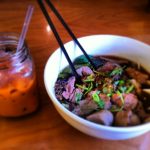 Boran Thai Restaurant is located at 5401 Hollywood Blvd just down the block and across for from the Western Metro stop. This used to be the old Hoy Ka Noodle shop and the inside feels very similar. The focus here is on affordable and tasty Thai food – not cooked to American taste. Delicious boat noodle soup. For a small restaurant they have an excellent choice of items ranging from Thai soups, salads, vegetarian options, curries and plenty of noodle options. Seating is somewhat limited – its in a narrow space. For spicy food lovers, there are plenty of options to choose from. For those who don't want their food to spicy, there are plenty of options for you to! The Thai Ice Tea is served in a Mason Jar. Free WiFi. Takeout and local delivery also available. Phone: (323) 469-8883 or visit: www.boranthai.com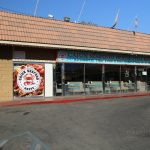 Cajun Seafood House Thai Restaurant formerly housed Pa-Ord Noodle #3 is located at 5267 Hollywood Blvd next to the Thailand Plaza (in a small shopping center that is food dominated). This restaurant anchors the back of the shopping center. Restaurants in this part of town come and go and it will be interesting to see if they 'stick'. An interesting combination – Cajun/southern influenced Thai cuisine. Known for their seafood – with a menu that offers a signficiant diversity of food from the mar options including shrimp, crawfish, lobster, blue crab, clams and much more.
Park on your own before 3pm – after it is paid parking via valet. Reasonable pricing.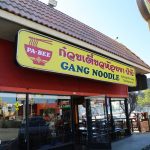 Gang Noodle is located in a small Thai shopping center at 5235 Hollywood Blvd. The service is very quick – with generally very average or below average dishes. During our most recent stay we ordered the steamed fish which tasted like it had been sitting around too long before being steamed and the crying tiger meat dish – which was overcooked and the sauce extremely bland (they deducted the price of the fish after we complained from the final bill).
Very clean inside. The interior is somewhat decorated like the inside of a jet left over from the previous restaurant – so if you are somehow longing to have the "jet cabin" experience you might find it here. Purple seats – faux jet windows line the wall. The ownership and name of the restaurant have changed quite a few times over the years. Phone: (323) 465-9796

Hoy Ka Noodle (the original) is located at 5508 Sunset Blvd. This is a often congested area of Hollywood – however they have their own small parking lot directly behind the restaurant. 1 hour parking is also available on several nearby blocks on Sunset. They moved to this much larger space on February 1, 2014 – high ceilings, bar seating and a large screen TV are all upgrades from their old shoebox sized Hollywood Blvd location. The feel of this restaurant is certainly more glamorous then their old hole in the wall location and based on its location, may capture a bigger non Thai clientele including plenty of actors.
Hoy Ka is known for their very authentic noodle soup – very similar to what you would find on the streets of Bangkok. During a recent visit on a warm day, even an old lady walked in selling fresh fruit and it felt very much like the streets of Bangkok! The boat noodle is excellent – their soups are available in typical "small Bangkok" portions as well as larger portions. Very reasonable prices. An ATM machine is located inside in case you are short of cash. Cash only. To preview their menu, visit: www.original-hoy-ka-hollywood.com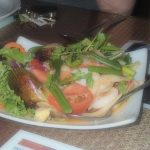 Jitlada Thai Restaurant is located at 5233 W Sunset Blvd in a small little shopping center. There is a small parking lot and you can either park here or on the nearby streets (metered parking). This restaurant has been written up in many food websites, magazines and newspapers. They focus on traditional Thai food from southern Thailand.
With such acclaim, we were expecting more authentic and superior tasting food. During a recent visit – it may have been an off night – but the food was just really just average – similar to what we often find in northern California based Thai restaurants which are not supported by a Thai community, like Thai town here in Los Angeles.
The food is also certainly more pricey than many of the nearby Thai restaurants. The best dish of the night was the vegetable, "morning glory" – we ordered several seafood dishes (average) – and the mango we ordered with sticky rice wasn't that sweet. Visit: www.jitladala.com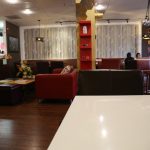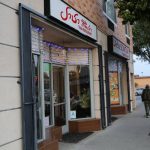 LaCha Som Tum Restaurant is located at 5171 Hollywood Blvd. Parking is metered either on Hollywood Blvd or meters on side streets close to HW Blvd – or slightly further way on always challenging non metered residential streets. The inside of this restaurnat is cozy and inviting with friendly Thai staff.
You come here for the variety of salads – during a recent visit we ordered a spicy beef salad – it was well prepared, spicy and very flavorful. With SomTum in the name of the restaurant – som tum is certainly part of the menu. Good Thai ice tea here as well! Our service was quite fast. Not crowded during a Friday night visit (compared to the crowds that some of the other Thai restaurants a little closer towards the Thailand Plaza see). They are open until midnight every day of the week.

KT Kruang Tedd is located at 5151 Hollywood Blvd – this very small restaurant serves authentic Thai food. Parking is always a hassle along this part of Hollywood Blvd but at least this restaurant is set back off the street and they have their own parking spots directly in front. A couple of plates we can recommend are the spicy soup and the chili lime fish which comes in a metal tray in the shape of a fish. A band is setup inside and in the evenings you will be treated to live music. Phone: (323) 667-9800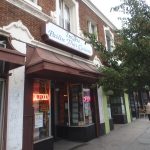 Pailin Thai Cuisine is located on 5621 Hollywood Blvd just off of the 101 Freeway. They are open Monday through Saturday from 11am to 10pm – closed Sundays. The restaurant is small – there are several video monitors – often Thai news or Thai soap operas will be playing. Pleasant staff. The food is very reasonably priced with good selections of noodles (like other Thai restaurants you can request certain thickness of the noodles when ordering), soups and salads. During our most recent visit we enjoyed well prepared Chicken Pad Thai. Also seafood and meats and vegetables. Phone: (323) 467-7715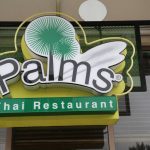 Palms Thai Restaurant is one of the better Thai restaurants in the entire state of California. This is a bold statement, but after years of trips to Thailand and dinners at many Thai restaurants worldwide – we've come to truly appreciate Thai food that is cooked in Thai style and not for American or other tastes. The food here for both lunch and dinner is very reasonably priced, i.e., its not going to cost you an arm and a leg!
There is a certain subset of Thai food that has been terribly altered to the "American taste"… much less spicy, quite sweet and really not tasting like authentic Thai food at all. There is a proliferation of Thai restaurants like these in the USA and in California. Some dishes we have personally tried and recommend are: Morning Glory – well prepared and quite tasty – this is a vegetable dish, a bit spicy but not too bad, the Thai BBQ, not spicy at all, Crying Tiger (delicious BBQ beef with dipping sauce) & Tom Yum Tale – the Seafood Soup.
Unlike many Thai USA restaurants, yes they actually fill up the soup bowl with seafood. In addition the Mussel With Chili And Holy Basil Leaves are very good as well as the spicy raw shrimp (Kung Chea Nam Pla) covered with garlic & other toppings – this dish is **extremely** spicy even for most Thai people but you can request different levels of spiciness! We've brought friends here a number of times and we order the raw shrimp "Thai style" and we find them gasping for air frantically gulping down water which by the way doesn't help the short term effects of the spiciness (oily foods are better to combine with spicy foods).
Besides the food and people watching, (sometimes their hostesses are Thai actresses), a Thai Elvis performs in the evenings Thursday through Sunday. When he is not performing there is a large metal statue of him standing near the stage. Check out the nice bike rings which make up the legs of this statues. Good photo op there.
Location: 5900 Hollywood Blvd. Phone Number (323) 462-5073 – if you are driving in from the 101 freeway, you get off at Hollywood Blvd and be sure to stay on the West side of Hollywood Blvd. The Palms is just a block West of the 101, on the south side of the street. Parking is along Hollywood Blvd, or better yet, in the back of the restaurant towards Sunset Ave as there is a parking lot guard always on duty. Check out the small "lost and found" display on your way out this door. Some interesting items have been found at the restaurant including contraceptive pills and a designer watch that no one claimed. The Red Line Metro Hollywood & Western stop is on the East side of the 101 along Hollywood Blvd – about a 1/3 to 1/2 mile walk to the Palms. Visit their website which includes all menus at www.palmsthai.com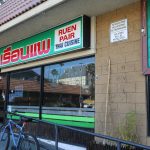 Ruen Pair
is located in the back of a small shopping center at 5257 Hollywood Blvd (valet service during the afternoon and evenings only)- along with the Thai Patio restaurant Ruen Pair are the most popular food stops here.
This is a good all around go to restaurant serving a very wide selection of Thai dishes and one of the most well-known Thai restaurants by non Thai. They serve very authentic Thai food; this restaurant is always packed in the evenings. Visit: www.ruenpairthaila.com

Sanamluang Cafe is a little restaurant in a little shopping center located at 5176 Hollywood Blvd. There are only a few parking spots in this accompanying lot – nearby parking maybe found on side streets. This is their original location – they also operate a restaurant by the same name in Sherman Oaks.
They are known for their good selection of noodles and soups. Tasty spicy beef soup and seafood salad. Overall the food isn't outstanding but the prices are extremely reasonable. Outdoor and indoor seating is available. Of note is the fact that they are open until the wee hours of the morning – usually until 330am.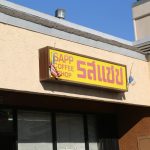 Sapp Coffee Shop is located in a small shopping center on the corner of Kingsley and Hollywood Blvd (north side of the street – 5183 Hollywood Blvd) – next to a video store and small dessert shop. The soups here are extremely authentic – they taste just like what you would order on the streets of Bangkok. Our favorite is the Sen Mee Nua, Nam Tok – or in English, Spicy Beef Soup. This is our number one restaurant in Thai town for eating this type of soup. Invariably when people ask us for hole-in-the wall restaurants in Los Angeles, we often refer them to Sapp Coffee Shop.
We spotted a Melting Pot tour in here one time. Drop by Sunday morning early for the quietest time to enjoy a soup breakfast! They are closed Wednesdays. Take out ok. Open early. Parking is very limited in this tiny parking lot – metered spots are located up and down Hollywood Blvd in the vicinity of this restaurant as well as close to HW Blvd on side streets. You can park further into the residential neighborhoods, but parking can be very difficult to get here. Love the fact they open early mornings before all the other nearby restaurants are open. Our favorite breakfast spot as well. And the older ladies speak Thai to us. Phone: 323 665-1035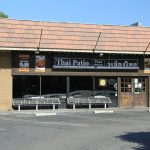 Thai Patio is located in the often busy shopping center located right next to "Thailand Plaza", the heart of Thai Town. As with other parking in this area parking can be sometimes quite difficult to find especially on the weekends. As a result, this shopping center has valet parking during busy hours.
This restaurant can also be very crowded and is usually one of Thai Town's busiest restaurants – especially for dinner. Long tables seat parties next to each other – live music is often available. The service is fairly quick even when they are busy (the waiters really hustle) and the food is certainly authentic. Thai Patio is located at 5273 Hollywood Blvd – Phone: (323) 466-3894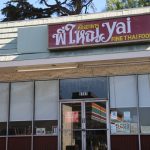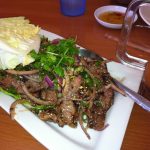 Yai Thai Restaurant is conveniently located right off the 101 Freeway in sandwiched between a Peruvian Restaurant and a donut shop in this tiny three business shopping center at 5757 Hollywood Blvd. It can be somewhat hard to turn in here at times based on there close location to the 101 – and traffic that stacks up in both directions on Hollywood Blvd. They are known for their pad Thai but also have excellent soups and salads. Two recommended dishes are the Nam Tok Salad and the roasted pork with Chinese Brocoli. Note that the Beef Tendon soup tends to have lots of pieces of fatty tendon rather than the meat tendon. Somewhat of a Chinese culinary influence. Like a number of the small Thai restaurants in this area, they accept cash only. Usually plenty of seating.

Dessert Shop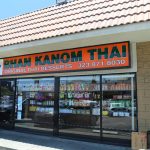 Bhan Kanom Thai . This authentic Thai dessert is located in the heart of Thai Town in a tiny shopping center – at 5271 Hollywood Blvd. During weekends and weekday evening this shopping center typically only allows you to park in the small parking lot via a Valet Parking service, however if you tell them you are only going to the Thai dessert shop and there are some extra spaces in the small lot in the back, they may let you pull in yourself and park for free.
The Durian chips in the square hard plastic containers are expensive but quite good. Often they are out of these because they were held up in customs in the Port of Los Angeles. Great selection of dried candies and fruits. Lots of dried products imported directly from Thailand. nice ice cream and also freshly made Thai desserts. Visit: www.bhankanomthai.com or Phone: (323) 871-8025

Massage
Consider having a Thai massage while you are in Thai Town. Some businesses will offer reduced rates before 3pm. Our choice is the R4U Massage & Spa located on the south side of the street at 5300 Hollywood Blvd. Choose from short to rather lengthy massages. We have had the foot and full body Thai massage. Very relaxing and affordable. For more information call 323 465-2755
Another very friendly and professional massage / spa is Nuch Massage also located on the south side of Hollywood Blvd (5134). Great foot massages here! Talk to the owner Nuch – she's pleasant and outgoing and usually on site. Incidentally this was the first massage business to open in Thai Town. Visit: www.nuchmassage.com
PhotaLai is a small massage business located at 5401 Hollywood Blvd. They were founded in 2004. Parking is metered on Hollywood Blvd or free on nearby side streets. They offer a variety of massages including Swedish, Deep Tissue, and Thai Reflexology. Depending on the time of day and week you can walk in – although reservations are recommended. The massage tables are lined up in long room with thick curtains between for privacy. The bathroom is all the way in the back. Strong massage therapists. Located next door to Hoy Ka Noodle Shop – great place to stop after a relaxing massage!
Another Thai massage place we recommend which has affordable pricing is Thai Sabai Massage located at 5261 Hollywood Blvd. Visit: www.thaisabai.com or Phone: 323 485-2800

Lodging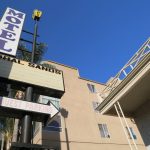 Coral Sands Motel is conveniently located on 1730 N.Western Blvd around the block from the the sizable shopping center (Ross, Ralphs, Starbucks). It is also located within a very short walk of the Hollywood and Western Metro stop (cross Hollywood Blvd at the stoplight) – the red line which provides easy access 1-2 stops into central Hollywood. The motel recently underwent some renovation work – is gay friendly and has a nice pool in their courtyard. The motel is nothing fancy and is priced accordingly based on nearby properties. Free WiFi is included. Parking is also on site so you don't have to deal with the limited parking on the nearby streets. For more information visit: www.coralsands-la.com

Dixie Hollywood is our go to hotel when staying in Thai Town. It is a half a block walk to the Hollywood & Western metro stop on the Red Line and is located within a short walk of many of the local Thai establishments. Location: 5410 Hollywood Blvd. The rooms are clean and comfortable and fairly modern. A flatscreen and a refrigerator are included in each room. We recommend staying on the second story rather than staying on the first floor as the sound proofing between the first and second floor isn't that great. There is a small pool on site and also a small cafe. Wifi is included and works well.
Little touches let you know that you are staying in Hollywood. The doors to the rooms are painted with movie characters – right next to the lobby you will find James Cameron's Avatar character. The shower curtains are appropriately maps of the Los Angeles Freeway system! Visit: www.dixiehollywoodhotel.com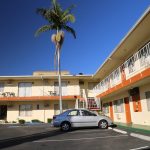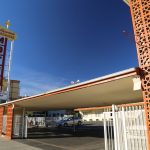 Hollywood Premiere Hotel is one of the cheaper hotels along this stretch of Hollywood Blvd and with that said one of a number of hotels in the area that are not very well maintained at all. They are located 5333 Hollywood Boulevard. This is the heart of Thai Town and is only several miles from the tourist center of Hollywood. They are located right next to the main Thailand Plaza center as well as a very short walk to the closest metro stop (Hollywood Blvd and Western).
Don't expect anything even similar to "decent accommodations" – we have stayed here a number of times – the hotel is very run down; during our latest stay, the shower did not work other than a drip drip (we ended up taking a bucket shower using the waste paper bucket to collect water from the sink – which was working fine). In our several experiences here, the older staff isn't that friendly – and the younger staff is very suspicious of its guests, recently asking/accusing if we were with some homeless looking man who was hanging around in front of the hotel – and requiring us to fill out several pieces of paper indicating home address and then much later knocking on our door with another paper to fill out phone and license plate information.
Once we found used condoms and other entertaining sex toys in one of the drawers. You ask why we stay here? It is in a good location, it is cheap (relative to this location) and there is just a certain appeal about staying in a place that is so trashed by time, perhaps a bit of nostalgia for what this place used to be like, and the intrigue of never knowing what to expect from a grumpy and temperamental staff. The place is so bad you don't even find out of work actors here.

By night, when a hotel in this location should be full, only a handful (if that) of cars will be in the parking lot. During one visit we ran into a number of actors and photographers filming here – perhaps a good source of revenue to cover the lack of customers – and certainly a great backdrop for stand in motel similar to the one featured in the great Psycho movie.

Still, this doesn't come close to the character of the old Gershwin Hotel (now renovated as apartments) down the street a few blocks (closed as a hotel). We stayed there several times. Dead people were found there in their rooms after a week – there are lots of stories from that crazy establishment!
The hotel seems safe enough and the owners or staff always seem to be around. They have an early morning checkout window with buzzer. There is a pool located in the parking lot between the sidewalk and the actual street – (yes its surrounded by concrete, but almost swimming on Hollywood Blvd has a certain charm). They have their own parking lot which is helpful as this part of Hollywood Blvd with its street side limited or metered parking always poses a challenge. The free WiFi as advertised typically works very sporadically, often in the afternoons but stops working in the evenings and early mornings. Phone: (323) 466-1691

Vibe Hotel is located just west of the 101 freeway next to the Palms Thai Restaurant and almost across from the Museum of Death. The entrance driveway is extremely narrow and you have to really know where you are going to make a quick turn in so as not to annoy traffic behind you while you search for this hard to spot driveway. The hotel is two stories centered around a small parking lot. This hotel attracts a unique character of clientle, ranging from out of work actors, to those just passing through town for one reason or another – it is an eclectic mix of personalities and costumes. The price is right. The closest metro, Hollywood and Western is about a 15-20 minute walk away. During a stay in a shared room, people kept coming and going at all hours of the day and night. For more information visit: www.vibehotel.com
Haircut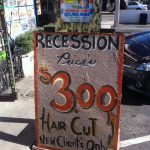 Hollywood Hair Designs was located in a small Thai oriented shopping plaza and had been in business for over 30 years, run by the same owner Tony… as he says, "before Thai town was even here". He was a great guy who knew all the local history and was able to really tell an entertaining story and provide a good haircut. Unfortunately his shop is now closed – and he succumbed to his diabetes 🙁

Festivities
Thai New Year (Songkran Festival) in Thailand is always celebrated on April 15th, but the Thai New Years Festival in Thai town is always held the first Sunday of every April. Because 5 major blocks of Hollywood Blvd are completely closed to traffic and the large crowds that hit this event, it is highly recommended you take the Metro or use the Park-and-Ride lot. If you take the metro jump on the Red Line and get off on the Hollywood/Western stop. This is Thai culture at its best (outside of Thailand that is). The center of the street is filled with food, vendor, fruit carvings and other educational booths. A boxing ring is setup for ongoing Muay Thai (Thai Boxing events) including even little kids who fight each other. The fights always draw huge crowds. Famous Thai VIPS and celebrities including actors and musicians are flown in from Bangkok to participate in this new year's celebration. IPtv which is the main Thai TV station for Thai's abroad, broadcasts live and interviews famous people. There are several stages including a culture stage and musical stage – we saw the famous Swedish duo Jonas and Christy perform live – always a treat to see two Farang (foreigners) singing old Thai country music to the great appreciation of the mostly Thai crowd.
This is heart of Thai Town and the shops and restaurants do triple time to accommodate the crowds that frequent their establishments during this one busiest day of the year. We've seen police and firemen trying to block crowds from going into some of the stores b/c it was wall to wall people inside! Even the Mayor of Los Angeles typically attends this event and participates in the Parade – which usually takes place on the eastern part of Hollywood Blvd that is closed to through traffic. Another highlight is the Thai beauty pageant where the women walk down the catwalk strutting their stuff to what we can only describe as rhythmic house music. Ages of the contestants in past years have ranged from 16 to 25. View our photos below and also visit: www.thainewyear.com
Wat Thai although not a part of the Thai town itself serves as a central meeting point for Thai's and others. Wat Thai is located at 8225 Coldwater Canyon Ave right near the Hollywood Freeway (the 170). From Thai Town in the south, jump on the 101 freeway north to the 170 North and get off at Roscoe Blvd West and Wat Thai is located about a block or two in from the freeway. This is one of the largest Thai temples in the USA. You can also get to Wat Thai from the 101 by exiting at Woodmanse or Coldwater Canyon and driving on surface streets.
Without a doubt the best times to be here are during two annual major Thai National Holidays such as the Songkran Festival in mid April (Thai New Years water festival), or Loy Kratong in mid October. If you cannot make it during these or other Thai holidays, try to make it at least during the mid-day on Sundays. Part of the parking lot is turned into food vendors – you can get very authentic Thai food here. In order to buy food you must pay for plastic colored chips at the main booth. Each colored chip corresponds to a certain dollar value. Thai baht is not accepted. More information is here: www.thai-la.com/temple.html
If you enter the main Wat you must leave your shoes at the entrance. Shorts worn inside is ok, just be sure not to sit down with your feet pointed towards the Altar/Buddha in the front. You can try shaking the wooden Sium Si – in which you want to shake it so that only one of the many sticks inside falls out. When you have only one stick on the floor – pick it up and look at the number on it. Then walk over to the wall on the left and choose the paper corresponding to the number on your stick. If it is good luck you can stop shaking the Sium Si; if it mentions bad luck in your life shake the sticks until you get a positive one.

Songkran Festival (Wat Thai) – is a celebration of the Thai New Year always held in Thailand on April 15th. Because the weather this time of year is so hot and humid in Thailand water is always a big part of this festival – i.e. people throw lots of water on each other! However these water fights during Songkran at Wat Thai are typically usually just between children. The Songkran Festival at Wat Thai is always held the 2nd weekend in April on both Saturday and Sunday and usually the week prior in Thai Town along Hollywood Blvd. Saturday has additional events that do not appear on Sundays schedule including the ever popular Thai beauty contest, however if the weather is good, both days see large crowds.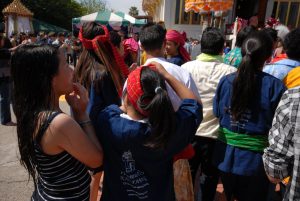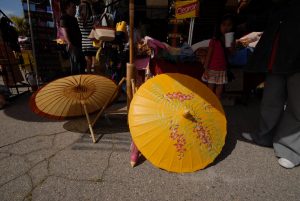 During Songkran Wat Thai fills up with visitors, the parking lot on the east side is completely turned into food vendors selling great authentic Thai food as well as Thai craft vendors. In addition there is music and dancing and other cultural events on the central stage. Tickets are also sold for prize items – you fish out plastic eggs from a pond and the numbers in each egg correspond to various prizes. In the afternoons dancing takes place with a large group of dancers circling several times through the temple playing music and beating drums. It is a very festive atmosphere. The weather in mid April is typically typical LAish, warm, sunny and mostly clear. We've been to this event 6x now and have always experienced decent weather.
For parking, it is best to arrive early – in any case you most likely will have to park on either side of Coldwater Canyon in the residential neighborhoods and walk several blocks at minimum to the temple.
In and around the temple can be insanely crowded on all streets during this event. There is always shuttle parking provided from the nearby Kaiser Hospital (address – 11668 Sherman Way).
Are there any Thai restaurants or other establishements in or near Thai Town that we have not yet visited or reviewed on this page? Can you recommend some? If so, please email dave@pon.net