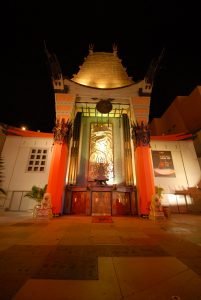 Los Angeles, CA – Hollywood. Few locations in the world have the instant International recognition and exposure that Hollywood has. Hollywood is only a name that most movie goers associate with the Film and TV industry. However, most people have no idea that its only a cog in the wheel of the vast movie making business which is centered in Southern California. In fact, of the major studios, only Paramount Studios is still located within Hollywood proper. A bulk of the "digital Hollywood" in fact is not even in the LA area, but rather up in the San Francisco Bay area.
Most people around the world have no idea of Hollywood's exact location or what really is here. People associate Hollywood with glitz and glamor and are often surprised at the grittiness along parts of Hollywood Blvd (certainly less gritty then it used to be). This page highlights some of the more famous Hollywood attractions and puts some individual sights to the "Hollywood name".
Conveniently, the Los Angeles Metro Red Line makes several stops in Hollywood. View our LA Public Transportation section for more information.
HOTELS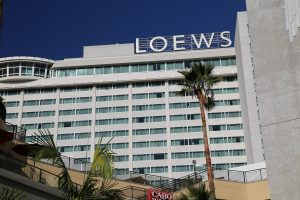 Looking to be in the middle of the all the Hollywood action? Loews Hollywood Hotel is our pick for staying right in the heart of Hollywood. You cannot get much more central than this; its location is ideal as it adjoins the famous Dolby Theatre shopping center and you can easily walk to most of the main attractions on this part of Hollywood Blvd. This hotel also boasts an excellent spa, a rooftop pool on the 5th floor (often frequented by beautiful bronzed bodies) and deluxe suites on the upper most stories. World class shopping and restaurants as well as a number of Hollywood's most famous sites are well within walking distance of Loews.
Valet or self service parking is available – a huge underground garage is part of this shopping center. The rooms are very spacious (executive), each comes with a large flat screen TV. Be also sure to walk out to the overlook of the Dolby Center on the 5th floor. On a clear day as you look down from this floor onto Hollywood Blvd you also have excellent views of downtown Los Angeles. For more information and to make reservations, visit: www.loewshotels.com/Hollywood-Hotel
Also for very informative personnel and an excellent selection of visitor guides we highly recommend visiting the Hollywood Visitor's Center at the entrance to the Dolby Center on the ground floor. They will be happy to assist you with your travel, hotel, restaurant etc, questions and often can provide discounts & coupons for local area attractions. All attractions listed below are in alphabetical order.
RESTAURANTS & BARS
ATTRACTIONS
Capitol Records Building is an iconic Hollywood landmark and is located just up from Hollywood Blvd at 1750 Vine Street. This building looks like a bunch of records stacked on top of each other (or for a more modern analogy, DVD's). Visit Hollywood & Vine for more information: www.hollywoodandvine.com This building is an office building and is closed to the public. The design of the building is so unique its worth a photo. If you see this building at night, the tower on top flashes red. It is flashing "Hollywood" in Morse Code!

Church of Scientology Information Center is located at 6724 Hollywood Blvd. Long associated with Hollywood, the first ever Church of Scientology was founded in 1954 and is currently located about a 15 minute drive east of this info center – on Sunset Blvd. This information center is very modern – yet it is housed within a building constructed in 1922. The building has a storied history in Hollywood – first as the Christie Hotel, then later as the Drake Hotel and finally as the Hollywood Inn.
Scientology includes several key beliefs including human's spirituality is immortal and lasts long beyond his physical death, a person's experiences are not limited to a single lifetime, and a person's capabilities are endless – even if not realized in their current lifetime.
Visitors to the info center must fill out an address and contact form before being allowed to walk through the center. Highlights of the center include several screens offering visitors the opportunity to watch films about Scientology, a biographical exhibit of founder L. Ron Hubbard, a bookstore and a testing room offering a variety of personality type tests. The center is open late. Visit: www.scientology-losangeles.org
Crossroads of the World is located at 6671 Sunset Blvd Sunset Boulevard just south of Hollywood Boulevard. This was one of the earliest outdoor pedestrian malls in Los Angeles – having opened in 1936. A colorful globe spins on top of a 60 foot tower – and the entire building is in the shape of a boat. Currently the offices here are home to many creative individuals including the film industry and other arts. A clothing store is open to the public – other than viewing the outside, the inside offices are private.
With its unique look and location within Hollywood, it should come as no surprise that this building has housed offices for a number of important companies, including Geffen Films, Dolby Sound and the American Film Magazine. It has made appearances in several movies including LA Confidential and more recently Argo. For more information visit: www.crossroadshollywood.com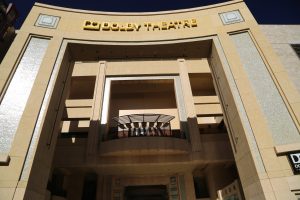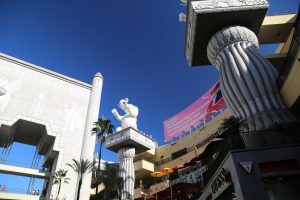 Dolby Theatre (formerly Kodak Theatre) is located almost next door to TCL Chinese Theatre is home to the Academy Awards as well as many other star studded events. Compared to nearby historical theatres, the Dolby is a relatively new addition to Hollywood having opened in 2001. Over 94 million dollars was put into the construction of this – its unbelievable inside – this is one of the highlights of Hollywood and we highly recommend taking a tour. Be sure to stop at the Hollywood Visitor's center (ground floor on Hollywood Blvd) to pick up a coupon for several dollars off admission to the Dolby Theatre.
During the Academy Awards an impressive red carpet is rolled over Hollywood Blvd and up the grand steps to the theatre entrance. Public admission to the Academy Awards is by a lottery system only and there is a very careful background check – and you have to go through heavy security the night of the actual awards. We've been on Hollywood Blvd during the Academy Awards numerous times and there is always an air of special excitement on this one day per year. Hollywood Blvd around the theatre is completely closed down as are side streets and the metro bypasses it's normal Hollywood/Highland station stop. Helicopters, planes and even a Goodyear Blimp hover above the theatre. Preparation and rehearsals for the Academy Awards takes at least 3.5 weeks before the actual "big night".
Your tour will take you inside the VIP room which is contained on one side of the main lobby. The architect used "soft glass" so that when you walk on the outside of this room the windows instantaneously turns fuzzy and you cannot make out the features of those inside. However at certain angles you can see who is inside; this was done so those outside of the VIP room have at least a glimpse of who is inside there, but at the same time gives the celebs their privacy. Be sure to check out a real Oscar award on display in the VIP room. During the Academy Awards there is no VIP room and this room is not closed off from the main lobby.
Unlike other theatres this theatre was specifically designed to be a studio as well as a theatre all rolled into one building. This is very unique as in LA you have specific studios or you have specific live theatres, not both. The stage is enormous (one of the largest in the world) and you will have a chance to walk across it during your tour. The main room is high-class – with balconied sections and plush carpet and seats. You will have a chance to sit in the front row during your tour and there may be large photos in the seats indicating where celebs sat down during the latest Oscar Awards.
A tour lasts about 30 minutes. No recording equipment including any type of camera is allowed (must be turned off as well as cell phones). We snuck in one photo of the main lobby which appears here but for other photos you have to visit their website. Perhaps next time we will take a hidden camera – its not like this theatre is ever photographed. The easiest and closest parking is at the garage at Hollywood and Highland. Advance reservations are highly recommended especially for weekends and summertime. Visit: www.dolbytheatre.com for more information about tours and this theatre.
The Dolby Theatre is part of the huge Ovation Hollywood Shopping Complex. Website: www.ovationhollywood.com

Egyptian Theatre is located in the heart of Hollywood at 6712 Hollywood Blvd. This is one of Hollywood's most historical buildings; it dates from 1922 which coincidentally happens to be the year King Tut's tomb in Egypt was discovered. As a result this building is very Egyptian looking from hieroglyphics on the outside walls to statues and large columns. This theatre is set well back off of Hollywood Blvd so it sometimes can be easy to miss – the open courtyard is an excellent place to take photos. It is right next door to the historic Pig'n Whistle Restaurant and nearby the Ripley and Guinness museums.
This theatre specializes in showing films not often discovered by the general public. Historical tours are available by advance reservation only. Sometimes the stars of the films will be on hand to discuss roles. And the same designer who was responsible for what is perhaps the more well known theatre just down the street – Grauman's Chinese Theatre, also built this theater. Visit: www.egyptiantheatre.com or call: (323) 461-2020 x 7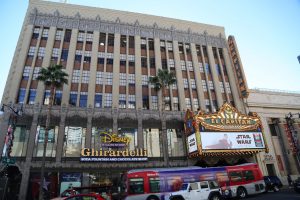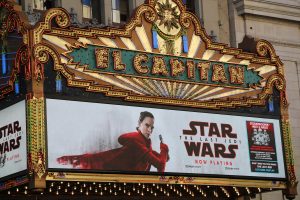 El Capitan Theatre is located at 6838 Hollywood Blvd right in the heart of all the Hollywood action across the street from the Dolby Theatre and the TCL Chinese Theatre. A lot of old Hollywood history is contained within its' walls. Founded in 1926 by prominent Hollywood real estate magnate Charles Toberman (also involved in numerous other now iconic Hollywood projects including the Egyptian Theatre, and the TCL Chinese Theatre).
Today the El Cap (for short) is owned and managed by Walt Disney Studios Motion Pictures (serves as a convenient premiere venue for Disney films). Originally was built for live plays finally began showing movies in the 1930s including the world premiere of Citizen Kane. Was owned by Paramount Pictures for years. A large Wurlitzer organ is housed inside the theatre (it's largest pipe is remarkably 32 feet long)!. Conveniently a Disney store is located next door. Visit: www.elcapitantheatre.com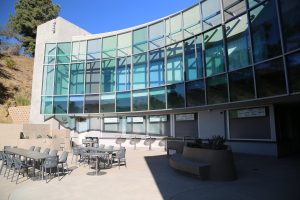 Ford Amphitheatre is located at 2580 Cahuenga Blvd East just off the 101 (East side) not far from the Hollywood Reservoir. It is a small outdoor theatre owned and operated by the County of Los Angeles. The setting is beautiful; it it surrounded by the hills of the Cahuenga Pass and due to its intimate location, aside from standing in their parking lot you hardly even know you are next to one of LA's most major freeways, the 101!
The total seating is under 1300 which when compared to the nearby 17,000 seat Hollywood Bowl, is quite small. In addition all seats are less than 100 feet from the stage which if you've been to the Hollywood Bowl you know about the "nosebleed" seats, hundreds of feet from the stage! You can actually see the Ford Amphitheatre from some of the higher seating at the Hollywood Bowl.
Due to weather restrictions the Ford Amphitheatre is open from May through October, although there is an additional indoor theatre for extremely small events (less than 100 seats). Whereas some of the other venues in the LA area focus on big name entertainment the Ford Amphitheatre strongly focuses on International performances including folk and bluegrass, as well as dance troupes, theatre and film. The strong point of this venue is their excellent selection of International music. Parking is on site or during their summer evening performances, can be via several shuttle options. Excellent student prices. Check their website for the latest updates: www.fordamphitheater.org
Greek Theatre is located along North Vermont Ave off of Los Feliz Blvd. This, along with Griffith Observatory was built in 1929 from money left by the founder of Griffith Park, Griffith J. Griffith. The location is in a canyon and was chosen as the outdoor acoustics are very good. Griffith had a bad side to his personality; during a vacation to Santa Monica he shot and severely wounded his wife, and as a result spent time in San Quentin.
He also had a generous side as he donated 4000 acres to the City of Los Angeles for Griffith Park. The Greek Theatre is a beautiful intimate outdoor small theatre set against the hills – many famous performers have sung here. For more info visit: www.greektheatrela.com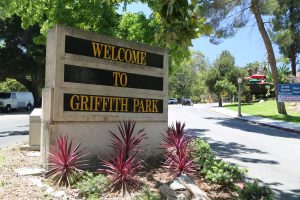 Griffith Observatory in Griffith Park is located just north of the 101 right next to Hollywood. It sits on the sides of Mt. Hollywood and you follow a winding road up the to top accessible via Los Feliz (a boulevard that roughly connects between the 5 and the 101 freeways). This is a popular Los Angeles landmark which first opened to the public in 1935 – its white exterior with blue dome can be seen from afar on clear days. The land for this site was donated by a man so nice they named him twice; Griffith J. Griffith also left the money for the Greek Theatre and Griffith Observatory to be built (but if you dig a little bit deeper you will discover he shot his wife in the head while in Santa Monica and ended up spending some time in San Quentin prison).
The Observatory recently underwent extensive interior renovation in the early part of the century and reopened to the public in November of 2006. For a while, demand was such that you could not drive a private vehicle up to the observatory and reserve shuttles or walking were the only ways to visit. However, demand has somewhat eased and cars are once again allowed to drive all the way to the observatory (although this parking lot fills up fast and often cars are not allowed to enter when it is full).
Our favorite entrance is via North Vermont Street off of the large Los Feliz Blvd. There are many parking spots near the famous Greek Theatre but to hike from this area to the top would take about 35-45 minutes all uphill. There is a parking lot right next to the observatory which will be closed off sporadically on busy days such as weekends. If its closed off, there is parking down further on the main road. Parking at the lot next to the observatory is metered – at last update was $4/hour using ticket machines to pay with either coins or credit card – which produces a parking receipt that you then place on your dashboard. NOTE: you must note the space number of your parking spot before walking to the ticket machines (as you will be asked for this before it prints out your ticket).
The general public can enter the Observatory and view all of its exhibits without having reservations or paying any fees. There are excellent views of the Los Angeles Basin on clear days, and the Hollywood Hills (including the Hollywood Sign) from the side of North Vermont and East Observatory Roads. See our photos below for what is possible to see on a clear day!! On a clear day you can stand on the outside promenade on the second floor and pick out many landmarks all across the valley – all the way down to the tall buildings of Long Beach way in the distance.
Mt. Hollywood Hike

Directly to the north of the main parking lot in front of Griffith Observatory is a wide trail (Charlie Turner Trailhead) that leads up the hillside. The small pine tree at the entrance is dedicated to deceased "beatle" George Harrison (died in Los Angeles). From the trail-head it is a 1.5 mile nearly all uphill climb to the top of Mt. Hollywood. From the top on a clear day (especially after some rain) there are exceptional views of much of the Los Angeles basin, downtown and the rugged Hollywood Hills.
Tickets to the Planetarium are purchased on a first come first served basis. There is a free 24 minute film that shows several times a day in the Leonard Nimoy Theatre and covers information about the history and the recent renovation. Public telescopes are available for free in the evenings (7pm to 10pm). Be sure to pick up a free brochure on the 1st level – this explains basic history, hours, and includes a detailed map of the property. A Cafe and gift shop are located on site. There are three main levels of the observatory – the lower level contains several excellent constellation exhibits. The mid level also has exhibits and information about the observatory. The top floor is an excellent location to look out over the entire Los Angeles basin area and there is also a high powered telescope room.
Visit www.griffithobs.org for information about Griffith Observatory. There is also a sporadically updated blog about the park here: http://lagriffithpark.blogspot.com

Guinness Book of World Records
For global extremes, look no further than this museum. In fact this museum is so full of information, you are almost overwhelmed everywhere you turn! As with other Hollywood buildings in this part of town, this building's history is worth mentioning. It opened in 1913 as a silent movie theater – it is the second oldest theater building in Hollywood.
A museum such as this one would have to constantly be on the lookout for updates to records. During our visit, we found some of their exhibits were somewhat out of date – especially the one on sports and some of their celebrity exhibits. As expected one of the focuses here is on celebrity records.
Highlights include the displays about the world's tallest man, shortest lady, fattest person, greatest weight loss – the list goes on and on and on. Oh and we must not forget this one: the man who enjoyed ingesting a variety of metal objects; during his life he ate eaten 10 bicycles, 7 TV sets and an entire Cessna airplane!
Purchase your tickets online – you get a discounted price rather than buying in person – as well as have the option for discounted tickets to other nearby "partner" museums (the Hollywood Wax Museum and Ripley's Believe it or Not). Visit: www.guinnessmuseumhollywood.com
The famous "Hollywood Sign" in the hills has been seen in many movies and can been seen from many areas along Hollywood Blvd. There is no direct access to this sign – and if you try to drive up into the hills to get close, you will invariably see road signs that say "no access to Hollywood sign". In fact it is illegal to hike or get anywhere close to the sign itself. It is protected by metal fences and security cameras. However, there are a few streets that will provide you with excellent views of the sign. We recommend the following two areas for photographing the Hollywood sign:
(1) You will have to look this name up on a map (http://maps.google.com), but the end of Rockcliff Drive has some of the best views. You can actually drive on Vine Street off of Hollywood but you will have to wind around many streets before you get to Rockcliff. The neighborhoods here are nice with many fancy homes. Consider instead driving North on North Gower (which runs into Hollywood), then turn right for a block or two on Scenic drive and make an immediate left on North Beachwood Drive and keep driving North until you cannot drive north anymore. Several areas including the end of Rockcliff provide good views of the Hollywood sign. The areas are in residential neighborhoods and the roads are extremely narrow. Often cars will be parked on both sides of the narrow streets and there is only space for one car to pass even though you can drive both directions on the roads. Be conscious of not driving too fast. I am sure the residents see enough of the tourists driving their neighborhoods in search of Hollywood sign views. Too bad land is so valuable – there really should be a parking lot or section of land set aside for photography of this sign.
Here are the Google Earth coordinates of where Dave photographed the Hollywood sign:
34′ 7'44.58″N and 118'19'11.85″W
(2) A wonderful place for hiking with absolutely awesome views of the Hollywood sign is located just above Lake Hollywood (also called Hollywood Reservoir). This is an area that takes a little work to get to, but is rarely frequented by tourists. When we have been here we've found TV camera's filming TV commercials along one of the hiking/biking trails – only in Hollywood, right?! To get here, 1. take North Gower North from Hollywood Blvd – before you drive under the 101, be sure you are in the middle lane of Gower as that is the *only* lane that continues straight. and drive for about a mile up into the hills. 2. Veer left onto Winans Drive and keep driving for a short distance to the left until Winans makes a very sharp right – make that right turn and stay on Winans. 3. Make a soft right hand turn onto Creston Drive and follow that until you hit Durand Drive. 4. Turn right onto Durand drive and you will very soon see a small parking area (accommodates maybe 4-5 cars) and a hiking trail leading off. If there is no parking here, you can probably find parking along Durand Drive. Great trails for both biking and hiking are located just above Lake Hollywood. Follow the trail down several hundred feet to a lookout over Lake Hollywood – then hang a right and hike in about 1/3 of a mile. There is a small hill upon which you have great views of the Hollywood Sign.
The definitive website for this famous landmark is: www.hollywoodsign.org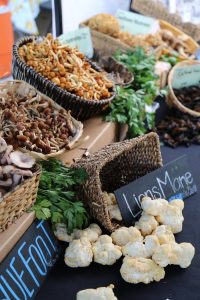 Hollywood Farmer's Market is held on Saturday mornings along Vine Street near the corner of Hollywood Blvd, just down from the Capital Records building. Great spot to pick up local farm fresh produce and fruit. Excellent selection as there are over 90 vendors. A small amount of free parking spots are available at the Doolittle Theatre at 1623 N. Vine Street.
More information about this particular market and other LA Farmers Markets visit our Los Angeles Farmer's Market page here: page here

Hollywood Forever Cemetery is located at 6000 Sunset Blvd (just a mile so west of the 101 freeway). This cemetery is located about 1.5 miles or so from the main part of Hollywood. This is a great stop for visitors who are sick of the incessant traffic that plagues Sunset Blvd and the other Blvd's in this part of Hollywood, West LA, Beverly Hills etc. It is fairly quiet here considering the urban jungle that surrounds this cemetery and is a very relaxing place to take a walk. The cemetery is fairly large and you can easily walk around, not covering the same path for 30 minutes to an hour. This cemetery contains some of California's most ornate mausoleums including the stately Clark Mausoleum next to the reflecting pond. A large population of Armenians and Russians are also buried here.
This is a working cemetery and they do hold funeral services. One of the services offered by their funeral home is live worldwide webcasts of funeral services so those not in attendance can view on their computers anywhere in the world. Only in LA, right? What is nice about this cemetery is the grave-sites and the funeral home are located in the same place (no processions through the busy streets).
A number of celebs are buried here, often with their families including Cecil B. DeMille, Jayne Mansfield, Rudolph Valentino, Douglas Fairbanks, Mel Blanc (voice of Bugs Bunny) and others. Keep your eyes peeled – a few folks who want to be "ahead of the game" have already created their tombstones with photo and birth date but no death date. From certain viewpoints on site you can easily see the Hollywood Sign, Griffith Observatory and if you know where to look through the trees you can see into downtown, most noticeably the round US Bank Tower building. For more information visit: www.hollywoodforever.com
Hollywood Heritage Museum is off in a quiet location just down and across from the Hollywood Bowl outdoor amphitheater. Parking is free next to the museum (same parking lot used by the Bowl). Note the signs indicating "horn honking is not permitted and will be enforced" that hang from light poles next to the parking lot. This is not a problem for excited Hollywood Heritage Museum goers, rather it refers to the craziness that sometimes takes place during a major Hollywood Bowl performance!
A visit to the museum is a unique opportunity to explore and learn about Hollywood's earlier history. Take the building for example which is the centerpiece of the museum – this is the original home of Paramount Studios and as a result is Hollywood's oldest remaining studio building.
This building (dates from 1895) was originally a horse barn located about a block south of what is now the famous Hollywood and Vine intersection. It was later moved to Paramount's current location along Melrose and Gower Aves (still in Hollywood) but eventually the building became a women's gym and was used for storage.
Today it houses an excellent collection of historical Hollywood items as well as movie memorabilia. One of the main attractions is the office of famed director and co-founder of Paramount Studios, Cecil B. DeMille. Cecil came west to get into film making and along with two other partners founded Paramount Studios in 1913. They made their first silent movie in 1914, "The Squaw Man" which made them so much money they were able to quickly expand their studios.
A large black and white photograph of an impressive set hangs on the wall. It was taken of the massive set for the movie Intolerance which dates from 1916. This set was so large it was never taken down and remained in Hollywood for a number of years before finally being destroyed. However, a replica to scale of the set opened in 2001 – it is actually the large shopping center known as the Hollywood and Highland Center (home to the Dolby Theater and the annual Academy Award ceremony)
Want an in depth tour of Hollywood's, past, present and future? Take one of the walking tours offered every Saturday morning by Hollywood Heritage (the non profit group responsible for the museum). This is a 3.5 hour tour. Visit: www.hollywoodheritage.org
Hollywood Museum is located on N. Highland Ave just down from Hollywood Blvd (long term parking use the parking lot next to the Ovation Hollywood Center/Dolby Theatre) or limited short term 1 hour parking is on some of the side streets near the museum). Also validated parking can be obtained by parking next door to the museum in the Mel's Drive in Parking Lot. Allow about an hour. There is a ton of space inside – with exhibits spread out over 4 floors.
The museum contains thousands of authentic Hollywood memorabilia including many photos, costumes, movie making equipments and other movie props. There are four floors including the scary basement which focuses on Hollywood horror films. There is even the jail cell corridor that Jodie Foster walked down, Hannibal Lecter's padded prison cell and his mask used in the movie, The Silence of the Lambs.
Certain exhibits rotate based on current interest – and usually focus on a very well known historic movie star. This is the Max Factor Building which used to be where the famed movie makeup man, Max Factor dolled up many of the most famous movie stars. Some of this studios have been recreated (room for redheads only – used by Lucille Ball and blondes only – used by Marilyn Monroe).
The museum contains the world's largest collection of Marilyn Monroe memorabilia and mementos relating to her life. Color photographs, nude modeling shots, Marilyn Merlot (wine collection), her refrigerator, household items, newspaper clippings and hundreds of photos keep her memory alive for visitors. Location: 1660 N. Highland Ave – visit: www.thehollywoodmuseum.com
Hollywood Wax Museum is located at 6767 Hollywood Blvd in the heart of all the "touristy" Hollywood action. It is the longest running wax museum in all of the USA – having been owned by the same family since 1965. However, this is not the only wax museum in Hollywood – Madame Tussauds also operates their own museum next to TCL Chinese Theatre. Like many buildings in this part of Hollywood, this museum has its own celebrated history. It was one of Hollywood's first exclusive nightclubs – having opened in 1930 and catered to many of the A-listers of that time including Jean Harlow, Charlie Chaplin, Mary Pickford and Gloria Swanson.
Only celebrities are represented here. Small signs often provide interesting tidbits about each particular celebrity – including some of their lesser known hobbies and interests. At the end of your tour you will have the option to use a touch screen to provide feedback on the museum as well as suggest additional celebrities not yet represented.
In our opinion, the statues of the celebrities are not as realistic looking as the ones at Madame Tussauds and this museum doesn't have the "flash" that the other museum has. Both museums have a number of the same celebrities. Purchase your tickets online – you get a discounted price rather than buying in person – as well as have the option for discounted tickets to other nearby "partner" museums (the Guinness Book of World Records and Ripley's Believe it or Not).
This isn't a huge museum – allow perhaps 30-45 minutes. For reference, Bing Crosby's star on the Hollywood Walk of Fame is right in front of the museum! Visit: www.hollywoodwaxmuseum.com/hollywood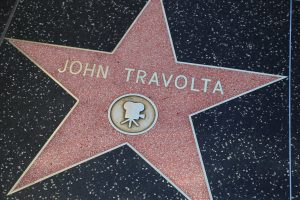 Hollywood Walk of Fame is a free attraction and lines both sides of Hollywood Blvd east and west of the Dolby Theatre as well as on parts of Vine Street. These are gold metal stars embedded in pinkish looking marble which is then embedded in the concrete sidewalk. Each star contains the famous person's name and their accomplishment. Not all stars are for movie actors. See if you can find Steven Spielberg's star. Dave has taken his photo next to this one. Steven's Mom Leah runs her own restaurant not too far from Hollywood. Information from Dave about her restaurant here. Good photo ops next to your favorite actor or actress' star! See if you can spot the Fredericks of Hollywood star. Hint, its front of the original Fredericks of Hollywood store in a corner location!
Continuing east down Hollywood Blvd eventually you will see the historic Pantages Theatre which was built in 1929 and was home to the Oscar awards for 10 years.

Madame Tussauds Hollywood Wax Museum (not to be confused with the Hollywood Wax Museum) is located right next to the famous TCL Chinese Theatre. Buy your tickets online prior (can be used any day) and the same person whose name is on the ticket can enter one more time for free before the end of the calendar year.
Star struck tourists apparently see this as an affordable alternative to meeting the real celebs. Step out of the glittering elevator on the 3rd floor and you might take a second glance at the person seated in front of you. It is "George Clooney" – after a few passes by you notice that one person holding a camera here does not move like the rest of the camera toting young tourists. Its a wax statue like all the rest. This floor is by far the most popular; it is the "now generation" floor and features many current celebrities.
The lower floors feature a number of historic celebrities – mostly actors as this is the heart of Hollywood. As you exit you will walk through a gift shop gleaming with fake Oscars and enough candy to give you a sugar high just from being nearby. Hollywood doesn't get much more touristy than this museum and the excitement of the crowds that mill around the entrance. Location: 6767 Hollywood Boulevard – Visit: www.madametussauds.com/hollywood
Museum of Broken Relationships
opened in early June 2016 in the building that used to house Fredericks of Hollywood. You wouldn't recognize the interior now as compared to when this lingerie store was here; the inside has been completely renovated. However one remnant of the old store remains quickly spotted when you walk in the entrance – a star dedicated to founder Mr. Frederick is one of many lining the sidewalks of this part of Hollywood Blvd.
This is a unique museum focusing on personal stories of broken relationships. At first glance one might think these stories are entirely about broken girlfriend or boyfriend dramas, but broken relationships can extend much further then this. Pets, a favorite wine, a relationship with a region etc – a diverse collection of mementos from these broken relationships are on display along with there accompanying stories.
Museum founders Olinka Vištica and Dražen Grubišic started collecting objects from people's failed relationships. These objects formed the basis of a traveling collection which toured 25 cities. These items found a home in 2010; their original museum opened in Zagred, Croatia.
The museum accepts stories and items for display from the general public – a crowd sourced museum if you will! All stories and items chosen for display are done so anonymously and can be submitted via a form on their website.
The museum is located at 6751 Hollywood Blvd – parking is either metered n nearby streets (check for street sweeping times before committing your self to a parking spot) or in several open air parking lots or nearby garage on Las Palmas. In addition, the museum validates parking in the nearby Hollywood and Highland parking lot.
For more information visit: www.brokenships.la
Ripley's Believe it or Not Hollywood
is located at 6780 Hollywood Blvd; this is one of more than 30 Ripley's museums in the world. Robert Ripley was a global traveler and collected items best described as bizarre and unusual. The museum is full of these items – ranging from very realistic artwork made with unusual materials (stamps, candy wrappers), an assortment of odd animals (one eyes, extra limbs), fantasy coffins (yes such a thing actually exists), shrunken heads, unique automobiles and much more. There are 2 floors containing 11 galleries and over 300 bizarre exhibits – allow between 45 minutes to an hour.
One of the more intriguing exhibits shows the Lizardman and the vampire woman. These two individuals have taken body modification to the extreme. The Lizardman has spent more than 700 hours under the skilled hands of a tattoo artists and now his body is covered with green scaled tattoos – he spliced his tongue in two, and embedded sub-dermal Teflon implants. The vampire woman has permanent fang implants, titanium horns embedded under her skin and nearly 100% of her body is covered in tattoos.
Purchase your tickets online – you get a discounted price rather than buying in person – as well as have the option for discounted tickets to other nearby "partner" museums (the Hollywood Wax Museum and the Guinness Book of World Records). A book highlighting some of the more popular items in their vast collection is sold at the ticket counter. Quick piece of trivia – where is Robert Ripley buried – and name the cemetery for bonus points! Visit: www.ripleys.com/hollywood
The center of "tourist" Hollywood is near TCL Chinese Theatre & the already very famous, Dolby Theatre. You can start your walking tours here – parking is available in a garage almost directly behind this theatre. Be sure to purchase something as when you show your receipt to the parking attendant you will receive discounted fare.
Tours of theatres may not count towards discounted fares. Since you are in the heart of the film industry, to cover your parking cost, consider buying a cheap movie at the Virgin Megastore located next door to TCL Chinese Theatre in the Ovation Hollywood shopping complex.
The front of TCL Chinese Theatre contains the embedded hand prints and words from the most famous of actors and actresses over the years. Squares of concrete are reserved for individual actors. Modern actors and actresses continue to put their hand prints and write small notes into the concrete squares here.
Its always a big hoopla and red carpet event when an actor/actress puts their handprint in the concrete here. You can return a few years between visits and you will see new handprints. This is an excellent place to take photos and is always highly crowded, especially in the summer months. This theatre is probably the most popular movie theatre for new movie premiers and is highly sought after by studios. There are several "movie characters" hanging around, who are in costume here – be careful for the one that looks like Freddy Kruger leaning against the wall without arms showing and no eyes. He looks like a sculpture. However when you walk in front of him he will jump out and wave his plastic knife excitedly – most tourists are completely shocked when this "statue" comes to life in front of them! Highly recommend putting yourself in viewing distance of this character and watch the tourists reactions. These characters will ask for tips if you take a photo with them. $1 per photo is probably fine. They do real well I imagine based upon all the tourists who take their photos with them. Chewebacca is another popular costumed character here.
Tours of this famed theatre are well worth the money and are given seven days a week. You can buy your tickets at the ticket booths to the left and right of the main entrance. The tour lasts about 30-40 minutes and takes you inside the front of the theatre as well as the main auditorium. A tux clad tour guide will provide many details about the theatre's history. If a movie is playing you will be taken inside for a few minutes, but photos are not allowed of course until after the show is over (you can come back later). One of the highlights of this tour is the VIP room – where parties for movie premiers are held and famous Hollywood celebs do hang out here on occasion. For more information visit: www.tclchinesetheatres.com

ADDITIONAL INFORMATION
For more information about Hollywood visit www.seeing-stars.com Although this is ad driven & may have pop ups, it is by far the best resource for anything related to Hollywood and Beverly Hills – including much information about specific actors and actresses.
The Hollywood Reporter: www.hollywoodreporter.com is a good source of information about the latest regarding the celebs.
Also visit our reviews of all major Los Angeles Studio Tours