Venice Beach is located just south of Santa Monica along the edge of the Pacific Ocean. This is a town of eclectic dichotomy of street side artists and backpackers along with a mix of trendy upscale establishments. Venice is home to numerous actors and actresses and the city has been featured in a number of films and TV shows including Baywatch. Very popular with surfers and you will often see surfers riding bicycles with their surf boards attached or even electric scooters.
Venice Beach Boardwalk is a 1.5 mile walking/biking path that runs directly parallel to the beach and the frontage roads – this walkway is frequented by tourists, backpackers, living in van folks, joggers, homeless, silicon beachers, street artists and other performers. If you want to see the beauty of Los Angeles's diversity in all it's rawness, a visit to Venice Beach will certainly not disappoint.

You may see people with colorful hair styles, wearing masks, sporting strange costumes, talking to themselves, running around in circles, or any number of other eclectic activities. In part you come to Venice Beach to watch the people. In addition, parts of the 'boardwalk' are lined with a number of permanent specialty (often graffiti covered) shops and temporary shops which sprout up daily.
An ideal place for beginning your exploration of Venice Beach is under the iconic Venice Beach sign which is hung via wires over Windward Avenue – only about a block from the actual beach.
To reach Venice Beach by take the 10 west from downtown Los Angeles until it reaches the PCH (Highway 1), the intersection being in the city of Santa Monica. Then drive south for a few minutes. Or cruise into town on Venice Blvd from the 405 freeway.

STAY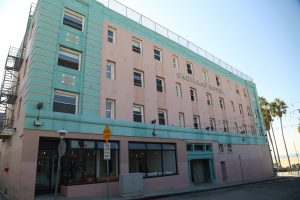 Cadillac Hotel is an 'art deco' type hotel located right next to the ocean in Venice Beach at 401 Ocean Front Walk. This is a 4-story hotel – parking is tight, but they do have spaces in a small lot behind the hotel. If you stay in one of their private rooms you are given a card to put in your car for this parking lot – parking for dorm room stays is not provided by the hotel. Very friendly helpful backpacker type hotel – great access to the local beach scene. Hostels and private rooms available.
Included wifi in the lobby or in the rooms. Many unique and interesting sidewalk vendors call the "strip" in front of the hotel on the beachside home – this strip runs for a long ways all along the ocean in Venice Beach. Note, typically its a little cheaper to reserve a room at this hotel using an online reservation company rather than contacting the hotel direction. Winter tends to be less crowded here, summer can be nuts! More information visit: www.thecadillachotel.com
Samesun Hostel is arguably the most central place to stay in Venice Beach. Mere steps from the sand (including the famous Muscle Beach) and the Venice Beach boardwalk, this cozy hostel delivers comfort and safety at an affordable price in a location where you would be spending significantly more if this was a hotel. Backpackers and other sun seekers flock to this hostel from around the world. It offers a chance to meet and mingle with mostly young travelers – a place to call home for a few days or longer while you explore the diversity of Los Angeles often with new found friends.
Choose from a variety of accommodation ranging from private rooms to 4 and 8 bed hostel rooms. And some of the rooms offers views of the ocean. Breakfast is included with every stay. Be sure to check out the Surfside Bar + Grill downstairs. Super relaxed place, great for meeting friends for drinks and excellent food. The Breakwater Burger is a real California classic, cooked perfectly, and super tasty with avocado and bacon. To balance out the burger order a green salad. After all this, perhaps one doesn't really need dessert but who can pass up bread pudding with vanilla ice cream? It was over the top, hot from the oven in the same dish it was baked in. Definitely plenty for two to share.
The staff couldn't have been nicer, and the ambiance of the restaurant was just right – not too crowded, not too noisy, and not overly lit. All in all, a very pleasant dinner well worth checking out the next time you are in Venice Beach.
Several parking lots are next to or nearby the hostel – offering overnight parking if needed (a bit pricey) – free street parking in nearby neighborhoods a few blocks to the east are a short walk away.
And a stay here shouldn't just be about the accommodation. Take advantage of some of their fun experiences offered including an 'only in LA Limo experience' (reasonably priced for what is offered) which includes a stretch limo ride to Hollywood, drinks and access to some swanky nightclubs. Also take advantage of the hostel's location to join a 'boardwalk bar crawl' (with a local expert) or if visiting on a Tuesday night – participate in the hostel sponsored 'foodie Tuesday'.
For more information about this highly recommended property for budget travelers, visit: www.samesun.com/backpackers-hostels/venice-beach
RESTAURANTS
C&O Trattoria is located at 31 Washington Blvd just up from the Venice Beach pier. Family owned – they originally opened in 1992. Well known for their garlic "knots" – little pieces of bread that they seemingly have no shortage of (during a late evening visit, they kept bringing us more of these from their kitchen). Serves excellent Italian food – large portions that are reasonably priced (in a town known for fairly pricey restaurants).
Outside semi covered seating (with heat lamps if needed). Great customer service – even sneaking in late night orders into the kitchen at closing time. They have two locations in the area, this one and also C&O Cucino (8 blocks east on Washington Blvd). Visit: www.candorestaurants.com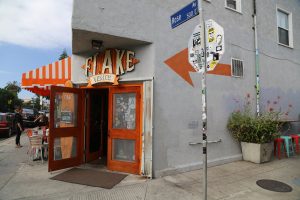 Flake or as we like to call it, 'Flake on Rose' is a cute little corner side restaurant (513 Rose Ave) featuring lots of enticing dishes that visually are simply easy to order! Founded in 2008, three generations of family work here. Great breakfast and lunch spot, especially with locals as a bit off the main tourist scene along the waterfront. A tasty whole wheat bagel and cream cheese is a good way to start the morning along with freshly squeezed orange juice that they contract from a local supplier. Their menu features cutting edge products such as organic hemp granola, acai and avocado.
One can eat inside or outside (limited seating in both areas). Celebrity actors and actresses take note; our favorite spot to enjoy their food is around the corner – several bar stools line a table fastened to the wall which perhaps enjoyed a previous life as a real surfboard – choose the bar stool immediately next to the planter box for optimal privacy. Often a well endowed 30's something crowd dines here. Also features a no Muslim ban policy (all are welcome policy). Visit: www.veniceflake.com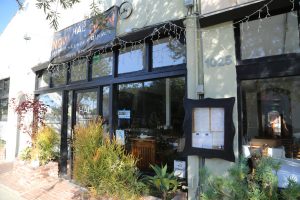 Hal's Bar & Grill is located in Venice Beach at 1349 Abbot Kinney Blvd. They serve tasting American style cuisine at rather reasonable prices. Nice plates include their Grilled Tuna Salad and a specialty, the Grilled Jidori Half Chicken. A 40-foot wood and stainless steel bar is served by knowledgeable cocktail staff – often serving up specialty drinks including their most well known one, the Liam's Cantaloupe Martini. Also good bread pudding. Based on the inauspicious entrance, the indoors is rather spacious and open. Visit: www.halsbarandgrill.com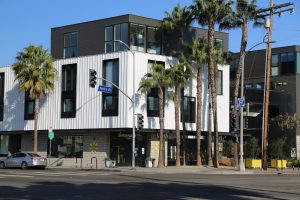 Lemonade Restaurant Venice is located on the corner of Abbott Kinney and Venice Blvd in the city of Venice (1661 Abbot Kinney Blvd). This restaurant combines the best of a cafeteria experience with a number of freshly prepared drinks including as the name indicated, Lemonade. The cafeteria food is anything but ordinary. They focus on fresh ingredients with a number of intriguing salads (they allow you to sample small portions before you decide which ones you want).
You pay per serving of each – as you walk down the line of food you tell the server what items you would like – start with salads, then go to a number of meats (also some nice Ahi tuna) and soups. Finally end with a choice of drinks. The inside is hip, clean and attracts a number of young people. They have nearly 15 locations in Los Angeles and more in other parts of Southern California. For more information visit: www.lemonadela.com
Rose Cafe is appropriately named – located at 220 Rose Ave in Venice near the corner of Hampton Drive. Features plenty of space both indoors and outdoors and semi outdoors (with heat lamps included for those sometimes cold evenings in the winter). Young, urban and hip – this place feels like it just opened and and feels like it caters to the crowds that descends upon the latest and greats culinary offering to open in town. Rather, this iconic restaurant has been here since 1979. Think about that – most restaurants fail within a year or two and to keep the space attractive and the food innovative and tasty and remain popular across generations is a remarkable feat.
Popular for breakfast and lunch but they also serve dinner. The focus is on locally sourced ingredients from Southern California – with an international influence on the cuisine. A bakery on site serves up freshly baked goods. Also a beer garden, a full market, a coffee bar and a lengthy cocktail bar. Nice to see an off dry cider on the drinks menu.
Dishes are served family style – great for sharing. A couple we highly recommend are the crispy brussel sprouts (with an Asian twist to this dish), the burrata and the cappellacci dei briganti. The oysters are very pricey. Also features a limited but highly eclectic and intriguing Internationally focused wine menu. And a spirited, inspired and innovative cocktail menu. Drink your heart out baby.
For more information and to secure a reservation, visit: www.rosecafevenice.com
Surfside Bar + Grill. Super relaxed place, great for meeting friends for drinks and excellent food. The Breakwater Burger is a real California classic, cooked perfectly, and super tasty with avocado and bacon. To balance out the burger order a green salad. After all this, perhaps one doesn't really need dessert but who can pass up bread pudding with vanilla ice cream? It was over the top, hot from the oven in the same dish it was baked in. Definitely plenty for two to share.
The staff couldn't have been nicer, and the ambiance of the restaurant was just right – not too crowded, not too noisy, and not overly lit. All in all, a very pleasant dinner well worth checking out the next time you are in Venice Beach. Visit: www.surfsidevenice.com

SHOP
Abbot Kiney Boulevard, (named after a local developer and the 'father' of Venice) is a street so famous it has its own website and PR firm. This blvd starts several blocks up from the beach in Venice, crosses the iconic Venice Blvd and ends at Washington Blvd. Abbot Kinney cuts through town at an odd angle compared to most of the rest of the streets here. The heart of Abbot Kinney Blvd is about a mile in length. This blvd has been called "the coolest block in America" by GQ.
Walking here one spots a mix of eclectic shops, antique stores, fashion shops and plenty of restaurants. And beautiful people. And unlike some parts of town the street attracts both locals and tourists who ply the sidewalks with their shopping prowess. Parking is along the boulevard or on side streets. Some blocks are more coveted then others judging by the serious lack of parking spaces at times.
Definitely worth parking the car and spending time walking up and down both sides of the street ducking into shops as interested. Or if you are up for a bit more exploring – use one of the bikes in the Bike Share parking sections along the blvd.
There are several special times to see and be seen on Abbot Kinney. The annual Abbot Kenney Festival is held on the last Sunday of September – essentially a mile long party with several hundred tented vendors, live music and activities for children. And the Abbot Kinney First Fridays turns part of the blvd into a street festival with music, food trucks and more people then normally frequent this busy blvd.
DO
Venice Canals are well worth visiting – this is a collection of 6 small canals all connected to each other. Charming homes and beautiful vegetation line their banks. Park outside of the canals and then walk along any of the canal walks (essentially sidewalks between the canal and the homes). Several homes have little canoes or row boats parked on their own little canal frontage.
The original Venice in northern Italy certainly has inspired a number of travelers. It inspired Abbot Kinney who built these canals in 1905 to try and recreate a part of Venice in California. The number of canals were much greater but over time they were filled in to build more homes. This wasn't the last time someone tried to recreate Venice. Simply look to the Venetian in Las Vegas! For more information visit the Venice Canals Association: www.venicecanalsassociation.org
Muscle Beach is located along the Venice Beach Boardwalk (although the original Muscle Beach is near the Santa Monica Pier to the north). Easily identifiable by the bright orange painted building along the boardwalk titled "Muscle Beach" and the concrete 'barbells' built into the walls of the Muscle Beach gym. A number of muscle building machines are located outdoors and often one can find well sculpted individuals in action during presumably what is their daily workout routine.
Actor and former California governor Arnold Schwarzenegger used to work out here. A muscle beach hall of fame (plaques lining the concrete walls) commemorates some of the more accomplished body builders who have trained here. A small stadium used for body building events is also located on site.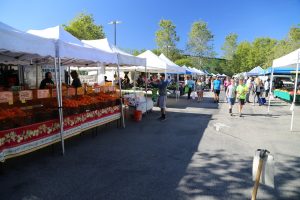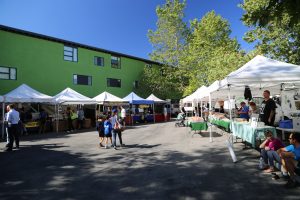 Venice Farmers' Market (not to be confused with the one in Venice Florida) is located at 500 Venice Blvd in Venice and is open Friday mornings from 7am until 11am. Parking is either in a lot right next to the market, on side streets or even in front of the market on Venice Blvd. Like other area farmer's markets – this medium sized market sees several vendors who frequent other Los Angeles Farmer's markets (including LaFunghi and the fruit vendor from Carpinteria).
There is a good selection of fruits and vegetables. Due to its location surrounded by residential neighborhoods – seems to cater to mostly locals. Nice to find an early am opening market. Market Size: Medium For more information visit: www.venicefarmersmarket.com

And to view live Venice Beach web cams, visit:click here