Hayden Cabin Museum
This is located in a bucolic spot along the edge of Mammoth Creek. The log cabin date from the 1920's and houses the Mammoth Museum. It was originally built as a hunting and fishing lodge – built by hand using local materials over a span of 10 years.
Contains a variety of exhibits including mining equipment, furnishing, a number of era photos and some art work. Admission is free although a $5 donation is encouraged.
Accessible via a smooth gravel road off of Old Mammoth Road; address: 5489 Sherwin Creek Road.
Knight water wheel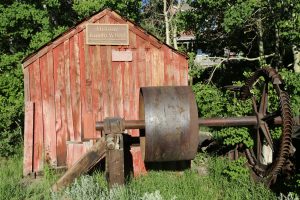 This water wheel catches your eye as you drive along Old Mammoth Road – seemingly out of place near all the modern condos and cabins in this area. This water wheel was built in the mid 1870's in the heart of California's gold rush country, Sutter Creek. Back then this massive wheel was not easily transported – it was moved from Sutter Creek to Mammoth lakes by mules and oxen.
At the time this particular design was quite innovative – it was more efficient then previous waterwheels and would generate more power with less water compared to previous models.
This wheel was used off an on in the local mining industry until eventually it was moved to it's current location in 1902. It's use was not yet over – the Wildasinn Hotel & Mammoth Camp Lodge used the old wheel to produce electricity in the 1920's. Today it no longer functions but serves as a visual reminder of the rich mining heritage of the Eastern Sierra Nevada.
Mill City Stampmill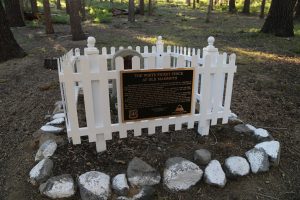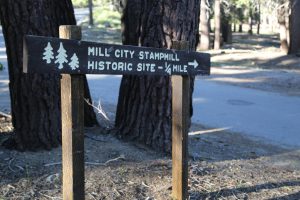 After you pass through the residential areas along Old Mammoth Road you will eventually reach a sign and pullout spot next to the road indicating a trail to the old town site of Mill City. This was one of three mining camps near Mammoth Lakes that were operational in the late 1870's and early 1880's. The trail is 1/4 in length (one way) and winds its way through the forest until it reaches the old mining site. Foundations of the old mill still exist along with a giant iron flywheel – a remnant of the original 20-stamp mill.
Next to the dirt pullout/parking spot is a grave serving as a sad and grim reminder of the hardships some of the early pioneers faced in these mountains. This is the gravesite of Julia Townsend – she died during the winter of 1882 (apparently this was a more severe winter then normal). Her body was not able to be buried until the ground thawed out. One of her dreams was to have lived in a home surrounded by a white picket fence. Her husband never acknowledged her wish during her lifetime, but after she died he had a white picket fence built around her gravesite.
Today the white picket fence remains – continuously being repaired.