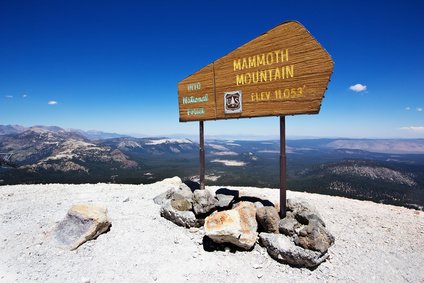 Mammoth Ski Resort is appropriately named. The size boggles the mind. It is arguably California's greatest ski resort. Offers a wide diversity of terrain for beginners to experts – many of the slopes, crevasses, moguls, and cornices are extremely challenging.
Mammoth's base elevation is about 7,800 feet and the resort rises to a top elevation of 11,053 which is the makes it the highest ski resort in California. There are many different access points and runs that you can enter Mammoth Ski Resort from. Full day lift prices keep rising meteorically. As of our latest update a full day lift ticket costs $149/person.
There is nothing quite as satisfying as rushing to the 11,053 point in Mammoth's high speed gondola, stepping out into the frozen still air, and looking across the tree lined snow covered valleys up the to jagged minarets in the distance. And then finding the adrenaline prior to racing down this long ski slope!
Mammoth Mountain Ski area was conceived way back in 1941 when Dave McCoy built a portable rope tow and put it where the snow was the best and deepest. Dave was a snow surveyor for the Los Angeles Department of Water and Power. Dave knew where to look for deep snow! His first chairlift was built in 1951 and Mammoth Mountain hasn't looked back since then.
Today they boast 28 lifts, 150 trails, and 3500 ski able acres. They also operate three day lodges and a variety of large snow grooming equipment. A ski run is even named after the founder, Dave. Appropriately it is called Dave's run. Watch out for the nasty cornice that appears in the middle of winter at the top of this run.
Dave sure picked a great spot for snow. Some years Mammoth Mountain sees up to 450+ inches of powder such as in the winter of 2016/2017 allowing the resort to stay open until July. One year they stayed open until August 13th!
Although later in his life, Dave retired from running Mammoth Mountain and skiing he remained active in his 100's (he was 104 years old at the time he died in early 2020). He was an avid photography enthusiast and sought out some of the most intriguing natural locations in the Eastern Sierra Nevada mountains for his photography. Dave certainly lived an active, adventurous and very long life.
We find it fascinating to note that the as you drive east on main street which turns into 203, you will find the snow depth in the winter drops off extremely dramatically. By the time you reach the 395 the snow depth is substantially less (despite a relatively short distance from Mammoth Lakes).
For more information about this world class ski resort call (888) 466-2666, or visit their website at: www.mammothmountain.com