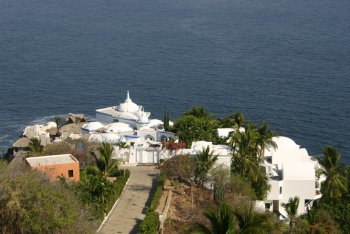 There are many hotels in Manzanillo. Most of the hotels listed below are located very close, if not actually on the beach. All hotels listed below are in the (333) code unless otherwise specified. Lastly, the prices tend to be generally higher during the busy season – from December to April.
Dave is always looking for hotel recommendations in Manzanillo across a diversity of budgets – if you have any comments regarding the hotels listed below or would like to suggest a hotel not listed here, please email him or use the contact form on this site under the About Us page.
Note: When calling phone numbers in Mexico from abroad you must first dial Mexico's country code, +52 and then the local number. To find your country's country code click here — "The Dave's Pick" – the green lightening bolt is used to indicate properties of superior quality and service.


Las Hadas Resort . A historical property in a gorgeous location with vistas of the nearby bay and marina. For more information or to make a reservation call: 4-00-00 or visit: www.brisas.com.mx the parent company of Las Hadas.
Sierra Radisson Plaza is located on the Santiago Peninsula near Las Hadas. Phone Number 3-20-00.
Caution: Dave has received some negative feedback about this hotel from travelers. Some of the rooms are now infested with mildew and smell bad. The plumbing leaves a bit to be desired. In addition the staff is short tempered and under staffed. Apparently Radisson no longer owns this hotel; it was taken over by bad management.
2nd update. Other travelers have emailed me about this hotel being quite noisy – and have confirmed that the rooms are dirty, the musky smells, & that the bath tub & light fixtures were not working properly.
Hotel Villas de Audiencia is more moderately priced then the above hotels. It is also located on the Santiago Peninsula. All the villas come with kitchens and air conditioning. The resort also has a swimming pool, a restaurant and a bar. Phone Number 3-08-61.
Hotel Posada is located closer to town then the hotels on Santiago Peninsula. It is located at Lazaro Cardenas 201 on Playa Azul. This hotel is in a good location for snorkeling and windsurfing.
Karima Palace is a 5 star resort & comes highly recommended to me. Dates from around 2000 and contains 324 rooms. They offer all inclusive packages as well as the opportunity to have a time share.
Careyes, formerly called The Bel Air is a luxury resort situated in a beautiful location. Originally built in the late 1960s, this still family owned property features 60 rooms, some with private balconies and Jacuzzis. A restaurant and bar if often used for live entertainment.
Features a full service health club, tennis courts, an equestrian center, yacht moorings, a very nice pool, and much more. This hotel is more secluded then the ones around Manzanillo. Not anywhere near the city, this property, is located about an hour north of Manzanillo airport which is already about 30 miles north of town. Phone: 800-457-7676. Visit: www.careyes.com