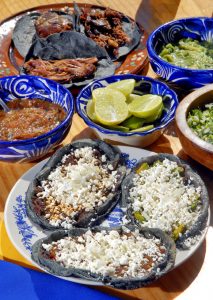 Most of the fancier restaurants are located on or quite close to beaches.
There is also a good selection of restaurants in or near the center of town surrounding the primary zocalo (public square). Most of the good restaurants will serve bottled water instead of tap water. However, I recommend asking if they serve bottled water at all restaurants you eat at. Or simply drink beer.
Restaurant Bar Roca del Mar is located on the east side of the zocalo. They serve very good seafood; one of their better dishes is the "comida corrida" which includes rice, shrimp, and dessert. This restaurant is open every day from 7am until 10:30pm.
Bistro Marina formerly L'Recif is serves a variety of artfully prepared foods. A bit pricey. Enjoy a champagne brunch served on Sundays during the winter months. They are closed from September 15 through the 30th. This restaurant is located in Vida del Mar which is located along the road to Naranjo. Great views of the marina and harbor. Phone: 306-24.
Restaurant Chantilly is a popular corner restaurant located on the south side of the Zocalo. Its open every day from 7am until 10pm every day of the entire week, excepting Saturday. Phone: (314) 332-0194
Chef Para LlevArt! is a popular and excellent little sidewalk bistro serving a variety of tasty dishes.
El Vaquero Restaurant was founded in 1980. Today they have two locations in the area. Their focus is on ribs and other meats. They also serve hearty charcoal broiled steaks. 2.2 pounds of beef can even be ordered in one dish! It is located at the intersection of the Carretera Manzanillo-Santiago road and the road to Las Brisas. Phone: 316-54.Visit:
Restaurant Emperador is located in the Hotel Emperador at Davalos 69. This location is about a half block west of the zocalo. They serve good food at very reasonable prices. They are open every day from 7am until 10pm.
El Patio is located at the Hotel Colonial, one block south of the zocalo on the corner of Avenida Mexico and Bocanegra. It is open Monday to Saturday from 8am until 11pm. Features live music in the afternoon and evening.
Kitzia's serves a nice dinner in candle lit conditions, with fresh flowers at your table in the midst of a beautiful garden setting. Reservations are suggested. They are located on the airport road. Phone: 314-14.
Legazpi is an elegant restaurant. The food is French style but prepared with Mexican ingredients. They are closed Sundays, Mondays, Wednesdays, and Fridays. Reservations are a must. This is located in the Las Hadas Hotel. See our notes about Las Hadas in this guide for more information about this magical resort. Phone: 300-00.
Ly Chee has about 20 tables and serves Cantonese food. From the restaurant you have an excellent view of the activities of the port. They are located at 397 Calzada Ninos Heroes. Phone: 211-03.
Marisco Carlos is a popular seafood restaurant. Fresh. Excellent seafood soups!
Rosalba's offers authentic Mexican food. Most dishes are served with homemade tortillas. Phone: 304-88.
Juanito's is a favorite hangout for Americans who are watching sports events. The original restaurant was founded in 1976 – today they have two locations in Manzanillo. They serve a mix of American as well as Mexican food. As of our latest update to our notes, no credit cards are accepted. Phone: 313-88. Visit: www.juanitos.com
Marbella is a nice restaurant except for the lack of air conditioning. They serve delicous paella and roast lamb. They are located at the Parador Marbella about 6 miles on the Carretera Manzanillo Santiago across the street from the Social Security hospital. Phone: 311-03.