Lodging in Mendoza ranges from very basic to high end hotels such as the Grand Hyatt and the Sheraton. Pricing is typically more expensive closer to the center of town and near the Plaza del Armas.
Lodging is really quite spread out throughout the city and there no specific 'hotel' district.
Aires de Montana is a destination spa located in the Andes about an hour from Mendoza. Lodging is also available on site – elevation is 1800 meters.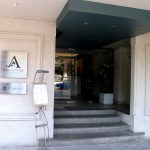 Argentino Hotel is located at Espejo 455 just across from the central park not far from the Grand Hyatt Hotel. It has one of the best locations in town. Taxis drop off passengers curbside. A small pool is located inside a courtyard. Ask for the rooms overlooking the main plaza although the rooms in the back without the view are a bit quieter as they are away from the street.
Website: www.argentino-hotel.com

Hospedaje Alem is located at 567 Alem just a few minutes walk from the central bus station. At the time of this review, a double room runs from 2000 to 3000 pesos per night with discounts given for shared accommodation in the main building. This Hospedaje is located about 10 blocks from the main square and will take about 15 to 25 minutes to walk to the center of town.
This district is not quite as nice as the center of town and the lower price reflects this. The quietest rooms are all the way in the back of the courtyard away from the main street. Rooms are simply furnished but clean. Heaters may or may not work but there are plenty of blankets. An enclosed BBQ grill is available in the back courtyard, but you would have to ask the owner for permission to use this. No smoking signs appear in the main building but the owners and her friends smoke there anyways! This Hospedaje provides a good low budget stay. Phone: (0261) 423-7451
Hotel Carollo is a three star hotel located at 25 de Mayo 1184 in Mendoza. The rooms are good size, wifi is available and breakfast is included in the price. A swimming pool and gardens are also available. You can arrange tours and other local excursions from their main lobby. Phone: (54 261) 423-5666 Visit: www.hotelcarollo.com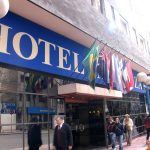 Hotel Mendoza is a large multi storied hotel centrally located at Ave Espana 1200 in Mendoza. This is one of the higher end hotels in Mendoza – they have a spa and health center including a Jacuzzi, sauna and can pre-arrange massage services. El Mirador restaurant is located on site. Phone: (54 261) 405-1405Website: www.hotelmendoza.com


Hotel Puerta del Sol is a three star multi story hotel located at Garibaldi 82 in Mendoza. They have standard rooms as well as apartments for larger families and groups.
Dining facilities are located on site. Phone: (0261) 420-4820 Website: www.hotelpuertadelsol.com.ar

Park Hyatt Mendoza is very centrally located just off of the main Plaza del Armas. This is a full service high quality hotel with excellent restaurants, bar, wine bar, shops, and full service massage and spa facilities. We used their spa located on the second floor – the spa facilities are self contained for men and women and contain a Jacuzzi, steam room, sauna, and changing areas including lockers.
Our experience in the actual Jacuzzi was a rather short one as large naked fat men kept waddling in and out. We however, had the steam and sauna rooms all to ourselves. If you opt for a massage you have full access to the spa and pool areas both before and after your massage. We chose to have a Thai massage which ended up being mostly a Swedish massage and quite light.
Several Thai people are on staff so if you are looking for a stronger massage request their services at a price slightly above the price for the locals who give their version of a "thai massage".
Often pre-scheduled events are held weekly – pick up a printed agenda from the main desk. A large casino is located in the back of the building (one can also enter down a long hallway from the main lobby). You will have to go through metal detectors and leave any bags or cameras with the casino receptionist.
Also try the delicious Bistro M restaurant for either lunch or dinner located in the main lobby. More information about this restaurant is found on our Restaurant Page. Phone: (54 261) 441 1234
Website: http://mendoza.park.hyatt.com/hyatt/hotels/index.jsp
Hostel Lao is a very nice clean hostel located minutes from the central bus station on Rioja 771 – not quite half way between the bus station and the central plaza (5 blocks from the bus station). It will take about 10 – 15 minutes to walk here from the bus station. They have an enclosed courtyard with gate.
Be sure to reserve this hostel well ahead of time as it is often very full due to its popularity and recommendations among backpackers. It is one of the hippest places to stay in Mendoza for young travelers. They have hammocks in their small nice courtyard in the back – also a small pool and a fuzzball table. They can reserve most everything you need in the Mendoza area from wine tasting to tours of the Andes. Phone: (0054)-261-4380454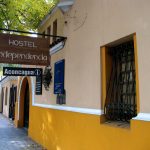 Mi Independencia Hostel is very centrally located just a block or two from the main Plaza del Armas. It is located in an old historical building. This is a very nice clean hostel – large gate in front ensures things remain safe. They can coordinate biking, trekking and other trips. One of the of few hostels with a wine bar inside! Sometimes they offer a discount for multiple night stays. Phone: (54 0261) 423-1806.
Plaza Italia – A Bed & Breakfast. No review yet, see website for further information: www.plazaitalia.net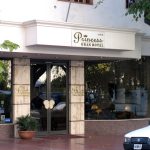 Princess Gran Hotel is rated three stars and is located at 25 De Mayo 1168. A shared lounge area and walkway with Hotel Carollo is located directly next door. Front facing rooms face the street and may be a little more nosier than the rooms in the back. Free breakfast is included and a small pool is located on site. Phone: (54 261) 423-5666 Website: www.hotelprincess.com.ar


San Martin Hotel is a very nice hotel & spa located at Ada. San Martin 435. The spa is indoors and includes a Jacuzzi and other hot water baths – massages also given. A salon is on site as well as their smartly named Malbec Restaurant. Phone: (02627) 420400 Website: www.sanmartinhotelspa.com

Termas Cachueta is a full service hotel, thermal bath, and spa facility. They are located about 40 minutes from Mendoza at Ruta Pcial 82 Km 38 in the Lujan de Cuyo district and reservations are required. They also have a wide variety of massage services. Consider a full day's getaway including lunch and transfer to and from your hotel. Visit: www.termascacheuta.com for more information.
Tiempo de Spa is located at Granadero 1245. Phone: 420-3839 Website: www.tiempodespa.com.ar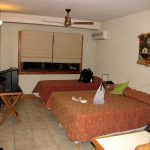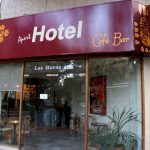 Xumac Apart Hotel is one of the best deals in town for the money. It is located at Av. Mitre 1490 at the corner of Av. Las Heras. A double room runs about $40 per night and includes breakfast (bread and drinks) and free WiFi. The rooms are large and the bathrooms are clean.
Excellent heating is in each room. This hotel is located about 3 blocks from the main plaza which makes it very centrally located. A bellman has to press button to let you in and out. Security is very good downstairs. You can leave your bags at the main desk if your flight or bus trip is after their morning check out time. Multiple story hotel – when we visited their elevator produced an exhilarating bouncy ride unlike any elevator ride we've experienced before! Corner location. Apartments also available for rent. Phone: (54-261) 4204704 Visit: www.xumecmendoza.com.ar