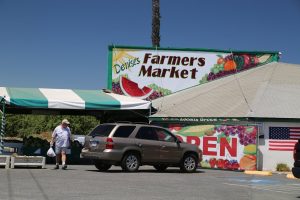 "Fruiting" in the summertime in the Modesto area is a favorite past-time of mine. This usually involves driving from fruit stand to fruit stand pricing and picking out favorite fruits. I only do this in the afternoon because part of the experience is fruiting in the hottest part of the day. Temperatures in the 100's are ideal for this activity.
This section explains the different kinds of "fruiting", gives information for how to "fruit" and lastly provides names and addresses of several fruit stands in the Modesto area.
In my fruiting experience, I have found that there are 4 different types of fruit stands, the Permanent fruit stand, the Seasonal fruit stand, the U-Pick fruit stand, and the Backyard grown front of the house self help fruit stand.
Permanent fruit stand is usually open year round and is housed in a permanent structure. They often are larger than the seasonal and backyard fruit stands. Typically they will have numerous temporary signs along the sides of the road advertising the types of fruit in season. These signs can be easily removed and changed to reflect the fruit in season. I have found the quality of fruit really varies in these types of fruit stands.
Seasonal fruit stand is only open during part of the year – it may only sell one type of fruit and it would only be open when that particular fruit is in season. For example there are several seasonal fruit stands selling only strawberries in the Modesto area. Usually seasonal fruit stands that sell a variety of fruit are only open in the summer time months – usually from June through the end of September. Seasonal fruit stands are not backyard fruit stands – see below. They usually sell a larger volume of fruit compared to the backyard stands and they typically have a large structure from which they sell from. Signage for the seasonal fruit stand can be just as prominent and numerous along the roadside as that of the permanent fruit stands.
U-Pick fruit stands allow you to actually pick the fruit by hand. Most U-Pick fruit stands will have either buckets or boxes and gloves that you can use when actually picking the fruit. If you are planning on visiting a U-Pick fruit stand you should seriously consider bringing your own boxes – because often U-Pick stands will not let you take their boxes. U-Pick stands may also have pre-picked fruit that you can buy.
Backyard grown fruit stands are usually found in front of people's private homes. These types of stands are characterized by their low production of fruit, usually are a small hand made stand or table situated in the front of the house, and have little signage. Signage is usually a small hand made sign taped to a telephone pole or other structure – they usually have only 1 or 2 signs present. They often but not always are located in residential neighborhoods.
With the exception of the U-pick stand listed below, the following fruit stands are all located within about 45 minutes or less from downtown Modesto. The author has visited all of these. More will be added over time.
LOCAL FARMS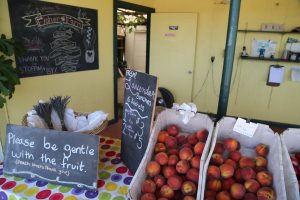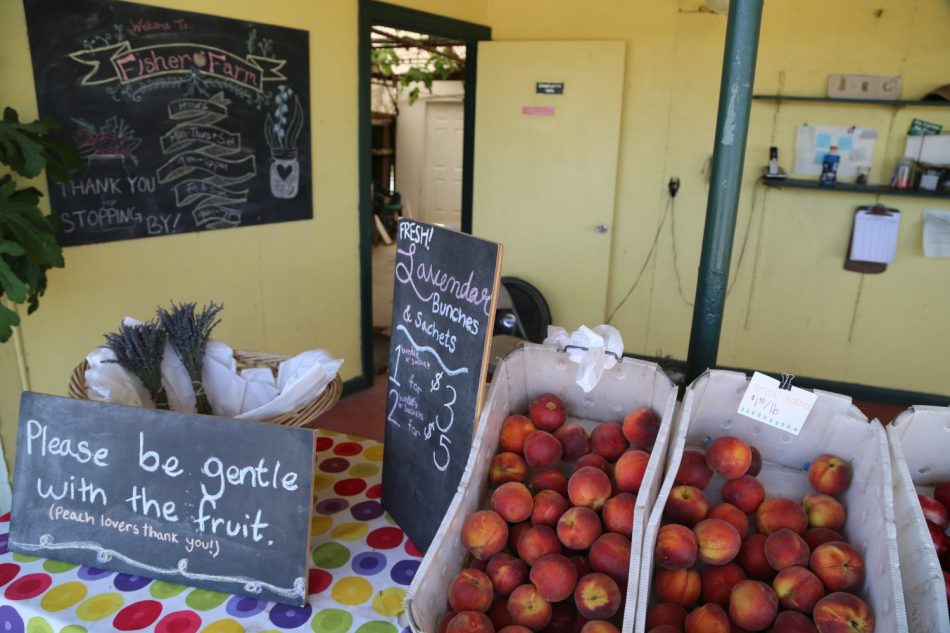 C R Fisher Farm – this is one of my favorites from mid May through mid September. This stand falls under the "seasonal" category. It is located north of Modesto on Highway 120 (17811 E. Highway 120) east bound near the intersection of French Camp Road at Highway 120 in Ripon. Its on the north side of the road. This wonderful family owned ranch makes very little effort at marketing itself along this very busy Yosemite bound highway – this is clearly evident in the absence of temporary signage along the roadway. Only a faded sign marks this stand. However, often it is very crowded. When you have some of the best fruit in the area you really don't need any signs to advertise. Word of mouth does wonders for business. Their nectarines are incredible and they have many different varieties. Be sure to pick up a "fruit sheet" – this lists the approximate dates when their fruit is ripe. They are open 7 days a week during the "in season" For more information please call: (209) 982.4184
Fruit Yard Fruit Stand is located at 7948 Yosemite Boulevard. This is a permanent fruit stand – although the best time for fresh local fruit is in the summer months, they do sell products year round. Melons and nectarines are usually good here. In addition the Fruit Yard Restaurant is located next to the fruit stand (same parking lot). For more information call (209) 577-3093
Natures Country Corner is located in a permanent structure and is located at the southwest corner of Jack Tone Road and Highway 120 in Manteca (address: 18033 Jack Tone Road). I have found this fruit stand has a great selection of melons during the summer months.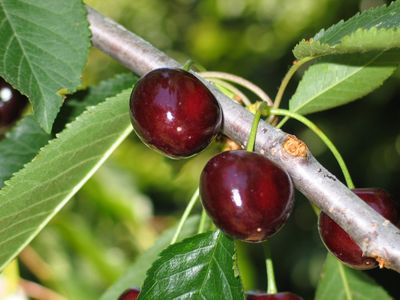 Baba Bazaar (formerly Gico Farms) is between CR Fisher and Natures Country Corner fruit farms at 16569 E State Highway 120 (north side of the road just west of French Camp Road). They often have a large supply of melons. Call (209) 599-2171
An excellent seasonal fruit stand run by an Amish family sells nectarines for only a few weeks of the year. Their prices are very good and its basically just fruit available in the back of a truck. It is located off of Hatch Road – I have only been there once. When I next visit this stand I will provide detailed instructions as to how to find this.
Additional fruit stands are available off of parts of Oakdale Road and north McHenry. If you have a favorite fruit stand in the Modesto area please email details to dave@pon.net
Reader Recommended Fruit Stands
– Fidels is on McHenry a few miles before getting to Escalon traveling north.
– Rancho Farms has excellent prices and the fruit is delicious. It is located about a mile or so outside of Escalon on route 120 going west. It is a small fruit stand on the north side of the road run by the owners, the Ruiz family.
The above two are recommendations from Jeanne in Modesto:
General U-pick Fruit Links
www.pickyourown.org list of Upick farms in the USA
www.harvest4you.com list of Upick farms in Bentwood California