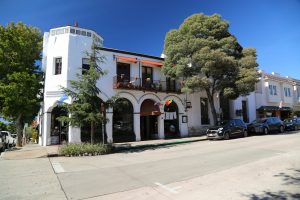 The prices listed below range from the lowest (the off season rates/single person – 1 room) to the highest (holidays and weekends /double person – one room). Properties in Carmel tend to be a bit more expensive then those in Monterey. Make sure you ask if a minimum stay is required as most of these hotels do require that you stay at their place a minimum number of days. Carmel is generally a pet friendly town – with a number of the hotels offering pet friendly rooms. Carmel is a small town and most of the properties listed below are within a short walk of the center of town.
Prices subject to change without notice.
Unless otherwise noted all phone numbers are in the 831 area code.
Adobe Inn-Carmel is located 2 blocks south off of Ocean Ave at Dolores and 8th Steet. They are rated 4 stars and their prices range from $185 to $525. They have 20 rooms. Two night minimum stay is required.

Winter rates are given. Good concierge services. Phone 624-1261. www.adobeinn.com

Best Western Carmel Bay View Inn is located at Junipero Street, between 5th and 6th streets. They are rated 3 stars and their prices range from $149 to $299. They have 58 rooms. PhoneR 624-1831. www.carmelbayviewinn.com
Best Western Carmel Mission Inn is located at 3655 Rio Road. They are rated 3 stars and their prices range from $109 to $439. They have 165 rooms. Phone 624-1841. Visit: www.carmelmissioninn.com
Best Western Green Lantern Inn is located at 7th and Cassanova streets. This is a bed and breakfast. They are rated 2 stars and their prices range from $69 to $359. They have 19 rooms and a two night minimum stay is required. Phone 624-4392. Visit: www.greenlanterninn.com
Best Western Carmel Townhouse Lodge is located within walking distance of the center of Carmel and about a 10 minute walk to Carmel Beach. Breakfast is a complimentary buffet. A seasonal outdoor pool is located on site. Quiet neighborhood location. Visit: www.carmelbestwestern.com



Briarwood Inn is located at San Carlos Street and 4th Avenue. They are rated 3 stars and their prices range from $120 to $235. They have 12 rooms and a 2 night minimum stay is required. Phone 626-9056. www.briarwood-inn-carmel.com




Candle Light Inn is 2 blocks from the ocean at San Carlos Street between 4th and 5th Avenues. They are rated 3 stars and their prices range from $189 to $279. They have 19 rooms and a 2 night minimum stay is required. Phone 624-6451. Visit: www.candlelightinncarmel.com




Carmel Country Inn is located at Dolores and 3rd Ave. They are rated 3 stars and they are a bed and breakfast. Their prices range from $165 to $325. They have 12 rooms and a 2 night minimum stay is required. Phone 625-3263. www.carmelcountryinn.com
Carmel Fireplace Inn is located at San Carlos Street and 4th Ave. They are rated 2 stars and their prices range from $125 to $285. They have 14 rooms and a 2 night minimum stay is required. Phone 624-4862. www.fireplaceinncarmel.com
Carmel Garden Inn is located at 4th Ave and Torres Street. They are rated 3 stars and they are a bed and breakfast. Their prices range from $150 to $245. They have 9 rooms and a 2 night minimum stay is required. They have a very nice garden area. Phone 624-6942. Visit: www.carmelgardeninn.com
Carmel Lodge is located just over a half mile from Carmel Beach. Pet friendly hotel. Free wifi and continental breakfast included with every stay. 38 guest rooms available. Visit: www.carmellodge.com




Carmel Mission Inn is located about 10 minutes from central Carmel (by car); situtated along Highway 1 next to the Carmel Crossroads Shopping Center. A fifties feel meets contemporary. Almost a little Palm Springsish. Excellent value for the location. Visit: www.carmelmissioninn.com

Carmel Oaks Inn is located at 5th and Mission Streets. They are rated 3 stars and their prices range from $69 to $249. They have 17 rooms and a 2 night minimum stay is required. Phone 624-5547. www.carmeloaksinn.com
Carmel River Inn is located one mile north of the Carmel River Bridge at Oliver Road. They are rated 2 stars and their prices range from $88 to $135. They have 43 rooms and a 2 night minimum stay is required. Phone 624-1575. Visit: www.carmelriverinn.com
Carmel Sands Lodge is located at San Carlos and 5th Ave. They are rated 3 stars and their prices range from $75 to $199. They have 38 rooms in two stories. A 2 night minimum stay is required.Phone 624-1255. www.carmellodge.com
Carmel Studio Lodge is located at Junipero Street and 5th Ave. They are rated 3 stars and their prices range from $275to $575. They have 19 rooms and a 2 night minimum stay is required. Phone 624-8515.
Carmel Tradewinds Inn is located at Mission Street and 3rd Ave. They are rated 2 stars and their prices range from $299 to $399. They have 27 rooms and a 2 night stay is the minimum requirement. Phone 624-2776. www.tradewindscarmel.com
Carmel Valley Ranch Wyndham Luxury Resort is rated 4 stars and is very luxurious. They are located 6 miles east of Highway 1 at One Old Ranch Road. They have 100 rooms, most overlooking the golf course and a nice valley. Their prices range from $199 to $399. Phone 625-9500. www.carmelvalleyranch.com
Carmel Village Inn is located at Ocean Ave and Junipero Street. They are rated 3 stars and their prices range from $129 to $199. They have 34 rooms in 2 stories. Phone 624-3864. Visit: www.carmelvillageinn.com
Carmel Wayfarer Inn was originally built in 1929 as an apartment complex. Since been converted into this inn – the central courtyard garden is a prominent feature of a stay here. Good size suites – pet friendly. Visit: www.carmelbytheseawayfarerinn.com




Carriage House Inn is located at Junipero Street between 7th and 8th Aves. This is a very nice bed and breakfast rated 4 stars. They are located one block from Clint Eastwood's restaurant. Their prices range from $229 to $350. They have 13 rooms. Phone 625-2585. Visit: www.carriagehouseinncarmel.com
Coachmen's Inn is located on San Carlos Street between 7th and 8th Aves. They are rated 2 stars and their prices range from $135 to $425. They have 30 rooms, 3 stories. Phone 624-6421. www.coachmansinn.com
Colonial Terrace Inn is located at San Antonio between 12th and 13th Avenues. They are rated 3 stars and their prices range from $149 to $249. Boutique Bed and Breakfast originally opened in 1930 – features 26 guest rooms. A charming stay. Phone 624-2741. Visit: www.thecolonialterrace.com
Cypress Inn is located at Lincoln Street and 7th Ave. They are rated 3 stars and their prices range from $125 to $550. They have 33 rooms and a 2 night minimum stay is required. They have a garden courtyard. Phone 624-3871. www.cypress-inn.com



Highlands Inn Park Hyatt Hotel is located 4 miles south of Carmel on Highway one in Carmel Highlands. This is a very fancy resort rated 4 stars. They have 142 rooms with outstanding views of the ocean and other scenery. Prices range from $215 to $445. Phone 624-3801.
Hofsas House is located at San Carlos Street between 3rd and 4th Ave. The property features 38 rooms in a quiet residential neighborhood – a short walk from the center of town. Family owned for more than 60 years. A real Bavarian feel to a stay here. Pool on site. Their prices range from $95 to $250. Phone 624-2745. www.hofsashouse.com and read a review of the Hosfas House on our site by long time contributor Cathy Sweeney.


Fireplace Inn is only half a mile from Carmel Beach and a short walk to the center of Carmel. Features 18 units along with a quiet interior garden. All the rooms except one have their own fireplace. A small continental breakfast is included with every stay. Visit: www.fireplaceinncarmel.com



Horizon Inn and Ocean View Lodge is located 4 blocks north from Ocean Ave at Junipero Street and 3rd Avenue. They are rated 3 stars and their prices range from $145 to $275. They have 26 rooms and there is a minimum 2 night stay. Phone 624-5327. www.horizoninncarmel.com
Hotel Carmel was formerly known as the Dolphin Inn. Features 27 rooms – cottage-style architecture (newly renovated). Also a private garden courtyard. Boutique at its best. A nightly wine reception for guests is a plus. Easy walking distance to nearby restaurants and shops. Carmel is a walking town! Visit: www.thehotelcarmel.com


La Playa Hotel is located at Camino Real at 8th Ave. They are rated 3 stars and they are an historic hotel. Their prices range from $175 to $450. They have 80 rooms and a 2 night stay is the minimum requirement. Phone 624-6476. www.laplayahotel.com
Lamplighter Inn and Sunset House is located south off of Ocean Street at Camino Real. They are rated 3 stars and are a bed and breakfast. Their prices range from $190 to $230. They have 4 rooms, 2 stories. A 2 night minimum stay is required. Phone 624-4884. Visit: www.carmellamplighter.com
Lobos Lodge is located at Ocean Ave at Monte Verde. They are rated 3 stars and their prices range from $99 to $195. They have 30 rooms and a 2 night minimum stay. Phone 624-3874. www.loboslodge.com
Normandy Inn is located on Ocean Ave between Monte Verde and Cassanova. They are rated 3 stars and their prices range from $98 to $299. They have 48 rooms. Phone 624-3825. www.normandyinncarmel.com
Pine Inn is a 3 star historic hotel located at Ocean Ave between Lincoln and Monte Verde. Their prices range from $135 to $270. They have 47 rooms. This hotel was built in 1889 and is still quite elegant. Phone 624-3851. www.pineinn.com
Quail Lodge Resort and Golf Club. When I think of Carmel for lodging I think of this place. It is rated 4 stars and is quite luxurious. It is a resort complex located at 8205 Valley Greens Drive. Their prices range from $415 to $835. Phone 624-1581. www.quaillodge.com
Svendsgaard's is located at San Carlos Street and 4th Avenue. They are rated 3 stars and their prices range from $169 to $279. They have 34 rooms and a 2 night minimum stay is required. Phone 624-1511. Visit: www.svendsgaardsinncarmel.com




The Hideaway is a bed and breakfast located at Junipero Street between 7th and 8th Aves. They have 24 rooms in 2 stories. Their prices range from $135 to $250. Phone 625-5222. www.hideawaycarmel.com
The Lodge at Pebble Beach is located merely 10 minutes (by car) from central Carmel. This venerable property was first built in 1919. Luxury meets nature in the refined air of this part of California. Visits are for discerning or distinguished guests. Located along the toll 17-mile drive, a stop here is like silk for the body – a pleasure of pampering that plays to your palate along with your visual and physical needs. Renown spa on site. Choose from a variety of fine dining establishments – from casual to high end.

The Stillwater Bar & Grill with outside seating on a clear day is a stunning place to be seen and see – overlooking the 18th hole of Pebble Beach Golf Course with the bay vistas beyond. Premium shopping on site. Features 161 luxury rooms. Very popular when certain events are in town including some of the premiere golf tournaments and the annual Pebble Beach Food and Wine gathering for oenophiles, annually in April. Visit: www.pebblebeach.com
The Village Inn is located in downtown Carmel next to Devendorf Park and the shops at the Carmel Plaza. Part of the tiny group of Monterey Signature hotels with additional properties in Monterey and Pacific Grove. Decent size rooms, clean and well furnished. Some rooms have fireplaces. Visit: www.carmelvillageinn.com


Tickle Pink Inn has an interesting name and is located at 155 Highland Drive. It is rated 4 stars and their prices range from $269 to $529. They have 35 rooms and there is a 2 night minimum stay required. Phone 624-1244. www.ticklepinkinn.com
Wayside Inn is located at Mission Street and 7th Avenue. They are rated 3 stars and their prices range from $165 to $305. They have 22 rooms and a 2 night stay is required. Phone 624-5336. www.waysideinncarmel.com