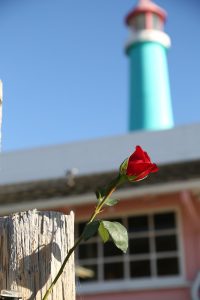 Monterey has a great selection of restaurants. This city is known for excellent seafood and this is easy to see, considering Monterey is situated on the coast. If these restaurants have been rated we will be sure to include a rating.
The prices listed below are for dinner only. Most of the good restaurants in the town of Monterey are located at Fisherman's Wharf or along certain sections of Cannery Row or in the downtown area.
Prices subject to change without notice.
Unless otherwise noted all phone numbers are in the 831 area code.

Abalonetti Bar & Grill is located at 57 Fisherman's Wharf. They are rated 2 stars and serve steak and seafood. They are open from 11:00am to 10:30pm every day. On Saturdays they are open until 11pm. Reservations are accepted and casual dress is featured. They have a good selection of wines and a full bar. Prices range from $11 to $26 Phone 373-1851. www.abalonetti.com


Alvarado Fish & Steakhouse is located at 481 Alvarado St in downtown Monterey. Small restaurant – parking is available on nearby streets or if staying in the downtown area, within easy walking distance of several nearby hotels. Often listed on Groupon so you can get some deals. As their name indicates focus is on steaks and ocean fare.



Bay Cafe & Cantina is located right next to the Monterey Bay Lodge, east of downtown. Open for both breakfast and lunch offering Mexican and American fare. Sometimes offers discounts to locals and military. Located only about 2 blocks from the beach. Visit: www.baycafeandcantina.com



Big Fish Grill is located all the way at the end of Fisherman's Wharf. Can't miss it if you walk the entire length of this pier – especially with their colorful and inviting exterior. ATM is located near the entrance should you find yourself running short of cash. A public viewing deck is accessible via the exterior stairway near the main entrance. Open for lunch and dinner. Popular stop for cocktails as well. Reasonably priced food. Visit: www.bigfishmonterey.com



Bubba Gump Shrimp Company ranges in price from $6-$15. Located along Cannery Row this is not only a restaurant but also a shop that sells a variety of 'Gump' merchandise.




Cafe Fina is located at 47 Fisherman's Wharf. They are rated 2 stars and serve seafood. They are open from 11:30am until 2:30pm and then again from 5pm until 10pm. Reservations are suggested and dress is casual. They also have take out. Dinner prices range from $15 to $25. Phone 372-5200. www.cafefina.com
Cibo Restaurant features Italian cuisine in an atmosphere that is a cross between elegant and casual. The name "Cibo" means food in Italian and a dining experience here is a fusion between art, live jazz and food. Founded 1990. Outdoor patio dining also available weather permitting. Wines are from California and Italy. Visit: www.cibo.com



Crabhouse Seafood Grill is located about halfway down the pier on Monterey's Fisherman's Wharf. Boasts beautiful views of the surrounding bay, boats and sometimes marine life. Outdoor dining is available on their balcony. Features locally caught seafood – open for lunch and dinner. Nice place to also enjoy a cocktail with views like this!



Domenico's on the Wharf is an excellent restaurant located at 50 Fisherman's Wharf (almost on the end of the wharf) overlooking the bay. They serve seafood and are rated 3 stars. They are open from 11:30am until 2:30pm and then again from 4pm until 9:30pm. Their prices range from $15 to $30. Reservations are suggested and dress is casual.

During a recent visit dining felt old school – like walking back in time a bit – not a millennial restaurant. All American seafood in a pretty setting. Excellent service. Phone 372-3655. www.domenicosmonterey.com


El Torito is located at 600 Cannery Row – features plenty of parking. This California based chain of restaurants currently operates 50 in the state including this one (many are in the Los Angeles area). Taco Tuesday is especially popular as is their Sunday brunch. A good diversity of cocktails. Happy hour is every day from 3pm to 7pm.




First Awakenings is located in the American Tin Cannery Outlets at 125 Ocean View Blvd. Ideal location for starting your day prior to visiting the Monterey Bay Aquarium – due to it's very close proximity to the aquarium. Features indoor and outdoor patio seating.

Note that their second location is in Salinas. First restaurant opened in 1993. Known for hearty American breakfasts, eggs benedict, pancakes and omelettes. Large portions. During a recent visit we found the service exceptional. Good sized portions for the size but found the quality not to much better then average. For more information visit: www.firstawakenings.net
Fish Hopper is located at 700 Cannery Row (approximately in the middle of Cannery Row in an excellent location overlooking the bay). Their focus is on seafood. They are open from 11:30am until 10pm. Casual dress. Take out is offered. Can be a bit touristy.

During our one visit, we were not impressed with the quality of alcohol used for the cocktails. One of the worst steamed artichokes we have ever had – under cooked covered in some nasty sweet sauce. But the views are very good on a clear day. Prices range from $15 to $30. www.fishhopper.com
Jack's Restaurant is located within a very short walk of Fisherman's Wharf and is a part of the Portola Hotel and Spa in downtown Monterey. Serves fresh seafood and uses local ingredients. A part of the Monterey Bay Seafood Watch® program. Known for excellent breakfast. Visit: www.portolahotel.com/jacks-restaurant-lounge



Krua Thai Restaurant is located at 731 Munras Ave # A (the southern part of Munras) in a very dated older looking building.

Offers a number of soups and salads as well as their signature dishes. During a recent visit we found the food average or slightly above average. Decent mango sticky rice when in season. Refills given on fountain drinks. For more information visit: www.kruathaimonterey.com
Monterey Crepe Company is located at 321 Alvarado St. Watch the crepe's made in front of you while you wait. Good selection of hot drinks. Weather permitting, outdoor fenced off seating is available. Good place to people watch.




Sandbar & Grill is located at #9 Wharf 2. They are rated 2 stars and they serve seafood. They have take out and dress is casual. The restaurant overlooks the marina. Prices range from $18 to $41. Phone 373-2818.
Sardine Factory is located at 701 Wave Street. This is Monterey's only 4 star restaurant. They serve steak and seafood. Reservations are required and dress is semi-formal. They are open 5pm until 10:30pm. Prices range from $19 to $40. Phone 373-3775. www.sardinefactory.com
Sly McFly's is centrally located at 700 Cannery Row. Is a casual restaurant that is open for lunch and dinner – in the heart of the 'action' of Cannery Row.

Mostly known for their live music in the evenings featuring jazz and blues. Feels more like a bar then a restaurant. Decent selection of beers.


Whaling Station Prime Steaks & Seafood is located at 763 Wave Street near Cannery Row. They are rated 3 stars and serve steak dishes. They are open from 5pm until 9:30pm. Reservations are suggested and dress is casual. The atmosphere is Victorian. Prices range from $17 to $30. Phone 373-3778. www.whalingstation.net
Wild Plum Cafe & Bistro is located in a fairly non descript old building at 731 Munras Ave. Located close to historic downtown but not quite there – so is somewhat off main tourist route.

Focuses on fresh pastries and soups – uses locally sourced ingredients. Visit: www.thewildplumcafe.com


Zab Zab Thai Cuisine is arguably the best Thai restaurant on the Monterey Peninsula. Run by a Thai woman and her aunt, this restaurant is ideally located within walking distance of Cannery Row. Features both indoor and outdoor seating.

Very good Tom Yum Goong, veggie dishes and when in season, mango sticky rice. During a recent visit – it was quite busy inside but service was excellent and the food was brought very quickly after our order. Open daily except Mondays. For more information visit: www.zabzabmonterey.com