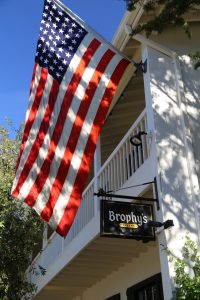 Carmel has a great selection of restaurants, many known for their excellent European influenced cuisine. The one type of restaurant you will not find in town are fast food chain restaurants.
Note that Carmel does not use street numbers for addresses – so when giving someone directions to a restaurant you have to include the nearest cross streets and or any other signifying landmarks.
Some restaurants offer sunset specials – the meals are available at a discounted price before a certain time (usually for dinners eating before 6:30pm).
Any prices listed below are subject to change without notice.
Unless otherwise noted all phone numbers are in the 831 area code.
Affina Restaurant is located on the corner of 6th Ave & San Carlos St. This modern looking bistro is reasonably priced and serves a variety of small bites, soups and salads.

Also some hamburgers as well as vegetarian options. A hip and friendly dining space. Visit: www.affinacarmel.com

Anton & Michel is located at Mission Street at 7th Street. They are rated 3 stars and serve continental cuisine. Reservations are suggested and dress is casual. Prices range from $25 to $40. One of Carmel's older restaurants having been established in 1980. They are open from 11:30am until 3pm and then again from 5:30pm until 10pm. Phone 624-2406. Visit: www.antonandmichel.com
Artemis Turkish Kitchen is located close to the corner of Ocean Ave & Mission St. Opened in early 2017. Owner Erkan Demir is from Istanbul and has operated several stores along or near Ocean Ave in Carmel over the years. This is his first restaurant.

Nice to have a Turkish restaurant in town. Also serves Turkish wines.

A.W. Shucks Cocktail and Oyster Bar is located near the corner of Ocean Ave & San Carlos St. This tiny space offers up a number of fresh oysters.

Pair the oysters with a variety of alcoholic drinks. Their scotch choices and martini's are popular.


Bistro Giovanni is a family owned small Mediterranean/Italian restaurant. Decent selection of salads and main courses including the ever popular Italian dish, Osso Buco. An intriguing dessert menu also. Visit: www.carmelbistro.com




Brophy's Tavern is a cozy Irish pub offering a variety of beers and local wines paired with select burgers, fries, salads and soups.

Associated with Hotel Carmel. Be sure to check out their locally famous wall of over 1000 vintage beer cans! Visit: www.brophystavern.com


California Market at Pacific's Edge is located in the Highlands Inn (See Carmel Hotels for more information about this luxurious resort). They are rated 4 stars and serve American cuisine. Reservations and suggested and dress is casual. There are great views of the ocean from this restaurant, a real winner! Prices range from $48 to $64. They are open from 11:30am until 2pm and then again from 6pm until 10pm. They also have a Sunday brunch served from 10am until 2pm. Phone 622-5445.
Dametra Cafe is located at the corner of Ocean Ave & Lincoln Street. Focuses on Mediterranean food using fresh and locally sourced ingredients.

Maintains a decent wine list from both local wineries, statewide and some oversea representation. Also owns a second restaurant in the Del Monte Mall in Monterey. Visit: www.dametracafe.com

Bully III House of Prime Rib is located at the Adobe Inn which is at Dolores Street and 8th Avenue. They are rated 2 stars and serve American cuisine. Reservations are suggested and dress is casual. Prices range from $9 to $27. They are open from 11:30am until 10pm. PHONE NUMBER 625-1750.
Casanova is located on 5th Avenue between San Carlos and Mission streets. They are rated 3 stars and serve French cuisine. Reservations are suggested and dress is casual. Prices range from $25 to $47. They are open from 11:30am until 3pm, and then again from 5pm to 10:30pm. On Sunday they open at 8am until 3pm and then again from 5pm until 10:30pm. PHONE NUMBER 625-0501. www.casanovarestaurant.com
Cottage Restaurant offers a variety of easy foods all day including the 'never ending breakfast' -available during regular business hours. Select items include crepes, omelettes and pancakes and depending on what you are in the mood to drink – can pair with coffee or various wines. Noted for their locally 'famous' artichoke soup (nice to see a restaurant has incorporated the delicious artichoke into an ongoing fare (especially since Castroville – up the road – is home to fields of artichokes). Open daily 7am to 3pm.

Flaherty's Seafood & Grill is located at 6th Ave between San Carlos and Dolores Streets. Long time restaurant, the focus here is strongly on seafood. They source fish from the wild – not from farm raised environments. They serve fish fresh – not frozen!

Also known for their oyster bar – serving fresh oysters daily that are brought in from various parts of the Pacific Northwest and east coast of the United States. Visit: www.flahertysseafood.com


From Scratch is located in the Barnyard Shopping Center (See the SHOPPING section for more information about this shopping center) They are rated one star and serve American cuisine. Their prices range from $7 to $8 for Lunch. They are open from 8am until 3pm and then again from 5:30pm until 9pm. Reservations are suggested and dress is casual. Phone 625-2448. Visit: www.fromscratchrestaurant.com
Il Tegamino is located on the South side of Ocean Avenue between Lincoln and Monte Verde (where the street starts getting steeper as it makes its way down to the ocean). Located in what is arguably the most quaint part of Carmel. Tucked away just off of Ocean Ave in the back of the Court of the Golden Bough.

Focuses on Italian comfort foods. No reservations accepted – walk-ins only. Also known for their Meatball Bar. Features a healthy wine list. Visit: www.iltegamino.com
La Bicyclette is a cute little eatery focusing on French and Italian cuisine. Look for the vintage bicycle parked in front of this restaurant and you will know you are at the correct establishment. The last time we ducked inside here we could see the inside was charming – from the hanging pots and pans to an overall Mediterranean/European feel. Could be in Santa Barbara – located in Mission style building. Family owned, their original restaurant was in this exact location and was called La Boheme. Visit: www.labicycletterestaurant.com

Little Napoli is located on Dolores St in central Carmel. An icon for italian restaurants on the Monterey Peninsula, this restaurant first opened in Carmel in 1990.

Known for Antipasti, Pizza, Pasta and Risotto. Look for the Italian flags above the sign to the restaurant. Chef Pepe first arrived on the Monterey Peninsula in 1974 and since his arrival now operates a mini Pepe restaurant empire on the peninsula including a location at Pebble Beach. Visit: www.chefpepe.com

Mediterranean Restaurant is located on Ocean Ave between Monte Verde & Lincoln Streets (towards the southern part of Ocean Ave). Located in a small little space – features good food despite the non assuming name of the restaurant.

Focuses on several types of cuisines, middle eastern, Greek and Mediterranean. Their combination platters are popular items.


Mulligan Public House is located on Dolores near Ocean Ave. Established in late 2016. Offers reasonable grub in an English-style pub. Lovely place to watch the Dubs scrub their opponents. Happy hour, come for a sour – no sours? Sorry. Well then, come to bat and try the "Dammit Matt". Still not sold? Jeff Foxworthy eat your heart out – the "Redneck Special" is a crowd pleaser.

Tuesdays try the tacos. Wednesdays, suck on cigars. Any day of the week, bring your dog and sit in the patio. Charm your lady with a special libation. Carmel is calling and Mulligan's is the voice making that call. Visit: www.mulliganspublichouse.com
Portabella Restaurant is located on Ocean Ave near Lincoln. This cozy, charming and picturesque restaurant is sure to simply draw in passerbys based on it's visual appeal. Which it does – buy then diners perhaps are just as intrigued by the delicious food. Sporting an old-world feel, they focus on French and Italian cuisine – with their own California twist.

Open for lunch or dinner. Features a decent wine list. Looks small in the front – first glance at their tiny patio in the front can be deceiving as they have many more seats inside and in the back. Visit: www.portabellacarmel.com
Rio Grill is located in the Crossroads Shopping Center (See the SHOPPING section for more information about this shopping center). They are rated 3 stars and serve American cuisine. They are open 11:30am to 10pm. Reservations are suggested and dress is casual. Prices range from $7 to $29. Phone 625-5436. www.riogrill.com
Tuck Box is a cute little postcard looking building tucked half a block off of Ocean Ave. It was first constructed in 1929 and visually retains it's charm of this other era. The name "Tuck" has been associated with this home since the early 1940's when two sisters from the UK ran a tea room in it's cozy confines. Today it is open for breakfast and lunch; they also offer an afternoon tea service. No reservations accepted – first come, first served. Visit: www.tuckbox.com


Vesuvio Restaurant is located just outside of the center of Carmel and focuses on traditional Italian cuisine. Family owned. Good selection of pizza. Ingredients used are often imported from Italy. Tow of the sons graduated from the VPN Pizza School in Napoli – the pizzas are hand crafted in their wood-burning oven. Located on the corner of Junipero and 6th Ave. Visit: www.vesuviocarmel.com


Village Corner Bistro is one of Carmel's older restaurants (60+ years). Appropriately named it sits on the corner of Dolores Street and 6th Ave. Dining inside or in their garden patio. Open for breakfast, lunch and dinner. A decent wine list with local and California selections as well as overseas. Imaginative dishes. Visit: www.villagecornercarmel.com