The sites and attractions listed below are not only located within the city of Monterey but also on the Monterey peninsula and vicinity.
Cannery Row is a historic waterfront region in the town of Monterey that today has been converted to shops, restaurants and hotels. This used to be home to a number of sardine factories and warehouses serving the fishing area until this industry collapsed in the 1950's. The last cannery in operation was the Hovden Cannery which closed in 1973 (and is currently the site for the Monterey Bay Aquarium).
Cannery Row was prominently featured in John Steinbeck's book called " Cannery Row". Today the area surrounding this famous street is a marine sanctuary and you can often see sea lions and other bird life along the waterfront.
For more information visit the Cannery Row Foundation website: www.canneryrow.org
For more information about the National Steinbeck Museum in nearby Salinas (17 miles from Monterey) visit: www.steinbeck.org
Point Lobos State Reserve is located 2 miles south of Highway 1. This reserve is fairly large and covers about 1,300 acres. There are many trails here, some provide rather beautiful views of the rugged coast. You can purchase maps of the trails at the entrance station for 50 cents. Parking is somewhat limited – and often on busy weekends a "no parking" portable sign will be posted at the entrance off of Highway 1.
If you are lucky you may see some California Sea Lions or California Otters. The immediate ocean off the coast is part of the reserve. In order to have enough time to do some hiking and sightseeing approximately 2 hours is recommended. The park is open from 9am until 7pm daily from mid June through September. It is open until 5pm the rest of the year. Admission is $10 per car. Keep the receipt – it is good for admission to any of California's other state parks on the same day of your purchase.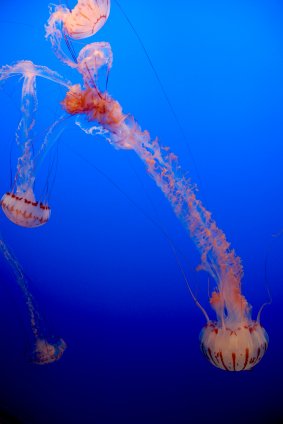 Monterey Bay Aquarium is arguably one of the most impressive aquariums in the world; it contains a wide diversity of marine life focusing on organisms found in the Monterey Bay. Located on site of the former Hovden Canning Company in Monterey's world-famous Cannery Row. Parking is in either one of two nearby parking garages or on nearby side streets in metered parking spots.
Once inside, visitor's are greeted with several exhibits highlighting Monterey's cannery industry; massive boilers from the cannery are also on display.
More then 500 species of marine life are exhibited in 100+ galleries and exhibits. One highlight is the 1.2 million gallon tank containing several thousand sardines all circling as one school. In addition, other fish in this tank can include sunfish, barracuda, tuna, sharks, turtles and stingrays. The primary viewing panel is 54 feet long, 15 feet high and 13 inches thick.
Another primary highlight of any visit here are the jellyfish. Stand in awe in front of any of a number of tanks – each of which contains a specific species of jellyfish. Numerous nearby schools often offer field trips to the aquarium – parts of the museum are geared towards the younger kids including a hands on tide pools, life size models of sea creatures, and a theater.
Water from the Monterey Bay is continuously cycled through the tanks – filtered during the day for visitors to keep it clear and unfiltered at night – bringing in certain types of food for the organism kept in the tanks. Note the number of web cams installed on site with even a few operating outside of the aquarium in the Monterey Bay.
We recommend visitor's spend a minimum of at least 3 hours. The aquarium is open daily from 10am to 5pm, closed December 25th.
At the time of our most recent update, admission is $49.95 for adults. Students are $39.95. Tickets can be purchased on site or online. For more information, visit: www.montereybayaquarium.org
Seventeen Mile Drive is a toll road that extends from the small town of Pacific Grove in the north to Carmel in the south. It is situated directly along the coast of the Monterey Peninsula. Numerous pullout areas are located along the drive providing excellent photo stops of the rugged coast and the ocean. Monterey Cyprus trees are extremely picturesque and always add character to any photographs. Crocker Grove is well worth a stop – this 13 acre grove is home to some of the largest and oldest Monterey cypress trees in the world.
Some of the attractions along the drive are Seal Rock, Cypress Point, The Lone Cypress overlook (closed from April 1 to June 1) and Spy Glass Hill. Part of this drive is located near the famous Pebble Beach golf course where the AT&T Pro-Am Golf Tournament is held every year at the end of January and early February and the occasional U.S. Open tournaments. This golf tournament attracts well known pros as well as numerous celebrities including the always amusing Bill Murray. If you are going to drive the entire 17 miles without stopping allow approximately 45 minutes. However, most visitors do not drive straight through – rather stopping to enjoy the views, the fresh air and perhaps to see some marine life. A leisurely drive should allow several hours.
Two world famous lodges are located along the drive – the Lodge at Pebble Beach (founded 1919 – with rooms currently starting at about $1000/night) and the Inn at Spanish Bay. Both overlook stunning golf courses – simply from a visual perspective as well as from the challenging features of playing either course. Guests should take advantage of the various dining options offered at Pebble Beach (we have done so on several occasions), parking is free in the upper lots. If weather is nice, do not miss a stop for a bit on the outdoor terrace at Stillwater Grill at Pebble Beach. This overlooks the 18th hole of the Pebble Beach Golf Course. A number of premium shops are are also located at the Lodge along with a fantastic spa.
The well-known Pebble Beach Food and Wine event is held here annually – usually in April.
The toll for this drive is $10.25 per car. The drive is well marked – posted 25mph and is along narrow windy roads. For general information about the drive visit: www.pebblebeach.com/17-mile-drive
Dennis the Menace Playground is located in a park near Lake Estero. Hank Ketcham the creator of this popular comic strip helped in the design and creation of this park. This is a fun place to take children. The park features a maze, a climbing area, and slides.
Also check out the Dennis the Menace statue – it was stolen/missing for nearly a decade but more recently was located in a metal scrapyard in Florida (by the very astute owner) and is back in it's proper location. Admission is FREE.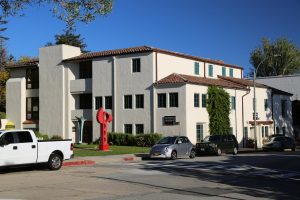 Monterey Museum of Art is located at 559 Pacific Street on the block across from the historic Colton Hall. The museum exhibits displays of Asian, regional and folk art. Allow between 45 minutes to an hour.
They are open Wednesday through Saturday from 11am until 5pm. On Sunday they are open from 1pm until 4pm. Admission is $8. Children under 12 are free. For more information call Phone Number (831) 372-7591. Website: www.montereyart.org

Steinbeck Spirit of Monterey Wax Museum is located at 700 Cannery Row. This museum exhibits various wax figures from Monterey's historical past. Allow at least 30 minutes. Unwelcoming staff. They are open daily from 9am until 10pm. Admission is $10.95. Discounts given to students. Children between the ages of 6 and 12 are $5.95. For more information call Phone Number (831) 375-3770.