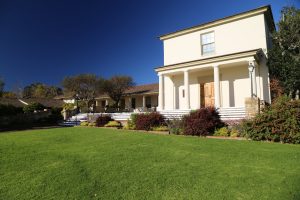 Monterey is rich in California heritage – many of these old buildings are well preserved. Most of these historical sites are within a short walk of the downtown area – and about a 15-20 minute walk from Fisherman's Wharf. Many of these sites are related to the government's influence in Monterey. Monterey used to be the capital of Alta California.
An excellent history resource regarding Monterey is: www.montereyhistory.org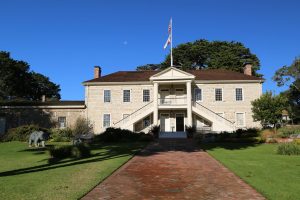 Colton Hall is located on Pacific Street. This is where the first constitution of California was written in 1849. Takes it's namesake from it's builder, Walter Colton. The stone for the building was quarried from nearby.Originally built to house classrooms as well as space for the public to use.
Visually the grounds are appealing – and visitor's are often pulled to the front of the building by the statues of Grizzly bears in front. However, don't just visit the outside of the building; the museum is located upstairs and contains informative exhibits about the history of Monterey. One exhibit contains the original signatures of those who signed California's first constitution including General Mariano Vallejo. Three items from the first constitution are worth nothing – slavery was outlawed, San Jose was chosen as the first capital city of the state and the constitution was written in both English and Spanish.
The old jail next door is well worth a peak. It is very very small and if you have a flash on your camera, provides a good picture of the tight and cramped quarters. This jail was built in 1854. Allow at least 30 minutes for Colton Hall and the jail. Open daily from 10am to noon and then again from 1 to 5pm. Admission is complimentary with donations accepted. Phone Number: 646-5640.
Mission San Carlos Borromeo Del Rio Carmelo better known as the Carmel Mission was established in 1770 by Junipero Serra in Monterey (Serra was born in 1713 in Petra, Mallorca). In 1771 the Mission was moved to its present site near Carmel. Twenty one missions were established from San Diego in the southern part of the State to the town of Sonoma and the mission in Carmel was the 2nd one founded after the one in San Diego.
Serra is buried under the church floor in front of the altar. This mission was his home and headquarters for 13 years. Over 200 natives and Spanish are interred in the church (a cemetery is located just outside of the Basilica).
Besides the beautiful grounds and the actual mission building you will want to look at some of Junipero Serra's books on display. Various relics and a Moorish Bell tower are also interesting views. We recommend about 45 minutes to an hour to see this mission and the grounds. The Pope visited this mission in 1987.
We always find that California Missions provide excellent photo opportunities. This is true especially in their courtyards. The Mission is open from Monday through Saturday from 9:30am until 7:30pm. On Sunday and holidays it is open from 10:30am until 7:30pm. Admission is $10 for adults and those between the ages of 12 and 17 are a $5. For more info call (831) 624-3600. www.carmelmission.org or www.missionart.com/hSCB/p-SCB.html
Monterey State Historic Park is well worth a visit. It is located at 20 Custom House Plaza and contains 7 acres which display the history of old town Monterey. One interesting note is that this park lies not very far from where Sebastian Vizcaino and Junipero Serra landed. Guided walking tours are available. The tours are offered at 10:15am, 12:30pm, and 2:30pm. The park is open daily from 10 to 5. I have been told its best to call ahead using Phone Number: 649-7118 because the hours are subject to change without notice.
Some of the more interesting sites in the Monterey State Historic Park are the following. The Custom House is a must see just because of its historical significance. It is the oldest government building in the state of California. Part of this building was constructed in 1827. In 1846 the American Flag was first raised over this building and as a result many acres of land became part of the United States.
Stevenson House is located at 530 Houston Street. This home gets its name because Robert Louis Stevenson lived here in 1879 and wrote several books. This house can only be seen on the inside through the guided tours which are offered Tuesday through Sunday at 1, 2, 3, and 4pm.
Pacific House is located at Calle Principal and Scott Street. It was built in 1847 and is now a museum of Indian artifacts and California history. Phone Number: 649-7118. Visit: www.parks.ca.gov/default.asp?page_id=575
Maritime Museum is located at 5 Custom House Plaza. It contains many many artifacts of the sea. There are navigational instruments, ship models, photos, and charts of the ocean. For the sailor in you, this is a great place to be. A short film is presented every 20 minutes or so. This place is also good for doing research as they have over 4000 volumes. Admission is $5. For more information call Phone Number: 373-2469.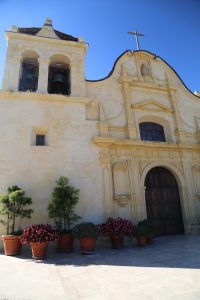 San Carlos Cathedral is located at 550 Church Street. This is truly one of California's most historical and special buildings. The original church on this site was built in 1770 and served as the original Monterey Mission before the "new" mission was built near Carmel. Rather then continue as a mission it became a place of worship for Spanish colonists and soldiers.
In a remarkable test of time, this cathedral has been in continuous use since 1795. It is California's oldest stone building. In some random trivia that you can throw out one day at a party in California, Father Ramon Mestres of this church performed a civil ceremony in Monterey – marrying who would become the 31st president of the United States, Herbert Hoover and his wife Lou (both geology majors from Stanford). This church is open daily from 8am until 6pm. Visitors are free to walk inside. Phone Number (831) 373-2628.
Visit: www.sancarloscathedral.net