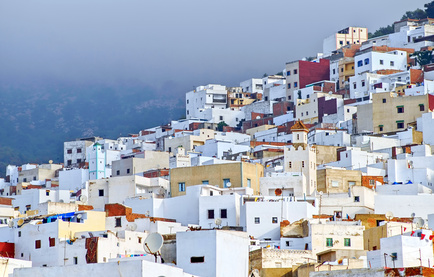 Touts – are best defined as those who try to solicit something out of you often in a somewhat bold and brazen manner. I will add the words "highly persistent" to this definition.
Tangier is a fairly unfriendly port town – tourists coming across on the ferry from Spain may find it quite difficult to escape its clutches, especially if you are not used to dealing with aggressive touts. The closest town I can think of to compare to Tangier is parts of Naples in southern Italy.
There is absolutely no doubt, that once you get off the ferry in Tangier you will be targeted by Touts. There are no women touts here, only men. He will offer to be your guide and show you around his city – you will be told that because Tangier can be a dangerous city you will need to have a guide and he will be your "protector".
He will tell you that people will see that you have a guide and they will leave you alone.
I had arrived in the early afternoon and I was told by several touts that it was extremely dangerous to travel the roads in the afternoon and evenings because of bandits and thieves. They said one would be much safer staying in Tangier and then traveling in the morning hours. In addition they said because of the dangers of traveling later in the day there was no bus service to other Moroccan cities.
I knew there were several bus stations in town – unfortunately the main bus station is about 2-3 miles from the port – so it is quite a walk. I took a taxi to this station and within 10 minutes I was on a bus to my final destination for the day. Unfortunately touts do not take no for an answer – they will follow you and follow you.
I recommend getting out of Tangier as quickly as possible as your vacation time is valuable and Morocco has so much more richness and incredible beauty in other areas of the country.
If you find yourself in any situation especially with the touts and taxi drivers in which there is no price set before hand – this is very dangerous. Do not let yourself get into this position. For example upon your return to the ferry to transport you to Spain you will be confronted by official looking men. If you display any doubts about their "official status" they pull out their badges and insist they are licensed by the Moroccan government. These men will take your passport and they will fill out a "declaration" form for you – which every departing person needs to fill out. Once they have scribbled the required information on this form they will hold your passport and demand payment. This is very dangerous for two reasons; they have your passport and you have not agreed on a set price. Do not let yourself get into this situation. Declaration forms are readily available just by asking one of the many people who work behind the windowed counters.