Admission to Lassen National Park is $25 per vehicle. Sometimes if it is late there are may not be attendants present at the park entrances and payment is on the honor system. The $20 entrance fee is good for 7 days, just don't lose your receipt. Those 62 of age and older can pay $80 a lifetime pass to National Parks (this is one of the best admission entrance fees out there!).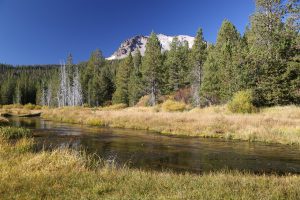 Lassen National Park has 7 campgrounds and all are above 5,650 feet. There are over 150 miles of hiking trails in the park including a 17 mile stretch of the Pacific Crest Trail. Note to rock climbers. Volcanic rock is generally unsuitable for climbing. It is quite unstable and loose.
Those who enter the park from the south side (Highway 89), 1 mile past the entrance you will see a large parking lot and the visitor's center. This used to be the site of a vibrant, thriving ski resort. This used to be one of the most affordable and picturesque areas in California to ski.
Families from the Redding/ Red Bluff/Chico area and beyond used to look forward to spending some time together at this resort. The runs were not your skilled ski or die double diamonds such as you have at Mammoth or Squaw Valley, or some of the other better known California ski resorts. They were geared to those who wanted an affordable ski experience, in a beautiful natural setting, without having to test the extreme limits of ones own skiing ability. Alas this ski resort was removed due to an unfortunate and stupid decision concerning the integrity of having a ski resort in a National Park.
A new visitor's center (Kohm Yah-mah-nee Visitor Center) has replaced the old chalet at the south entrance to the park (which was torn down in 2005). The visitor's center opened in October of 2008. A self-guided educational experience provides displays and information about the park – a small gift shop selling souvenirs is located here as is a throwback from the original chalet, the Lassen Cafe which sells food and other snacks.
All that was left from the ski resort was the chalet. This was an expensive place to buy anything based upon the high cost of transporting food and other items to this location. Food continues to be served inside this visitor's center (a small concession area with tables and chairs). The gift shop offers a nice selection of Lassen memorabilia. Ask about the Lassen Trail Booklet, an informative guide to hiking the trails of Lassen Park.
Motorists who enter the park from Highway 44 will discover the Loomis Museum (a short drive from the park entrance). This museum is open in the summer and fall months and houses a small display about Lassen's eruption in 1915 and the photographer whose namesake is on this museum, Benjamin Franklin Loomis. Mr. Loomis also built this old stone building in 1927 and the nearby small Seismograph building (visitor's can peer through windows to see the equipment inside).
One other interesting piece of history is that the last Stone Age survivor came from this part of California. His name was Ishi, one of the Yahi people, and he lived "outside of the western world" until 1911 when he could no longer survive on his own. As the last of his tribe and being crowded by encroaching civilization he ventured out into the "western world". At that time his tribe was thought to have been extinct.
He lived out the rest of his days at the University of California, Berkeley Museum of Anthropology which at that time was actually located on the University of California, San Francisco campus in an old law school building. Several books have been written about Ishi and a television documentary was also made about his life. It is a fascinating yet deeply sad story.
We used to list National Park Service links on this page and other pages of this site to try and help people with trip planning, but we stopped doing so because they seem adverse to helping people and they continuously change links (without setting up forwarding) which creates useless dead links. During a recent government shut down they even purposely took all National Park Service websites offline. For supposedly serving the public, they don't seem to do a very good job at all in the online world.
Kohm Yah-Mah-Nee Visitor Center