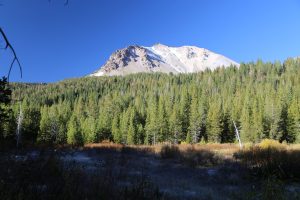 Mt. Lassen National Park is located in northern California north east of Red Bluff and south east of Redding. Lassen is about a 4 hour drive from Sacramento and about a 1 hour drive from Red Bluff. Highway 89 bisects the park and is the same road that winds along the spine of the northern Sierras all the way down to Lake Tahoe.
From the town of Red Bluff take Highway 36 (the turnoff is about a 1/4 miles east of the city limits). This highway is well paved and quickly gets you to the park entrance. Along the way you will see field so lava rocks strewn about – evidence of a violent geological history in these parts. It is approximately 45 miles from the Highway 36 turnoff to the park entrance.
The Highway 89 junction with Highway 36 is at the summit of Highway 36. Highway 89 through Lassen Park is open from spring to mid/late fall. It is closed in the winter due to the heavy snows. In the winter Highway 89 is usually kept clear of snow for about 5 or 6 miles until the actual park entrance.
From Redding the best way to access the park is from Highway 44. This is a good highway, a bit windy at times but is the most direct way from Redding to the park.
Cinder Cone


Cinder Cone, Lassen Volcanic National Park

Butte Lake


Butte Lake Campground

Bumpass Hell


Bumpass Hell, Shasta, CA

Lassen Peak


Lassen Peak

Chaos Crags


Chaos Crags, Lassen Volcanic National Park

Subway Cave Lava Tubes


Subway Cave Lava Tubes, Lassen National Forest, Old Station, CA

Hat Creek Fishing


Hat Creek Campground, Old Station, CA