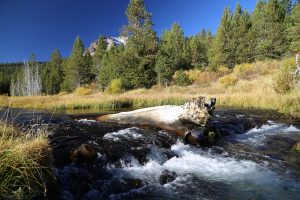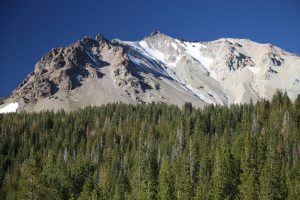 Lassen National Park – the "invisible park" is in the northern part of the "Lost Sierras". The great combination of these two words in the same sentence, invisible and lost, often makes for relaxing free-of-crowds getaway destination, even on popular American holidays such as Memorial Day weekend in May and Labor Day weekend in September.
Lassen offers a little bit of everything. You could bag Lassen summit by mid morning, hike to the sulfur and hot springs in midday, go spelunking in the afternoon, and end your day by hiking to the top of an extinct cinder cone. Lassen is full of variety, both geological and natural. Unlike other National Parks Lassen is still relatively uncrowded and unspoiled.
Lassen sits at the northern end of what is often referred to as the "Lost Sierra", even though technically Lassen is not part of the Sierra Nevadas. The "Lost Sierra" loosely means that this part of the Sierra Nevadas do not get the crowds and visitors that other parts of the Sierras do, such as Yosemite National Park, Lake Tahoe, and the Mt. Whitney area. Mount Lassen is actually the largest plug dome volcano in the world. This means that magma wells up deep inside the mountain and becomes plugged which causes great pressure to build up, which eventually results in dramatic explosions.
Lassen National Park covers about 106,000 acres. There are several other relatively tall mountains besides the 10,457 foot Lassen Peak. Prospect Peak is 8,338, and Mount Harkness is 8,045. Both of these mountains are volcanoes and there are trails leading to both summits.
Mount Lassen has remained quiet ever since a huge eruption in 1915. After the main eruption volcanic activity continued until 1921. If you enter the park from the south side coming from Red Bluff notice the large slightly sloping valley that is near the entrance station. This valley is sitting where the great Mount Tehama used to be. This former giant volcano has been projected to have been above 12,000 feet in elevation. Glaciers and hydrothermal activity led to the demise of this large mountain.
Two main highways access the park, Highway 36 leads off of the 5 freeway from the town of Red Bluff in the south and Highway 44 leads off of the 5 freeway from the town of Redding in the north. The park features to visitor's centers, one each stationed at the two main entrances off of these highways.
The following are additional scenic Lassen Park Photos ranging from Bumpass Hell, Cinder Cone, various lakes and images from the eastern side of the park.