The climb written about below took four days:
Day One: Rent equipment and hike to Horse Camp. Camp there.
Day Two: Hike to Helen Lake, and camp there.
Day Three: Hike to Summit via Avalanche Gulch, through the Red Banks and up Misery Hill, return to Horse Camp, and camp there.
Day Four: Hike out to Bunny Flat.
Average times for the distances above are the following.
– Bunny Flat to Horse Camp takes a little over an hour.
– Horse Camp to Helen Lake takes between 2 and five hours.
– Helen Lake to Red Banks takes between 2.5 and 4 hours.
– Red Banks to the top of Misery Hill takes about 45 minutes.
– Misery Hill to the summit takes about an hour.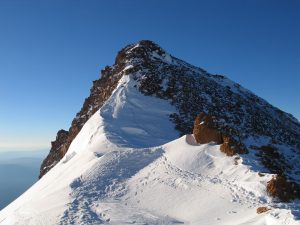 These times are only average and suggested. Depending on physical/ mental condition, weather, altitude or a variety of other conditions you may hike these distances in faster or slower times then the above listed times.
The following is a description of Dave's first climb of Mt. Shasta. Since this was written he has successfully reached Shasta's summit three more times in various Spring and summer months. Parts of this article have been updated several times since this article was originally written. Its now a Dave's tradition to climb Mt. Shasta almost every year. In another attempt Dave reached 13,200 feet on Misery Hill in a sub freezing fierce windy snow storm in white-out conditions. May conditions tend to be colder and more windy then the summer months.
The winter of 1997/1998 was particularly wet one, due to the effects of El Nino (as was the winter of 2016/2017). When I hiked Shasta at the end of August, conditions were still such that they mirrored conditions in a normal snowfall year in mid to the end of July. There was still so much snow on the mountain that you could ski down to around 9000 feet. Sometimes by the end of September so much of the snow has melted that you do not require crampons and an ice ax to summit. Not this year. If you didn't have those two essential items you would have been lucky to reach Helen Lake.
Keep in mind that this article was written based upon a climb at the end of August. Conditions will vary considerably depending on the time of year and particular year.
There isn't a real trail to the top of the mountain. However there are 17 established general routes to the top. The main trail ends just past Horse Camp. Up until Horse Camp the trail is well maintained and makes for easy hiking.
The weather can change in the blink of an eye. Keep a watchful eye on the sky as you hike. Violent storms with whiteout conditions can strike the mountain at ANY time of the year. Watch for lenticular cloud formations near the summit. This is a type of circular cloud that forms. When you see these, do not attempt the summit. These clouds are a sign of extremely violent weather, especially at higher up the mountain.
From Mt. Shasta City you can identify almost the entire route that you will be hiking. Most of the route up to Red Banks is visible from the city. Looking at the mountain after you have actually climbed it, makes more sense, because you can actually pick out points where you were on the route. When I looked at the mountain before hiking, I was impressed with its huge size and picturesque beauty, but I couldn't recognize any landmarks, and I didn't have a deep respect for the mountain. This respect came after the climb.
Red Banks is the main landmark that you can pick out from miles away. These are a series of red steep walls around 13,000 feet. These are the highest landmarks that you can see on the mountain as you look at the south side of the mountain.
I started out at the Fifth Season in Mt. Shasta City. I needed to pick up the crampons and plastic boots that I had reserved two weeks earlier. The Fifth season is the primary supplier of mountaineering equipment and rentals for the Mt. Shasta area. They are located at 300 N. Mt. Shasta Blvd on the corner of the street. There is a main entrance off of N. Mt. Shasta Blvd, and a side entrance for the rental department on the side street. This store has an excellent selection of mountaineering equipment, including, back packs, tents, sleeping, bags, and other assorted equipment. You can call them at PHONE NUMBER (530) 926-3606 or Fax them at (530) 926-1337. They recommend making your equipment reservations at least 2 weeks ahead of time, especially in the busy season of the summer months. You can also visit the Fifth Season on the web at: www.thefifthseason.com
They have rental prices and updated weather information.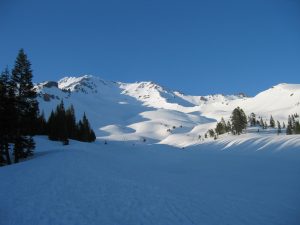 I rented my equipment after 4pm because if you rent after 4pm, The Fifth Season will not charge you for that day. Earlier in the day I had driven up to the end of Everitt Memorial Highway, and took in the views of this incredible mountain. The drive to the end of this road from Mt. Shasta City is about 20 to 25 minutes. The drive to Bunny Flat Trailhead is about 15 minutes from Mt. Shasta City.
On the way back, I stopped at the Bunny Flat trailhead, and purchased my three day pass necessary for those climbing above 10,000 feet. This pass is good for three days from the date that you write in. These passes are $25. I also filled out my wilderness permit, which is FREE. Lastly, I picked up one of the FREE "pack out your own waste" bags. Doing all this ahead of time, especially since I didn't rent my equipment until 4pm, saved me some time.
I arrived at Fifth Season at a quarter to 4, picked up my equipment and again headed up to Bunny Flat Trailhead. I was on the trail by 4:30. The hike to Horse Camp is about 1.75 miles, and did not take me very long. Horse Camp consists of a rectangular stone cabin, and many cleared camp sites nearby. This used to be a place where hikers would stable up there horses and continue there hiking up the mountain. This camp is run by the Sierra Club and is open year round. I have seen picture so this place in the middle of winter. On particularly bad winters, you can see the top of the tall chimney, and a large hole dug into the side of the snow bank which leads to the entrance to the cabin. It looks like a gopher hole tunnel.
One note about the bathrooms at Horse Camp. The toilets are solar composting and due to the numbers of people who camp here the toilets are being overused. There is a possibility that more solar composting toilets will be added in the future.
There is also a very refreshing clear cold mountain spring right outside the cabin. The water is very good, and you can drink right from the spring. It flows over many stacked slate rocks into a small pool. On the side of the spring is a water faucet which makes filling water bottles very convenient.
Inside the cabin you will find a small locked library, a lost and found board, several maps, newspaper articles, and extra mountaineering equipment. This equipment is available for FREE use, just as long as you return it when you leave. Some of the equipment they had were sleeping bags, gloves, goggles, and many shirts, and sweat shirts.
On the wall I read a sobering article. It dated from August 1997 and was about a young English teacher that had been killed on the mountain in a violent storm in mid August 1997. Underneath that article was a note from fellow climbers who carried his ashes up the mountain exactly one year to the date after his death.
The fee for camping near Horse Camp is $6 per person, or $10 per tent/party. The sites are located within 1000 feet of the cabin, and are mostly located under the shelter of trees. When I camped here on the way up, there was a warm wind blowing for most of the night. This was a welcome relief from the many mosquitoes and black flies that had continually buzzed around me before the wind started blowing.
I had a restless night of sleep, and woke at 5:32am, and started packing my external frame backpack. I left for Helen Lake at 6:00am. This was a grueling climb, but a relatively short one. At Horse Camp, a rock trail begins. You walk along large rocks placed as a trail, until you reach a large steep hill. It is about at this hill that you will reach timber line and as you climb up, you will pass through either snow, or barren rock. It was about here that I viewed one of Mt. Shasta's famous sights. This was the enormous pyramidal shadow cast by the mountain as the sun rose. This shadow extends for miles and miles west, across the country side. It makes for a spectacular picture, not often seen elsewhere.
Once you reach the base of this hill you climb will be all uphill to the summit, and in places quite steep. Once you climb over the lower part of this hill you will begin to climb up what is called "tallus", or scree. This is a mix of cinder, and rocks and is very difficult to hike in. After hiking up this through several small switchbacks you will come to a level area which is called the 50/50 plateau. This is a great place to stop and look out at the miles and miles of hills and mountains. Sometimes there are people camped here.
At the upper end of 50/50 plateau is where I had to put my crampons on. After about 25 minutes of hiking, I reached a steeper hill. This required more effort especially at this altitude and I found myself stopping more and more often. I could see the Helen Lake outcropping, with the tents on top. It looked so close, but it took so long to get there. I made the mistake of walking straight up the bank the led to the rock outcropping on top. The snow line ended several hundred feet below the outcropping and this was some of the slipperiest rock that I have ever climbed. A better route would have been to stay on the snow that led around the hill.
I reached the top of Helen Lake at 9:30am. There are excellent views of the surrounding mountains and valleys in the distance as well as most of rest of the upward route to the summit. There are many rock walls called cairns, which have been built for protection from the wind. All tents were located in these. As soon as I reached Helen Lake, I took off my pack and crampons and placed them in one of the best cairns I could find. By getting to Helen Lake early on a weekday, I had the first choice of tent sites. If you get there on a busy summer weekend, chances are worse that you will get a good tent site. The best sites are to the left and right of the central cairn. These good sites have higher rock walls and are slightly less windy.
After I had put my gear into a cairn I walked to the edge of the rock outcropping and watched people who looked like ants, slowly make there way up the mountain. After a few minutes I heard what sounded like my pack being torn into. I quickly stood up, grabbed a sharp rock, and rushed over to my equipment. I found myself face to face with a weasel looking animal, several feet in length. It had its paws buried inside my pack. I lobbed the rock toward this animal and it quickly scurried away, only to return several seconds later. I yelled loudly and threw the rock closer, and finally this animal left.
Later I found out that this weasel looking animal is a rare Pine Martin and has called Helen Lake "home" only for the past year or two. They are extremely aggressive and will get into your pack if left unattended. Because of the usual severe wind, cold, and Pine Martin, setting up a tent is a must. You can put your pack in the tent, away from the jaws of the Pine Martin. Later on in the day an elderly gentleman walked away from his tent site to find a rock to urinate behind. Unfortunately he picked a rock that the Pine Martin was hiding behind. This aggressive animal growled loudly at this man, who became very frightened and ran back to his tent. A park ranger later calmed the man down.
Take care when setting up your tent or taking it down. I watched as two people struggled to set there tent up, only to have it unmercifully ripped out of there hands and carried a thousand feet down the slope. Everyone at Helen Lake ran over to the edge of the rock outcropping and watched as the tent caught air and quickly sailed downwards. When it hit the snow banks far below Helen Lake, it continued to roll and tumble for several hundred more feet, until it finally stopped at a rock outcropping close to a cliff.
Also note the "red snow" in the vicinity. This is a result of an algae that grows just underneath the surface of melting snow. It smells exactly like the inside of a watermelon. Some say it even tastes like a watermelon, but I found it to be quite bland. This algae is considered toxic if eaten in high quantities. A small amount, like a taste, should not cause you any trouble.
When I got to Helen Lake, it was quite windy and I had a terrible time setting up the tent. However, like on many days on Shasta the wind dies down a bit in the afternoon and became more enjoyable. In fact the wind died down for the next 2 days, which was surprising but quite nice.
Don't be fooled by the name, Helen Lake. It was named after the wife of one of the early explorers to the area. Helen Lake, only forms at the end of summer in an extremely dry year. When it does form, it usually is very small and very shallow. During the rest of the year, it is a snow bank, that lies a little lower then the rest of the terrain.
Because I had arrived at Helen Lake so early, I had the rest of the day to take short climbs, rest, relax, and read. I brought the books, "Into Thin Air" by John Krakauer, and "Thin Air" by Greg Childs. These two books kept me busy for a good part of the day. In the afternoon I went on a short acclimatizing hike up to a rock fall in the snow.
Rock falls are a real hazard when climbing Mount Shasta. During the summer months, most of the rock fall occurs above Helen Lake near the Red Banks. As I climbed up the snow for a short distance I could see several large boulders in the snow that had rolled several hundred feet down steep walls. However this sight didn't prepare me for the great number of rocks that I saw when I turned around and looked down the mountain. The reason I didn't not see all these rocks when I was climbing up the mountain is because many of the small, but yet still dangerous, rocks had buried themselves in the snow. These could only be seen by looking down the paths that they had rolled. The early mornings before the sun has risen or even several hours after the sun has risen is the worst time for rock falls. The snow is still ice and conditions are icy in general. Once the rocks fall, they continue to fall and they don't stop.
On a warm, or sunny day, the conditions for rock fall improve in the afternoon or around midday. The amount of rock fall doesn't decrease. In fact it may increase as the warmth causes the dirt to slightly expand. However, once the rocks fall, they hit slushy snow, and they do not continue to roll, as they do in the icy conditions.
I made sure to drink plenty of water the night before the summit attempt. It is a good idea to be very hydrated. This will help you combat the symptoms of the altitude. After having a hearty dinner of pasta and popping two Advil because of a terrible headache brought on by the altitude and NOT drinking enough water, I went to bed. The wind had stopped and the night was quite warm for 10,500 feet. I set the alarm for 5am and soon fell into the best sleep of the entire trip.
Once during the night I woke up and stuck my head out the tent. I saw a splendid array of lights winding there way through the mountains and valleys, thousands of feet below. I could see the lights all the way to Redding. It was exactly like being in an airplane at night.
I woke up at 3am to hear my next door tent neighbors waking up and getting ready to leave for the summit. I dozed again until my alarm jolted me up from a deep sleep. It was still dark, but the snow reflected enough light to be able to walk without a head lamp or flashlight. I had everything packed in my daypack from the day before and I was ready to go. I bundled up in warm clothing, put my crampons on and started up the steep snow bank towards the summit. The only sound I heard was the crunching of my metal crampons against the snow and ice. It was neat to see the trail of flashlights or headlights that slowly crept up the mountain, both above and below Helen Lake. The main route that leaves from Helen Lake is called Avalanche Gulch. It is the long snow field that you see leading up to Red Banks. At the beginning of my climb I did not feel very good. I attribute this to not drinking fluid right away and skipping breakfast. I soon started to drink and eat my breakfast as I was walking. I highly recommend that you bring some flavored drink or soft drink in addition to water. I find that when I am trekking, mountain climbing, or hiking, I get much more energy from a flavored drink then I do from water.
Soon I felt much stronger and started to move much faster. I began to pass people on the steep snowy sections. Several yelled "why don't you lay off the wheaties". I was moving so fast that I soon became warm and shed some layers of clothing. This didn't last long, as I soon approached the very steep section of the mountain just under the Red Bank. (most of this section was around 35 degrees, but there were some steeper areas like the chutes). The weather turned windy and I needed more clothing. I took off my backpack and grabbed another wool sweater. It was at this instant I made a terrible mistake that would cost me later in the hike. I accidentally lost my only pair of sunglasses. They must have fallen out of my pack and I was not able to see them in the semi darkness.
Soon the sun rose and I was again able to see the pyramidal shadow shape of the outline of Shasta, cast by the rising sun. I kept climbing and reached the extremely steep area just below the red banks. There were narrow trails carved in the snow by previous climbers. There was a crowd of probably 20 or 30 people at the base of Red Banks. Some people were obviously having problems with the altitude, wind, cold, or hiking conditions. There was a wait for the main chute and only one or 2 people could climb through at a time.
I saw this, and I also saw another trail leading to another chute in which no one was climbing through. I quickly maneuvered my way to this other trail and ran up the snowy steep slope. As soon as I reached the red rock of the Red Banks, I took a much needed rest and reached out and touched the red rock. I continued up as the terrain became much steeper. Soon the snow line ended near the top of Red Banks, and I walked onto the crumbly dirt and rock with my crampons on. I had to walk on this terrain for several hundred feet until I reached a long snow bank on Misery Hill. The walk on the crumbly soil was hard because I kept my crampons on and also because of the stiff wind.
NOTE: facing up the mountain looking at Red Banks, there is a very easy way to the top of Red Banks. Simply climb up on the far right hand side of Red Banks. There is no chute, and its simply an extension of the steep slope that leads up to Red Banks.
As soon as I got on top of Red Banks, all the people disappeared. They didn't make it past Red Banks and it seemed like I had the mountain to myself.
I continued on, up Misery Hill. This hill isn't appropriately named if the weather conditions are ok. It took me about 20 minutes to ascend to the top of this hill. It is not nearly as steep as the ascent up Red Banks.
At the top there is a small rock outcrop, which serves as an appropriate resting place. It was here I took a short rest, and met my tent neighbors who had left at 3am. They were still on there way up to the summit.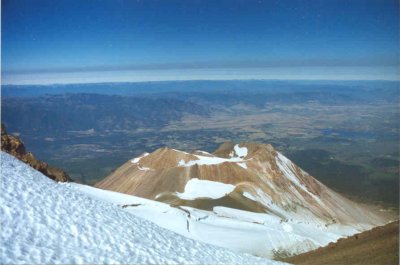 I crossed one more snowfield, and then removed my crampons, as I would not need them the rest of the way to summit. I walked up another steep hill on glacial talus, and came out on the summit plateau. The plateau is where John Muir and a guide spent a cold night in the middle of a violent snow storm. In order to survive they laid down in the warm sulfur baths that are present up here. When the baths got too hot they would get out and turn over.
It was on this ridge that I discovered that I had lost my sunglasses. As soon as I made this discovery I cursed the wicked wind loudly. I continued yelling until I had a sore throat. I knew what lay ahead of me, without having sunglasses. The wind was blowing around 40 mph and particles of dirt and dust were flying everywhere. The only way I could open my eyes was by sticking my head into my backpack. I retreated down the ridge by 50 feet or so and waited.
Finally a climber came up the ridge. He had climbed this summit twice in the past and he knew exactly where to walk. I followed close behind him. We finally made it to the top of the ridge, which ends in a narrow pinnacle that extends for several hundred feet until it ends at a small rock spire which is Shasta's true summit of 14,180 feet. The pinnacle drops down the other side for thousands of feet, and drops down the side that we climbed up. As we struggled on top of the ridge we were both almost blown off of the mountain. The wind velocity was blowing between 40 and 50 mph. The other climber showed me how to get down low to the ground and hold onto boulders in order to not be blown off of the mountain. Slowly we crept along the ridge. At certain areas, behind large rocks, there was not much wind at all. We took advantage of these areas to rest. Finally we reached the small saddle where the registry book is located, and all of the sudden we saw the true summit. The guest book is located on one of the windiest spots on the mountain! We continued on until we were just underneath the summit spire. I sat down behind some large rocks and removed my pack. Finally I had made the top after hours of preparation and planning.
For the first time in all the summits that I have attempted or actually climbed, I did not have any symptoms of altitude sickness. This was an incredible feeling to actually be able to enjoy the fact that I had made it to the top, as well as the incredible views 360 degrees in all directions. The weather was perfect. There wasn't a cloud in the sky. Lassen was picture clear to the south. I could see quite a bit of snow on her north banks. I could see almost to the coast. I could see quite a ways into Oregon.
I spent an hour and ten minutes at the summit. I had about 40 minutes of that alone. Several people slowly climbed into view, and we took pictures of each other. I had several flags at the summit and I made sure to include these in the pictures.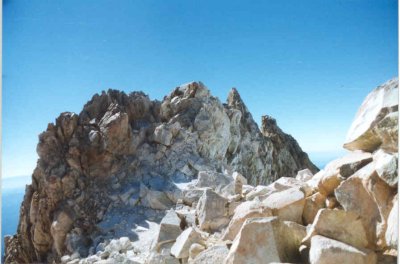 At one point I spent about 10 minutes sitting at the true summit. Unbelievably it was not even windy at all. I was sheltered by several rocks that seemed to thrust the wind upward over my head.
All I had to do was reach my arm out and over a foot and it was resting on the highest point on Mt. Shasta. I also used my HAM radio to call many repeaters located all over No Cal as well as several of the western states
Finally it came time to descend. This was the time that I dreaded the most about the hike, especially because I was missing my sunglasses. I was most worried about the steep section of Red Banks, as well as the fact that the sun would be glaring off of the snow.
I made it to the top of Red Banks without a problem. I would look at my shadow as much as possible, and try to look over at bare slopes. I tried to look everywhere but the glare of the white snow.
I took another route down Red Banks which was different from the one that I took up. This route was about three feet in width and almost vertical. It started out wide and then narrowed. There was snow and ice the entire way through the chute, with the red dirt walls of Red Banks above the snow and ice.
There were three people waiting to descend at this chute, including me. I went down after the first person. Slowly but surely I descended. I spotted blood on the ice at the beginning of the chute. Apparently someone had cut themselves on the ice. Descending this chute took extreme concentration and physical effort. At the start of the descent there was a 3 foot drop off which consisted of snow and ice. This was very tricky and I negotiated this prepice very carefully. My ice axe stabilized me several times. After this drop, I would chip the axe into the side of the chute before I would take a step down. Then it happened. Somehow I slipped and I yelled loudly drawing the attention of nearby climbers. They instructed me to stay calm and carefully guided me using well selected words, to safety.
I continued to descend this narrow chute very very slowly. Finally I reached a point where it was less steep and less dangerous. I bent over out of breath and realized just how dangerous the chute was. I continued on down the mountain side stepping. About halfway down Red Banks I decided to try my hand at glissading, a term climbers use to describe sliding down the snow laying down. Many people had started glissading immediately after the steep section just below Red Banks. By glissading you could get down the mountain about 4 times as fast as if you were walking.
I smelled the sulfur when I was on top of here but was told be a fellow climber that they were still mostly buried underneath a lot of snow. It is from this summit plateau that you may want to consider taking out your camera and snapping a few photos. There are incredible views to the immediate west of Shastina, Shasta's smaller sister. Shastina rises above 12,300 feet, and there is a large crater at the top, and also a lake.From this plateau continue north across a large snowfield. There will be several spires on your right as you cross this snowfield. Continue up to the ridge on your right.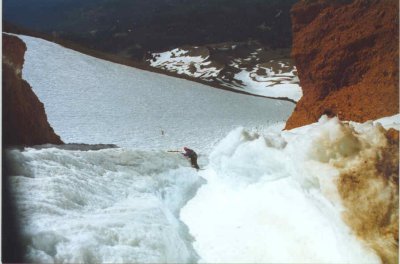 To glissade remove your crampons, (in an area in the snow, where you won't slide) and grab your ice axe with both hands. Place the axe lengthwise across your body, with your left hand grabbing the lower part of the shaft of the axe, and your right hand covering the middle top part of the axe. You lay down almost horizontal with the snow, keeping your back arched up a little.
Keep the ice pick part of the ax pointed down towards the snow. You can get going quite fast on these chutes in the snow. To stop or slow down you lower the pick of the axe into the snow. Do not try glissading if you haven't been shown the proper technique. Practice on less steep slopes before attempting the Red Banks area.
By the time I made it back to Helen Lake I was almost snow blind. Everything had turned green and I couldn't see very well. Someone later told me that power bar wrappers held very close to the eyes, work like sun glass lenses.
At that point we packed up the tent and continued down to Horse Camp. It can be very dangerous with heavy packs on your back, as you descend the steep slopes. The person that I was with slipped about halfway down the slope from Helen Lake and tore up his knee pretty badly.
Night was spent in Horse Camp and early the next morning we departed. Before we left, I took one last look around at the huge mountain. I was amazed that I had actually made it to the summit. It was an incredible feeling.
One last note: if you rent your equipment at Fifth Season, they want it cleaned off before you return it.