Ever since I was a child I have wanted to climb Mt. Shasta. I remember driving by on the 5 freeway and being impressed by its massive flanks as early as the age of six. Recently I organized a trip to climb this mountain. I realized that the odds were probably against us. The stats do not lie; only 33 percent of those that attempt that summit actually do make the top. Our trip date was the end of August.
We hoped for good weather, but we were highly aware that Mount Shasta creates its own weather, and a violent storm could happen ANY time of the year. At 14,180 feet tall this is the tallest mountain in Northern California. It is the second tallest volcano in the lower 48 states, just below Mt. Rainier's elevation of 14,411 feet (which we have also climbed and reached the summit).
Currently Mt. Shasta is an inactive volcano; it last blew its top in 1786. In the last 750 years, Shasta has exploded about once per 250 years. This means if you do the math, Shasta may blow its top sometime in the next 35-40 years.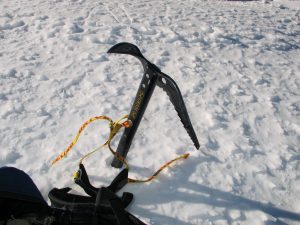 Today there are eight glaciers on the mountain. These persist year round, although in the winter months they are covered with snow. The best time to see the actual glacier is in the summer months when the snow has melted and you can see the natural light or dark blue color.
Whitney Glacier, on the flanks of north west Shasta is by far the biggest glacier in the entire state of California. The best view of this glacier can be seen from the summit plateau at about 14,000 feet. California's best and biggest glaciers are found on Mt. Shasta.