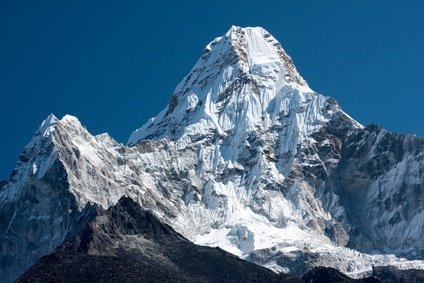 The heights in Nepal are not to be taken lightly. The high altitude can definitely be a problem for many people. Everyone adjusts differently to the altitude as I found out on our hike. Studies have estimated that 30 to 40 percent of all hikers on the Everest trail will develop some sort of altitude sickness. Acute Mountain Sickness (AMS) is the most common form of altitude sickness. Out of the 16 people on our trek, I would say that only 3 or 4 people experienced very few or no altitude symptoms.
Some of the early symptoms are headaches, lack of appetite, nausea, vomiting, and a feeling of tiredness. These signs must be taken very seriously as I found out. Our trek to the Everest Base Camp area was quite short compared to other treks. This means that we did not have much time to acclimate.
Acclimatization is key to avoiding or reducing altitude sickness. Acclimatization is one of two good things about mountain sickness, the other being that you can reduce the symptoms by descending elevation. Acclimatization is being able to stay at a certain elevation until you have no altitude symptoms.
There are three rules for dealing with AMS:
Number One . You should stop ascending when you start feeling mountain sickness symptoms. AMS symptoms will usually disappear within 12 to 48 hours. I found out that this was definitely true. I had altitude sickness at about 12,700 feet. Some of my symptoms were a bad headache and terrible nausea. I kept walking with these symptoms for a little bit, because our lodge was a short distance up the trail. Sure enough, once I was able to get to sleep I felt like a new person the next morning, all the symptoms had disappeared.
Number Two . Do not let yourself get to the number two stage. You should descend in the presence of worsening symptoms despite medical treatment. Descent often times does not need to be too far, 1000 to 3000 feet will usually clear up symptoms. We never inquired about oxygen tanks, but I have read that some of the villages had oxygen. These tanks will last from 4 to 8 hours depending on the flow rate.
Number Three . Do not let yourself get to the number 3 stage. You should descend immediately if severe mountain sickness or pulmonary edema develops. Severe mountain sickness can be characterized by a loss of coordination. Other symptoms are recurrent vomiting, severe headache, loss of interest in all activities, hallucinations, bizarre behavior, paralysis, seizures, and unconsciousness. Pulmonary edema is the form of altitude sickness that most often results in death. It is caused by fluid filling the lungs so that your air sacs become filled with fluid instead of air. Some of the symptoms of this are a dry cough, rapid heartbeat during small amounts of effort, and the fingernail beds may become a bluish color. A gurgling sound may sometimes be heard in the persons chest.
The funny thing about altitude sickness is that an overweight person who never exercises may do better then a young person that is in shape and is not overweight. It is too easy for young people to charge up the trail and hike too fast. Altitude sickness hits you all at once, and by then it is too late. You will be forced to descend. Moving slower allows your body to better adjust. At the 16,000 foot level on the hills I was covering maybe 20 feet per minute, and then taking short breaks. I was moving one foot in front of the other, painfully slowly. See the section titled The Trek for more information. One interesting note is that people over the age of 55 seem to adapt better to altitude then do others. Drinking plenty of fluids helps to aid the acclimatization process. You also need to continue to eat at the high altitudes because most likely your appetite will be reduced.
I highly recommend if possible, to take hikes in mountains near where you live. Of course it may not be possible to get to high elevations in the area where you live, but if you can, it will give you some idea of how your body adjusts to high elevation. If you do well at say 11 or 12 thousand feet, chances are you will do fine at the elevation in Nepal, and means that it will be easier for you to acclimate to higher elevations.
The ideal mode of ascent is to spend three to four days between 10,000 and 12,000 feet. Do the same between 14, and 15,000 feet, and then again between 17,000 and 18,000 feet. At any elevation above 18,000 feet the body's acclimation is very limited, so it is best to not spend very much time in these extreme heights.
For more information about climbing at altitude visit the "Altitude" section on our Kilimanjaro article.