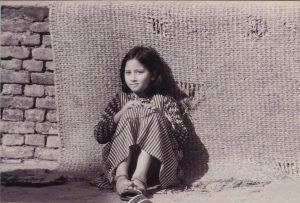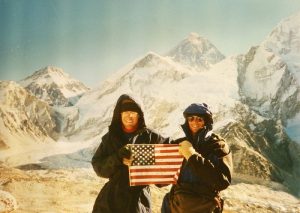 The format of this guide differs slightly from the others. This guide is partly a journal of the author's experience in Nepal.
Highlights covered in this guide include the capital city of Katmandu, Royal Chitwan National Park, and a hike to near Everest Base Camp, on a 18,200 foot mountain called Kala Patar.
Nepal is a country that I will never forget. It is the land of the rising mountains, mountains that rise so high, you can not imagine people living in them, much less those who live in their shadows. For every thousand feet climbed, the day gets a little colder, the sun shines a little brighter but with less intensity, and you wonder aloud how far you are capable of climbing.
You wonder if your body will last another step. Will it let you down; will you just become another casualty to these terrific heights? When the cold is sliced through by the first rays of the morning light, you are aware that the temperature is about as warm as it will be for the entire day.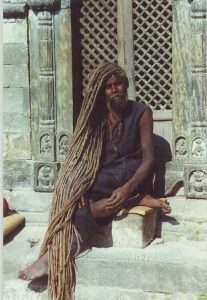 If you ever had any idealized thoughts about hiking in the Himalayas those are soon dampened by the harsh reality of the elevation and the temperature. That is not to say that these mountains are not gorgeous. They are one of the most beautiful in the world, it is just that you need to be prepared.
Someone once said that the Himalayas start where other mountains leave off. Hiking in the Himalayas is like hiking on the top of the world. You may be hiking on the top of the world, but you are constantly surrounded by mountains that tower above you. You look around at all the rugged beauty and you become lost, you are an infinite speck surrounded by the most awesome mountains that nature can offer.
The Himalayas without a doubt are the central attraction for most tourists who visit Nepal. However, there is much more to this small country. First, some brief facts and general information:
Nepal encompasses an area of 147,181 square kilometers, situated between Tibet (China) to the North, and India to the south. The total population in this small country is 23 million. The capital city of Kathmandu has a population in its metro area of over 1 million people. The major language in use is called Nepali or sometimes called Gurkhali.
Most people are Hindu (90%), 5% are Buddhist, and 3% are Muslim. The government is a democracy.
We wrote a short story about our trek in the Himalayas also covered in this article. To read this story directly, click here