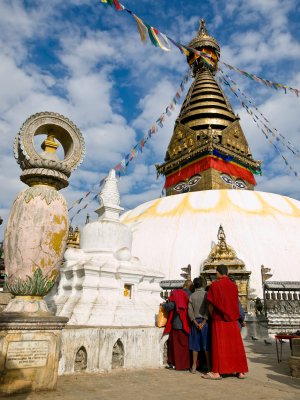 Swayambhunath or Monkey Temple is well worth seeing. This temple is located a short distance from Katmandu. The reason this temple is called the Monkey temple is that there are many many wild monkeys crawling around on the steps and buildings. Be careful not to have any exposed food with you because the monkeys will jump you and try to take away your food.
There are 365 well worn steps leading to the top of the temple. These steps become quite steep in places. Along the way you will pass many vendors selling religious items such as prayer rocks and wooden wheels.
We also saw women breast feeding their babies. You will most likely be hassled by these vendors. They will quote you one price on your way up and then quote you another on your way down.
As we were about to leave in our small bus the vendors started pounding on our windows and waving their small trinkets. A couple of the more aggressive vendors started climbing into the bus until our guide stopped them.
The oldest Buddha in this temple dates back to 1750. Once at the top you will see real gold figurines, Buddha statues, and a pair of painted eyes on top of the temple. Buddhist monks will be walking around also.
Bagmati River nearby the Monkey Temple is the home of a significant Hindu temple. The Ghats or river steps line the river. This area of the river was quite a sight.
This is where people cremate their bodies, and then wash the ashes into the river with an elaborate religious ceremony. We saw several burning bodies. The bodies are painted and are set on top of many logs and then the logs are set fire. When all that remains is the ashes, the ashes are put in a small bowl and milk and flower petals are put on top of them, and then washed into the river. Certain areas of this temple are reserved for burning royalty and others for burning the lower classes.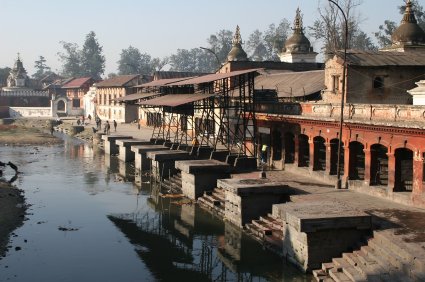 The water is brown and black with sewage. There are old destitute men hanging around on either shores. Several could have been the subjects in a cultural museum. One fellow had hair that went past his feet. His goatee extended down to his knees. Another man was naked except for a rug on his back. He was sitting in the middle of a small grassy knoll staring straight ahead. Near the river are small huts reserved for religious priests. If you stand at one end of these huts you could look all the way down and through them.
There were vendors here. One lady who spoke many languages followed me for about the entire hour that we were here. She was trying to sell me a small silver medallion.
I told her that I just was not interested. She kept insisting on selling it to me. Finally I named a very low price. She then spent the rest of the time trying to get me to pay more for her little trinket.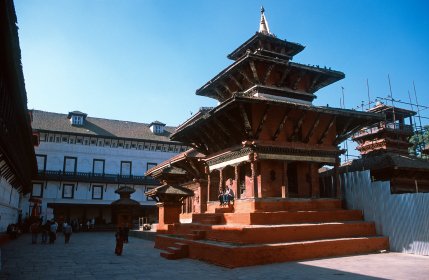 Durbar Square is the number one tourist attraction in the Katmandu valley. It is at the center of Katmandu. The oldest of the 50 monuments here dates back to the 12th century. The old Royal Palace covers 5 acres and is composed of 5 different courtyards. The Tribhuvan Memorial Museum was well worth the money we paid to enter the square ($9 US) There are many items from Nepal's Royal family displayed in this museum.
From the top of the Basantapur tower we had a great view of Katmandu. The stairs leading to the top room are quite narrow and very steep. Immediately below us we saw many of vendor's trinkets neatly laid out in the square.
Kumari Bahal is an ornately decorated wooden building which is home to a small girl chosen to be the next Royal Kumari.
This is her home; we were told she only leaves this house for festivals and will be here until she is in her early 20's. One of her attendants called for her and she appeared at the window. No photographs are permitted.
The Kumari is a girl worshipped as an incarnation of a Hindu goddess. Even the king of Nepal worships her because she has the power to deny or confirm his rule every year. A young girl is selected from a certain caste when she is between the age of 2 to 4. Then she is left in a semi dark room which is filled with bloody buffalo heads. If she comes through this ordeal intact her horoscope is compared to the kings and if there are no conflicts she becomes the next Kumari. She is not allowed to attend school, nor can she play outside because she would become impure if her feet were to touch the ground. Once she reaches puberty a new girl is selected to take her place.