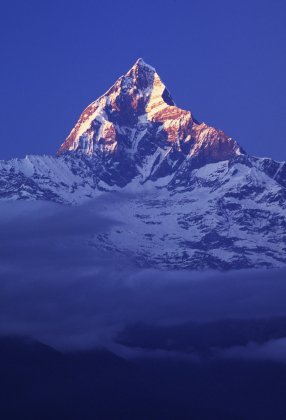 We did not actually visit this beautiful area which is west of Katmandu. The reason I include it here is that we were told but a number of people that it is a stunningly beautiful place to visit. Pokhara is actually at an elevation lower then Katmandu and is therefore more tropical. The valley that it sits in is home to forests and many lakes. This city is closer to the mountains than is Katmandu so you have beautiful views of Annapurna I to IV and Annapurna south. Annapurna I is the highest at 8,091 meters.
Pokhara sits on the edge of Phewa Lake, the second largest lake in Nepal. The Seti Gandaki river flows right through the center of town. At certain points of the river the wide is a mere 2 meters across but an amazing 20 meters deep.
Another attraction is the Mahendra Gupha, which is a large limestone cave about a 2 hour walk to the north of Pokhara. Bring your own flashlight. This cave is known as the house of bats.
Machhapuchhre or Fishtail Mountain is one of the most incredible mountains in the world. Not many come close to the raw jagged beauty of this one.
From one side you can clearly see the two summits which almost appear as a fishes tail. It has never been climbed as it has always been closed to climbers due to its sacred nature