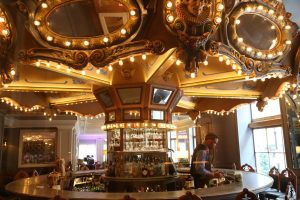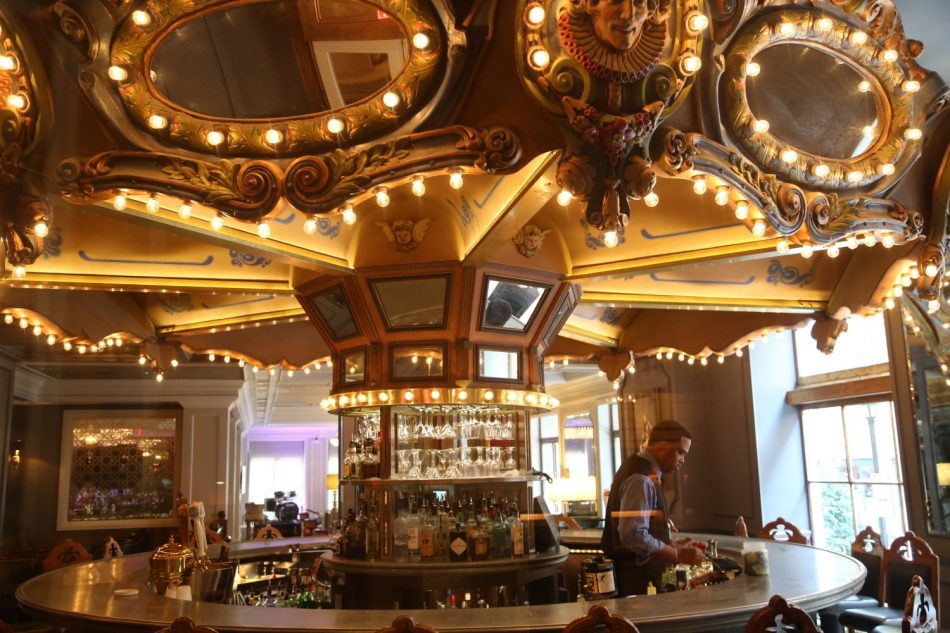 Any trip to this part of Louisiana should start with a stay in New Orleans, specifically in the French Quarter. What better a place to call home for a few days than the Hotel Monteleone . This hotel dates from 1886, is still family owned and is located in the heart of New Orleans's French Quarter. It is definitely "the" hotel to stay at in this part of the city. In the mood for decadence and elegance – Hotel Monteleone serves this up by the dishful. Superior service, plush accommodation, two excellent restaurants, a rotating carousal bar, full service spa, rooftop pool and historical significance are all part of the experience. A central location allows easy access to high end nearby antique, jewelry, and art galleries. Two well known galleries easily within walking distance are Angela King Gallery, displaying the works of multiple artists and the unique Blue Dog Gallery.
Step into the bar for one of two cocktails invented by carousal bartenders. This is a great place to also meet fellow travelers as well as locals. Sit here for more than 15 minutes and you will rotate in a full circle around the bar…as they advertise, "the only carousal in town where you have to be 21 to ride it!" The rooftop pool is small but is a great place to relax and features excellent views of the city skyline. A nearby bar can even further extend your relaxation!
Choose from a variety of rooms including their decadent suites named after famous authors who have either stayed here or written about the hotel including Tennessee Williams, William Falkner and Ernest Hemmingway among many others. Paul Newman and Joanne Woodward once called the Monteleone their favorite hotel. What is now a ballroom was at one point setup for boxer Joe Frazier to train against Mohammed Ali.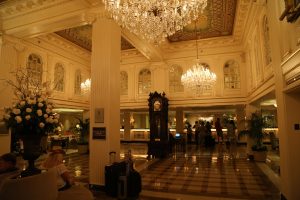 We highly recommend the Vieux Carre Suites (having personally stayed in one before) – this 2-room accommodation features an abundance of luxury including two marble and granite bathrooms, an in bathroom Jacuzzi, a parlor and a terrific king-size bed. Looking for a recipe for relaxation? Visit the Spa Aria on the Mezzanine level. Choose from diverse treatments ranging from a caviar facial to full on spa beautification packages. Visit: www.hotelmonteleone.com
Hotel Monteleone offers a variety of special packages Choose from a romantic weekend, girlfriend getaway, historical, golf, and special summertime deals on their suites. Christmas and near the holidays is also a good time to visit with lots of shopping discounts offered at nearby boutique stores.
A number of Hollywood films have been filmed on site including Double Jeopardy, Glory Road and The Last Time. As a stately stand in, the hotel has also appeared in many national TV programs.
The French Quarter is a fantastic place to be without a car. If you have one, keep it parked and spend several hours wandering through the heart of this district on foot. Numerous fine art galleries feature paintings, antiques and furniture. The French Quarter is unique, you won't find big name national chain stores here – quaint galleries, restaurants, cafe's and hotels are the norm. The banks of the great Mississippi River are easily within walking distance of the French Quarter.
International House Hotel is a boutique reasonably priced hotel that is conveniently located within a short walk of Canal Street and the French Quarter. This historic hotel was originally a bank and has since been restored and bills itself as the world's first World Trade Center. The lobby is very inviting and during a recent stay, the staff very attentive to our needs – even calling up after we were in the room to make sure everything was OK. Nice bar adjoining the lobby for late night drinks and conversation. Fore more information, visit: www.ihhotel.com
Lunch
Acme Oyster House can be extremely popular – especially with travelers. They are located a block from Canal Street between Bourbon and Royal Streets. During a recent meal on a late morning, this place was already hopping. Visiting on weekends? Get here early morning to avoid long lines later in the afternoon or evening. This institution has been in New Orleans for over 100 years (although not always in this current location due to a fire in 1924).
They are known for their oysters including both fresh and char-grilled. Plenty of table seating or you can sit at the oyster bar and watch the master shuckers do their work. They are busy as guests come here specifically for either the raw or cooked offerings. Good seafood gumbo and a very tasty whisky soaked bread pudding. For more information visit: www.acmeoyster.com
Drinks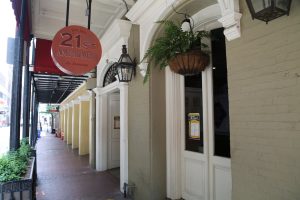 21st Amendment La Louisiane is a bar appropriately named as it honors the the often seedy and certainly illegal operations that were conducted during the era of Prohibition in the United States (1919 through 1933). The building dates to 1881 and used to house La Louisiane and restaurant and hotel run by local mobsters.
A number of portraits hang on the walls of various gangsters. Has a 1920's feel in an intimate setting; known for their very creative craft cocktails served bar-side. Tribute is paid to era recipes with homemade syrups and fresh juices always used. Live music is offered most days of the week. Great place to just hang out, meet new people and enjoy the sounds of New Orleans. Located across from the always popular Acme Oyster House, near Hotel Monteleone and a short walk from the action of Bourbon Street. For more information visit: www.21stamendmentlalouisiane.com
Dinner
Snug Harbor is an ideal place for dinner especially if you enjoy live jazz music. The dining room is separate from the "show room" where the music is held – there is also a side bar which can be quite lively especially on weekends.
A couple of highlights from the dinner menu: to start order a Sazerac, one of the oldest cocktails in the world; it originated in New Orleans in the late 1850's. Excellent crawfish etouffe and shrimp appetizers. Hint – try the bread pudding for dessert! Snug Harbor is located at 626 Frenchmen Street just north east of the famous French Quarter. Visit: www.snugjazz.com
Mr. Ed's Oyster Bar and Fishouse is located at 512 Bienville St just a few blocks from the busy part of Bourbon Street in the French Quarter. There is a nice mix of locals and visitors to this restaurant. They are known for their oysters – although also worth ordering is the excellent Creole Gumbo.
Several small tables are located outside. Note the beer keg urinal and cute signs relating to oysters that selectively hang on the wall. For more information visit: www.mredsrestaurants.com/oyster-bar/new-orleans-menu