Breakfast

Cafe du Monde ,located at 800 Decatur Street, is an ideal location for breakfast. This is the original Cafe du Monde location – with a number of other branches mostly in and around New Orleans, as well as a large international presence exclusively in Japan.
The cafe is located near the shores of the Mississippi River in the French Quarter this is where you come for French-style beignet pastries and coffee. You can drive here or walk from the Hotel Monteleone – its about 10-15 minutes depending on how fast you walk.
Wear white or at least wear lots of paper napkins as these square beignets are literally covered with fine powered sugar. Be careful about sneezing near these. This pastry is made from deep fried dough and are crowd favorites. The restaurant is open 24 hours a day, 7 days a week aside from Christmas Day and possibly hurricane closures. The prices are great, its always hopping and is a very late night favorite of some of the nearby street performers. You know you have a winning recipe when both tourists and locals frequent the same restaurant. Lots of open air covered dining tables.
For visitors wanting more of Cafe du Monde – simply walk across the street and look for the Cafe du Monde gift shop – where you can buy clothing, their famous chicory coffee and lots of other memorabilia. Visit: www.cafedumonde.com
After a leisurely breakfast at Cafe Du Monde take some time to browse through the French Quarter. Just minutes from Cafe du Monde are small stalls with vendors providing a bunch of items ranging from souvenirs, to unique jewelry to interesting arts and crafts. The French Quarter is a mix of European and Caribbean influence (note that some of the names are part Spanish and French), balcony lined streets, restaurants, shops, tons of art galleries, and unique museums all contained in approximately 6 x 14 blocks. Other highlights are walking along the Mississippi River, visiting the grand St. Louis Cathedral in Jackson Square, the IMAX Theatre, the Audubon Aquarium of the Americas, and the French Market – America's oldest Public Market.
Also of note is the old US Mint, the only building in America to have served both as a U.S. and Confederate Mint. At the time of our visit a very educational exhibit on Napoleon Bonaparte was on display.
You never know what you might find in the dirt under lawns surrounding historic buildings. During our visit we spotted a group of archaeologists from the University of New Orleans digging right in the main lawn surrounding the old US Mint building. Buttons, old musket shells and other era metal was being recovered. Fascinating!
Lunch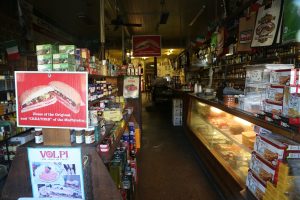 You are in New Orleans – a city well known for their local cuisine. Where else is a sandwich a tourist attraction?! Make lunch a muffuletta from New Orleans's finest muffuletta producers, Central Grocery . In fact it is this store where the muffuletta originated. This Italian-American grocery is located at 923 Decatur Street and was founded in 1906 by an Italian immigrant from Sicily. It is still owned by the same family.
The sandwich consists of muffuletta bread, several meats and cheeses and then its core is a marinated olive salad. Take note, these sandwiches are fairly large and can be shared by several people. Visit: www.centralgroceryneworleans.com
Dinner

Lüke New Orleans is a fabulous brasserie (French for cafe which is also a restaurant) located in the heart of New Orleans's downtown area just south of the well-known Canal Street. It is located in the Hilton on Charles Street.
It is one of several restaurants owned by famed chef John Besh. John operates an organic farm which provides some of the vegetables and meats for this restaurant. Start our meal with a Sazerac, one of the oldest cocktails in the world – it originated in New Orleans in the late 1850's. Then jump right into the amazing appetizers. A couple that we can recommend from first hand experience are the Rabbit Pate and the Blood Sausage.
Excellent salads include the fresh tomato salad when in season. Choose from a plethora of main dishes with some delicious seafood selections. Also look for individual specialties based on the day of the week. A full service bar includes several custom locally brewed beers.
Their wine list focuses exclusively on French produced wines. Visit: www.lukeneworleans.com
Pêche Seafood Grill is located at the corner of Magazine and Julia Streets (the Warehouse District of New Orleans) – within walking distance of the French Quarter. The focus as the name indicates is on seafood – with fresh seafood from the gulf including oysters, shrimp, crab and various fish.
Highly recommended are the oysters – with delicious sauce for dipping. Excellent shrimp. The dishes are innovative, flavorful and of very high quality. Great cocktails and desserts. Try the rum cake. It can get quite noisy inside – plan an early dinner or a late lunch. Mid afternoon tends to be the slowest. For more information visit: www.pecherestaurant.com
You of course cannot visit New Orleans without walking Bourbon Street…especially at night when this becomes the "life" of the French Quarter. After dark, neon signs scream out advertising drinks – typically cheap "big ass beers", and sex shows including signs that state, "Female Impersonators, Men Prettier than Girls" – and other exotic shows (although these days there is much less of this seedier side presented).