Donaldsonville is a small town along the Mississippi River about 55 miles west of New Orleans. With friendly locals, quaint shops, galleries, two museums (Historical Donaldsonville Museum and the River Road African American Museum & Gallery), a historical district and good restaurants, one can easily spend a half day here. The nation's first African American mayor was elected to office in Donaldsonville in 1868, merely three years after the end of the Civil War. Visitors can pick up a printed Donaldsonville walking tour guide at the Welcome Center located at 318 Mississippi Street. Some of the attractions we visited are listed below. More information about Donaldsonville can be found here: www.donaldsonvillechief.com
Alvin Bautiste – Alvin is a delightful approachable artist with a fairly large gallery within Rossie's Frame Shop in the heart of Donaldsonville (main street). He is an African American primitive artist. Alvin has been painting since he was a child and is entirely self taught. His work is unique and very recognizable. His paintings often feature African American themes as well as his mother, who was an inspiration to Alvin.
It is rare to meet such a humble down to earth artist. His frame shop is his "working home" – if you stop by chances are you will see Alvin working on his latest painting. His worn guitar is usually behind his easel and perhaps he will even play a song or two for you.
Alvin was virtually unknown just a few years ago – however Donaldsonville attracts a number of Hollywood films; it was during one of these movie shoots that famed actor Billy Bob Thornton "discovered" Alvin's work. So taken in with these paintings, Billy Bob purchased a number for his own private collection. He later commissioned Alvin to paint the cover of one of his CD releases.
A number of his works are available for purchase online, or you can commission Alvin for private paintings. Visit: www.alvinbatiste.com
Historic Donaldsonville Museum presents life as it was in the early 1800's – tours are offered daily. It is located at 318 Mississippi Street. Phone (225) 746-0004.
Ascension of our Lord Church is the largest church in Donaldsonville and dates from 1896. It was built on site of the original mission chapel which dated from 1770. Visit: www.donaldsonvillecatholics.com
Lunch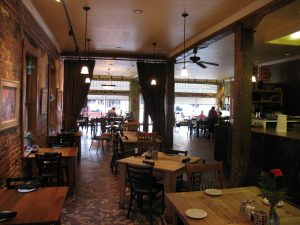 Grapevine Cafe & Gallery is owned by Cynthia and Steve Schneider and is located at 211 Railroad Avenue in the heart of Donaldsonville. This restaurant is in an old 1920's restored building – brick walls line the spacious dining area. The building has a long history as a bar, restaurant and gambling area. Al Capone used to even frequent during Prohibition. Their specialty is Louisiana Creole and Cajun cooking – rotating artwork lines the walls and live music is scheduled on certain days. But the real winner here is the award-winning food.
Special emphasis is placed on seafood and meats. You are in Louisiana – choose from a plethora of Cajun crayfish dishes. We barely made it past the appetizer to the main course. Select from mouth watering dishes such as crawfish etouffee, gumbo, & several Andouille dishes. Save room for dessert.
With her personal bread pudding recipe served at a James Beard Foundation Journalism Awards dinner in New York City, you have to figure Cynthia knows what she is doing.
After tasting their white Chocolate Bread Pudding served warm and topped with a white chocolate sauce, we must say this is one of the best bread puddings we have tried (and by this time we were already stuffed with numerous tasty dishes!). The "gallery" is located next door and features unique works of art by Cynthia's husband Steve. Visit: www.grapevine.cafe
River Road African American Museum is located at 406 Charles Street in central Donaldsonville. These are the kind of local educational attractions that you really have to seek out – as they are not often on the typical "tourist" route. This invaluable small but rich in heritage museum is devoted to the history, culture and lifestyle of African Americans who lived along the Mississippi River. This museum is truly a part of the local community as most of the items on display have been donated or loaned by families from surrounding parishes. Explore historical documents, books, rare photographs, and videos.
Special displays focus on plantations, roots of jazz (did you know that both Louis Armstrong's mentor, and Plas Johnson who played the original sax for the Pink Panther theme song are both from the area), cuisine, the Underground Railroad and more. Even Alvin Batiste has one of his paintings on display. Permanent and rotating exhibits are available. Also of note is the Freedom Garden just down the street which contains plants cultivated through the use of slave labor as well as edible and medicinal plants that might have been used by slaves who escaped from the plantations.
Director and founder Kathe Hambrick's unbridled passion and enthusiasm for history and determination to educate is clearly evident. She, along with the community are the driving forces behind this museum. Visit: www.africanamericanmuseum.org
Lodging
St. Francisville Inn is an ideal place to stay a night or two during a visit to this part of Louisiana. The inn is located at 5720 Commerce Street about 2 hours from New Orleans (96 miles) and 30 minutes north of Baton Rouge in the heart of Louisiana's "plantation country". The inn is within walking distance of churches and other historical tree lined neighborhoods. In addition a stay here affords one an excellent opportunity to "escape" and relax. The hotel is setup for those who want to take it easy.
The Inn has 10 bedrooms adjoining the main building as well as a courtyard and small pool. Enter via a long walkway through beautiful oak trees dripping with moss. Check out the celebrity photos hanging on the wall near the reception as well as the spacious wine parlor. A B&B such as this one calls out for one to chill on their porch with a good book, or in the courtyard in the back sipping a glass of wine from the wine parlor. In addition, take note of their delicious buffet breakfast served every morning in the main building.
Several major plantations are located nearby (by car). Birders also take note – the owner is an avid photographer and bird watcher – a number of various species have been spotted on the property. And the annual Audubon County BirdFest is typically held every April. Visit: www.stfrancisvilleinn.com
Dinner
Magnolia Cafe is a mom and pop restaurant located at 5687 Commerce Street in St. Francisville. Mexican food, sandwiches and good salads are all offered at reasonable prices. Oh, and we must mention, nice bread pudding!