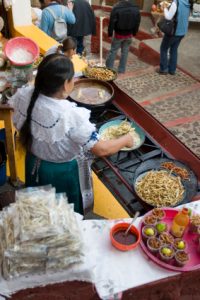 Oaxaca is known for both its artisan crafts and local foods. Brilliantly colored wood carvings are much sought after by visitors. These carvings often differ dramatically in both quality and price. A general rule is to spend time shopping around – do not purchase the first item you see just because you like it. With so many similar items available, competition is high for your peso. Perhaps you will return to that original item but chances are your interest will be perked by something else if you continue looking.
Oaxaca is also known for black pottery. As with any craft it usually is quite a bit cheaper in its town of origin; the markets in Oaxaca are excellent places to shop for this type of pottery. Black pottery is both beautiful and inexpensive. I purchased a large black pot for only $10 USD. However, in my other travels in other cities in Mexico the prices for this pottery were marked up over 15 times the price I paid for it in Oaxaca.
Oaxaca is also known for its its colorful and intricately designed rugs.
Numerous markets are located in the center of town but the largest and most diverse is the Mercado de Abastos located about 8 or 9 blocks southwest of the main zocalo. This may sound like quite a ways but if you are in reasonable physical shape you should be able to walk this distance within 15 or 20 minutes. Those who walk fast can cover this distance in about 10 minutes. If you are in a hurry to get somewhere quickly in Oaxaca, walk on the side of the streets. Many of the streets are one way and you can avoid the dense ever present crowds on the sidewalks.
Mercado de Abastos is located near an extremely busy intersection close to the Ayotac River (which is an ecological disaster – more about that later). This crowded intersection is also quite polluted and pedestrians are constantly subjected to heavy fumes in the air – emitted from the incessant traffic.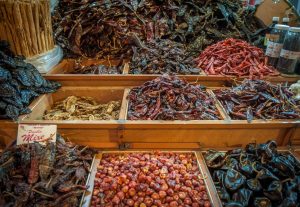 At first glance the market appears to be in a state of chaos. People are running around wheeling vegetables and other goods, loaded buses are spewing gasoline fumes everywhere, and there is a general state of excitement.
However, once you actually walk into the market things begin to calm down a little. Products are organized into sections within the market. The vegetable and fruit portions seem to stretch for miles. One can easily spend half a day in this market, but I only recommend this if you really like produce. Some of the more exotic fruit selections available in the market include cherimoyas, chepote, guanabana (soursop), passion fruit and pineapple. One item of note is that the pineapples were the best that I have ever eaten in my travels. They were 10 times more sweet then the sweetest pineapple that I ever had in the USA. Certain stalls displayed several hundred pineapples for sale – you could smell their pungent odor from several hundred feet away.
Besides fruit, there are many other sections within this market, but no premium products. I never found anyone selling high-end crafts, pottery, or jewelry. However, vendors in other parts of the market sell new and used clothing, pinadas, cheap electrical appliances, small crafts and various other household items.
As far as I can tell I was the only American tourist in the market. Once you leave Oaxaca's zocalo – there are very few tourists.
Photographers take note: interested in photographing the people in Oaxaca? Most of the locals will not let you take their picture for free, as many of the native tribes believe that if you take a picture of them, you will capture their spirit and they will never be free. However, serious photographers should be aware that there are ways around this. Some of the locals will bend their own beliefs and will accept a small fee for taking their photograph.
Or for photographers taking photographs on the sly, some cameras have built in lens that when held at a right angle to the person are in actuality pointing directly at the person. Lastly, I found that I was successful in taking photographs of people by holding my camera at my waist, walking up to people and simultaneously pressing the shutter. The faint click of the shutter was easily lost within the background noise.
You *MUST* bargain in these markets if you want to pay normal prices. I was even bargaining for fruit. I remember paying only 10 pesos or about 70 American cents for a large pineapple after the price started at 25 pesos. Purchasing more then one item will often give you some extra bargaining power.
One cute story happened to an elderly friend of mine (who has long since passed on) in the Mercado de Abastos. She was walking along minding her business when all of the sudden a large live turkey being carried by a local got its feet tangled in her sweater. She didn't notice right away and kept walking. However, she soon noticed when her sweater was being pulled one way while she was walking the other. Bystanders soon rushed in to help remove the birds feet from her sweater. Eventually they were successful but only after leaving a good portion of her sweater stuck on the birds feet. This is a classic example of the randomness that one could experience in a market like this one!
Benito Juaraz Market is another market well worth visiting. This much smaller market is located about one block south of the zocalo. It is comprised of a large covered area above many small stalls selling everything from tequila, black pottery, leather and produce. Numerous other crafts and stores of interest are also located outside of the covered area, but near the market.
Chapulines are one of the local foods synonymous with Oaxaca, otherwise known as fried grasshoppers. The best place in town to purchase chapulines is outside of the Benito Juaraz Market. Chapulines are a Oaxacan specialty; you can order them at many of the restaurants. You can buy these in a number of sizes: tiny, medium or extra large. Often bags of chapulines contains some stray cockroaches and perhaps a termite or two. Its all protein so these extra insects don't matter except possibly to further repulse you from the idea of eating insects (if you are already repulsed by the thought).
In actuality, chapulines are incredibly tasty, and are best served in a flour tortilla with frijoles (beans), guacamole and a splash of lime. And then wash them down the gullet with a sangria or margarita. If I lived in Oaxaca, I would eat chapulines daily.
Mercado de Artesanias , is within a short walk of Benito Juaraz Marke. Mercado de Artesanias is famous for its rugs and sarapes. In our experience shopping here, the rugs were average or just a bit above average quality. Mercado de Artesanias not only sells rugs but also the famous Oaxacan carved and colored wood statues.
—
Markets are great for those travelers who love total cultural immersion including being exposed to a total assault on one's senses; tourists are just about nonexistent.
Village market days are as follows. These are when people from surrounding villages travel to Oaxaca to sell their goods.
Day
Sunday
Monday
Tuesday
Wednesday
Thursday
Friday
Saturday
City
Tlacolula
Miahuatlan
Ayoquezco
Etla and Zimatlan
Ejutla and Zaachila
Ocotlan
Oaxaca