Moorten Botanical Garden has been in existence for more then 70 years; the gardens contain over 3000 varieties of desert plants from around the world. This garden is also a bird sanctuary. They are located at 1701 South Palm Canyon Drive – right at the corner of El Camino Street – about a mile in from the state route 111. They are open Monday through Saturday from 9 to 4:30, and Sunday from 10 to 4. NOTE: They are closed on Wednesdays. Weddings, Group Tours, and other Events can be pre-scheduled here.
Adult admission for self-guided tours is $5. Children ages 5 to 15 are $1. Be sure to visit the "world's first Cactarium" an enclosed greenhouse that contains many rare and exotic cactus species. Near the entrance, is a cactus garden in which all the cactus plants are for sale. You can pick up some real nice small cactus here. Sometimes if you are lucky the owner may be giving away free grapefruit. For more information call (760) 327-6555 or visit: www.moortenbotanicalgarden.com
Agua Caliente Cultural Museum preserves the past, present, and future history of the Aqua Caliente Indians. It is located at 219 South Palm Canyon Drive on the Village Green. Exhibits include artifacts, photographs, and artwork. Visit: www.accmuseum.org

Boomers Palms Springs formerly known as Camelot Family Park is entertainment family fun park. If you become tired of all those 18 hole golf courses in the Coachella valley you can always play a round of miniature golf here.
They also have go carts, a rock climbing wall, batting cages, bumper boats, and a video game pavilion with over 200 video games. They are open daily. Address: Canyon Plaza North, 67-700 E Palm Canyon Dr, Cathedral City. Visit: www.boomerspalmsprings.com

Desert Holocaust Memorial is located at the corner of San Pablo and Fred Waring Roads just north of the 111 close to Palm Desert. Address: 43700 San Pascual Ave, Palm Desert.
This small bronze memorial features 7 larger than life bronze people. This memorial was created by the Jewish Federation of Palm Springs.

Horseback Riding can be experienced on trails that wind through the mountains and canyons of the desert. Try Smoke Tree Stables at: (760) 327-1372.

Hot Air Balloon Flights given in the Coachella valley usually only between mid September and May due to the extreme summer heat. Some of these companies are
1. Balloons Above The Desert: www.balloonabovethedesert.com
2. HAVNFUN Hot Air Ballooning: www.flyhotairballoons.com
3. Fantasy Balloon Flights: www.fantasyballoonflight.com

La Quinta Sculpture Park is 20 acres devoted to contemporary sculptures. Located at 57325 Madison St – Admission is free. Phone: (760) 564-6464

Living Desert is a 1200 acre wildlife park located in Palm Desert which is east of Palm Springs. The park is located 1.5 miles south off of highway 111 at 47-900 Portola Avenue. This park features rare plants and animals from the worlds deserts. Some of the animals are the bighorn sheep, zebras, mountain lions, hawks, and Mexican wolves.
There are tram tours given and hiking trails are also available. The botanical gardens replicate ten major North American desert regions. Each year over 300,000 people enjoy the unique exhibits that this wildlife park has to offer.
Please visit their website for more information: www.livingdesert.org

Mary Pickford 14 (Movie Theatre) is located in Cathedral City next to City Hall about 20 minutes south on the 111 from downtown Palm Springs. It opened in mid 2001. Normally movie theatres are not museums – but this is a rare case. There is a side room dedicated to the life and times of Mary Pickford, the famous silent movie starlet of the early 1900's. Old photos, her signature, some of her clothing and other memorabilia are displayed behind glass windows. You need to buy a movie ticket to enter the theatre. If available, you can park along the curb that leads in front of the actual theatre, just not right in front of the theatre as that is a red zone. Often times movies at this theatre will be different from what is showing at the two movie theatres in Palm Springs.
Note: there are two movie theatres in Palm Springs. The Camelot Theatre often hosts the Palm Springs International Film Festival and specializes in Independent, Art & Foreign films. They are located in the Von's/Ross Shopping center at 2300 E Baristo Rd – just a few minutes from downtown Palm Springs. Website: www.camelottheatres.com
The other theatre Signature Desert Cinemas doesn't have the greatest parking in the world and is located at 789 E Tahquitz Canyon Way. A variety of new mainstream movies play here. For my money I would drive to the Mary Pickford theatre in Cathedral City or check out a "non" mainstream movie at the Camelot.

McCallum Theatre is part of the Bob Hope Cultural Center. This theatre is home to performing symphonies, musicals, operas and visiting performers. Located on Monterey Avenue in Palm Desert near the highway 111. Visit: www.mccallumtheatre.com

Palm Springs Air Museum is a surprisingly in-depth and sizable museum. Located at the Palm Springs International Airport – it is about an 8 minute drive from the main terminal, address: 745 N Gene Autry Trail. Established in 1996 it has since built up a prominent collection of planes (nearly 40 are on display), especially of still flyable WWII Warbirds – displayed both indoor and outdoors. For a set price, one can even take a ride in one of these old planes (a C-47 Skytrain or a P-51 Mustang). Certain events allow for visitors to enter the cockpits of select planes.
Their hangars are air conditions – and visitors are encouraged to touch the planes (no ropes preventing this interaction). During a recent visit we found plenty of friendly volunteers willing to share information and or answer any exhibit related questions. A gift-shop on site sells a variety of airplane souvenirs. Well worth visiting for any air enthusiast. Visit: www.palmspringsairmuseum.org
Palm Springs Art Museum is located at 101 Museum Drive in downtown Palm Springs. It was originally founded as the Palm Springs Desert Museum in 1938. This museum displays art, natural science and the performing arts. Their exhibitions concentrate on Western and Contemporary art, and also on the human influence on the Coachella valley.
The museum has a noteworthy collection of prominent artists including Marc Chagall, Pablo Picasso, Andy Warhol, Roy Lichtenstein, Henry Moore and Ansel Adams, among others. With over 150,000 square feet of display space the museum is able to showcase a significant amount of art at any one time.
Also outdoor sculpture gardens and a café. A museum store on site offers various art related souvenirs. They maintain a second location in Palm Desert.
There used to be admission to the museum but a generous donor came on board and now admission to the museum is free. Special programs and events are offered on an ongoing basis – check their website for dates and times as well as current hours. Plenty of parking on site. Phone: (760) 325-0189. Visit: www.psmuseum.org

Palm Springs International Film Festival is held every year usually in January. It was founded in 1990 by Sonny Bono who was the Mayor of Palm Springs at that time.
This is a fun event that shows many films from around the world. Often famous actors and actresses are highlighted for their contributions and are in attendance. For more information visit: www.psfilmfest.org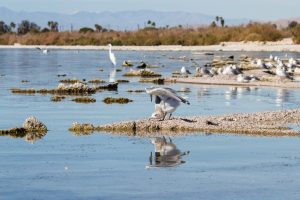 Salton Sea is located about 80 minutes south of downtown Palm Springs – simply follow 111 all the way down south – you can either drive on the east or west side of the sea. There is a visitor's center on the East side of the lake – several miles from where you first see the sea. This is a good stop, although you will have to pay $5 to enter and park you car. There is a nice beach here – the beach is made up entirely of small shells from the dead sea life – there is no sand whatsoever present. The Salton Sea formed in 1905 with heavy floods that broke through an irrigation canal on the Colorado river letting water flow in the the valley for 18 months before it was stopped. By then the Salton Sea had formed – however, note that the Salton Sea valley had flooded from the Colorado river overflows several times before this, and there is evidence that shows Indians made use of a lake's resources at the current day Salton Sea.
The Salton Sea is California's largest natural lake wholly contained within the California borders. One of the problems facing the Salton Sea now is evaporation – there are many salinities in the soil and in the lake and the more the water evaporates the more saline the sea becomes. This is detrimental for the large fish population in the Sea.
More information about this unique resource is available here: www.saltonsea.ca.gov
A new movie opened in theatres in mid May 2006 called "The Salton Sea" was in part filmed in the area. Visit: http://saltonseamovie.warnerbros.com/cmp/about_index.html

Bombay Beach is about 12 miles south on the 111 from where you first see the Salton Sea. It is on the east side of the lake. Aside from the fancy name, this is not a large town – and there isn't a whole lot to do here. A dirt road leads to the Sea. When you tell your friends you have been to Bombay Beach, they will never know where you have been!
Village Fest is held every Thursday night from 6 to 10pm in downtown Palm Springs along Palm Canyon Drive from Baristo to Amado Streets.
Eat at many sidewalk cafes and visit more than 175 booths offering art, handcrafted items and food. Most businesses stay open late in this area. For more information visit: www.palmspringsvillagefest.com

Wet n Wild Waterpark is located at 1500 Gene Autry Trail. The road, the Gene Autry Trail, connects the interstate 10 to highway 111. The water park is near the southern intersection of the Gene Autry Trail and East Palm Canyon Drive. There are 13 waterslides, a wave pool, a river, a spa, and an outdoor pavilion. For locals, a season pass is a very good deal.
Open daily from 11 to 7 PM from early June through Labor Day. Open daily 11 to 5:30 from mid March through early June. Open daily the day after Labor day through October 31 from 11 to 5:30 PM. Admission for adults is $20.95. Children are $13.50. Reduced rates are given at 3 PM and also at 3:30. There is a sizable parking lot on site (visitor's must pay for parking in addition to the park entrance fee). Note that no parking is allowed on the side street near the main entrance. Phone: (760) 325-7873. The park underwent a complete renovation and makeover from 2018 through 2020 and reopened in 2021.
Windmill Tours – there are several companies offering tours in and among the giant windmills which are located a few minutes somewhat north of Palm Springs. One such company is: www.windmilltours.com
This tour company will give you good information about wind power, how it is converted to electricity and other related information. You can also drive out among these windmills yourself.