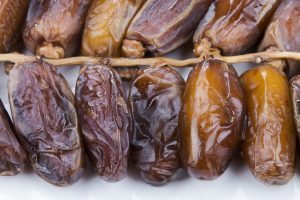 Date Palms can be found in many locations in the Coachella Valley. Dates are among the oldest of the cultivated fruit in the world. Many of the dates in the Coachella Valley come from the Middle East including many varieties from Iraq.
Three of Dave's favorite places to purchase dates are Hadley's Date Gardens, Shields Date Gardens & Oasis Date Gardens. The three listings below are retail outlets and all will ship dates via the mail.
Visit their respective websites for ordering information. All stores below provide tasting samples of the dates before you buy.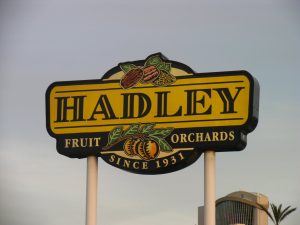 Hadley Fruit Orchards are located off the 10 freeway about 12 miles west of the turnoff on 111 for Palm Springs. Hadley is located in the small town of Cabezon – at the Morongo Valley Casino turnoff – when you see the tall Indian Casino looming nearby you know you are very close to Hadley. Of the three date gardens listed here, this one is the most touristy. It is also not located on the site of where the dates are actually grown.
You however, can choose from many varieties of packed whole dates. They also sell chopped dates, dried dates, and the wonderful date crystals. The date shake is truly a wonderful drink. It is a MUST try! Hadley's has added their own twist to the regular date shake; they offer a banana date shake which is out of this world.
Hadley's has their own restaurant on the side of the store. Choose from standard fare such as hot dogs, hamburgers and other food. Sit next to the windows overlooking the 10 freeway and browse through their large collection of autographed celeb photos. As you enter the store, bathrooms are in the far back. In 2015 Hadley closed their old store and opened a beautiful new much more modern store. But they kept their selection of dates and other fruits – and most importantly kept the Date Shake on the menu at their new location.
Visit their website: www.hadleys.com
Shields Date Gardens established in 1924 is located at 80225 Highway 111 in Indio on the north side of the highway. This is about a 25-35 minute drive south on the 111 from downtown Palm Springs.
Shield's Dates are among the oldest Date Gardens in the area.
The main store has a real neat 50's feel. In fact nostalgia is a very appropriate word to describe Shields. Their main store is located right in front of their actual date gardens. They also grow and sell very fresh grapefruit and tangerines.
Be sure to try one of their famous date shakes. If you look at the date trees you will see metal ladders extending high up to the actual palm part of the trees. This is how they pick the dates. Unfortunately most of the surrounding land near Shield's farms has been cannibalized for strip malls and other urban development so the surrounding atmosphere is not as nice as it used to be.
While here you can view a video in their 108 seat theatre, called "Romance and Sex Life of the Date." There is a lot more to cultivating and growing dates than meets the eye. All cultivated date palms at Shields undergo hand pollination. That means someone must climb up to the top of the date trees during the right time and hand pollinate each bunch of dates!
Note: in 2005 Shields Date Gardens was sold to the Jewel Date Company. Phone: (760) 347-0996. The Shields Date Gardens is open daily from 10 to 6 PM. 119 varieties of dates are grown here. If you visit their store, you can pick up their free sheet listing about ten date recipes including the one for their Date Shakes. Visit their website for more information: www.shieldsdategarden.com and to order gift packs.
Just east of Hadley's are two enormous dinosaur statues next to interstate 10. Inside one of these statues is a store that sells rocks and small trinkets. At night the eyes of these dinosaurs light up and become green and red.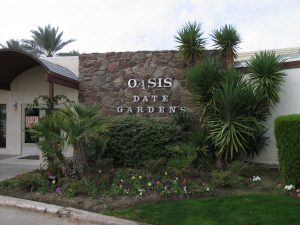 Oasis Date Gardens is located in Thermal which is about another 10 miles south of Indio at 59-111 Highway 111 on the west side of the highway.
This is a 250 acre pioneer date garden, packing house, and retail shop. There is a picnic area and a cafe. The main store is located right among the date gardens – there are smaller trees located here than at some of the other date farms (more recently planted), and when in season, its very easy to see the dates hanging from the trees right in front of you. One nice feature is that they have open buckets of many varieties of dates – you simply put on plastic gloves and put as many as you want into a bag. The other two farms mentioned above have the dates already sealed up in packages or bags. PHONE NUMBER: 1-800-827-8017. Open daily from 6 AM to 5:30 PM. Website: www.oasisdate.com